Gary and Liz Gray sold their motorhome in Europe, flew to the United States, bought a truck and camper, and explored America from coast-to-coast, Canada to Mexico, and beyond.

There are folks out there who make our seemingly full list of adventures appear like just another trip to the local grocery store.  These evidently fearless globe trotters have been to places we never knew existed, often with modes of transportation well beyond planes, trains, and automobiles.  Then they share stories that border on the fantastic, and tell us of people in far away lands who changed their lives.
At first, these stories can be intimidating, making us at once envious and inspired in equal measure by the world of opportunity they present.  Perhaps it's all a matter of perspective.  We clearly remember being intimidated, envious, and inspired when we first learned of truck campers going cross country in the United States.  Now that we have driven in their tracks, and walked in their footsteps, the intimidation and envy are lost, and the inspiration is ours to pass on.
With this perspective in mind, is it fair to say that the intimidation, envy, and inspiration brought by the adventures and accomplishments of others is a very healthy thing?  I dare you to fill you minds and hearts with these emotions, to bask in them, and then set that emotional energy towards making the dreams presented for you a personal reality.  Speaking from experience, we now welcome these challenging emotions, and thrill in their possibilities.
If any part of you agrees with my thesis, you are going to enjoy today's story.  As we peeled back the layers of Gary and Liz Grays incredible travelogue, we were filled with beautiful intimidation, wonderful envy, and glorious inspiration.  Thank you Gary and Liz.  We will follow walk in your footsteps, drive in your tracks, and set sail on your waterways.  We are inspired.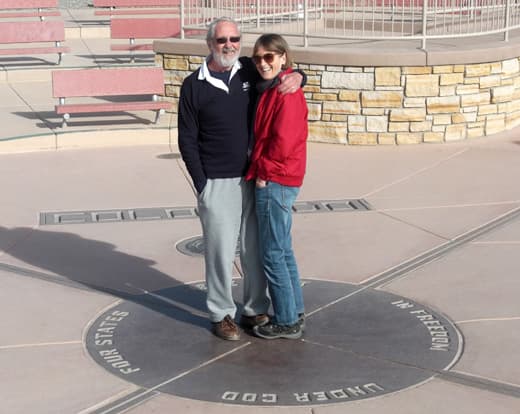 Above: Gary and Liz at Four Corners Monument
TCM: You have quite a history with sailboats and RVs.  Tell us about your adventure traveling the world before reaching the United States last year.
Gary: We both started camping late in life, although Elizabeth did annual trips as a youngster with her family in Australia.  Camping came as an adjunct to our main interest at the time, fly fishing.
Our first camper was a Jayco Hawk wind-up tent trailer that we towed with an Isuzu Trooper SUV.  We spent a lot of weekends in Australia's National Parks and remote sheep farms.  We took that trailer on some pretty rough terrain to find the elusive trout in New South Wales.
After we married, we sailed around the world on point-to-point passenger ships, freighters, mail ships, and ferries.  We initially sailed from Sydney via New Zealand, Fiji, California, Mexico, Panama, and Florida.  Then we went to the United Kingdom.
After about three months in Europe, we sailed to Cape Town via the Canary Islands and Madeira, where we lived in South Africa for four and a half years.  We traveled a little in South Africa before returning to Australia by ship.
During our married life, we have traveled to South Africa, Southeast Asia, China, Mauritius, the United Kingdom, and the United States visiting the east and west coasts at various times.
In 1995, we did an extended tour of the United States by car essentially visiting most of the Civil War battle sites.  We also traveled to the New England states to view the fall colors and to talk to a publisher in Vermont about a series of children's books that Liz had written.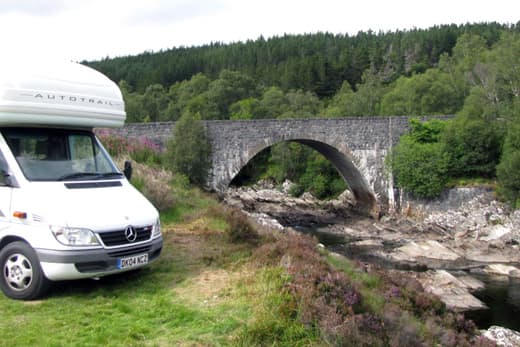 Above: The Gray's Mercedes Sprinter motorhome in Ireland
TCM: You're making a lot of well traveled folks feel like they haven't seen anything yet.  When did you decide to travel the world by RV?
Gary: When I finally retired, we decided to look at how we could see more of the world within a budget and with total flexibility of where, when, and how to go.  Soon after, we noticed an American RV during our daily walk through our village in Tasmania.  At the same time, we heard radio reports from a fellow Aussie who was driving around the world from Alaska to Vladivostok in Russia.  We were inspired by both these events and decided to explore the thought of an RV further.
We looked at Europe first as travel between European countries is so easy.  We elected to buy a motorhome as motorhomes are relatively straight forward to register and insure in Europe.  The motorhome was a Mercedes Sprinter based motorhome similar to the Winnebago View.