Gary and Liz Gray sold their motorhome in Europe, flew to the United States, bought a truck and camper, and explored America from coast-to-coast, Canada to Mexico, and beyond.

There are folks out there who make our seemingly full list of adventures appear like just another trip to the local grocery store.  These evidently fearless globe trotters have been to places we never knew existed, often with modes of transportation well beyond planes, trains, and automobiles.  Then they share stories that border on the fantastic, and tell us of people in far away lands who changed their lives.
At first, these stories can be intimidating, making us at once envious and inspired in equal measure by the world of opportunity they present.  Perhaps it's all a matter of perspective.  We clearly remember being intimidated, envious, and inspired when we first learned of truck campers going cross country in the United States.  Now that we have driven in their tracks, and walked in their footsteps, the intimidation and envy are lost, and the inspiration is ours to pass on.
With this perspective in mind, is it fair to say that the intimidation, envy, and inspiration brought by the adventures and accomplishments of others is a very healthy thing?  I dare you to fill you minds and hearts with these emotions, to bask in them, and then set that emotional energy towards making the dreams presented for you a personal reality.  Speaking from experience, we now welcome these challenging emotions, and thrill in their possibilities.
If any part of you agrees with my thesis, you are going to enjoy today's story.  As we peeled back the layers of Gary and Liz Grays incredible travelogue, we were filled with beautiful intimidation, wonderful envy, and glorious inspiration.  Thank you Gary and Liz.  We will follow walk in your footsteps, drive in your tracks, and set sail on your waterways.  We are inspired.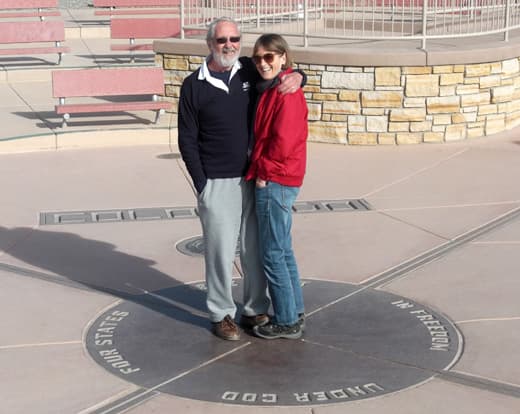 Above: Gary and Liz at Four Corners Monument
TCM: You have quite a history with sailboats and RVs.  Tell us about your adventure traveling the world before reaching the United States last year.
Gary: We both started camping late in life, although Elizabeth did annual trips as a youngster with her family in Australia.  Camping came as an adjunct to our main interest at the time, fly fishing.
Our first camper was a Jayco Hawk wind-up tent trailer that we towed with an Isuzu Trooper SUV.  We spent a lot of weekends in Australia's National Parks and remote sheep farms.  We took that trailer on some pretty rough terrain to find the elusive trout in New South Wales.
After we married, we sailed around the world on point-to-point passenger ships, freighters, mail ships, and ferries.  We initially sailed from Sydney via New Zealand, Fiji, California, Mexico, Panama, and Florida.  Then we went to the United Kingdom.
After about three months in Europe, we sailed to Cape Town via the Canary Islands and Madeira, where we lived in South Africa for four and a half years.  We traveled a little in South Africa before returning to Australia by ship.
During our married life, we have traveled to South Africa, Southeast Asia, China, Mauritius, the United Kingdom, and the United States visiting the east and west coasts at various times.
In 1995, we did an extended tour of the United States by car essentially visiting most of the Civil War battle sites.  We also traveled to the New England states to view the fall colors and to talk to a publisher in Vermont about a series of children's books that Liz had written.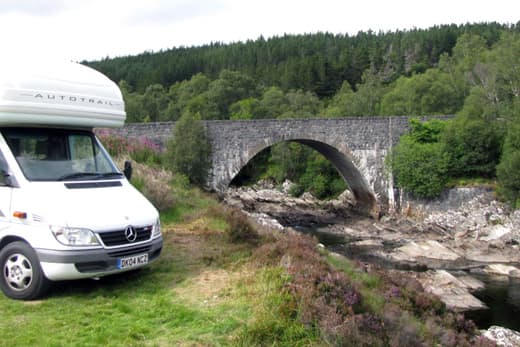 Above: The Gray's Mercedes Sprinter motorhome in Ireland
TCM: You're making a lot of well traveled folks feel like they haven't seen anything yet.  When did you decide to travel the world by RV?
Gary: When I finally retired, we decided to look at how we could see more of the world within a budget and with total flexibility of where, when, and how to go.  Soon after, we noticed an American RV during our daily walk through our village in Tasmania.  At the same time, we heard radio reports from a fellow Aussie who was driving around the world from Alaska to Vladivostok in Russia.  We were inspired by both these events and decided to explore the thought of an RV further.
We looked at Europe first as travel between European countries is so easy.  We elected to buy a motorhome as motorhomes are relatively straight forward to register and insure in Europe.  The motorhome was a Mercedes Sprinter based motorhome similar to the Winnebago View.
We began our European trip in England and visited thirty-six countries.  One huge advantage of traveling in Europe is the vast number of free parking opportunities for motorhomes (but not travel trailers) in small villages and towns.
Once parked, you could open your door and be immediately in town.  The motorhome only parking spots often have free dump points and potable water.  There are literally thousands of these free motorhome parking spots, usually called "aires" or "stellplatz".  Even large cities have them.  In Galway, Ireland for instance, we were right in the center of the historic area, and had a free electrical hook up.
Above: Camping at the beach in Mexico.  Click to enlarge.
TCM: The idea that there are free parking spaces for RVs sure makes the idea of traveling Europe by RV a lot more friendly and doable.  How did you decide to sell the motorhome, come to the United States, and buy a truck camper rig?
Gary: During our trip research for the United States and the Americas, we realized that we were going to need a rig capable of rough roads.  Having high ground clearance and four wheel drive would be a huge advantage.  For example, in Baja, Mexico, four wheel drive would enable us to wild camp on some fabulous beaches.
We were initially looking at expedition type vehicles, but they proved extremely expensive, and might not be that easy to sell when the trip was over.  So the next option we looked at was a truck camper, which has worked out very well.
TCM: How did you research your truck and camper rig from Europe?
Gary: We spent a lot of time on Truck Camper Magazine and selected three dealers in the northeast United States to chat with.  From London, we flew to Boston and visited Campers Inn in New Hampshire.
Not having a permanent address in the United States or a Social Security number made it difficult to register a truck in our name.  To solve this, we formed a Montana LLC, which is now the official owner of the truck and camper.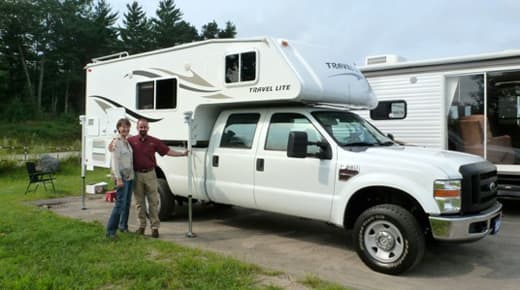 Above: Picking up the Travel Lite 1100RX camper at Campers Inn
TCM: That's incredible, and proof that where there's a will, there's a way.  What truck and camper did your Montana LLC purchase?
Gary: We bought a used 2011 Travel Lite 1100RX.  The truck is a 2008 Ford F350 crew cab, long bed, single rear wheel, four wheel drive, diesel.  We bought the truck and camper in August of 2012.  The team at Campers Inn was very helpful.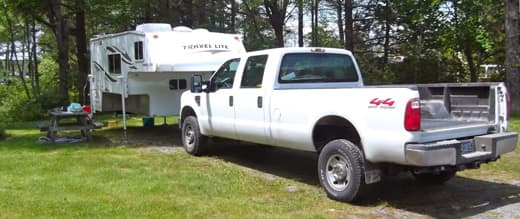 Above: Gary and Liz took the camper off while at Peggys Cove in Nova Scotia
We know how to load and unload the camper on our own.  Having a four wheel drive diesel truck allows us to explore off-road locations.  We love the whole truck camper concept and the options it gives us for future travel.  We meet amazing people and enjoy every minute.  The hardest decision is the initial one, to do it!
TCM: What was your vision once you left Campers Inn in your truck camper rig?
Liz: It was to explore the United States, Canada, Mexico, and Central America.  We decided that twelve months should just about cover it.  We were wrong!  Canada alone is huge!
Our shakedown trip was to visit friends in Columbus, Ohio.  We had about six weeks to get back to Boston before we flew back to Australia for a previously scheduled three week visit home.
We had an itinerary including major points of interest and a schedule.  We read our guide books every few days, checked our notes from favorite travel blogs, looked at the map, decided on a route, and set off.
Above: Exploring Canada.  Click to enlarge.
TCM: Did you have any issues crossing the borders into Canada or Mexico?
Gary: We are ardent followers of blogs by fellow travelers.  Through these travel blogs, we have found a wealth of information that made us almost feel like we were cheating.
For instance, one blogger had a great idea for crossing the borders into the United States, Mexico, and Canada.  The blog suggested looking for the smallest and narrowest roads crossing the borders on the map.  We did that and, on three of the four border crossings, we were the only ones there.
In one case, we struggled to get away from the border guard as he kept wanting to talk about the world in general.  On fourth border crossing, the United States' computers at the border were down so that crossing took quite a while.  Otherwise the blogger's idea works out very well.
We suggest seeking out blogs on the internet for areas you propose traveling to and making copious notes.  It has worked for us.  There is no need to reinvent the wheel.
Above: National Military Park in Vicksburg
TCM: What were some of your favorite places in the United States?
Gary: We traveled to Mount Washington National Park in New Hampshire.  The Mount Washington Cog Railroad is one of the world's last remaining steam powered trains.  It chugs its way up three and a half miles of heart-stopping steep tracks to the summit of Mount Washington.
On the Natchez Trace Parkway, we went to the antebellum houses in Natchez linking the French, Spanish, French, and English occupation eras.  Anyone who can remember Elvis must call and visit his home in Tupelo.
If you are at all interested in the Civil War, you should go to the National Military Park in Vicksburg.  The burial and ceremonial mounds, in particular Emerald Mound (AD1400) just west of NTP milepost 10.3 north of Natchez, is worth visiting.
We walked on the original Natchez trail where hundreds of years ago First Nation people walked, fur trappers walked and traded, and other traders from the Ohio River Valley returned home after selling their goods and their barges in the south.
We drove along Route 66 as much as we could through Oklahoma, Texas, New Mexico, and Arizona, stopping off at various towns on the way.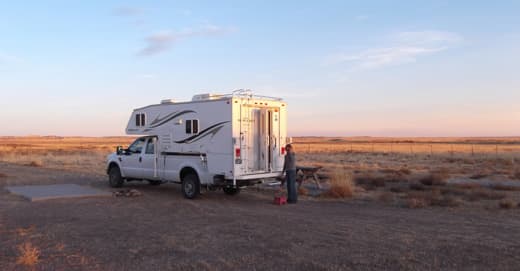 Above: Petrified Forest, Arizona
The route we took depended on the season, how much time we had, and what our interests were.  We also wanted to call and visit friends on the way from New Hampshire to Southern California, so that defined our route somewhat.
When we returned to the United States from Mexico, we went through Tucson, Tombstone, and Grand Canyon National Park in Arizona.  Then we went to White Sands National Monument in Alamogordo, New Mexico and east to New Orleans, Louisiana.
We followed the Mississippi from Venice, which is south of New Orleans, north all the way to Lake Itasca State Park in Minnesota where we reached the headwaters of the Mississippi River.  Spots along the way included the Corps of Engineers Visitor Center and Lock and Dam No. 15 at the Quad Cities in Davenport and Bettendorf, Iowa.
We went to Rock Island in Moline, Illinois and Hannibal, which is Mark Twain's boyhood home.  We stopped in Saint Genevieve, Mississippi and Saint Francisville, Louisiana, which are preserved historical River towns.  We went to Cairo, at the confluence of Ohio and Mississippi Rivers, and Vicksburg where the river became the target of longest siege in US military history.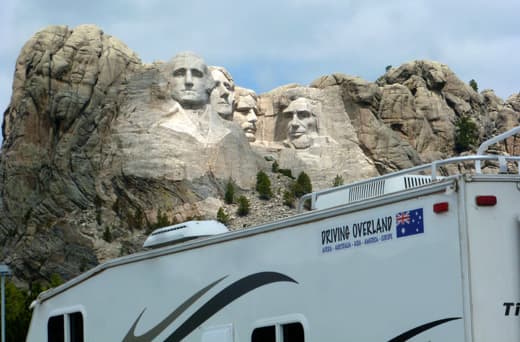 Above: Mt. Rushmore, South Dakota
From there we went west to South Dakota where we visited Mount Rushmore, Crazy Horse Memorial, and the Badlands National Park.
Above: Traveling in Belize.  Click to enlarge.
TCM: What were the highlights in Mexico and Belize?
Gary: In Baja, we traveled through the deserts, camped on the Bay of Conception beaches, visited the San Ignacio Mission.  In mainland Mexico, we went to the cities of Mexico City, Oaxaca, San Cristobal, and Zacatecas.
We saw the Mayan ruins in Palenque in the Chiapas region.  We also went to the Teotihuacan Pyramid ruins near Mexico City, the ruins in Casas Grandes in Chihuahua State, and Copper Canyon, which is also in the Chihuahua State.  Another interesting destination was Angangueo, west and northwest of Mexico City where the Monarch Butterflies migrate to each year from Canada and the US.
Belize is a poverty stricken country.  The fact that they have so many hurricanes, very few buildings are left unscathed in one way or another.  In Belize, we went to the Community Baboon Sanctuary, a Baboon and Howler Monkey reserve.
Go to Mexico!  You will love it.  Start with Baja and then go to the mainland.  The folks there are so friendly and helpful.  A large percentage of the campgrounds are closing because so few people are visiting Mexico.  In Mexico, we met plenty of Canadians, English, German, fellow Aussies, and French couples, but only one American.
Wild camping is not bad either.  We never felt threatened or apprehensive at all.  There are lots of police and army stops on roads, but they were always friendly.  We went through Mexico unscathed.
TCM: Where did you go in Canada?
Gary: In Canada, we went east to Newfoundland and then west to British Columbia.  We toured the Nova Scotia coastline, saw Newfoundland puffins and moose and the Saltbox houses.  We also went to Elk Island National Park Bison Sanctuary near Edmonton and to Lake Winnipeg.  Canada was an amazing country, but the expensive nature of Canada was disappointing.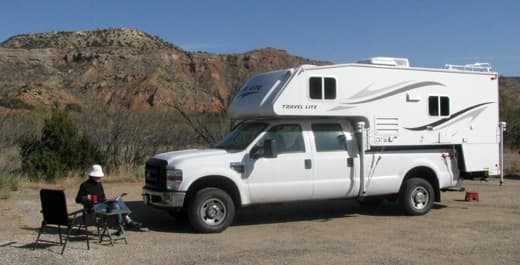 Above: Palo Duro Canyon, Texas
TCM: Tell us about your day-to-day life on the road.
Liz: We set our wake up time according to the mileage planned for that day.  We may languish a little if it's a short drive.  Then we check email, read the news, and eat a cooked breakfast.
For lunch we often have a salad and we usually have a cooked dinner or another salad.  Gary looks forward to relaxing with a drop of red wine and a snack in the early evening to unwind.  If we have a long or arduous drive, we make sure to stop often to keep the fluids happening and the driver rejuvenated.  We do this especially on really boring drives like prairies or continuous pine forests.
We may have more than one destination during a day, in which case we park, lock up, take computers with us in a backpack, and return to resume our journey.  We are fanatical about security and always choose our parking spot carefully.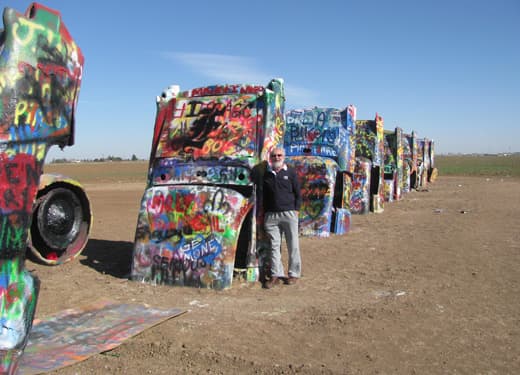 Above: Gary at Cadillac Ranch, Amarillo, Texas
TCM: What do you like to see and do while you're traveling?
Liz: Apart from the same must-see list most people have, we enjoy seeing things not listed in guide books.  This means going to local information centers and choosing out of the way places that interest us.
We like to see things of a more historic or culturally rich nature.  For example, we like parades, festivals, missions, churches, covered bridges, explorers' routes, and immigrant settlements.  We are not at all keen on resorts.
We also enjoy music.  Occasionally we have stumbled onto recitals in churches, halls, or market places.  We have seen choirs and instrumental groups.  It's often difficult to get to concerts or live theater because of transport into cities from RV parks.
When not driving, Gary trawls the internet.  He's a news junkie, and likes to know what's going on in the world.  He keeps up to date on other people's travel blogs and tinkers with stocks on the stock market.
I'm a Scrabble junkie.  I play most days by myself for an hour or so.  I find playing Scrabble very relaxing and it keeps my mind alert.  We also have a few card games.
We treat ourselves to a DVD or two when we are in RV parks with electricity.  Occasionally, our son sends us a memory stick full of movies.  We don't have a television antenna, nor do we miss TV.  We are always reading either hard copy or Kindle.
I write for our own travel journal blog and keep it up to date.  Gary is the main contributing photographer.  I occasionally score an appearance with a snap, usually taken hurriedly through the windscreen or side window.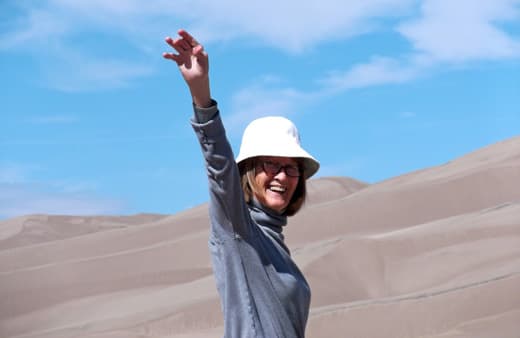 Above: Liz in Sand Dunes National Park
TCM: What would you consider to be some of the biggest challenges you've encountered during your travels?
Liz: Language has been a challenge.  In small towns in Mexico and in European countries, not being able to speak more than our "need to know" Spanish was definitely a challenge.  Often we wanted to compliment someone or make a relevant comment about something and we were not able to do that adequately.  We definitely felt challenged in those situations.
Scarcity of conversation was also an issue.  We were starved of meaningful conversation, except with each other.  Other than asking if the shower was hot, or if a bus passes the RV park, we were not really able to engage in much conversation in some countries.
Accessing the internet has also been a struggle.  In most countries, it's been a long convoluted transaction to purchase and access the internet.  Not being a United States citizen has also been a constant challenge for many transactions.
Gary: Liz requires more prescription medications than most people.  Purchasing those, without paying exorbitant prices, has been a little tricky.
Liz also does not eat processed meat or vegetables, or starchy foods.  Even in Mexico, the fresh vegetables that she wanted were not always available.  Those that they had, had almost always passed their use by date.  If we had wanted red beans, corn, or chillies, the world would be sweet!  Big supermarkets in large towns were okay, but by choice we were not always in big towns.
In Mexico and Europe, the busses usually take travelers from campgrounds to the nearby cities and towns.  We used these busses frequently in Mexico and Europe.  In the United States, busses do not usually pass campgrounds.
We like to travel on backroads where we can see more, but there were many instances in Poland, Mexico, and even Canada where the backroads were so poorly maintained that we damaged our rig traveling them.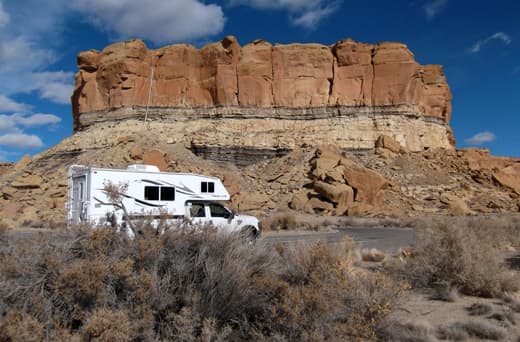 Above: Chaco Culture National Historic Park, New Mexico
TCM: What have been the biggest rewards of traveling around the world?
Liz: Serendipities have been a reward.  Taking the left track instead of the right one, and having an amazing vista unfold before us as we crested a hill giving us the feeling of being quite blessed.
Finding a bag of fresh farm eggs, fresh fruit, vegetables or a jar of honey on our step when we returned to the truck from hiking or a walk along a beach was amazing.  A large wooden clothes airer was left for me to dry my washing while I was doing a pile of hand-washing in a basin at a campground.
We feel richer for the experience.  Spending time getting to know a little about the culture of other people and learning that basically moms and dads all want their kids to have a better life than they did; that they all want to live a decent life with dignity, just like we do, no matter what their circumstances.
There have been many random acts of kindness on the road.  We have been in seemingly lost predicaments in the middle of busy cities or towns and strangers have indicated that they will show us the way.  On another occasion, a stranger quickly found the owner of a vehicle blocking the way and had it moved.  And yet another was when a gentleman showed us an alternate route to an RV park because he could see that we would not be able to pass under a looming railway bridge.
After meeting, people have extended invitations for us to park on their driveway when we are in their neck of the woods.  In all cases of random acts of kindness, no rewards were asked for, just a wave or handshake and a thank you, gracias, obrigado or merci!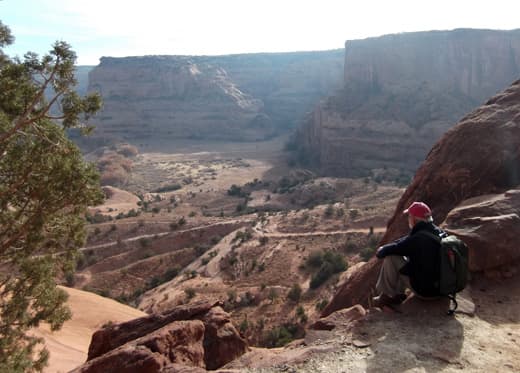 Above: Canyon de Chelly, Arizona
TCM: For most of us, the time and expense of a trip around the world seems like an impossible dream.  How did you make it work?
Gary: The hardest decision to make was just to do it.  After that, we looked at how much we needed to survive on the road and calculated fuel costs, camping fees, provisions, and more.  We have a budget of $2,200 USD per month and watch our budget carefully.  In addition, we have a slush fund for capital expenditures like insurance, registration, shipping, flights, etc.  It's surprising how well it has worked out.
The cost of traveling in the United States is about the same as it was in Europe.  It is a bit cheaper in Europe.  Mexico was much less expensive.  Canada was a disappointment and we blew our budget due to most things costing a lot more than anywhere else we've traveled, especially diesel.
TCM: What's next?
Gary: We plan to spend twelve months on the South American continent.  We head south in October of 2013.  We will try to get as far as Ushuaia in Argentina.  After that, we may go home, or maybe we will visit some more European countries and Western Russia.  We cannot think that far ahead!
Truck: 2008 Ford F350, crew cab, long bed, single rear wheel, 4×4, diesel
Camper: 2011 Travel Lite 1100RX
Jacks: Rieco-Titan
Tie-downs/Turnbuckles: Torklift tie downs, Happijac QuickLoad turnbuckles
Suspension: Airlift airbags
Gear: Replaced the original single battery with two Group 31 Batteries, 125 watt solar panel and monitor, Thetford RV Sani-con Macerator and 50' hose, 12 volt Goodyear i7000 air compressor, 500W inverter, Wave Rogue WiFi antenna