Growing up, neither of us went camping with our families.  As a teenager, I camped with only with a bicycle or a motorcycle.  I had very little money as a student and could not afford hotels, but I wanted to travel.
On our previous trips through North America, we had studied the various classes of campers.  It was clear to us that only a truck camper made sense.  A truck camper has many advantages which corresponds exactly to our needs.  The best part of a truck camper is that we can stop anywhere, anytime.  They are relatively small, agile, and multi-functional.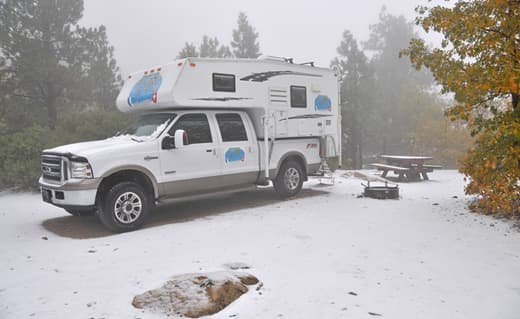 Above: November 4th after a beautiful sunset; snow the next morning
When buying our camper, there were two very important requirements for us that needed to be met.  We did not want a pop-up because we want to travel in very windy and cold regions.  The other requirement was that the truck and camper had to be able to be loaded into a forty-foot shipping container.  So the choice was very limited and the Northstar Laredo made the best impression on us.  Our truck had to be a 2007 or older Ford diesel because in many countries no LSD (low sulfur diesel) is available.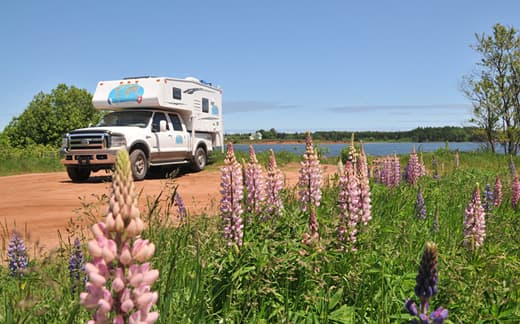 Above: Spring in PEI (Prince Edward Island)
We researched all of the information from the Internet including, of course, Truck Camper Magazine.  When we contacted truck camper manufacturers for information, only Northstar and Truck Camper Warehouse replied.  The people at Northstar and Truck Camper Warehouse were very helpful and gave us good advice on choosing a truck and camper that would suit our needs and fit a container.  We ended up camping for quite some time in our new truck and camper at Truck Camper Warehouse.
Unfortunately, we did not have experience with truck campers, so we had to rely on the experience of others.  It was very difficult to register the truck.  In addition, we were under time pressure because Anita had booked a flight from Montreal to Switzerland.
While Anita was in Switzerland for four weeks she visited the family the whole time I was in Montreal.  During this time I made some changes on the truck camper and boxes for the wheelhouses of the truck.  Now I can keep the tailgate in its original place.  When Anita got back, we traveled for three months to Nova Scotia, Newfoundland, and Labrador via Toronto and Winnipeg, and then we traveled to Denver.
Above: Traveling west to California
We met Anita's sister and sister-in-law from Switzerland in Denver and we traveled together to San Francisco.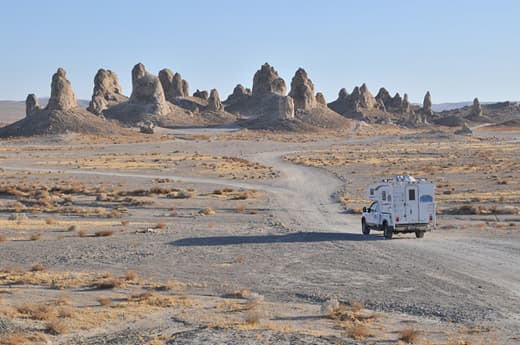 Above: The Pinacles in the Mojave Desert; nice, free and absolute quiet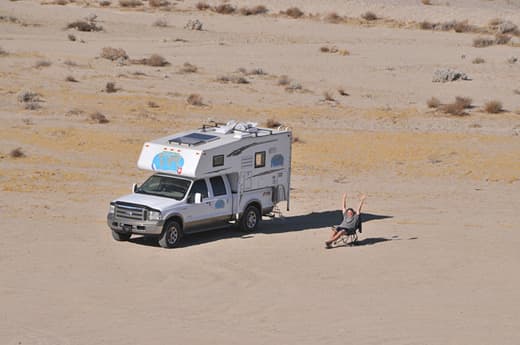 Above: The Pinacles in the Mojave Desert; one week alone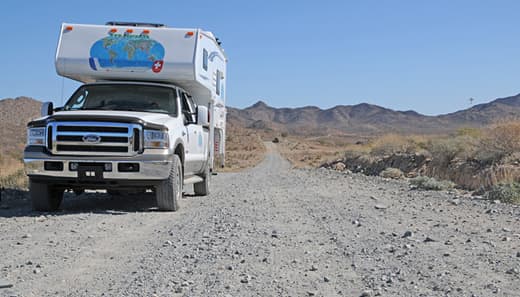 Above: The MEX-5 in the Baja California needs good tires.
There we said our good-byes and then traveled to the Mojave Desert.
Now we are in Baja.  Once again, we are fascinated by the beauties of Canada and the United States, especially the beautiful Labrador and Newfoundland, but also the fantastic national parks in the United States.