Mark and Anita Rytz of Switzerland share their incredible world travel by BMW motorcycle and Northstar truck camper.  First they sold everything.

The following story was submitted to us by Mark Rytz.  Thank you Mark for contacting us with your amazing story and photography.  We hope to follow your lead someday.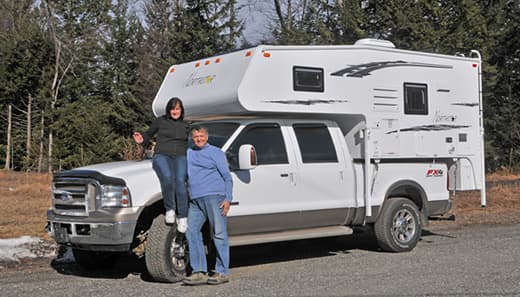 Earth by Motorcycle and Truck Camper
by Mark Rytz
When I was about five years old, my father gave me a pretend coupon and said, "You can use this ticket to travel to Honolulu".  The next day I took my three-wheel to the train station in Lucerne and boarded the first available train.  It was an express train to Zurich.  When the guard asked me where my mother was, I answered that I was traveling alone.  When he asked me where I wanted to go, I said to Honolulu.  When he asked me if I had a ticket, I showed him my coupon.  At the next stop I was taken off the train and handed over to the police.  They were alarmed that I was missing from my mother.
My wife and I were born in Switzerland and never lived anywhere else.  Before we left Switzerland for our trip we had very good jobs.  My last job was a general purchasing manager at the largest stainless steel producer in the world and Anita was secretary to the local mayor.
We sold our house, our cars, our sailboat, and everything else.  In August 2008, we started our current world tour with a motorcycle.  We want to see with our own eyes how the world looks, and not just from seeing it on television.  The television has stupid shows and a lot of political propaganda.  The world is not as bad as the news agencies and the politicians make it out to be.  On our trip, we want to learn about other cultures, lifestyles, animals, and plants.
Traveling the World by Motorcycle
Our trip started by motorcycle.  Anita and I have traveled together by motorcycle since 1975 and I have traveled on a bike since 1968.  There are so many beautiful places on Earth.  Every continent and every country has its highlights.  It is very difficult to pick favorites, but our preferred regions are Alaska, the Colorado Plateau, Patagonia, Ireland, and, of course, Switzerland.
So far, with the motorcycle, we have visited eighty-two countries, including Siberia, China, Japan, and all countries in Europe and North Africa.  We have been on a motorcycle on every continent, on the highest passes in the Himalayas, in the hottest deserts, and on all shores of the oceans.  On our current world tour, we have visited thirty-eight countries.
If you want to travel for years on the road, then only the best equipment is good enough.  It requires perfect material.  Perfect service is even more important.  We have had Japanese motorcycles and eight BMWs.  It was clear to start this trip with a BMW R1200GS Adventure.  It was the best bike I had owned in forty-three years.
Traveling with a motorcycle is different than traveling by car.  Everything is much more intense, exciting, and beautiful.  You come in contact with people very quickly and can navigate the smallest roads.
Unfortunately, traveling with a motorcycle is much more expensive than traveling with a truck camper.  The operating costs are about the same as for a truck camper, but we had to find a hotel every day, and eat in restaurants.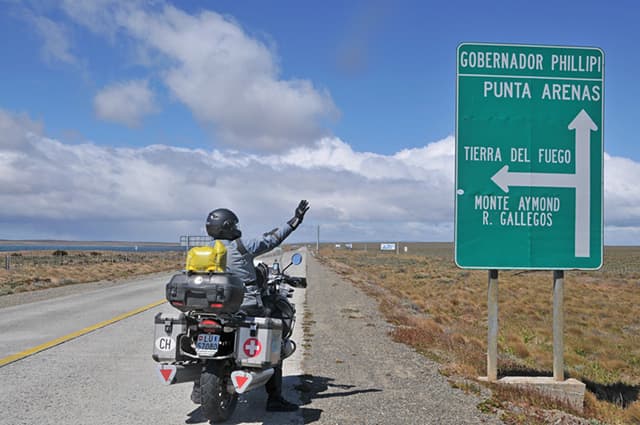 Above: December 2010 not far from our dream in South America
It had been planned from the beginning that we would stop motorcycling in March of 2011 for the Carnival in Rio de Janeiro.  Unfortunately, we had to stop in Tierra del Fuego.  After forty-three years and over 600,000 kilometers, this was the first time that we didn't have a motorcycle anymore.
We have been on a motorcycle in North America several times and have seen great places.  It was a must in the planning of this world tour that we travel around North America again, specifically the west side of the continent, but this time with a truck camper.  North America and Australia are ideal to travel with a camper; it's much better than with a motorcycle.
Traveling by Truck Camper