Andres Schiele and Astrid Rosas ordered a custom Hallmark Guanella truck camper sight unseen for off-road and off-the-grid exploration of South America.  Don't miss Andres's mods.

After many months of research, Andres Schiele and Astrid Rosas finally got to see their Hallmark for the first time when it emerged from a container in Coronel, Chile.  Andres had ordered the Hallmark via email.  He never visited Hallmark, or even called them on the phone.  Until the camper arrived in Chile, his entire experience with Hallmark had been nothing more than words, pictures, and electrons on his computer screen.
Compounding this incredible leap of faith is the fact that Andres ordered a long list of custom features including different windows and a unique lower bed arrangement.  Where some of us wouldn't order a shirt online for fear of not liking the color or fit, Andres ordered a truck camper, with lots of custom features, from a company thousands of miles and another country away.
Not to kill the suspense, but it all worked out perfectly and Andres and Astrid are now exploring South America in their custom Hallmark Guanella.  What follows is Andres' story of how he discovered Hallmark, and exactly why he requested so many custom features.  Naturally, this entire story was done via email.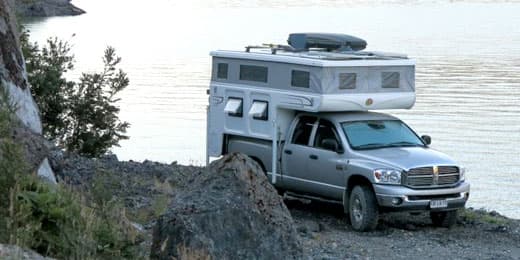 TCM: Tell us about your three years of research and how you decided to get a pop-up truck camper.
Andres: When I started my research, I did not know anything about RVs.  I began my search browsing the web.  My first question was, "Which vehicle should I use?"
My first idea was to use a utility vehicle like a Fiat Ducato or Mercedes Benz Sprinter and convert it into a motorhome.  Then I realized a four-wheel drive vehicle would be best for driving in South America.
With a four wheel drive in mind, my choice was reduced to the small Japanese trucks like those from Nissan or Mitsubishi, or a truck from the United States like the Dodge Ram 2500.  The Dodge was my choice because of the weight involved with a truck camper.
Once I got the Dodge Ram, my plan was to construct a hard side camper in Chile.  That idea was discarded when I decided that a pop-up truck camper would be more capable for off-road travel.
From that point, my search was focused on pop-up campers made in the USA.  I chose Hallmark because, in my opinion, Hallmark makes the best constructed pop-up truck camper in the United States.

Above (click to enlarge): Andres's sketches of his custom Hallmark Guanella
TCM: How did go about contacting Hallmark and ordering your camper?
Andres: In 2011, I emailed Hallmark a document that I prepared with all the features and customizations that I wanted for my camper.  I even included sketches, diagrams, and specifications of the windows that I wanted.  I also sent a lot of questions in the same document.  Matt Ward at Hallmark was very responsive to my questions and I quickly realized that it would be easy to work with Hallmark via email.
After Hallmark answered my questions, I simply picked from the list of options on Hallmark's website.  It was very easy to work with Hallmark via email.  During the entire process, there were no phone calls and I never visited the factory.  Hallmark did all of the customizations I asked for.  It was really easy to work with them.
I selected Hallmark because of their composite panels and one-piece composite roof.  When I ordered my camper in 2011, Hallmark had not yet debuted the option for Coosa composite or aluminum framing.  That said, the external structure of the camper is the most important thing for me.  The internal structure is contained by the external composite panels which are fiberglass composite, similar to what's on a fiberglass boat.  Most of my traveling is on gravel or stone roads.  I've had no problems with the structure at all.

Above: Camper arriving at the Coronel port in Chile
TCM: It's incredible that you ordered your Hallmark sight unseen via email.  When did you finally get your camper?
Andres: I received my camper in Chile in December of 2011.  The camper arrived at the Coronel port in Chile on a ship.  The camper was packed inside a twenty foot shipping container.