Andres Schiele and Astrid Rosas ordered a custom Hallmark Guanella truck camper sight unseen for off-road and off-the-grid exploration of South America.  Don't miss Andres's mods.

After many months of research, Andres Schiele and Astrid Rosas finally got to see their Hallmark for the first time when it emerged from a container in Coronel, Chile.  Andres had ordered the Hallmark via email.  He never visited Hallmark, or even called them on the phone.  Until the camper arrived in Chile, his entire experience with Hallmark had been nothing more than words, pictures, and electrons on his computer screen.
Compounding this incredible leap of faith is the fact that Andres ordered a long list of custom features including different windows and a unique lower bed arrangement.  Where some of us wouldn't order a shirt online for fear of not liking the color or fit, Andres ordered a truck camper, with lots of custom features, from a company thousands of miles and another country away.
Not to kill the suspense, but it all worked out perfectly and Andres and Astrid are now exploring South America in their custom Hallmark Guanella.  What follows is Andres' story of how he discovered Hallmark, and exactly why he requested so many custom features.  Naturally, this entire story was done via email.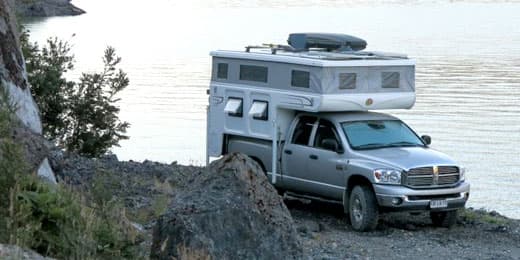 TCM: Tell us about your three years of research and how you decided to get a pop-up truck camper.
Andres: When I started my research, I did not know anything about RVs.  I began my search browsing the web.  My first question was, "Which vehicle should I use?"
My first idea was to use a utility vehicle like a Fiat Ducato or Mercedes Benz Sprinter and convert it into a motorhome.  Then I realized a four-wheel drive vehicle would be best for driving in South America.
With a four wheel drive in mind, my choice was reduced to the small Japanese trucks like those from Nissan or Mitsubishi, or a truck from the United States like the Dodge Ram 2500.  The Dodge was my choice because of the weight involved with a truck camper.
Once I got the Dodge Ram, my plan was to construct a hard side camper in Chile.  That idea was discarded when I decided that a pop-up truck camper would be more capable for off-road travel.
From that point, my search was focused on pop-up campers made in the USA.  I chose Hallmark because, in my opinion, Hallmark makes the best constructed pop-up truck camper in the United States.

Above (click to enlarge): Andres's sketches of his custom Hallmark Guanella
TCM: How did go about contacting Hallmark and ordering your camper?
Andres: In 2011, I emailed Hallmark a document that I prepared with all the features and customizations that I wanted for my camper.  I even included sketches, diagrams, and specifications of the windows that I wanted.  I also sent a lot of questions in the same document.  Matt Ward at Hallmark was very responsive to my questions and I quickly realized that it would be easy to work with Hallmark via email.
After Hallmark answered my questions, I simply picked from the list of options on Hallmark's website.  It was very easy to work with Hallmark via email.  During the entire process, there were no phone calls and I never visited the factory.  Hallmark did all of the customizations I asked for.  It was really easy to work with them.
I selected Hallmark because of their composite panels and one-piece composite roof.  When I ordered my camper in 2011, Hallmark had not yet debuted the option for Coosa composite or aluminum framing.  That said, the external structure of the camper is the most important thing for me.  The internal structure is contained by the external composite panels which are fiberglass composite, similar to what's on a fiberglass boat.  Most of my traveling is on gravel or stone roads.  I've had no problems with the structure at all.

Above: Camper arriving at the Coronel port in Chile
TCM: It's incredible that you ordered your Hallmark sight unseen via email.  When did you finally get your camper?
Andres: I received my camper in Chile in December of 2011.  The camper arrived at the Coronel port in Chile on a ship.  The camper was packed inside a twenty foot shipping container.
Once Matt emailed me to say that my camper was ready to ship, I had anxiety because I wanted my camper as soon as possible in Chile.  I was a little worried about the shipping process inside of the container.  I didn't want the camper to get damaged in the shipping process.  But everything was perfect and the camper arrived in Chile with zero damage.  Thanks to Hallmark for taking care of my camper.
TCM: We actually saw your camper being built when we were at the Hallmark factory last October.  Did Matt send you pictures of your camper being built?
Andres: Yes, Matt emailed me a lot of pictures so that I could see my camper as it was being built.  I read the Truck Camper Magazine article about your visit to the Hallmark factory last year, but I didn't know that you had seen my camper when you were there.

TCM: Why did you get a diesel heater?
Andres: Propane can be a challenge to refill in South America, but diesel is everywhere.  Altitude can be a limitation for diesel appliances so I decided not to go with 100% diesel appliances.  Instead I chose to go with a diesel heater as that is the appliance that demands the most fuel/propane.  During my research, I found that the Webasto 3900 has altitude compensation and that helped make my decision to go with that diesel heater.
TCM: Does the Webasto 3900 diesel heater work as you had hoped?
Andres: It works perfectly.  It makes us feel like we're in our house.  Home sweet home.  We only press a button, set the thermostat, and the camper is warm in five minutes.  I 100% recommend it.  It is expensive, but really worth the cost.
The Webasto is smaller than the standard propane heater and I was able to install it in the same place as the propane heater.  The unit uses a high speed ventilator to move the air to the heating ducts, so it is necessary that I have a 12-volt connection.  The electrical consumption is more efficient than the propane unit.
TCM: Why did you decide to use fiberglass propane tanks?
Andres: Fiberglass propane tanks are semi-transparent so I can see the exact amount of propane contained inside.  They are also lighter than metal propane tanks.  There is no potential for rust.  The fiberglass propane tanks I use have a special 1¾" ACME connector which matches the adaptor used at propane stations.  I have had no problems refilling the tanks so far.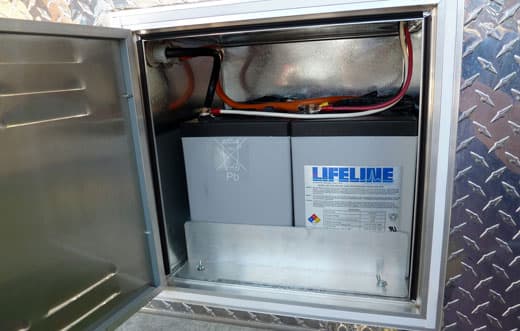 TCM: Tell us about your battery and solar set-up.
Andres: In order to have the more extended off-the-grid capabilities, I decided to install two six-volt AGM batteries (225Ah).  These are deep cycle batteries which support large discharges and also do not spill or emit gas.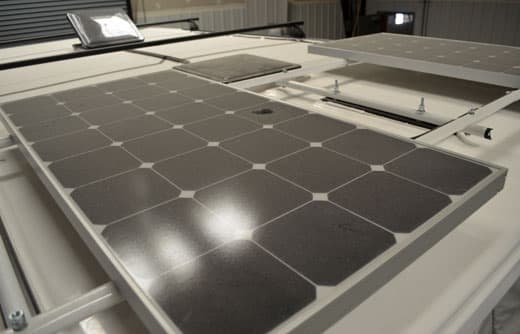 I have two 100 watt solar panels which cover all my electrical consumption, including the refrigerator, diesel heater, vacuum cleaner, hair dryer, laptop, television, stereo, LED lights, water pumps, and more.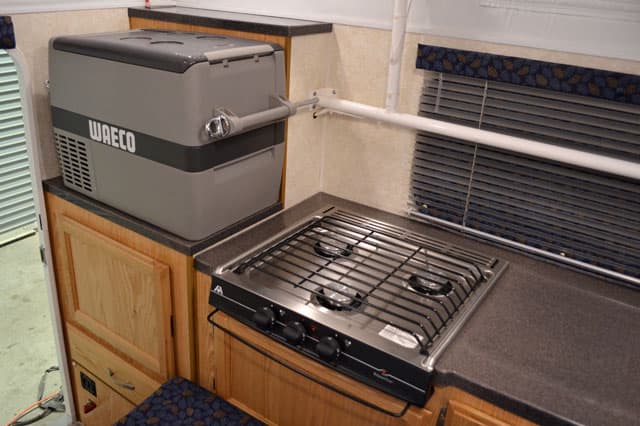 Above: Andres has a Waeco 12 volt refrigerator in his Hallmark Guanella
In South America, you will not find campgrounds like the style you have in the USA.  In most of the campgrounds located far from the main cities you will only find water.  There is no electric.  The solar panels definitely extend my camping capabilities because I do not depend on external power.
We find beautiful landscapes on the road and prefer to stay there in a place of a campground.  It is a good idea to practice boondocking, or free camping, to enjoy the beautiful places on the road.

TCM: Another custom feature you requested for your Hallmark was a full-sized second bed in the lower part of the camper.  Why did you want a second full-sized bed?
Andres: We wanted the second full-sized bed so we can sleep in the camper with the top down.  This is a must feature for us.  We sleep in the lower bed when there's bad weather and on windy days.  In Torres del Paine we had the most windy day in our travels and we preferred to sleep with the top down.
We have also used this feature when we decided to camp for the night in a city.  We will camp on a residential street and, with the top down, nobody thinks we are sleeping inside.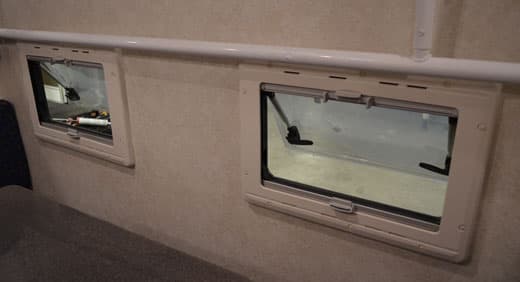 TCM: Why did you choose different side windows for your Hallmark?
Andres: We replaced the two big windows with two small Dometic Seitz windows.  The reason we made this change is to prevent thieves from breaking the windows and getting inside the camper.
We also enjoy that we can open our Dometic Seitz windows when it's raining.  Because the windows are insulated, we are more comfortable in the camper when it is cold outside.
TCM: Is security that much of an issue in South America?
Andres: Yes, it is.  Chile is a very good country to live in and it is secure, but our idea is to travel long distances throughout South America without worrying about thieves.  We have read a lot of stories about thieves breaking windows to get into vehicles.  We feel very comfortable with the Seitz windows and are very happy with this choice.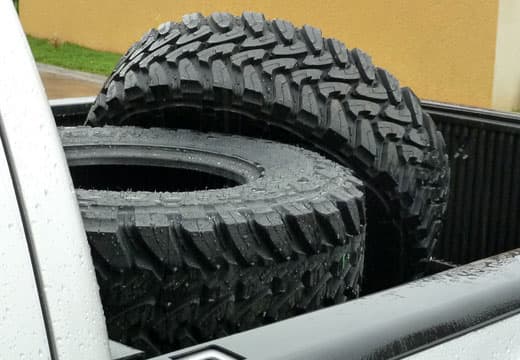 TCM: What modifications were needed for your truck to make it ready for South America?
Andres: First, we had to work on the truck's suspension.  I replaced the original rear shocks with adjustable Rancho RS-9000XL shocks and installed airbags.  I can adjust the airbags wirelessly with a remote control in the cab.  We also have Toyo M/T Tires.

I installed a four stage water filtration system in the truck, not in the camper.  The filtration system has an electrical valve that permits either two stages or four stages of filtration depending on the quality of the water.

I made and installed a boot window to seal the connection between the truck and the camper.  I installed a switch inside the camper that permits us to open or close the rear window of the truck.  This allows us to easily to move stuff between the truck and camper.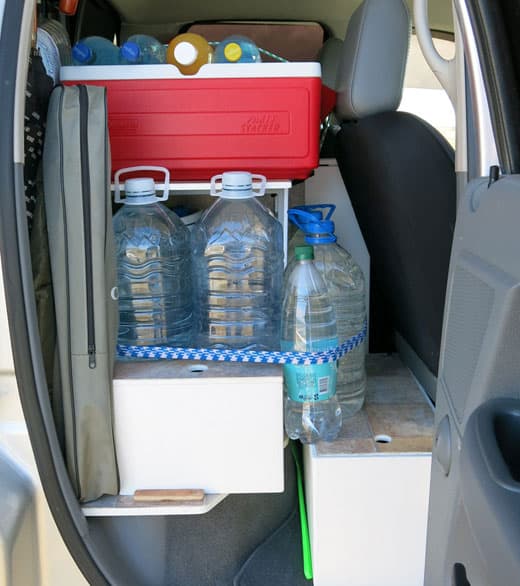 I also removed the complete rear seat of the truck and made wood divisions and tables in order to accommodate all kinds of stuff like jerry cans for water, sleeping bags, boxes for food, a camping table, porta-privy (shelter to take external shower), shoes, tools, an aluminum ladder, and much more.
This area really works like an extension of the camper.  The boot window helps us to keep this connection between the camper and truck clean and also keeps the wind out while the windows of the camper and truck are both open.  We have found this feature to be very useable for us.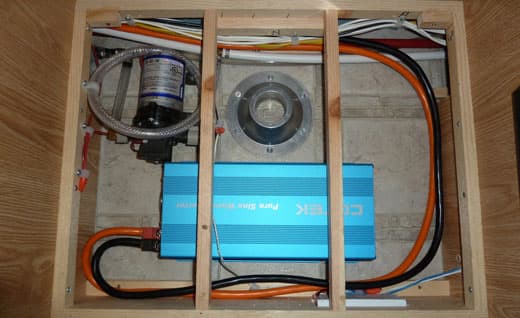 TCM: Are there any other modifications to the camper that we didn't ask about?
Andres: There are a few.  I had to adapt the electrical system to work with 110 or 220 volt power, depending on the country we're in.  I installed a transfer switch to switch between external shore power and internal power using a 1000-watt inverter.  I installed that under the dinette table.

There's a diesel jerry can, rear light, and back up camera on the outside of the camper.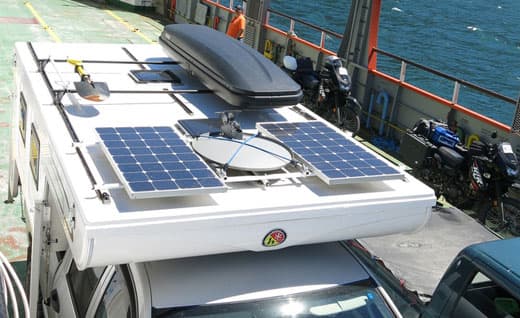 We also have a shovel and Thule cargo box on the roof.

I also installed a 4.7 gallon grey water tank on the back of the truck to receive the water from the sink and shower.
I do not want to depend on campgrounds to plan a route.  I just want to go ahead and pass the night anywhere.  I prefer quiet places near lakes or rivers.
TCM: Where to from here?
Andres: I left my house on December 30, 2012 and have been camping ever since.  I have not needed to charge the batteries at all.  Solar panels are more than enough.  In two months, my twenty pound propane tank still has fifty percent of its capacity left.
In the near future, I will follow-up with Truck Camper Magazine for a story on what we see and experience as we explore South America.
TCM: Thank you, Andres.  We'll catch up with you soon.
Truck: 2008 Dodge Ram 2500, 5.9L Cummins Diesel, Quad Cab, Short Bed, 4×4
Camper: 2011 Hallmark Guanella
Tie-downs/Turnbuckles: Happijac tie-downs, Torklift turnbuckles front, chains rear
Suspension: Firestone Airbags, Rancho RS-9000XL shocks in rear
Gear: See article for modifications and gear