Chloé and Toby Conroy crossed into Mexico on November 21, 2013 in a Northstar TC650 truck camper rig.  They've been on the road, wandering south, ever since.  Seize the road!

When you check your bank account, or retirement savings, or just look at everything you have accumulated of value, do you ever think to yourself, "What if I never actually get to enjoy what I worked so hard to save?"  In other words, what if your health runs out before you're able to stop working and do what you want to do?
This is not an idle question.  This year in particular, Angela and I have had some extremely hard wake up calls that have brought this question, and everything it implies, into very sharp focus.
This is not to say that we should all quit our jobs or burn through our retirement savings in some hair-brained quest to live life to the absolute fullest while we still can.  Then again, maybe that is the right answer.  The most troubling part of all this is we never know.  I could hit the floor tomorrow from some condition I don't know I have.  Or I could live to be 105, torturing future generations with my admittedly ridiculous sense of humor until I'm taken out by a swarm of irate nano particles in 2077.
Less than two years ago, Chloé and Toby Conroy made a big decision.  They were at a cross roads with their careers and concerned that their work-life balance had become completely out of whack.  In a move that will seem brave and courageous to some, and careless and foolhardy to others, the Conroys decided to sell everything, buy a truck camper rig, and explore Central and South America until their life savings ran out.  Put another way, Chloé and Toby Conroy decided to live their lives to the absolute fullest, while they still can.
Via email, we recently caught up with the Conroys mid-adventure to get their story and find out where they've been, where they're going, and how they're doing.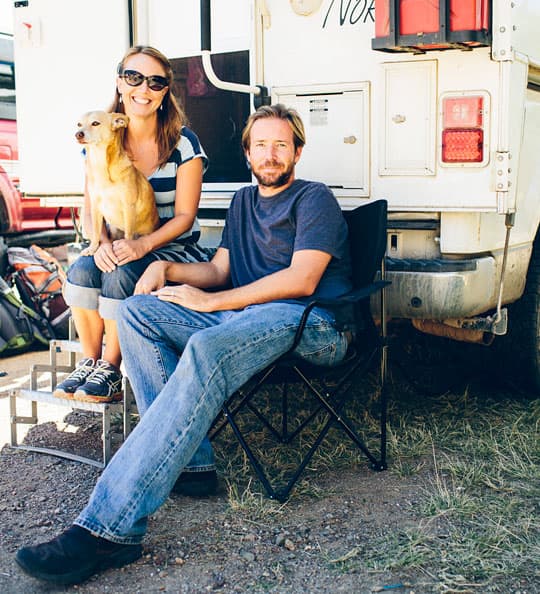 Above: Toby, Chloé, and their dog, Tia, in Guanajuato, Mexico
TCM: Tell us the story of how your life on the road began.
Chloé: We have been together for sixteen years, and have often talked about travel but, with school and/or work taking priority throughout the years, we mainly put it on hold.
We found ourselves in a stressful time in our lives where we felt we were only focused on work and not really living or enjoying life.  We knew we needed a change in our quality of life and how we lived our lives.  We began with a plan to move to Hawaii where, when we visited, we found the lifestyle to be more easy-going.  An enjoyment of life is more a way of life there, something we really needed and wanted to embrace.
So, in March of 2013, with Toby's work already being over, and my contract with work ending in May, we began to plan for a move to Hawaii.  After finally freeing ourselves from work, and realizing we would be uprooting ourselves anyway, we began to discuss travel again.  That's when we got excited about a road trip, something we have always enjoyed.
We had driven across the United States before and wanted to visit new countries.  Discovering that others had driven to the south end of the Americas, we decided such a trip would be a great way to see many new places.
We first thought we would go to Hawaii for a year to plan the trip to South America, but then realized it didn't make logistical or financial sense to ship all of our stuff to Hawaii, spend a year somewhat up in the air, and then ship everything back for the trip.
When we finally set a date, we only had about three months before setting out.  We quickly began to sell our stuff, and prepare for our new life on the road.
TCM: How did you plan for your adventure during that time?
Chloé: We did a lot of reading.  We found a common thread that seemingly all previous Pan American travelers could agree on, which was don't plan too much.  Most speak of almost instantly realizing that they over-prepared and, as a result, over packed.  By planning, they either were off schedule almost immediately, or missed opportunities as they came up.  We took this to heart and decided to do as little planning as possible.
We also packed as lightly as we could and then figured we would purchase what we needed when we needed it along the way, taking each day as it came.
Although initially stressful, this approach gave way to a sense of peace that everything will simply unfold.  As it turns out, you don't need all that much, and almost everything you might need is available along the way.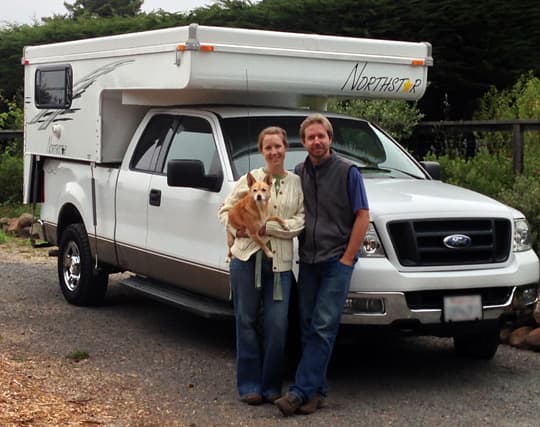 Above: Chloé, Toby, and their dog, Tia leaving home to start their adventures
TCM: That was a very brave approach.  And many truck campers who explore the United States and Canada say much the same thing about preparing and packing.  How did you decide what truck and camper to get?
Chloé: Choosing and assembling our rig was the most important and agonizing part of our preparation.  Initially, we had planned on taking a Toyota Four Runner with a Maggiolina roof top tent.  We wanted to stay as small and maneuverable as possible.  But, on the day we went to test out and possibly purchase the tent, it happened to be raining.  During our attempt to climb into the tent, we realized that this would be our bed for the next year or so and, in turn, our constant battle to keep the elements out of it.
In the meantime, Toby had read a few blogs, specifically Pan Am Notes and Adventure Americas.  These blogs featured young couples taking truck campers on the Pan Am journey.  Inspired, he looked into what it would take to assemble a truck camper rig for us.
We had set a modest budget for our Toyota build.  Much to his surprise, Toby found, with a little luck, we could put together a decent expedition truck camper for the same price.
In order to navigate the small villages and mountain roads, we wanted to skirt that line of the biggest of the small or the smallest of the big.  For a truck, we went with a Ford F150 because it had the largest payload of the small trucks and has at least one dealership in every one of the countries we would be visiting.  That criteria ruled out Ram, Chevy, and GMC.  Toby knew he wanted a V8 and four-wheel drive given the roads (or lack there of) we would be taking, and the weight we would be carrying.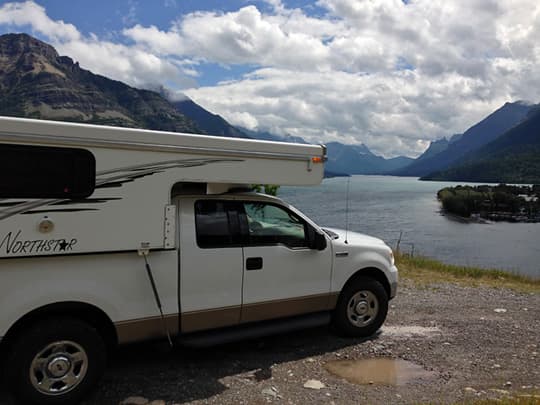 Above: Chloé and Toby's 2004 Ford F150 and 2012 Northstar TC650
We got lucky and found a used 2004 Ford F150 within our budget.  It already had an added spring leaf, 130W alternator, tow package, and new set of Cooper Discoverer ATP "E" rated tires.
As for the camper, a pop-up was a must, since we really wanted to stay as small and maneuverable as possible.  Although our search was budget driven, we were unable to find a second-hand light weight truck camper in our price range.
Then Toby stumbled onto Northstar Campers and was very impressed by the value for the money they offered.  Living in California, where it is widely known that wooden houses standup to earthquakes better than most, he simply applied that logic to off-roading in a camper.  Wood fames have a lot more flex and can therefore withstand what the road has to offer.
We bought a 2012 Northstar TC650, and were very happy with what we built for the money.  Having a small and maneuverable truck camper gives us the best of all worlds.  We can go to tight and remote places and have a comfortable bed to sleep.  Our camper features propane heat, air conditioning, and a shower.  We can sit inside playing cards and cook during a rainstorm.
Our truck and camper rig has thoroughly impressed us by withstanding wind, rain, snow, river crossings, mud, sand, and insanely bumpy roads.  We have been quite comfortable throughout our trip.  We love that we have an easy to set up and close down small mobile home that takes us to so many incredible places.  It really feels like our home, with a constantly changing view outside.

Above: Driving to Coban, Guatemala
TCM: We certainly know what it's like to think of your truck camper rig as home.  Did you have anything modified on your truck and/or camper for Central America?
Chloé: The biggest and most rewarding modification was the addition of a 175AH AGM Battery, 150W Zamp solar panel, and a 300W pure cine wave inverter.  Those modifications have completely changed our ability to dry camp.  Power is no longer a concern.
We added SuperSprings to support the load, which work amazingly well.  We had originally thought of going with airbags but, given the rough roads we would be driving, and the inability access spare parts in remote areas, we figured the metal SuperSprings were the way to go.  The worst case scenario with a metal SuperSpring is that it would need bending back into shape.
We removed our camper jacks to save several pounds and add maneuverability.  In doing so, the jack brackets provided great mounting points for our five gallon jerry can.  This added eighty miles to our range, thanks to DC Metal Work of San Francisco.  We also added a one gallon propane tank mounted to the front adding a week, thanks to Overlander Oasis, Oaxaca, Mexico.
I fabricated an air deflector for the space above the cab.  The deflector functions surprisingly well increasing our gas mileage to sixteen miles per gallon and smoothing the ride (especially around trucks/busses).
We added a CVT 99" awning which, when we use it, has been greatly appreciated.  We also made a few other small storage modifications to make the most of the space we have (shelving, cargo net).
In hindsight, we wish we had installed a water filtration system to avoid the expense and hassle of finding clean water.

Above: Camping in Utah on BLM lands
TCM: For others taking the trip what gear would you recommend?
Chloé: The most valuable piece of equipment we brought is our Viair air compressor.  The Viair allows us to air up and air down as needed, taking the sting out of the awfully rutted roads.  It also lets us air-down and glide over sand, and air-up to corner like a sedan on the freeway.
We would recommend a good set of easily accessible and durable camping chairs and a table.  As we camp all the time, usually breaking camp daily, our outdoor furniture needs to be durable, comfortable (basically our only chairs for a year), and easy to access and stow.  Our chairs and table take longer than we would like.
The conversation around spare parts is a tricky one.  Almost everything is available almost everywhere.  It is just a matter of time and money to get it there.  Many travelers will swear by Toyota as the only option for this type of trip as Toyotas are everywhere down here.  The assumption is that the parts will be here too, and that local mechanics know how to work on them.
In our experience, this thinking limits your capabilities and is simply not the case.  Generally speaking, traveling in Central America in almost any truck, you will be able to find parts.  The parts might take a few days to get to you, but this has been true for many of our Toyota driving friends as well.
If you have the space, it's generally worth it to carry a few extra filters (oil, fuel, and air) and maybe a change of brakes.  If your truck runs on synthetics (motor, transmission, and differential) it is rare in Central America and will likely require a special trip to a dealership in a larger city.  If there is no dealership for your brand, there are always Ford and/or Toyota dealerships which will likely carry comparable synthetics.  Your best option may be to bring synthetic oil, if you need it.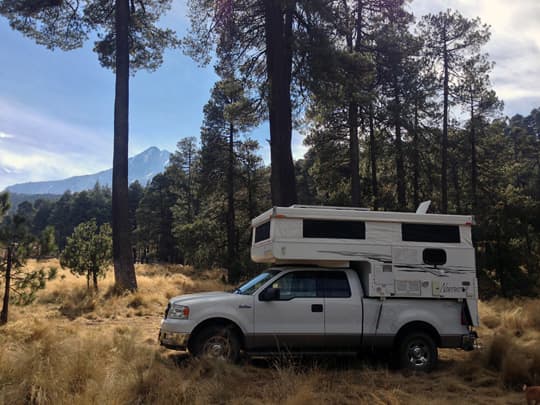 Above: The Northstar TC650 at the Volcano Novada de Toluca, Mexico
TCM: Looking at your rig specifications, it doesn't look like you have an interior bathroom.  Has that been a challenge?
Chloé: For the most part, bathrooms are easy to find at campgrounds, gas stations, and restaurants.  They may not always have toilet paper or toilet seats, but we've grown used to not expecting much.
When we are boondocking or dry camping, we are often remote enough to go in the bushes and dig holes as needed.  We got a good tip from some other overlanders to have an emergency wide-mouth water bottle (red to hide the color) for urination in places where you can't go outside and can't find a toilet.  It's only been used a handful of times, and then gets a little rinse with water and bleach for storage again.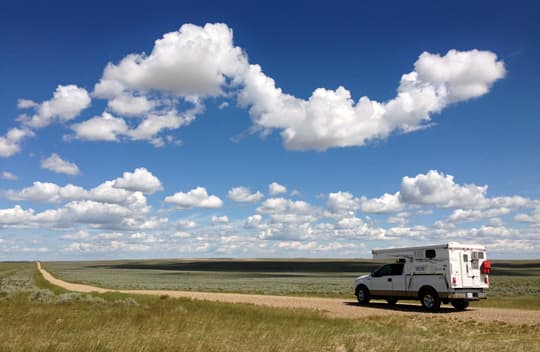 Above: Traveling through Montana
TCM: I can see some of our readers wincing at that idea, but it would work.  How did your trip start out?
Chloé: We started our trip with a two-month shake down trip around the United States.  We had some very good friends who were getting married across the country, which gave us the perfect excuse to go see them.
Above: Just outside of Zion National Park, Utah – click to enlarge
We had driven cross-country several times in the past and there were a few spots we had wanted to see again like Glacier National Park, Chicago, North Carolina, and Utah.  That gave us a loose framework to work with.
All of that changed once we crossed the border south into Mexico.  We had vaguely stated that we wanted to be in Ushuaia (where the road ends in Patagonia) for New Years Eve, 2015.  That was really just a date grabbed out of thin air that felt far enough in the future to be a possibility and would have us there for summer.
As for routing south of the border, it plays out day by day.  You hear of things from other travelers, or read in travel books about places that sound interesting, and you go there.  If you like it, you stay; if you don't, you move on.
We had initially thought we would spend about a month and a half in Mexico and ended up spending four.  We are drawn to the mountains, beaches, colonial towns, and free camping.  As long as we are generally heading south, we are happy.  Every so often, pressured by budget and/or weather, we are motivated to pick up the pace.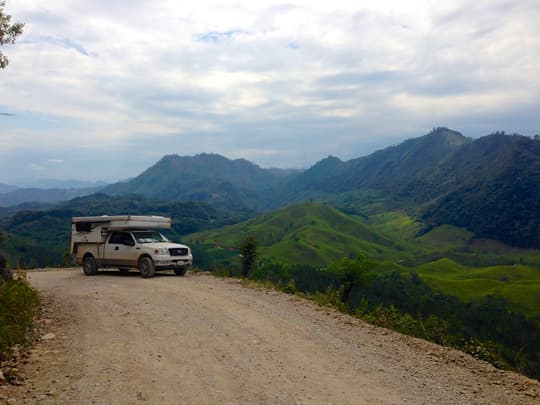 Above: Return road from Semuc Champey, Guatemala
TCM: You're relatively young.  How have you afforded to stay on the road and travel?
Chloé: By selling everything and coming to terms with spending all of our savings, we assembled what we hope will be enough to complete the trip.  We both had been working and saving for many years and the timing simply worked out.
I was coming to the end of my contract and Toby had just come off a fairly lucrative project.  We make many sacrifices along the way including not visiting higher priced tourist locations.  These can include museums, national parks, and pricier restaurants or other extras.
Finances can be a bit stressful at times, especially when unexpected costs pop up like truck repairs, vet/doctor visits, and a GoPro.  We thought we could go without a GoPro, but who were we kidding on a trip like this?  If only we had gotten one earlier.  We do have a budget that is rapidly depleting.  If possible, would love to find a way to make money on the road to keep us out here.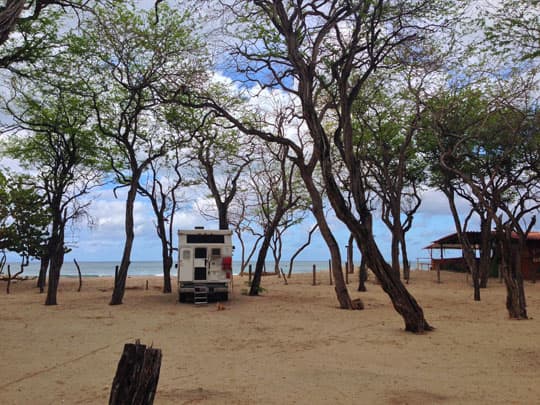 Above: Playa Matilda, Nicaragua
TCM: How has communication with others been on the road?  Do you speak Spanish?
Chloé: Neither of us spoke Spanish prior to the trip, other then some high school Spanish over a decade ago.  Basic communication has been fairly easy to pick up, getting what we want and working out what others wanted from us, for the most part.
The biggest regret we have about the trip is not being able to communicate as much as we would like to.  We do, on occasion, feel a little isolated.  We can't have broader conversations and get to know people more.  Often we meet friendly and interesting people that we would love to talk to, but leave unsatisfied as our limited Spanish restrained the conversation.
We have found that there is a huge traveling community.  Baja for example is basically Canadian in winter, and so English is quite frequently used.
TCM: What countries have you been to so far?
Chloé: On this trip, we have traveled through the United States, a teeny bit of Canada, Mexico, Belize, Guatemala, El Salvador, briefly Honduras, Nicaragua, Costa Rica, Panama, and now we're in South America.
Here's a run down of the highlights, by location: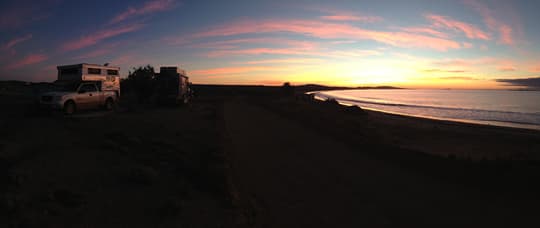 Above: San Roque with adventures in Skyhorse
Mexico: Baja, Mexico is a dream location for overlanders.  It is fairly undeveloped, has beautiful places, is cheap with lots of inexpensive or free camping spots, and is relatively safe and easy.  The food all over Mexico is both incredibly delicious and often really cheap.  In addition to loving Baja, we loved the beaches on the west coast of mainland Mexico as well as the beach of Puerto Escondido/La Barra in the state of Oaxaca and Tulum in the Yucatan.
Above Left to Right: Volcano Novada de Toluca, El Chiflon, and Guanajuato, Mexico – click to enlarge
We also loved the colorful colonial cities of Guanajuato, San Miguel de Allende, and San Cristobal de las Casas.  We really loved the state of Chiapas with their gorgeous waterfalls, turquoise rivers, and vibrant green mountains.  We also visited several ruins, which were beautiful and really interesting.
There is so much to see and do in Mexico.  Even with spending four months there (two and a half more months than we originally thought we would), it was still not enough time.  There are a lot of campgrounds throughout Mexico and the "Traveler's Guide to Mexican Camping" by Mike and Terri Church was a great resource for finding places.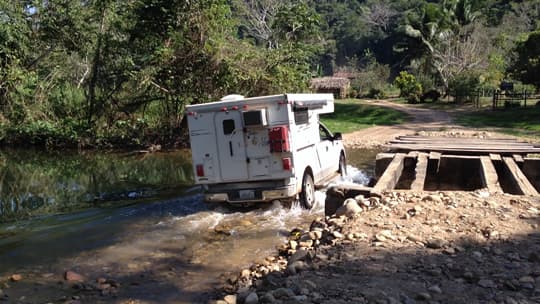 Above: River crossing near Barton Creek, Belize
Belize: We stayed in Belize for about two weeks and enjoyed seeing howler monkeys up close at the Baboon Sanctuary in Burrell Boom (where we stayed for free as well).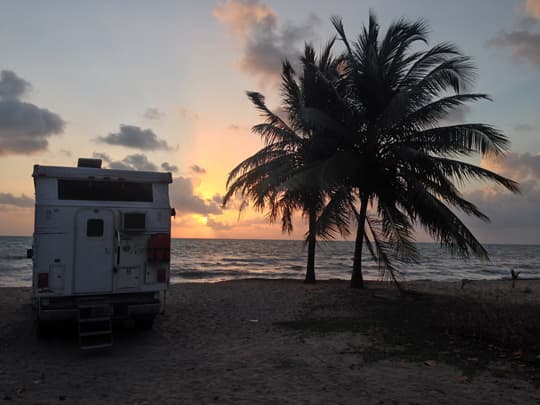 Above: On the beach in Hopkins, Belize
We spent time boondocking on the beach in Hopkins, and in the Pine Ridge Nature Reserve.  It was also nice to be able to get to know the locals more since mostly everyone spoke English.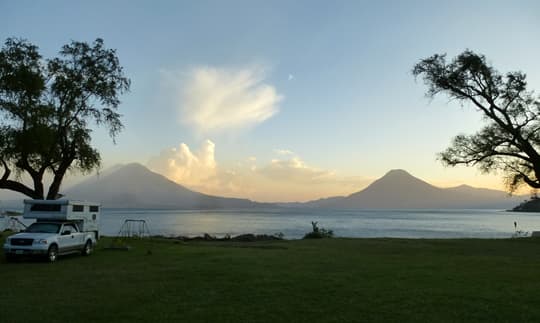 Above: Panajachel, Guatemala
Guatemala: We spent about a month in Guatemala.  Some highlights for us were the ruins at Tikal, the hot water waterfalls that emptied into cool water pools at Finca el Paraiso, the Candelaria Caves, the mountain town of Acul, the towns around Lake Atitlan, especially San Pedro where we took Spanish classes, and the city of Antigua where you can camp for free at the tourist police station in the center of town and where we met up with several other overlanders also there at the time.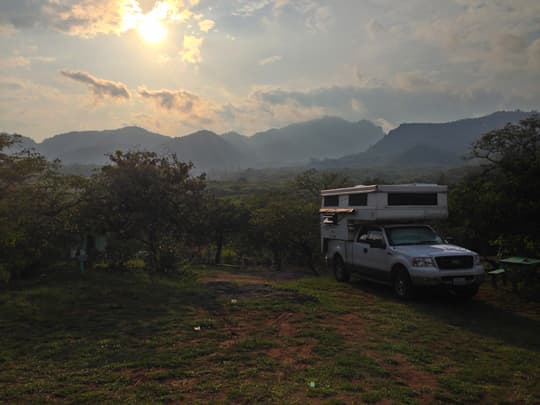 Above: Rio Sapo campsite, El Salvador
El Salvador: We began to pick up our pace a bit as we were concerned about the rainy season in Costa Rica, so we only spent nine days in El Salvador.

Above: Cerro Verde Volcano National Park, El Salvador
Cerro Verde Volcano National Park was one highlight spot for us with misty forest walks and a beautiful volcano and valley views after the clouds and fog cleared.
We were also able to camp within the park and, once the park closed, it was just us in the forest with the park rangers nearby in their dorm.  The other highlight for us was Rio Sapo, where we also camped in a beautiful area right by the river all by ourselves at a cheap campsite with pit toilets and a very cool outdoor communal kitchen.  We then had a nice hike to some great waterfalls nearby.
Honduras: We drove through Honduras in a few hours because we were starting to feel pressed for time to get to Costa Rica.  The approaching rainy season could cause the roads we wanted to take to become impassable.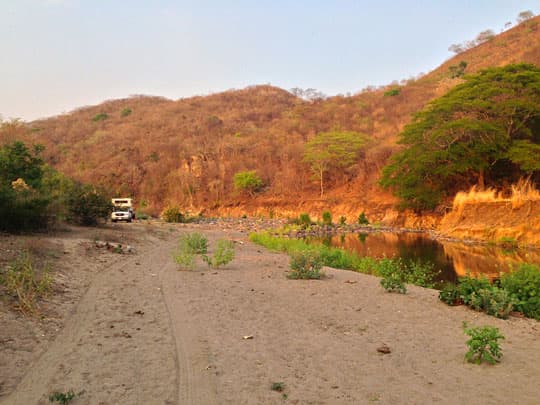 Above: Camp spot at Somoto Canyon, Nicaragua
Nicaragua: We visited Nicaragua for about two weeks.  Just over the border from Honduras, we enjoyed free camping near Somoto Canyon and then a half-day of hiking/swimming through the canyon the following day.

Above: The beach at Playa Amarillo, Nicaragua
We also enjoyed the experience of volcano boarding near Leon, getting to drive up to the crater of the active Mataya volcano, relaxing and swimming at Lake Apoyo, and visiting the city of Granada.  We spent time boondocking on the beautiful and essentially deserted beach at Playa Amarillo with lots of howler monkeys in the trees, horses and cows passing by, some rare and interesting birds, and even a sea turtle briefly coming ashore.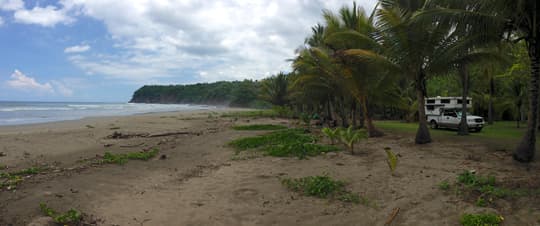 Above: Playa San Miguel, Nicoya Peninsula, Costa Rica
Costa Rica: We spent just over a month in Costa Rica, and what a time we had!  It has beautiful nature of all kinds in abundance; lush green jungle, waterfalls, beautiful beaches perfect for boondocking (Nicoya Peninsula), lovely green mountains (Monteverde, Arenal), and a lot of great wildlife to enjoy.  Plus, the Pura Vida lifestyle everywhere was infectious!

Above: Playa Hermosa, Costa Rica
We were able to get drinkable water for free from taps again and, the whole time we were there, we only paid for one night of camping (which we didn't need to do, but I really wanted to see sloths and we were able to at that campsite).  We had a great time becoming more adventurous with our rig, taking roads less traveled, doing some serious river crossings, and strengthening our eye for boondocking spots.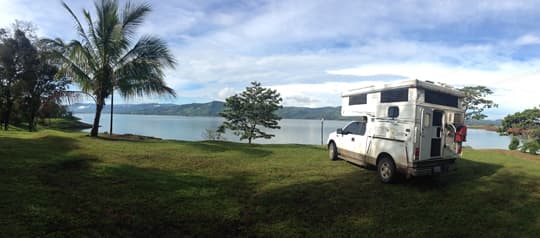 Above: Lake Arenal, Costa Rica
Although there were times the biting bugs drove us a bit nutty, we enjoyed almost every other moment of our time in Costa Rica.  We were able to really put our truck and our camper to the test by having it withstand it all so well and take us to so many cool places.  We were super stoked with our rig which we affectionately call Moby since we thought, after getting rid of the Four Runner, was like a big white whale.  It doesn't seem so big to us anymore!
Panama: We spent just over two weeks in Panama.  We had a set date for shipping our truck, which was the first official date we'd had the whole trip.  We had little time to explore the country, spending most of it dealing with preparation for shipping and preparation for flying our dog over to Colombia.  We did enjoy the day trip we had to Isla Colon in the Bocas del Toro islands, enjoyed the cooler temperatures and green mountains of Boquete, and enjoyed walking around old town in Panama City.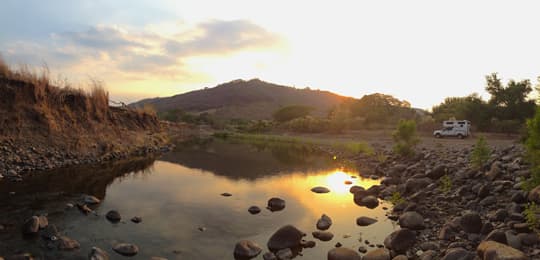 Above: Camping at Somoto Canyon, Nicaragua
TCM: What have the border crossings been like?
Chloé: The vast majority of boarder crossings in Central America have been fairly straight forward comprising of three basic parts; get a visa for us, get a temporary permit for the truck, and get an import permit for the dog.
It usually takes about an hour or two, and you really only need your passport, driver's license, and truck title, plus multiple copies of each.  Some countries require proof of insurance and, to be expected, there is someone right there to sell it to you.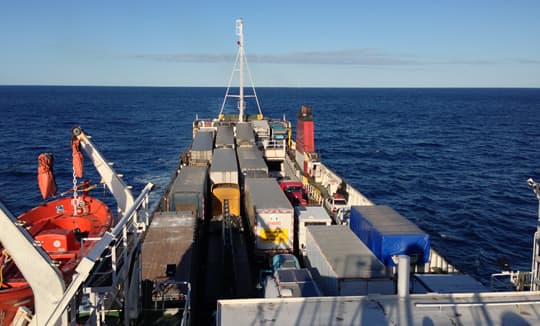 Above: The ferry from La Paz to Mazatlan, Mexico
The camper is usually opened and looked into but, in our case, rarely entered.  Only once did our camper require paperwork.  The only place we needed paperwork was in Baja, Mexico. You can enter Baja from California without needing to formally import your vehicle but, when you ship to the mainland (in our case La Paz to Mazatlan), you have to obtain a temporary import permit.  In addition to my truck title, they wanted a camper title, or bill of sale.
Although fairly straight forward as far as the process needed, Central American border crossings are often convoluted, disorienting, and frenetic.  On many occasions we would be accosted by mobs of helpers who offer their services to guide you through the process.  They can be relentless and in your face, following you around and pointing out where to go even if you tell them you don't need their help, or the offices are clearly marked.  Then they ask you to tip them for their help, which you can obviously choose to, or not.
When the border is particularly convoluted like Costa Rica into Panama on the Caribbean coast, where the offices are all spread out and the order of operations seems a little backwards, a helper can be a very useful guide.
Several other overlanders have done a great job of documenting the step-by-step process for completing border crossings and those were often incredibly valuable resources for us.  We thank them greatly for taking the time and energy to provide that information on their blogs.  As long as you focus on what needs to get done, give yourself ample time, and keep your patience, border crossings are no problem and quite the cultural experience.
TCM: That does sound like quite the cultural experience.  Other than the language barrier, what challenges have you faced on the road?
Chloé: At first, it was a challenge to adjust to living in such a small space for such an extended period of time, but we found we adjusted faster than we expected.  There is also always adjustment to slightly new items like food and products, and to even new words within the Spanish language as we move from country to country.   We have come to expect that and are now used to it.
We roll with the changes as best as we can.  We do find it challenging to work out the balance between when to stay places and when to move on.  These decisions are based on the funds we have and the weather issues in places ahead of us.  For example, the rainy season in Costa Rica and winter in Patagonia.  There is so much to see and do and yet we feel there is always so much more to see and do ahead of us.
As you stated, having such limited Spanish does pose a bit of a challenge, especially for more technical issues like car repairs.  For the most part, people are kind and patient and we work it out.  Part of this trip is learning to face, overcome, and accept the challenges we come across.  It will be interesting to see how much better we apply our new tolerance for challenges when we return to the United States.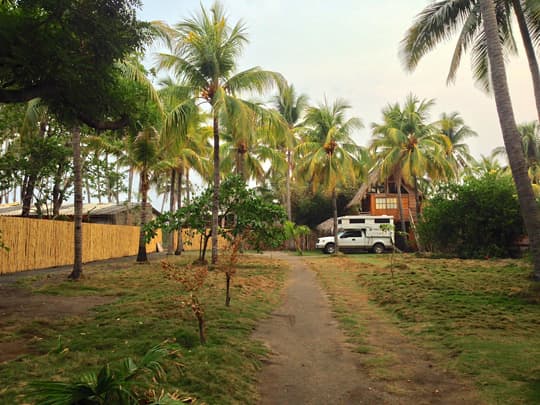 Above: Campsite in El Tunco, El Salvador
TCM: When our reader talk about traveling in South and Central America, their number one concern is personal safety.  Have you experienced any personal safety issues during your travels south of the border?
Chloé: Except for the potential of petty theft, we haven't felt in danger or greatly concerned for our personal security.  Coming from the States where there is a lot of talk about "dangers in Mexico," we were a bit nervous at first.  With time and experience with the locals, we were able to relax as we came to find people were very inviting and friendly.
We often speak with locals and follow their guidance on places to avoid, which have only been a few localized places here and there.  We boondocked almost every night for the two months we were in the United States but, because of the fear instilled in us from all the talk in the United States, we primarily stayed in campsites throughout Mexico and much of Central America until we hit Costa Rica.
If we went back, we may feel more comfortable trying to boondock more in Mexico and Central America now that we are more comfortable with boondocking in foreign places.  We are comfortable just asking around since many people are happy to offer places they know to camp or even volunteer their own property.
We may first see faces of concern, confusion, or intimidation with our big truck rolling into a tiny village, but we have found that a smile goes a long way and that quickly people warm right up.  We have come across some of the infamous roadblocks.  For the most part, these are just super poor communities trying to squeeze a dollar out of the only resource they have; tolling the road.  We pay the two to five dollars they ask for and are thankful that we are not on the New Jersey Turnpike.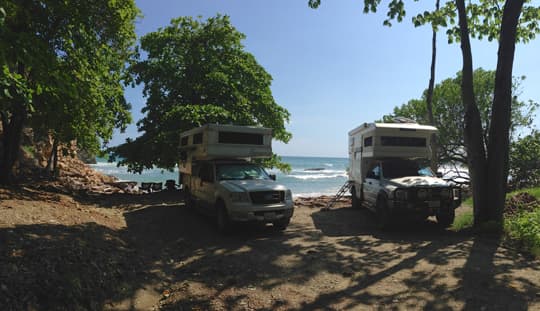 Above: Meeting up with friends, Playa Hermosa Nicoya Peninsula, Costa Rica
TCM: That's funny.  And so true.  You mentioned in an email that you saw the articles in Truck Camper Magazine about Logan and Brianna Pribbeno and Meg and Jed Wolfrom.  While exploring Central and South America, did you often meet others who were also overland traveling from the United States, Canada, Europe, and other parts of the world?
Chloé: There is so much to say about the overlander community.  We don't know where we would be or how we would do this without them.  It has really become an extended family of like-minded people that are often there to help when in need and, as one overlander said perfectly, "probably understand us more than anyone else in our lives right now".
We stumbled upon the community when Toby found a blog of a young couple driving the Pan American Highway called, "Home on the Highway".  From there he discovered the term overlanding, the concept of people traveling/living in their vehicles for extended periods of time, and that there is a vast world of overlanders out there.  The more he looked, the more he found.
Then, while we were planning our trip, a Facebook page for people traveling the Pan American Highway was created called, "Pan American Travelers: Past, Present and Future".  It linked past, present, and future travelers all together in one easy to use social forum that quickly grew to more than 500 members, all sharing information and helping each other out.  Through that page and other forums (Expedition Portal, Drive the Americas, and Wander the West), many of our questions where answered, fears checked, and new friends acquired.
We created an informal class of 2013 that linked several of us who were all scheduled to be traveling at the same time.  This has acted as a wonderful support group and social catalyst.  We got to meet up with overlanders who had previously traveled while we were in the United States (Adv-o-dna, Life Remotely, Ruined Adventures) and throughout our trip have met up with several other couples.
We traveled for five straight weeks with Adventures in Skyhorse and have met up with them several times throughout Mexico and Central America.  We have spent two separate weeks traveling with Song of the Road and also met up with them at various times throughout the trip.  We have met Desk to Glory, Neli's Big Adventure, The Next Adventure, Straight Six Straight South, North South East Westy, and several other non-specifically named overlanders.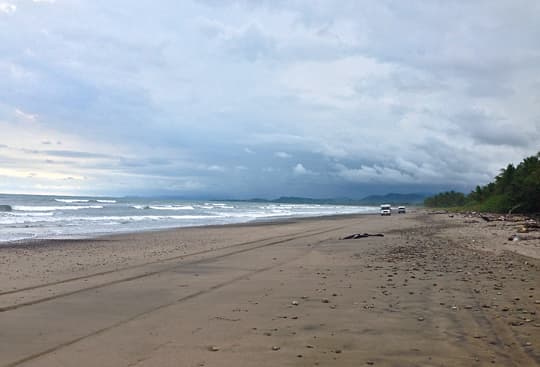 Above: Beach driving with Song of the Road in Nicoya, Costa Rica
We have yet to meet, but have been in touch with and have gotten such great help from Paws on Tour, Lost World Expedition, The Long Way South, and Pan Am Notes.  The list goes on and on.
There are several traveling in truck campers, but also various other rigs like vans, roof-top tents, bikes, self-made rigs, etc.  We have had many discussions about what the perfect overlander vehicle is.  We of course defend our truck camper in those situations.  But, as one overlander said, each rig is perfect for the person who chose it, for all the components that went into making the decision to chose that rig size, cost, maneuverability, availability, and personal style.
We love our overlander community.  They have inspired us to take on this journey and continue to inspire and help us in our journey.
TCM: It's also interesting that everyone seems to have a name – PanAm Notes and Adventures America.  Yours is Carpe Viam.  Where did that come from?  How did you decide upon that name?
Chloé: Choosing a name was not all that easy.  We went through lots and lots of ideas, but nothing really ever felt right.  We played with ideas for quite some time, but felt the names were too cliché, or too obvious, or just didn't last all that long as something we liked.
We talked about wanting a name that captured the spirit we took the trip with.  With the term "carpe diem" (meaning "seize the day") often coming out as part of that discussion.  Toby at one point searched for "seize the road" on the Internet, and there it was, "carpe viam".  As soon as he said it out loud, we both knew that it was the one.  We found a few alternative translations for carpe viam, "seize the way" and "seize the travel," all of which seemed to work for us and we've had that name ever since.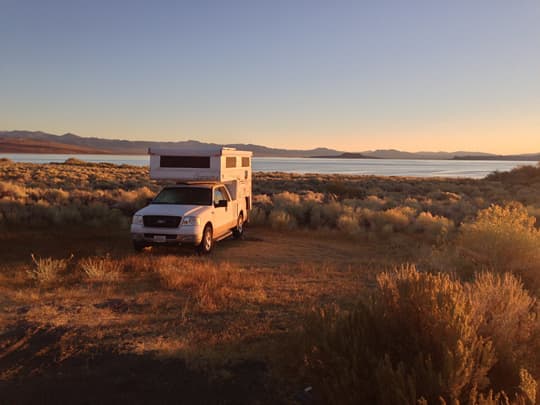 Above: Mono Lake, California
TCM: How long have you been out on the road, and how much longer do you plan on being on the road?
Chloé: We hit the road for the United States trip on July 27, 2013 and spent just over two months touring the United States.  During that time, we briefly went into Canada above Glacier National Park.  We then returned to my parent's house to unload some items we found we didn't need, pack new items we felt we would need for the trip south, and did some final prepping of our rig.
After finishing up some final responsibilities and then having a delay in our departure due to a family emergency, we finally hit the road for the Mexican border on November 21, 2013.  We have been on the road ever since.
We have a rough idea of finishing up the trip around March of 2015, but nothing about this trip is set in stone.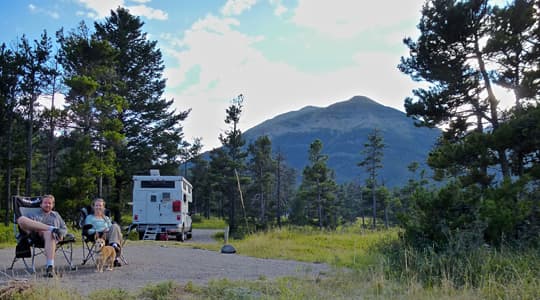 Above: Toby, Chloé, and Tia, in Waterton National Park
TCM: What would you tell yourself if you could go back in time to the very beginning of your trip?
Chloé: We likely would go back and tell ourselves to trust that most people are truly genuinely good, kind people.  We are all more alike, as human beings, than we may realize.  If you are nice to others, they are typically nice in return.  So let the fears go and just trust your instincts.
While we had a great experience spending time in Mexico and Central America, we are really now realizing how much bigger South America is than what we have covered thus far.  We should have likely budgeted our time and money better by spending less time up there so we had more time to spend in South America.  It is more work and, at times, more exhausting to constantly be on the road than we expected.
We have loved/are loving this experience and feel so grateful for it.  In the end, it is all about just relaxing and enjoying the ride.
Truck: 2004 Ford F150, 5.4L V8, 4×4, gas
Camper: 2012 Northstar TC650
Jacks: Happijac (removed for the trip)
Tie-downs/Turnbuckles: Torklift
Suspension: SuperSprings, Cooper Discoverer ATP "E" rated tires, Bilstein 5100 shocks
Gear: Viair 300P Compressor, 175AH AMG and a 150W Zamp solar panel, EBC pads & rotors, Hosspad Jack and Leveling Pads, set of tools, machete and duct tape.

Have you traveled to Mexico and/or Central America with your truck camper?  Please share your story about traveling to Mexico and/or Central America.