Chloé and Toby Conroy crossed into Mexico on November 21, 2013 in a Northstar TC650 truck camper rig.  They've been on the road, wandering south, ever since.  Seize the road!

When you check your bank account, or retirement savings, or just look at everything you have accumulated of value, do you ever think to yourself, "What if I never actually get to enjoy what I worked so hard to save?"  In other words, what if your health runs out before you're able to stop working and do what you want to do?
This is not an idle question.  This year in particular, Angela and I have had some extremely hard wake up calls that have brought this question, and everything it implies, into very sharp focus.
This is not to say that we should all quit our jobs or burn through our retirement savings in some hair-brained quest to live life to the absolute fullest while we still can.  Then again, maybe that is the right answer.  The most troubling part of all this is we never know.  I could hit the floor tomorrow from some condition I don't know I have.  Or I could live to be 105, torturing future generations with my admittedly ridiculous sense of humor until I'm taken out by a swarm of irate nano particles in 2077.
Less than two years ago, Chloé and Toby Conroy made a big decision.  They were at a cross roads with their careers and concerned that their work-life balance had become completely out of whack.  In a move that will seem brave and courageous to some, and careless and foolhardy to others, the Conroys decided to sell everything, buy a truck camper rig, and explore Central and South America until their life savings ran out.  Put another way, Chloé and Toby Conroy decided to live their lives to the absolute fullest, while they still can.
Via email, we recently caught up with the Conroys mid-adventure to get their story and find out where they've been, where they're going, and how they're doing.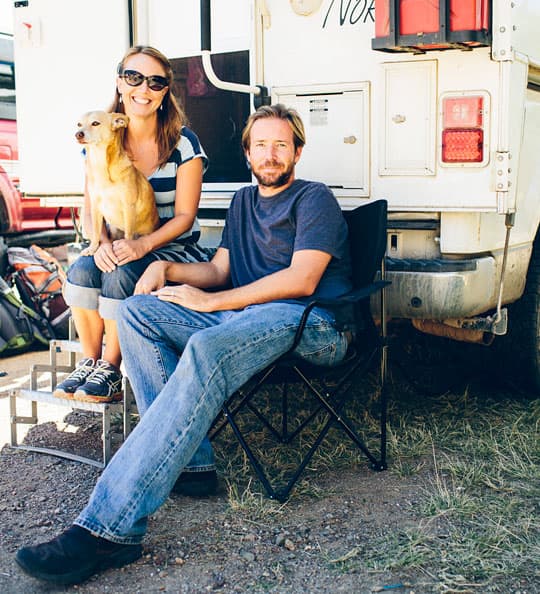 Above: Toby, Chloé, and their dog, Tia, in Guanajuato, Mexico
TCM: Tell us the story of how your life on the road began.
Chloé: We have been together for sixteen years, and have often talked about travel but, with school and/or work taking priority throughout the years, we mainly put it on hold.
We found ourselves in a stressful time in our lives where we felt we were only focused on work and not really living or enjoying life.  We knew we needed a change in our quality of life and how we lived our lives.  We began with a plan to move to Hawaii where, when we visited, we found the lifestyle to be more easy-going.  An enjoyment of life is more a way of life there, something we really needed and wanted to embrace.
So, in March of 2013, with Toby's work already being over, and my contract with work ending in May, we began to plan for a move to Hawaii.  After finally freeing ourselves from work, and realizing we would be uprooting ourselves anyway, we began to discuss travel again.  That's when we got excited about a road trip, something we have always enjoyed.
We had driven across the United States before and wanted to visit new countries.  Discovering that others had driven to the south end of the Americas, we decided such a trip would be a great way to see many new places.
We first thought we would go to Hawaii for a year to plan the trip to South America, but then realized it didn't make logistical or financial sense to ship all of our stuff to Hawaii, spend a year somewhat up in the air, and then ship everything back for the trip.
When we finally set a date, we only had about three months before setting out.  We quickly began to sell our stuff, and prepare for our new life on the road.
TCM: How did you plan for your adventure during that time?
Chloé: We did a lot of reading.  We found a common thread that seemingly all previous Pan American travelers could agree on, which was don't plan too much.  Most speak of almost instantly realizing that they over-prepared and, as a result, over packed.  By planning, they either were off schedule almost immediately, or missed opportunities as they came up.  We took this to heart and decided to do as little planning as possible.
We also packed as lightly as we could and then figured we would purchase what we needed when we needed it along the way, taking each day as it came.
Although initially stressful, this approach gave way to a sense of peace that everything will simply unfold.  As it turns out, you don't need all that much, and almost everything you might need is available along the way.