Tricked out with an Alde hydronic heating system and EFOY fuel cell, Peter and Henny Terstall's Bigfoot and F450 rig travels nearly full-time across Europe.  Roll out the cannons!

There you are in Normandy, France enjoying a once-in-a-lifetime dream vacation and exploring the seaside cliffs and historic beaches.  As you drive towards Mont Saint-Michel, you admire the Renault, Skodas, and Peugeots cars driving with you.  Then, over a rolling green landscape, approaches something that should not be there.  It can't be…
Peter and Henny Terstall's Ford F450 and Bigfoot truck camper roars past you.  Their American pick-up truck and Canadian camper towers over the European vehicles.  There is nothing about this rig that belongs in this setting, and yet there it is.  How can this be possible?
Was that a Jolly Roger emblazoned on the truck hood?  Were those cannons firing on their truck doors?  Who are these people and what are they doing with that huge truck and camper in France?  At this point, an alien spaceship could have sailed by with less jaw dropping astonishment.
Peter and Henny Terstall's story and the tale behind their truck and camper is something you have to read (and see) to fully appreciate.  For starters, they didn't import their truck or camper into Europe.  In fact, their F450 was a show truck.  Even more interesting, Peter has made a few modifications to his rig that we've rarely seen before.  On board fuel cell system?  Check!  Alde hydronic heating install?  You bet!  And that's not all.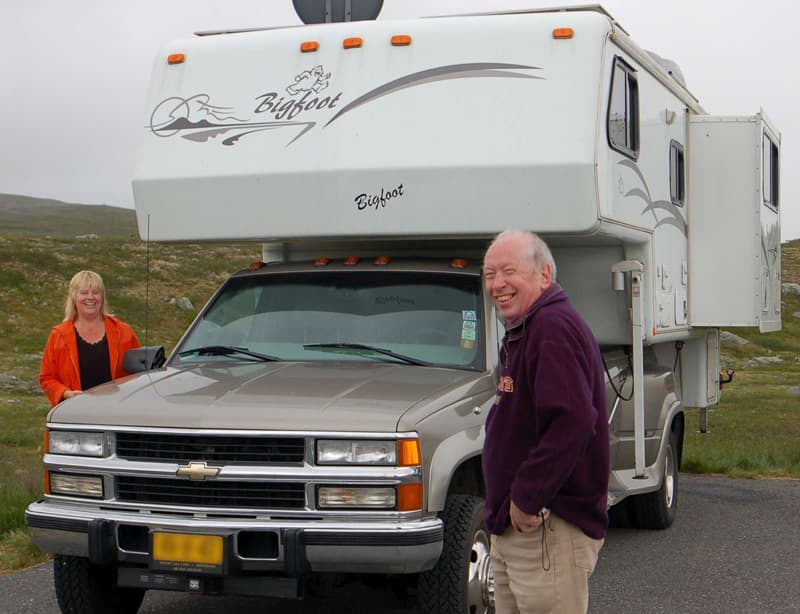 Above: Henny and Peter in Norway with their Bigfoot truck camper
TCM: There are not too many truck campers traveling in Europe.  Living in the Netherlands, what got you into truck camping?
Peter: We actually started with a Chevy van and then a Chevy 2500 pickup.  After that we got a GMC 3500 pickup and then a Lance truck camper.  Now we have the Ford F450 and Bigfoot 30C10.11SL.
We decided on a truck camper because, when we originally got it, I could use the truck for work.  Now that I'm retired that's no longer a factor, but we still like the truck and camper.
We have been truck camping for more than twenty years all over Europe.  We started with shorter trips that were three or four weeks long.  Now that I'm retired, we live almost the whole year in the camper.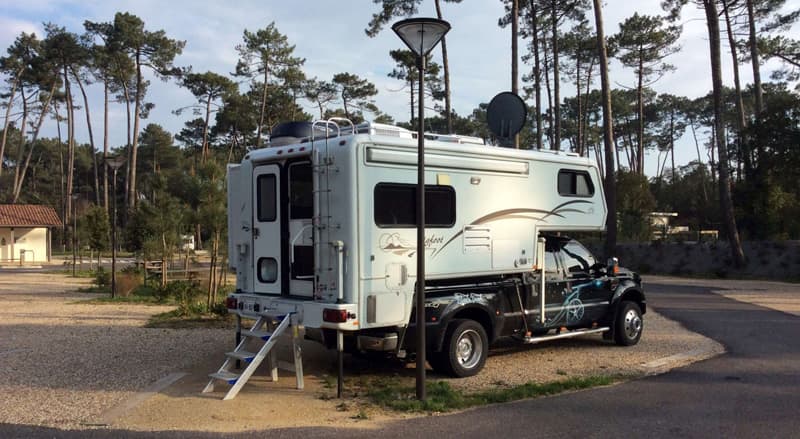 TCM: Living nearly full-time in a truck camper in Europe is not something we have heard before.  Since you're spending a lot of nights in the camper, where do you camp?
Peter: We mostly stay in special camper places.  These are places that are only for campers, not trailers.  There are a lot of these special camper places in Europe.
Sometimes you can stay for free.  Other times you pay a few Euros.  Most of the places have water and electric.  There are also dumps for your black and grey water.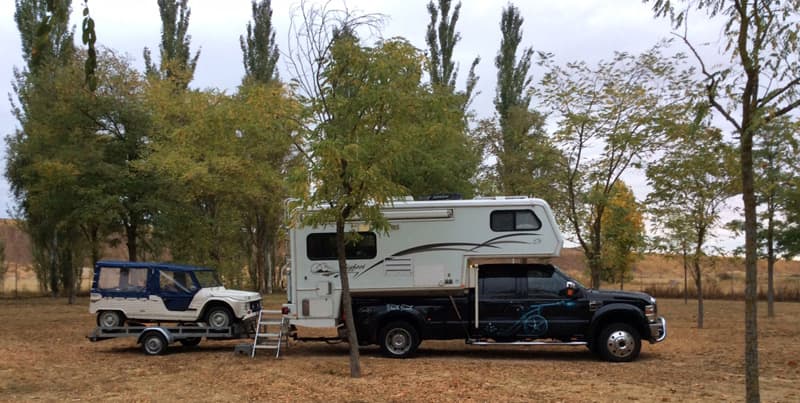 TCM: That's amazing.  How do you find these special places for campers?
Peter: You can find them in special camping books and you can download them from the internet to your GPS.  We have the special places stored in our TomTom GPS.
You also can use the app from Camper Contact with more than 22.000 places in 51 countries in Europe.  You can find the app on campercontact.com.  With the app, you can select motorhome parking, service places or campsites.