Tricked out with an Alde hydronic heating system and EFOY fuel cell, Peter and Henny Terstall's Bigfoot and F450 rig travels nearly full-time across Europe.  Roll out the cannons!

There you are in Normandy, France enjoying a once-in-a-lifetime dream vacation and exploring the seaside cliffs and historic beaches.  As you drive towards Mont Saint-Michel, you admire the Renault, Skodas, and Peugeots cars driving with you.  Then, over a rolling green landscape, approaches something that should not be there.  It can't be…
Peter and Henny Terstall's Ford F450 and Bigfoot truck camper roars past you.  Their American pick-up truck and Canadian camper towers over the European vehicles.  There is nothing about this rig that belongs in this setting, and yet there it is.  How can this be possible?
Was that a Jolly Roger emblazoned on the truck hood?  Were those cannons firing on their truck doors?  Who are these people and what are they doing with that huge truck and camper in France?  At this point, an alien spaceship could have sailed by with less jaw dropping astonishment.
Peter and Henny Terstall's story and the tale behind their truck and camper is something you have to read (and see) to fully appreciate.  For starters, they didn't import their truck or camper into Europe.  In fact, their F450 was a show truck.  Even more interesting, Peter has made a few modifications to his rig that we've rarely seen before.  On board fuel cell system?  Check!  Alde hydronic heating install?  You bet!  And that's not all.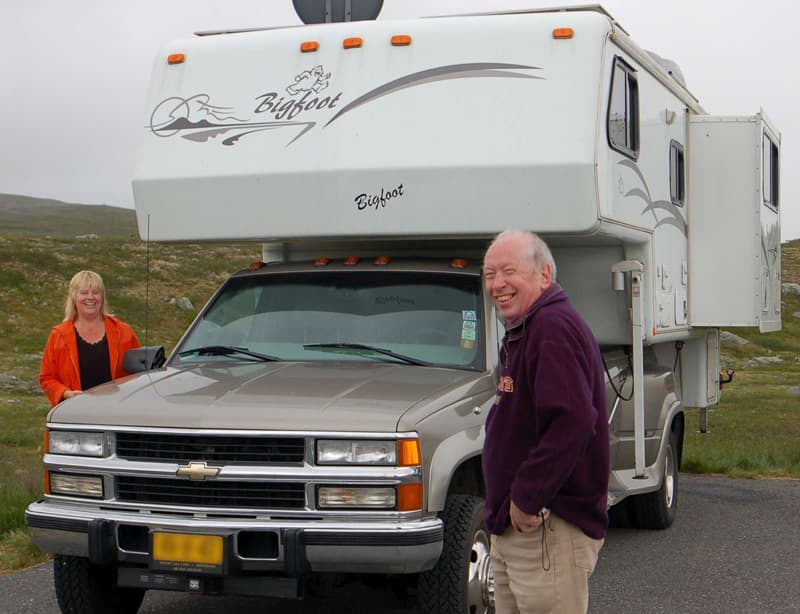 Above: Henny and Peter in Norway with their Bigfoot truck camper
TCM: There are not too many truck campers traveling in Europe.  Living in the Netherlands, what got you into truck camping?
Peter: We actually started with a Chevy van and then a Chevy 2500 pickup.  After that we got a GMC 3500 pickup and then a Lance truck camper.  Now we have the Ford F450 and Bigfoot 30C10.11SL.
We decided on a truck camper because, when we originally got it, I could use the truck for work.  Now that I'm retired that's no longer a factor, but we still like the truck and camper.
We have been truck camping for more than twenty years all over Europe.  We started with shorter trips that were three or four weeks long.  Now that I'm retired, we live almost the whole year in the camper.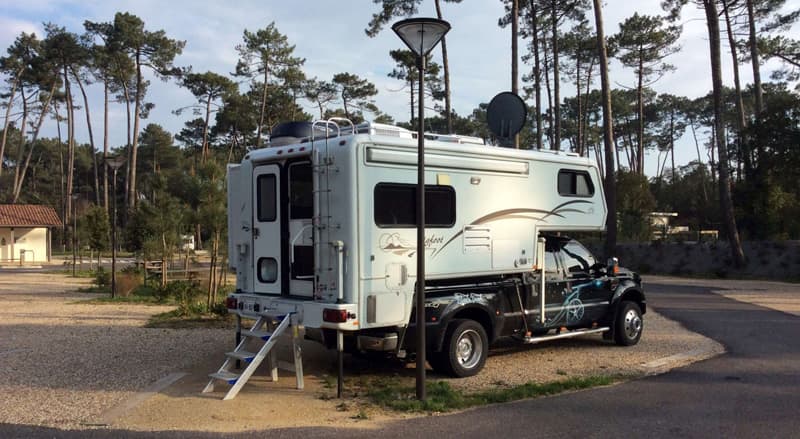 TCM: Living nearly full-time in a truck camper in Europe is not something we have heard before.  Since you're spending a lot of nights in the camper, where do you camp?
Peter: We mostly stay in special camper places.  These are places that are only for campers, not trailers.  There are a lot of these special camper places in Europe.
Sometimes you can stay for free.  Other times you pay a few Euros.  Most of the places have water and electric.  There are also dumps for your black and grey water.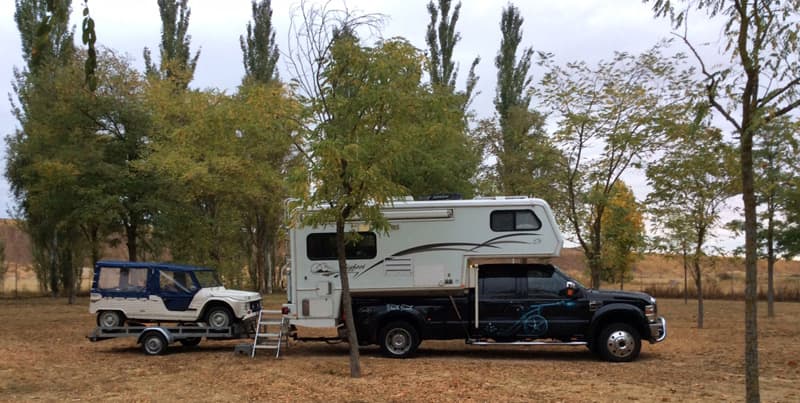 TCM: That's amazing.  How do you find these special places for campers?
Peter: You can find them in special camping books and you can download them from the internet to your GPS.  We have the special places stored in our TomTom GPS.
You also can use the app from Camper Contact with more than 22.000 places in 51 countries in Europe.  You can find the app on campercontact.com.  With the app, you can select motorhome parking, service places or campsites.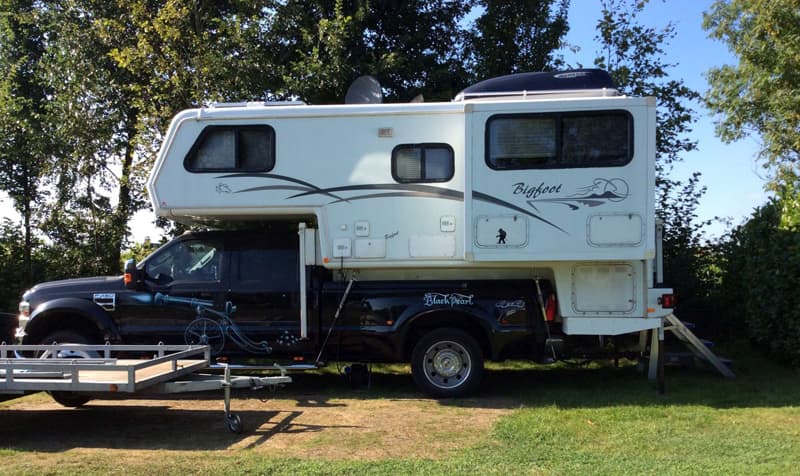 TCM: Are there other folks in Europe living full-time in RVs?  We tend to think of that as a distinctly American lifestyle.
Peter: Yes, there are people living in their RVs, but mostly in bigger motorhomes.  Some people have sold their house or have only a small apartment in their hometown.
TCM: Bigfoot truck campers are manufactured in British Columbia, Canada.  How did you get your Bigfoot truck camper to the Netherlands?
Peter: In 1996, we bought a Lance truck camper in Florida and shipped it to the Netherlands.  Five years later, we were in Dusseldorf, Germany at the Messe Show and there was a dealer with German truck campers.
The dealer had imported the Bigfoot truck camper for the show, and we liked the slide-out and increased interior space.  We traded in the Lance and bought the Bigfoot.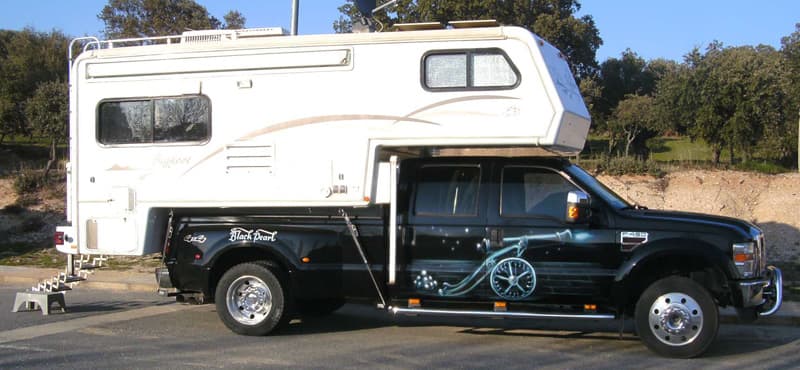 TCM: American pickup trucks are exceptionally rare in Europe.  How did you manage to get a Ford F450?
Peter: When we had the GMC 3500 dually, it handled the Lance okay, but it was a little overloaded with the Bigfoot.  When we realized we were overloaded, we started to look for a truck with more payload capacity.
We eventually found a Ford F450 in Germany and traded in the GMC.  We have driven the Ford now for four years and it drives great.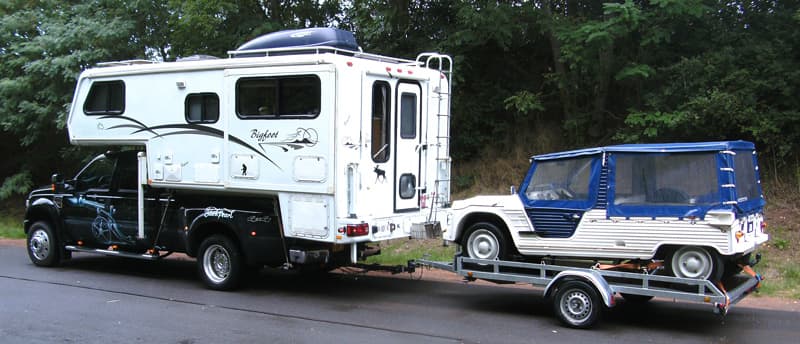 TCM: Is the size of the F450 an issue when driving around Europe?  I would think driving in the smaller towns would be impossible.
Peter: Driving the F450 in Europe is mostly not a problem, but finding a parking place for the Ford is sometimes difficult.  The parking places in Europe are not as big as the United States.  That's mostly not a problem for us because we can take the Mehari.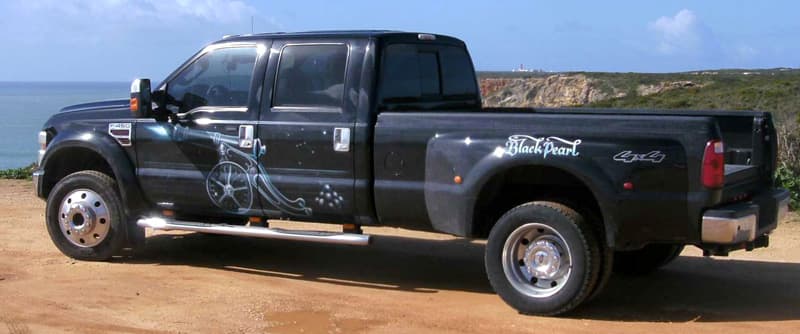 TCM: We sometimes have trouble finding parking for our Ram 3500 dually here in the United States, so I can only imagine parking in Europe.  What's the story behind the graphics on your truck?
Peter: Our Ford F450 was a show truck when we bought it.  It had racks and lights that all had to be removed to accommodate the camper.
The painted graphics were also on the truck when we got it.  The truck's theme was the Black Pearl; the pirate ship from the movie Pirates of the Caribbean.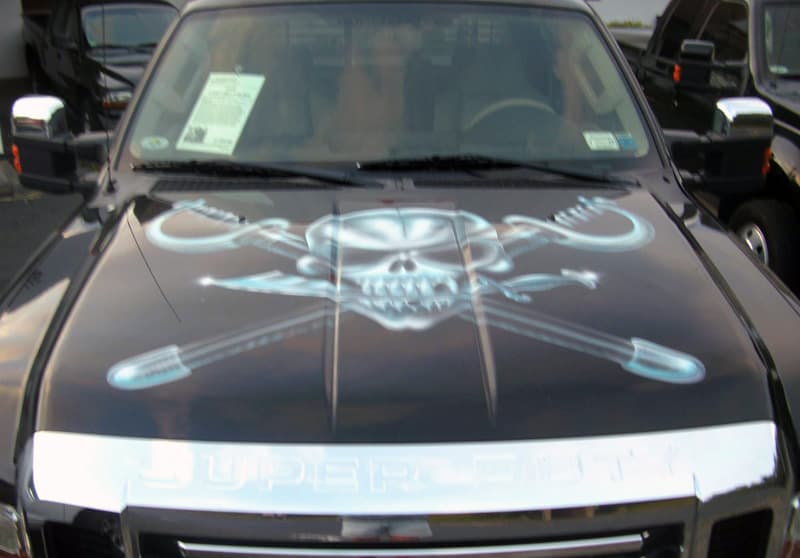 The truck's hood features a pirate's skull.  The doors have cannons.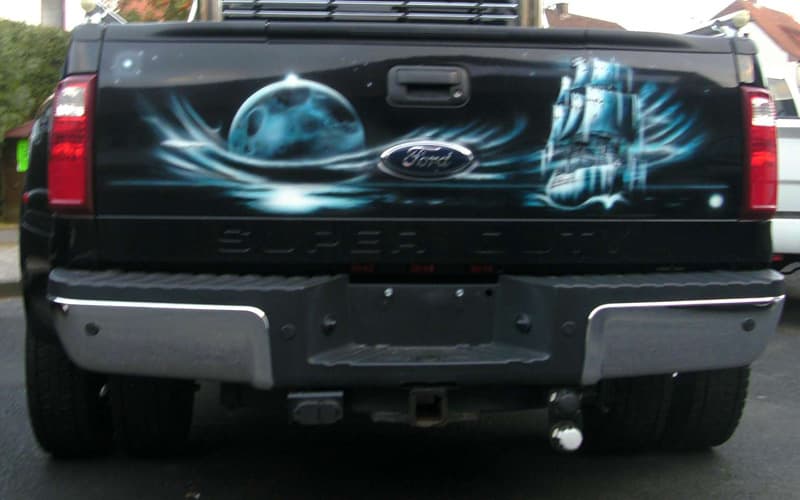 The tailgate features the ship and planet or moon – I'm not sure which.  Of course the tailgate is mostly at home when the camper is loaded.
TCM: I guess that makes you Captain Jack Sparrow.  Why did you decide to go with a truck camper instead of a trailer or motorhome?  Those are more common in Europe.
Peter: We actually started with a Chevy van that we used for work and to tow a speedboat.  There wasn't much living space in the van, so we decided to change to a truck camper.
After a few years, we sold the speedboat and started traveling in Europe.  We went south of Spain and all the way to The North Cape in Norway.  So we saw a lot of countries with the Lance rig.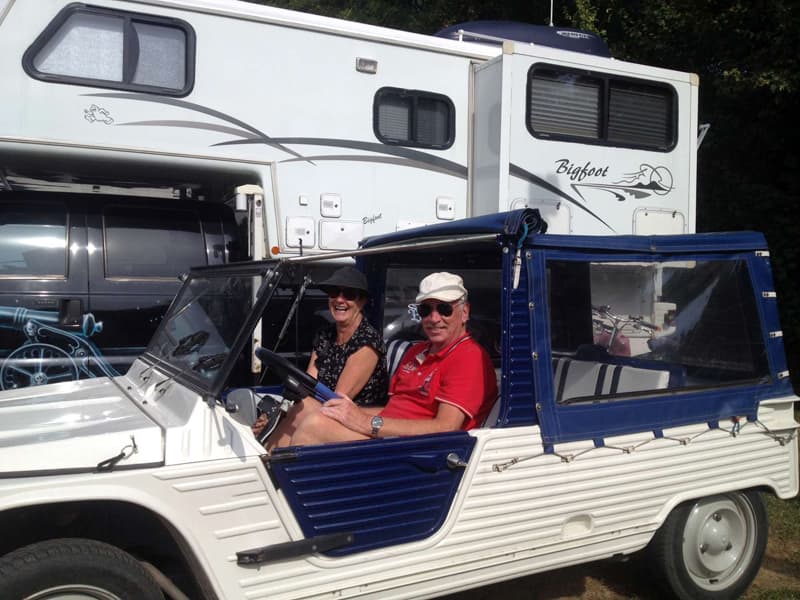 TCM: Tell us about your Citroen Mehari.  Until you sent your photographs, we had never seen one of these vehicles.
Peter: A Mehari is based on the more common Citroen 2CV.  The chassis and the motor are the same.  The body construction of the Mehari is plastic, so it's very light.  The motor is a two-cylinder boxer with only 29 HP.  The weight is only 550 kilograms (1,212 pounds).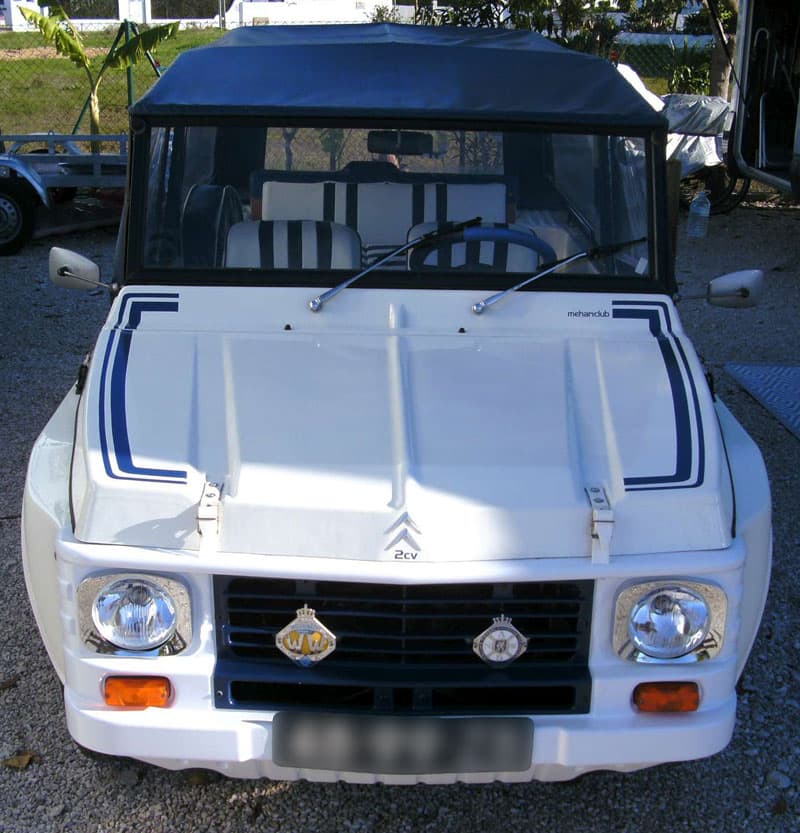 Our Mehari is from 1977, so it's 40 years old this year.  The previous owner restored it.  We've had it five years now.  All of the parts are still made and available in France.

TCM: What do you use the Mehari for?
Peter: We have a lot of fun with the Mehari.  We also use it for shopping.  There is a small Mehari club in the Netherlands.  On Facebook I discovered a club in the United States as well.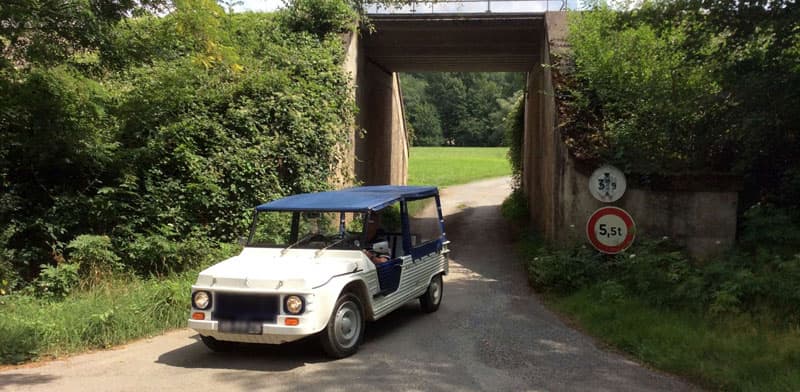 TCM: When you say you have fun with the Mehari, where do you go?  Are there off-road opportunities in Europe?
Peter: It's not a four-wheel drive vehicle.  It has front wheel drive.  We use the Mehari on all roads, paved or unpaved – and the smaller the better.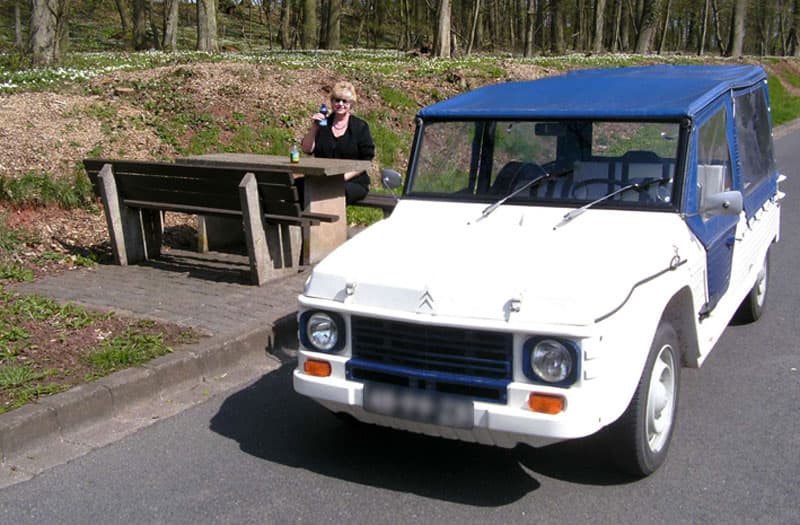 We are now in Germany and we drive through the vineyards and visit small villages here.  Sometimes we drive around with other club members.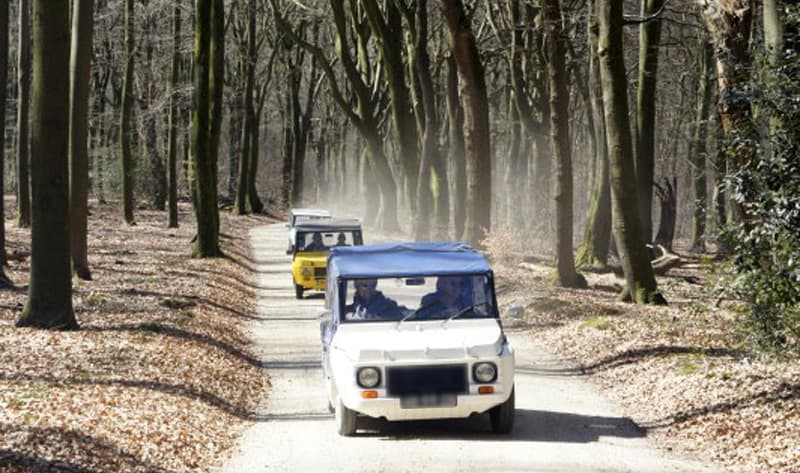 TCM: What does the Mehari club do?
Peter: The Mehari club hosts Mehari drives and weekends.  These events are mostly in September and there are about twenty Meharis at the events.  There is a puzzle drive with all the Mehari's together and a barbecue in the evening.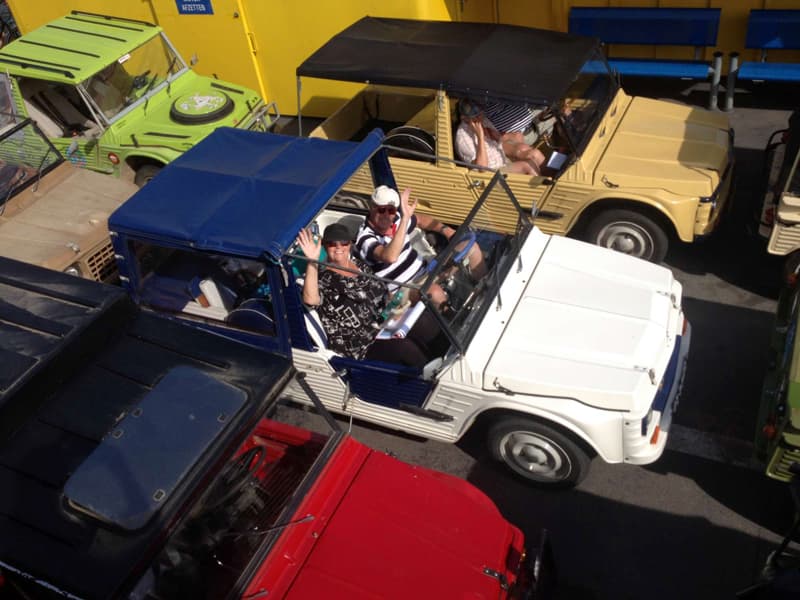 Most people sleep in a tent or sleep in a motorhome or trailer.  We are the only people there with a truck camper.
TCM: You said that Henny's hobby is Waldorf dolls.  What's that about?
Peter: Waldorf dolls are handmade from natural material such as wool and cotton.  They come in different sizes and are filled with sheep's wool.  We sell them sometimes at camper places, but mostly on the internet.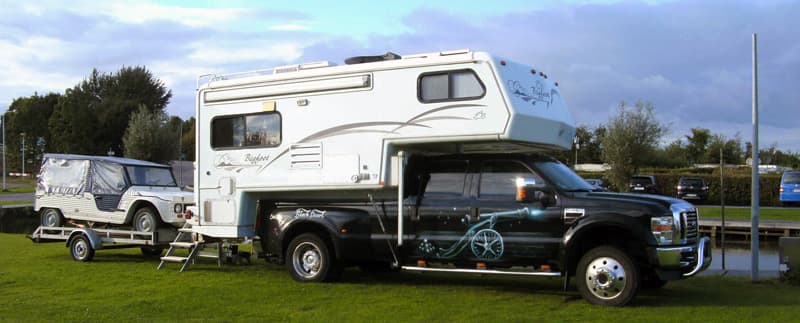 TCM: Have you made any modifications to your truck to make it more compatible with Europe, or to better suit your truck camping lifestyle?
Peter: Yes, we have.  I had to raise the floor of the truck bed because the underside of the Bigfoot cabover hit the cabin of the truck.  The cabin of the Ford is higher than the GMC.
I also removed the backseat of the Ford so that we can store the chairs, a table, two electrical folding bicycles and some other stuff.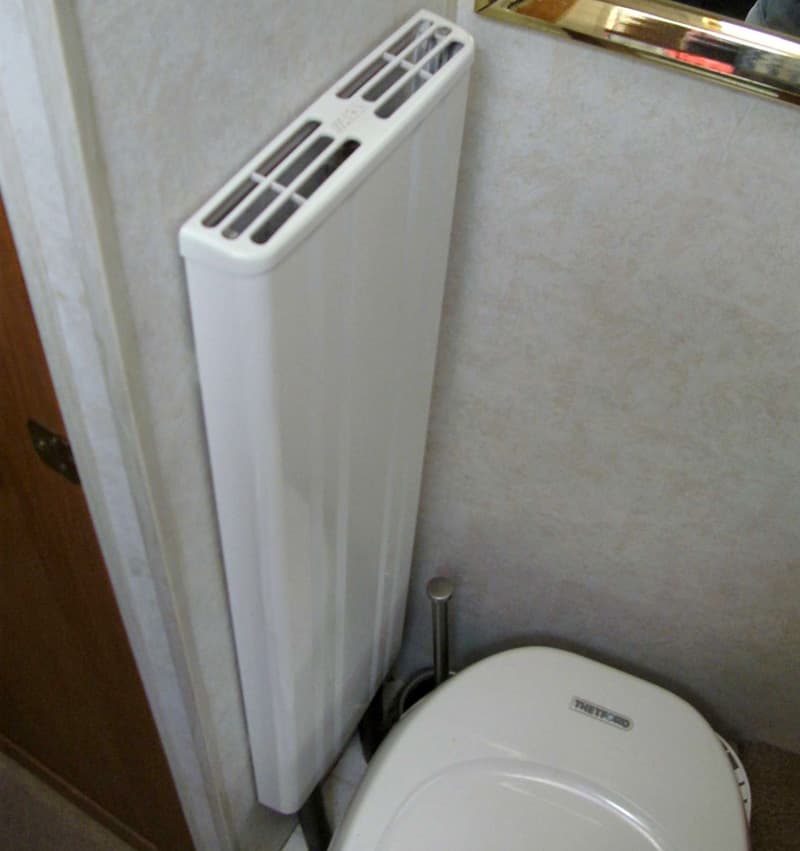 Above: Peter installed an Alde hydronic system for heating and hot water
TCM: How about modifications to your camper?
Peter: We changed the camper power from 110 to 220 volt because that's the standard in Europe.
The original heater made a lot of noise so I removed the heater and the boiler (water heater) and mounted an Alde hydronic system for heating and hot water.  It's a very quiet system that can work on 220-volts or propane.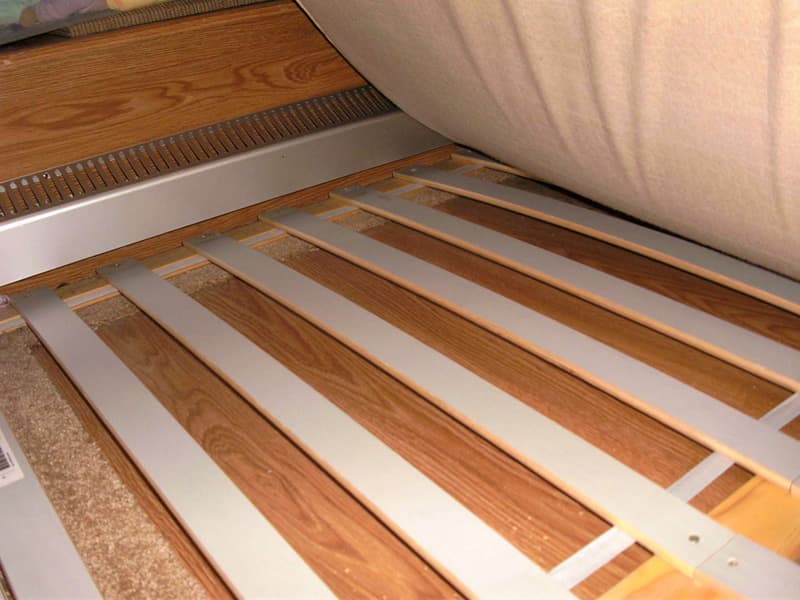 Above: Alde convector next to bed
TCM: How did you do install an Alde system in an existing camper?  Don't you need to install convectors to make the Alde heating system work?
Peter: The main part of the system is located where the boiler was previously located.  Where the heater was before, we now have more storage space.
It was a lot of work to put the convectors in and it took me about two weeks to make the plan, find all the parts, and mount everything.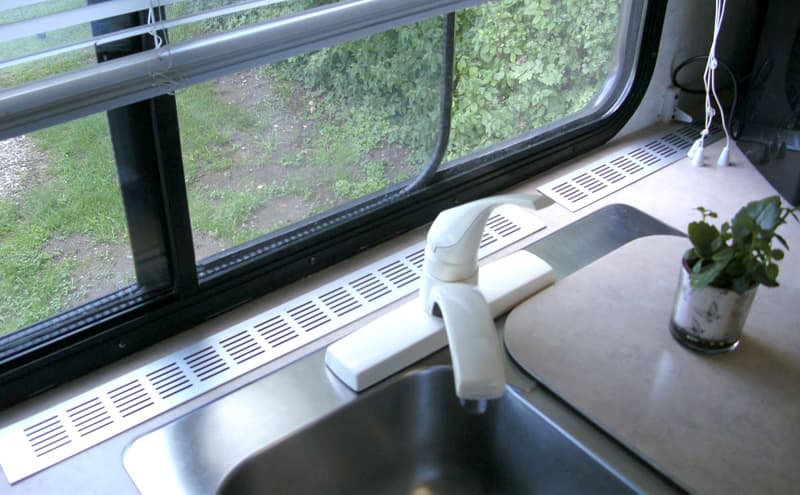 Above: Convectors under kitchen windows
I installed the convectors all around in the camper.  They are in the kitchen, the bathroom, and next to the bed.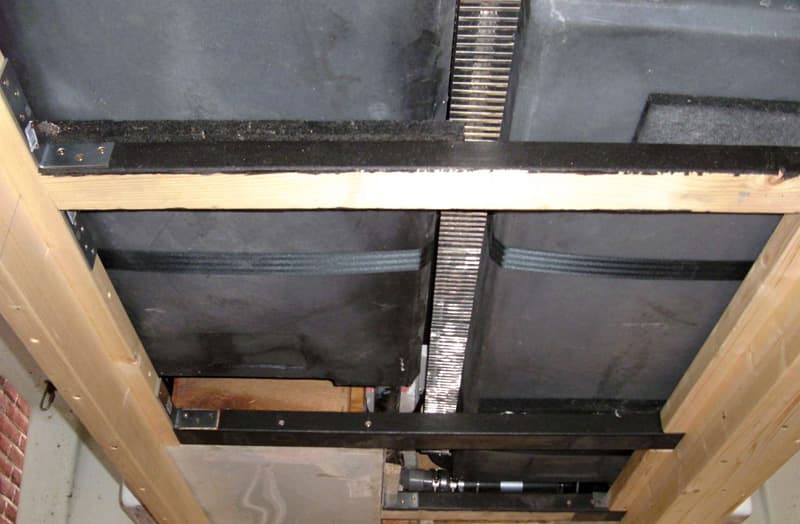 I even installed them under the floor by the dump tanks.  For that part, I had to remove the bottom of the camper for access to the holding tanks.
I removed the oven and other parts to make space for the water hoses and converters.  I moved the dinette about 15 centimeters (5.9 inches) to the front to gain some space under the windows for the convectors.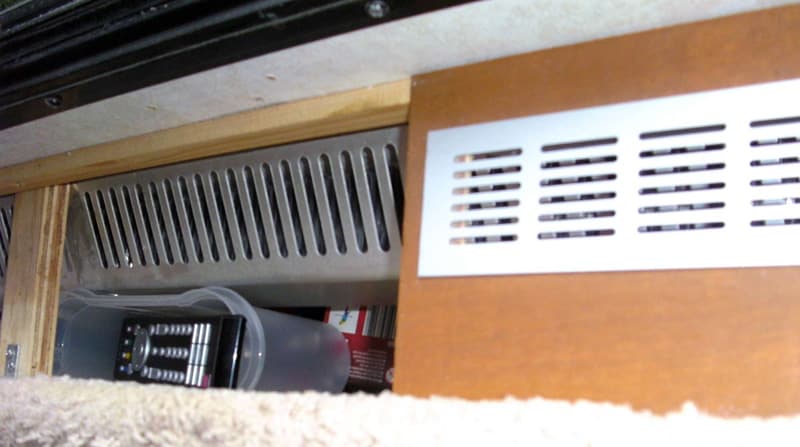 Above: The convectors behind dinette, under windows
It was also a challenge to have the hoses move when the slide goes in and out, but I figured it out and it was a success.
TCM: That's incredible.  How has the Alde system worked in the real world?
Peter: The Alde system works great.  If there is power at the campground you can select 1000, 2000 or 3000 watts.  Most camper places have only 6-amps / 220-volts.  In that case you can select the max of 1000-watts or you select propane.
With only 1000-watts you can get the camper comfortable if it is not colder than +/- 5 degrees Celsius outside.  If it is colder than that, you need more power or you can select propane.
The original boiler was also great, but it made a lot of noise when it started up.  Now with the Alde, it makes no noise.
TCM: Have you done any other camper modifications?
Peter: I also mounted four solar panels on the roof and an Efoy fuel cell for 12-volt power.  The fuel cell can charge our battery bank with four-amps when there is no sun.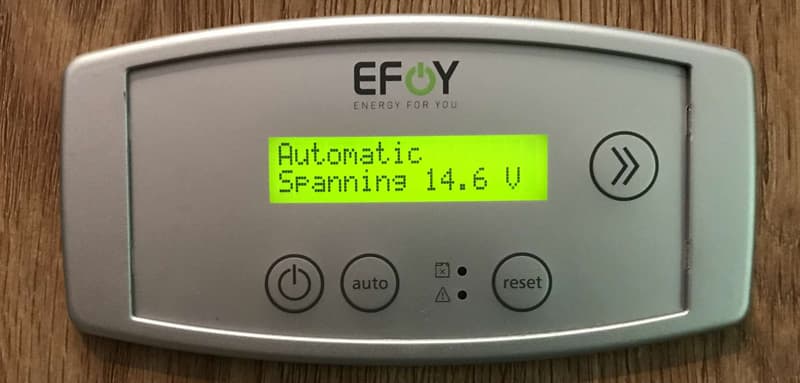 TCM: The Efoy fuel cell system is something we have written about before.  Tell us about installing the fuel cell in your camper, and how it's worked out day to day and long term.
Peter: The Efoy system works well, but I only need it if there is no sun for our solar panel system.  It starts on automatic if the battery power is too low.  Since I don't have a generator, I use our generator compartment for the Efoy and the 220V to 110V transformer.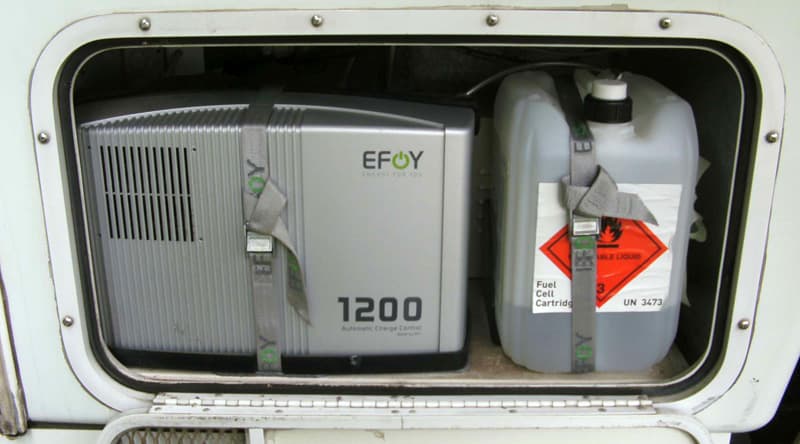 The Efoy system makes power from methanol.  The fuel cell uses a chemical process and it's very quiet.  I bought it because the sun does not charge the solar panels every day, and an ordinary generator makes a lot of noise.
I have had the Efoy system for about six years now and it works great.  If you need it, it starts automatically – or you can start it by hand.  I always have a spare container with ten liters of methanol in the camper.  You can buy the methanol in many camper shops.
TCM: Do you have an inverter?
Peter: For 220-volts onboard, we have a 1000-watt sine wave inverter.
TCM: What size and type of batteries do you have for the camper?
Peter: I have an 180Ah battery.  It's a Varta Professional dual purpose battery.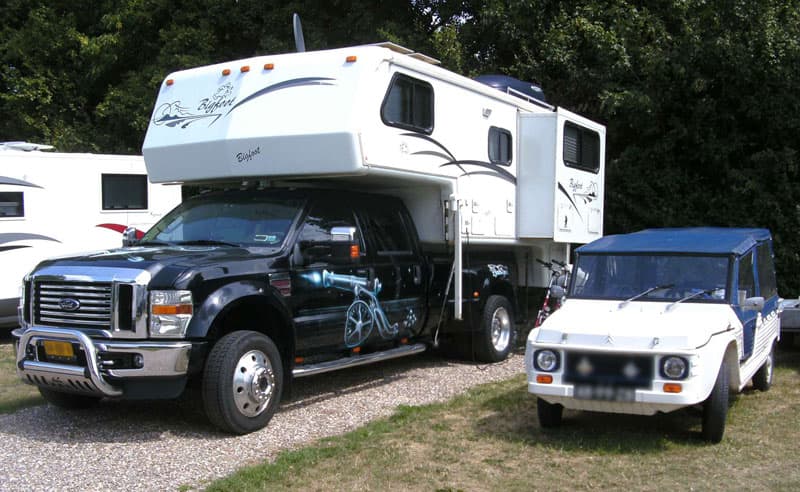 TCM: What do you enjoy doing while truck camping?
Peter: I enjoy the driving the truck and Mehari.  There is a lot of difference between them, and both are fun.  I also do some bicycling.
We spend the summer in Germany and in the winter in Portugal.  While we're traveling in Europe, I take pictures of trucks made in the United States, campers, other Meharis, and older Citroens.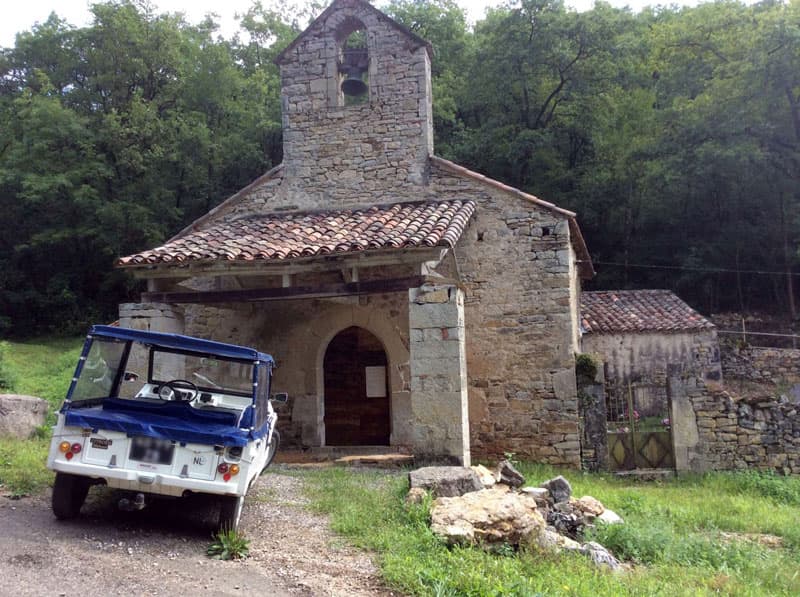 TCM: Where in Europe have you been with your truck camper that you would recommend to other truck campers?
Peter: Norway, Sweden, and Finland are very nice to travel by truck camper.  If you go some distance from the houses, there are many places where you can stay for free.
Denmark is very flat but, on the island of Romo, you can drive for miles over the beach.  Austria and Switzerland are very beautiful as well.  France is beautiful, especially Normandy with a lot of museums and beaches with history from World War II.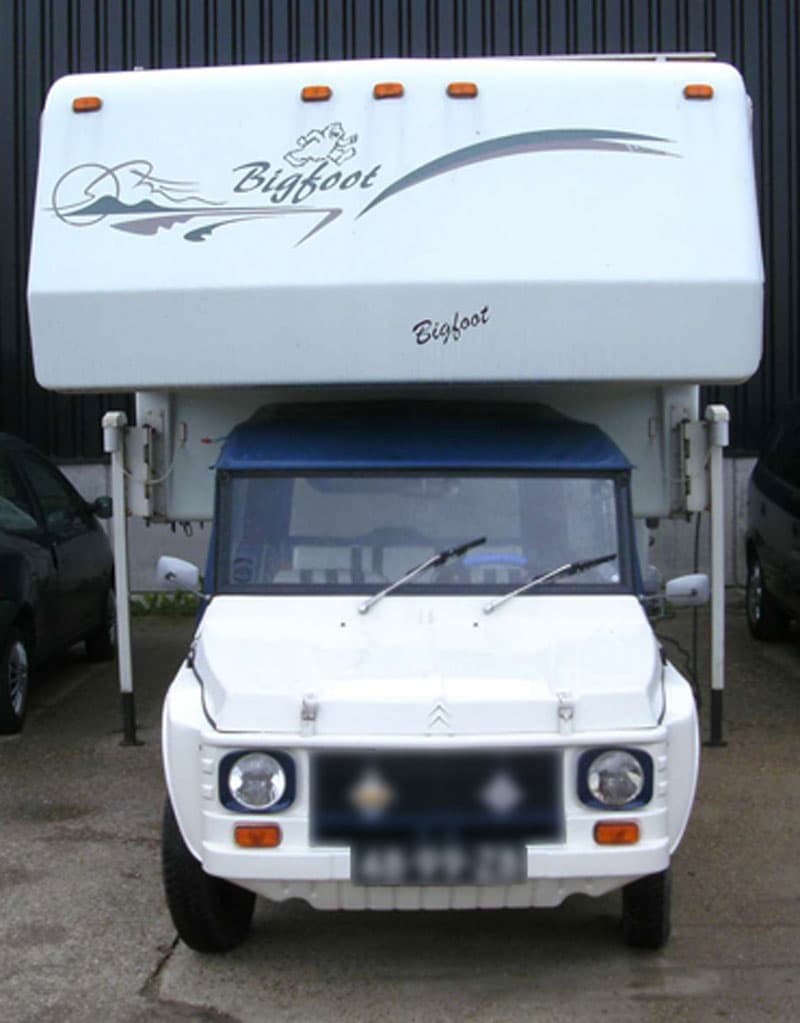 Above: Just for fun – does this look overloaded to you?
TCM: What are your truck camping plans for the future?
Peter: I am hoping to travel to the United States and Canada and go truck camping.  In the future I may look into a double or triple-slide camper with theater seats.  I'd like that.
There are not many truck campers from the United States or Canada here in Europe.  People here are always curious about our camper and take pictures.  If I had one Euro for every picture they took, we would be millionaires.
Peter and Henny's Rig
Truck: 2008 Ford F450, crew cab, 4×4, diesel, long bed, dual rear wheel
Camper: 2001 Bigfoot 30C10.11SL
Tie-Downs and Turnbuckle Brand: Torklift Fastgun spring loaded tie downs
Suspension Products: N/A, maybe airbags later
Gear: Mods mentioned above.