TCM: That's funny.  If we called truck campers motorhomes our readers wouldn't be too happy.  We like our truck campers!  Are there lots of campgrounds in Australia or do you have to mainly go dry camping?
Rosemary: Nearly every town has one or more caravan parks and national parks have paid campsites.  There are plenty of dry camping sites or what we call free camping.  Some travelers only use these sites but, if we're not remote camping, we do like to support the country towns by utilizing their caravan parks.
Having said that, we have found that some of the free camping sites are in good locations along rivers or near waterways, and we like the isolation and space these sites offer.  We don't like free camping close to towns since you need to arrive early to get a spot and we find they are usually very cramped.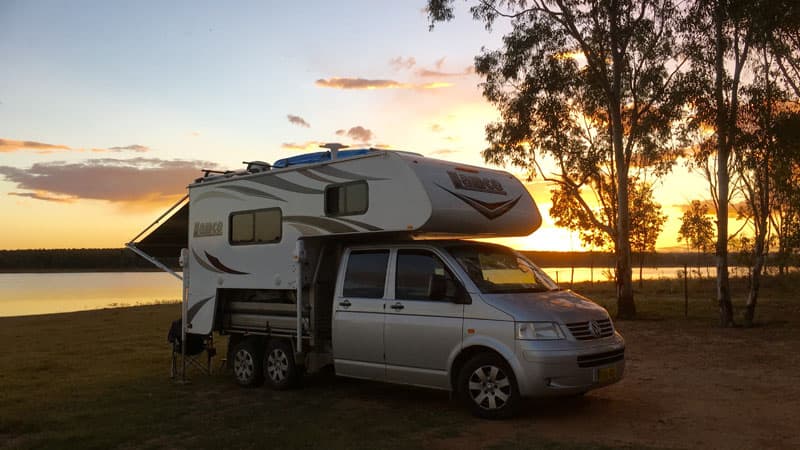 Above: Bundoora Dam, Queensland, Australia
TCM: Many truck campers in America feel the same way.  They prefer to boondock (dry camp for free) away from people whenever possible.  What are your truck camping plans for the future?
Rosemary: We have lots of places to go and lots more birds to identify.  In February we are planning on a trip south, down the coast of New South Wales, into Victorian high country, and then we'll be traveling back through some of western New South Wales in the drier areas.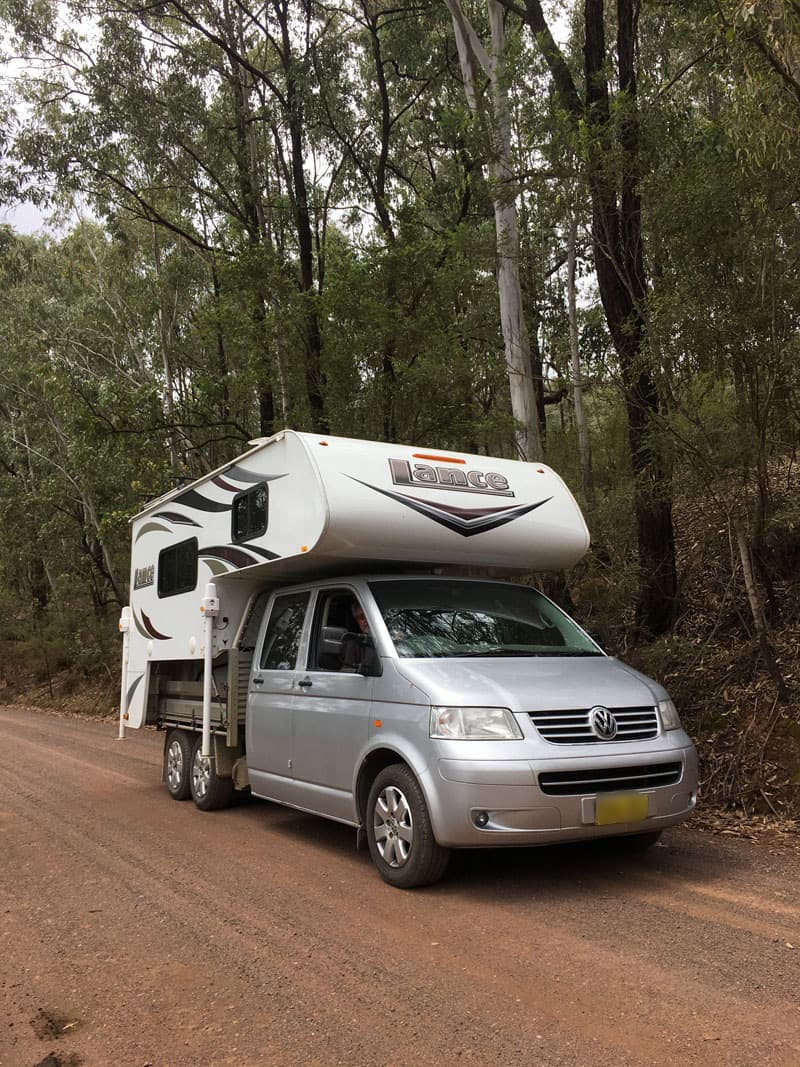 Above: Eucalypt Forest near Wollembi, New South Wales
Our winter trip, starting in June (Australia's winter runs June through August), will take us north into Queensland again, but this time going further west than last year.  So once we have covered Eastern Australia, we will be keen to explore Western Australia and the Northern Territory.
Rosemary and Irwyn's Rig
Truck: 2007 VW Transporter, Dual Cab, 6×4, Diesel, Long Bed, Single Rear Wheel, Dual Axle
Camper: 2015 Lance 825
Tie-Downs and Turnbuckles: Torklift Fastguns
Suspension Products on Truck: Air Bags on both rear axles