Irwyn: Yes, we already had the VW Transporter from our business, and we liked the comfort of it.  Meanwhile, we saw a photo online of a VW Transporter with a Lance Camper, and we liked the look.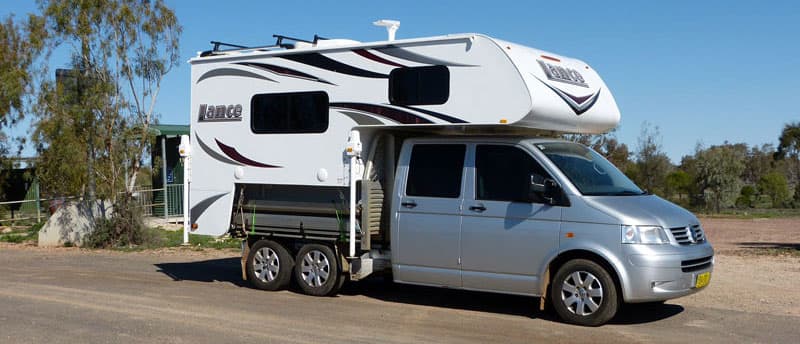 Above: Lightening Ridge, western New South Wales
TCM: How did you know that your truck would be a good fit for your truck camper?
Irwyn: When we first loaded the camper, we realized it was just over the GVWR of the truck without any cargo.  To fix the situation, we had two options.  First, we could buy another vehicle with the payload capacity we needed.  Or second, we could add a lazy axle to our truck.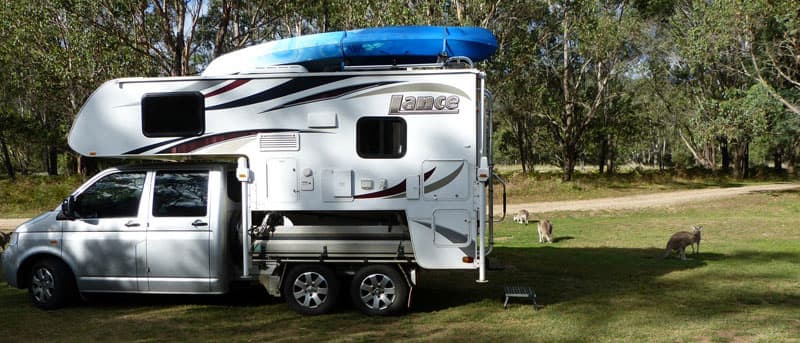 TCM: What's a lazy axle.  We don't have those in the United States or Canada.
Irwyn: A lazy axle is an additional axle with pivotal suspension, brakes, and tires that go behind your rear wheels.  These systems are legal in Australia, but they have to be engineer certified.  They add another ton to your truck's GVWR.
TCM: That's going to make a lot of American truck campers envious.  While tag axles were employed by some truck campers in the late 60s and early 70s, nothing like that is available now.  We have to buy heavier duty trucks.
Irwyn: A lazy axle was the cheaper way to go, giving us the extra payload, extra breaking power and much more road stability.  We decided on the extra axle over dual rear wheels as the extra axle would make the rig more stable on the road.
An added bonus of the two axles fitted with straight airbags is the ability to adjust the rig height with air pressure for more driving comfort – with or without a load.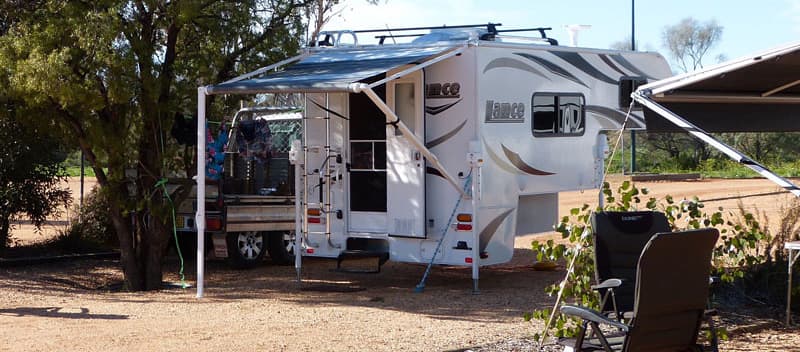 TCM: I see in the pictures that you have taken your camper off when you are out and about.  How hard is it to load and unload the camper with your truck?
Irwyn: Most of the time it only takes us five to ten minutes to load or unload the camper, especially with the remote operated electric jacks.  If we are staying on a site for more than one night, we usually take the camper off, freeing our vehicle to further explore the area.
We have received comments when loading or unloading from people who say that they once had a slide-on camper.  It seems on further discussion that it was the mechanical as opposed to electric jacks that put them off.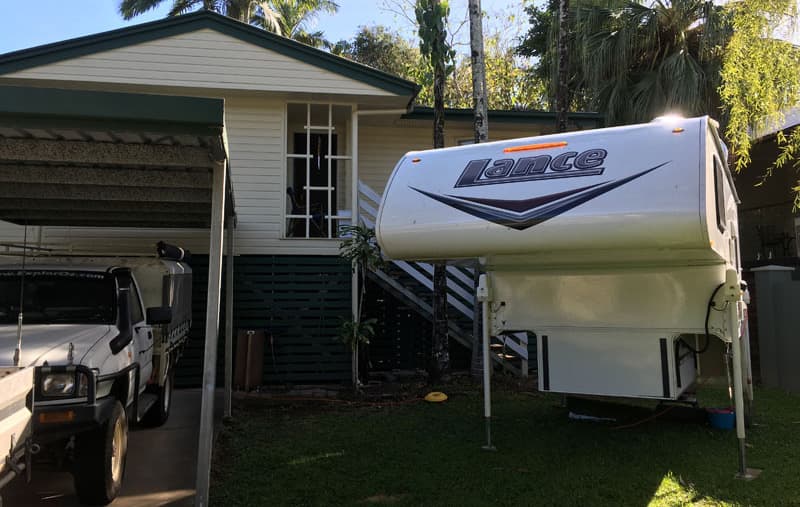 TCM: Yes, we hear that comment from folks here in the United States as well.
Irwyn: A big advantage of the electric jacks and the truck airbag system is that we can level the camper when we're camping on an un-level site.
TCM: We have used our jacks to level the camper on occasion.  Tell us about your tie-down system.  Did you have something specially made for your rig?
Irwyn: The tie-down system was the choice of our importer who fitted the camper to our VW.  It's a Torklift system with a cam over quick action.