We bought fly nets that we could wear over our head which worked pretty well.  At least they kept the flies out of our faces.  Even for a short walk outside we wore the fly nets.  If we didn't, we felt like we are eaten alive within a few minutes.  It was hot outside, and even when it cools down, we didn't sit outside.  It was just not possible, or at least not comfortable, with all the flies around.
From Coober Pedy, we drove a few days further north, enjoying the scenery.  There was nothing else to do there but drive.  We stopped at roadhouses to fill up on fuel.  There was a roadhouse about every 400 kilometers, so we really had to keep an eye on our fuel level and we filled it up whenever we could.  We didn't want to run out of fuel in the heat and in such a desolate area.  The good thing was that there were always good signs about the distance to the next gas station.
After a few days, we went near Uluru or Ayers Rock.  This was one of the places we came to Australia for.  When the expectations are high, you are sometimes disappointed when you see it for real.  Not this time.  The 'big red rock' as we called it, was absolutely impressive.  It was huge and it was just there in a relatively flat landscape. The red color of the rock was beautiful against the blue color of the sky.  I can imagine why this was a holy place for the aboriginals.  There was something mythical or spiritual around in the atmosphere.  The nearby Olgas were just as beautiful.
We watched the sunset and saw the colors change from bright red to a dark brown.  The next day we hiked through a gorge between the Olgas.  It was hot.  Only the very early morning temperature was moderate.  Around nine o'clock, it got pretty warm and we were not even there during the hottest time of the year.  In summer temperatures can rise to over 40 degrees Celcius.  We took it easy while walking and drank lots of water.  We really had to make sure that we didn't get dehydrated.  Too bad there were still so many flies.  Besides that, it was great.
They had a nice campground just outside the national park, which was only a few minutes drive from Uluru.  Despite the arid climate, they managed to create some shade and had running water and showers.  They even had a swimming pool, which is nice to cool off after a long warm day.  We really enjoyed it, but after a few days it was time to move on.  We visited Uluru for one last time, drove around, took even more pictures, and then drove away from it.  The kids sat backwards on their seats and waved.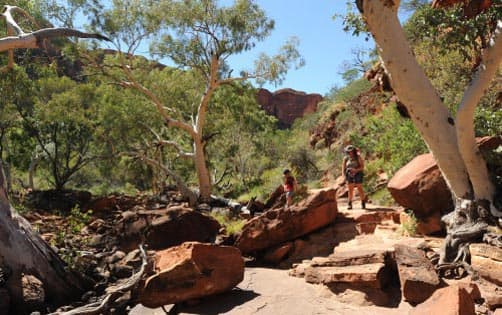 ABOVE: Hiking in Kings Canyon
We visited Kings Canyon and then moved on to Alice Springs.  It felt like we entered an oasis in the desert, which was more or less true.  The campground had nice clean facilities.  There was normal drinking water, grocery stores, and gas stations that had more normal prices then elsewhere in the Outback.
When we got out of the truck, we suddenly realized that there were no flies around!  In Coober Pedy somebody told us that the flies were only there in March.  It was April 3rd, so apparently the fly season was over.  We put our fly nets away and we didn't need them again for the rest of our trip.
We stayed a few days to relax and stocked up on food and water.  Then we drove into the MacDonnel ranges.  This was a beautiful place.  We stayed in a camping area that could only be reached by four-wheel drive.  There was nobody around for miles.  After we put the kids to bed, we would go sit outside.  It was pitch dark and there are so many stars; the sky was amazing.
North of Alice Springs were gem fields where we could dig for gemstones.  This was a lot of fun.  We stayed in a campground at a roadhouse that was 90 kilometers from the main highway.  There was nothing there.  There was no drinking water and they had power from a generator that was switched off at 10:00 pm.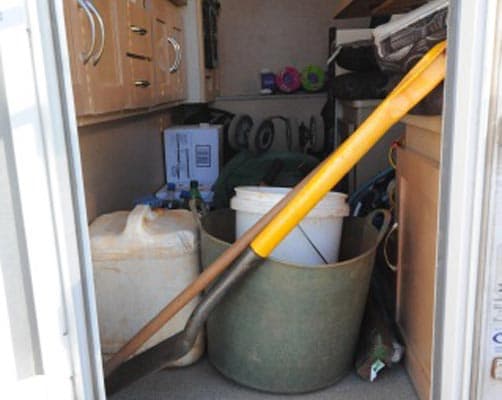 From there we drove to the gem field.  We got a bucket, some water, a pick, a shovel, and a sieve.  In order to find gemstones, we had to dig in the ground, wash it in the sieve, and then see if there were glimmering, red, glasslike pieces of stones in it.  If we were lucky, some of those pieces of stones would be gemstones.  In the red soil and the burning sun we dug the whole morning for granites.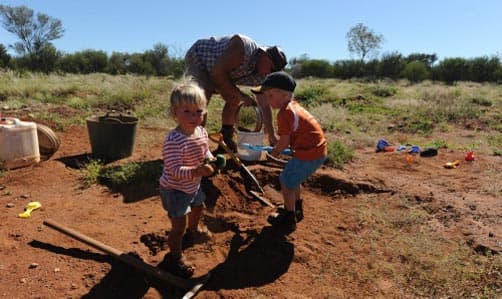 ABOVE: Fossicking on the Gemtree claim in the Northern Territory
The kids helped by digging in the dirt.  By the end of the morning we were covered with red soil and sweat.  But we had a tin full of stones that might be gemstones.