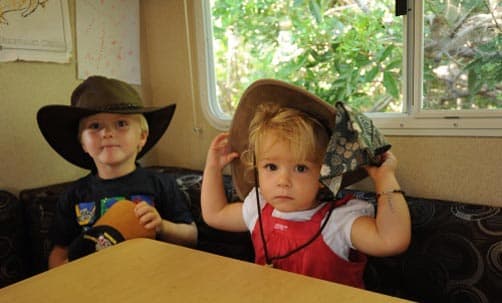 On our way inland, we drove up to the Flinders Ranges.  As the day went by, we saw less cars, less houses, and even less trees.  The drive was beautiful.  We spent the night in a campground in Hawker, "The last town in the civilized world" as the travel books say.
Whether you find Hawker civilized is a matter of perception.  There was a general store, two gas stations, two campgrounds, and a few houses.  That was it.  It was really arid and there was dust everywhere.  The sun was burning even though it was not too hot.
We saw some spiders.  We were pretty sure that one of them was a Red Back, one of the dangerous species that live in Australia.  But they were not aggressive, so if we left them alone they won't hurt us… we hoped.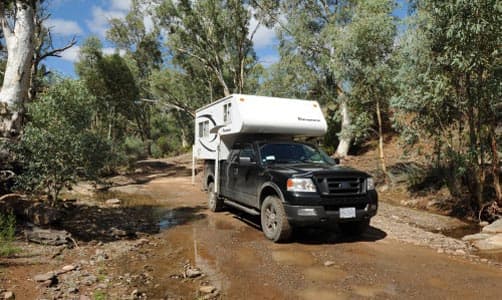 ABOVE: Driving through a dry river bed at the 'Bunyeroo Brachina Aroona' Scenic Drive in the Flinders Ranges
From Hawker we drove to Flinders Ranges National Park.  Looking back, this was one of the highlights of our trip through Australia.  We drove a scenic route through the park along a dirt road.  The drive goes right through a spectacular gorge.  We couldn't have done this without a four-wheel drive vehicle.
In some parts of the gorge there was water flowing that we had to drive through.  The water was spraying over the roof of the camper.  The kids loved it!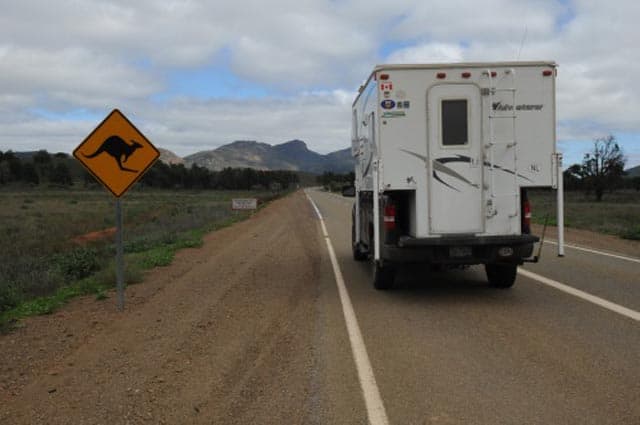 ABOVE: Typical Australian kangaroo sign
Along the road we saw red kangaroos, emus, orb spiders in huge webs, and a beautiful rock wallaby that only lives in that part of Australia.  We spent the night in a very primitive campground with a view of the mountains.  The next day we enjoyed the scenery by foot on a long bush walk.  We really enjoyed it.
After the Flinders Ranges, we drove back to the coast to Port Augusta.  There we stocked up on water, gas, and food, and then drove the Stuart Highway that goes right through the red center of Australia.
This is what Australians call the Outback.  It is dry and hot and there is really nothing there.  We liked it because of that.  Our first stop was Coober Pedy, a small town in the middle of nowhere that is famous for its Opal mines.  It was a really weird place.  People live in underground houses to make sure the temperature stays at a constant, acceptable level year round.  The town has a 'gold rush' feeling; a lot of fortune seekers, but not so much fortune to be seen.
We took a half day tour which was really interesting.  Too bad that we went at a time of year with lots of flies.  Many people stayed inside for that reason.  The flies were everywhere.  It was not just that they were there, but they were also very persistent.  They just wouldn't go away even if you tried to shoo them away.  They were constantly circling around you.  They tried to get into our ears, nose, and eyes.  It's as if they wanted to suck some liquid out of us.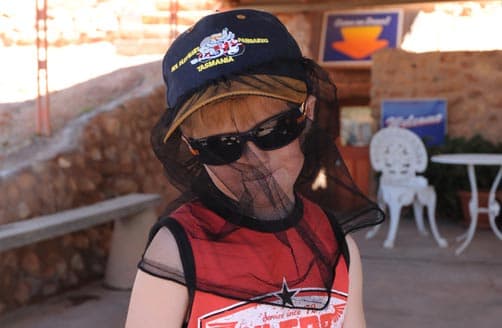 ABOVE: Youri with fly net in Coober Pedy