For Part 3 of their around the world truck camping adventure, Marc van Yperen and Anja Krijnberg travel to mainland Australia and discover the Outback.  Don't miss their stunning photography.

The Great Ocean Road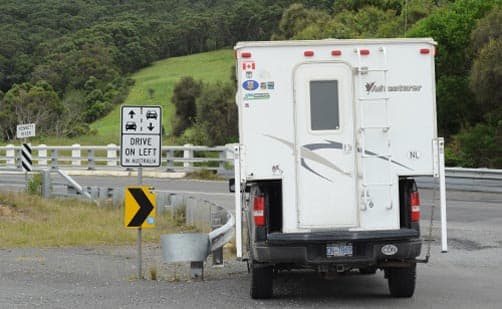 ABOVE: Signs remind tourists to drive on the left on the Great Ocean Road
From Melbourne, we drove to Adelaide along the Great Ocean Road.  This is an area with more beautiful scenery along the coast.  The first few days we had to get used to the crowds again.  Not that it was that crowded there but, compared to Tasmania, it was.  Some places along the Great Ocean Road were really touristy.
At first we were a bit disappointed.  It was definitely beautiful, but we expected more given the things we heard and read about the Great Ocean Road.  We are a bit spoiled with all of our traveling.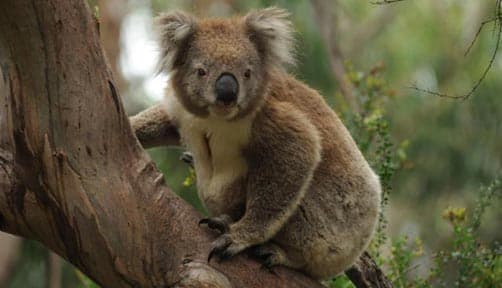 ABOVE: Koala along the great ocean road in Kennett River
After a few days we changed our minds again.  The scenery got even better and we came to an area that was full with Koalas.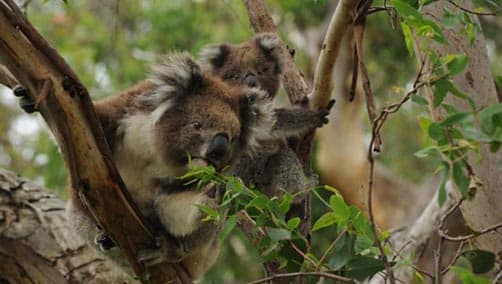 ABOVE: Koala with her young in the tree, Great Otway National Park
We saw them everywhere in the trees.  We found a very basic campground in the middle of nature.  While we ate our dinner, there were two koalas in the trees above us, just eating leaves and observing us.  It was so unreal.
After we finished the Great Ocean Road, we followed the coast until we reached Adelaide.  We visited some really nice small towns along the way.  They were great for fishing, walking, and just enjoying the view; especially the national park just south of Adelaide.  That was spectacular.  The scenery was beautiful and we saw a lot of birds, including pelicans and emus.
From Adelaide we went to the Barossa Valley, one of the famous wine regions in Australia.  When we woke up the next morning, we heard rain drops on the roof.  We hoped for better weather after breakfast, but no change.  It was pouring and the weather forecast was not promising any improvements in the near future.  We didn't stay there very long and decided to leave the coast and travel further inland.
Into the Outback