For Part 3 of their around the world truck camping adventure, Marc van Yperen and Anja Krijnberg travel to mainland Australia and discover the Outback.  Don't miss their stunning photography.

The Great Ocean Road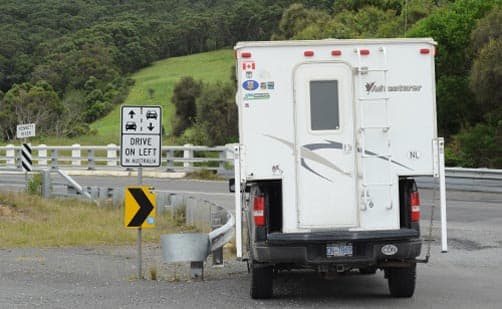 ABOVE: Signs remind tourists to drive on the left on the Great Ocean Road
From Melbourne, we drove to Adelaide along the Great Ocean Road.  This is an area with more beautiful scenery along the coast.  The first few days we had to get used to the crowds again.  Not that it was that crowded there but, compared to Tasmania, it was.  Some places along the Great Ocean Road were really touristy.
At first we were a bit disappointed.  It was definitely beautiful, but we expected more given the things we heard and read about the Great Ocean Road.  We are a bit spoiled with all of our traveling.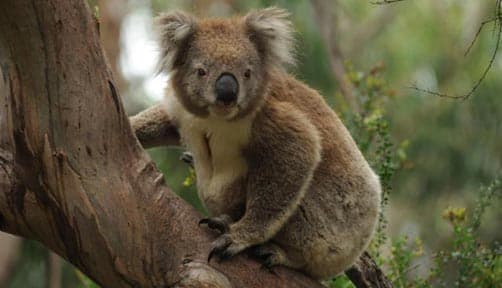 ABOVE: Koala along the great ocean road in Kennett River
After a few days we changed our minds again.  The scenery got even better and we came to an area that was full with Koalas.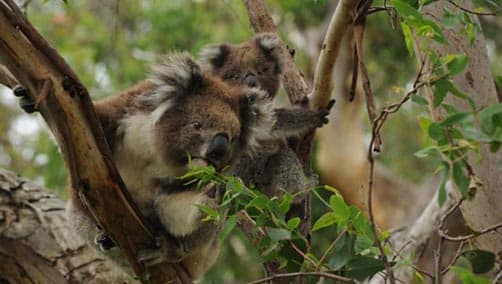 ABOVE: Koala with her young in the tree, Great Otway National Park
We saw them everywhere in the trees.  We found a very basic campground in the middle of nature.  While we ate our dinner, there were two koalas in the trees above us, just eating leaves and observing us.  It was so unreal.
After we finished the Great Ocean Road, we followed the coast until we reached Adelaide.  We visited some really nice small towns along the way.  They were great for fishing, walking, and just enjoying the view; especially the national park just south of Adelaide.  That was spectacular.  The scenery was beautiful and we saw a lot of birds, including pelicans and emus.
From Adelaide we went to the Barossa Valley, one of the famous wine regions in Australia.  When we woke up the next morning, we heard rain drops on the roof.  We hoped for better weather after breakfast, but no change.  It was pouring and the weather forecast was not promising any improvements in the near future.  We didn't stay there very long and decided to leave the coast and travel further inland.
Into the Outback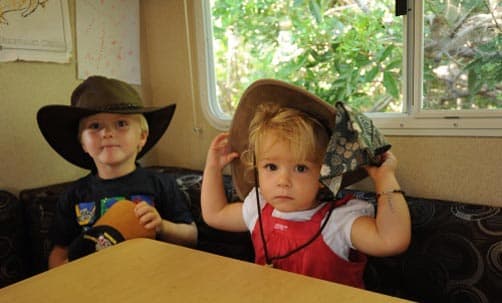 On our way inland, we drove up to the Flinders Ranges.  As the day went by, we saw less cars, less houses, and even less trees.  The drive was beautiful.  We spent the night in a campground in Hawker, "The last town in the civilized world" as the travel books say.
Whether you find Hawker civilized is a matter of perception.  There was a general store, two gas stations, two campgrounds, and a few houses.  That was it.  It was really arid and there was dust everywhere.  The sun was burning even though it was not too hot.
We saw some spiders.  We were pretty sure that one of them was a Red Back, one of the dangerous species that live in Australia.  But they were not aggressive, so if we left them alone they won't hurt us… we hoped.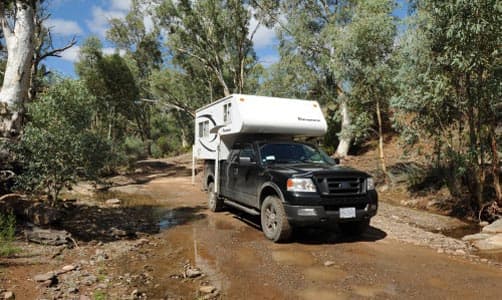 ABOVE: Driving through a dry river bed at the 'Bunyeroo Brachina Aroona' Scenic Drive in the Flinders Ranges
From Hawker we drove to Flinders Ranges National Park.  Looking back, this was one of the highlights of our trip through Australia.  We drove a scenic route through the park along a dirt road.  The drive goes right through a spectacular gorge.  We couldn't have done this without a four-wheel drive vehicle.
In some parts of the gorge there was water flowing that we had to drive through.  The water was spraying over the roof of the camper.  The kids loved it!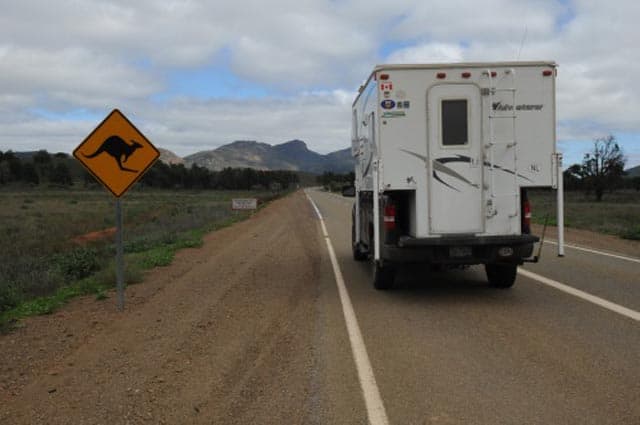 ABOVE: Typical Australian kangaroo sign
Along the road we saw red kangaroos, emus, orb spiders in huge webs, and a beautiful rock wallaby that only lives in that part of Australia.  We spent the night in a very primitive campground with a view of the mountains.  The next day we enjoyed the scenery by foot on a long bush walk.  We really enjoyed it.
After the Flinders Ranges, we drove back to the coast to Port Augusta.  There we stocked up on water, gas, and food, and then drove the Stuart Highway that goes right through the red center of Australia.
This is what Australians call the Outback.  It is dry and hot and there is really nothing there.  We liked it because of that.  Our first stop was Coober Pedy, a small town in the middle of nowhere that is famous for its Opal mines.  It was a really weird place.  People live in underground houses to make sure the temperature stays at a constant, acceptable level year round.  The town has a 'gold rush' feeling; a lot of fortune seekers, but not so much fortune to be seen.
We took a half day tour which was really interesting.  Too bad that we went at a time of year with lots of flies.  Many people stayed inside for that reason.  The flies were everywhere.  It was not just that they were there, but they were also very persistent.  They just wouldn't go away even if you tried to shoo them away.  They were constantly circling around you.  They tried to get into our ears, nose, and eyes.  It's as if they wanted to suck some liquid out of us.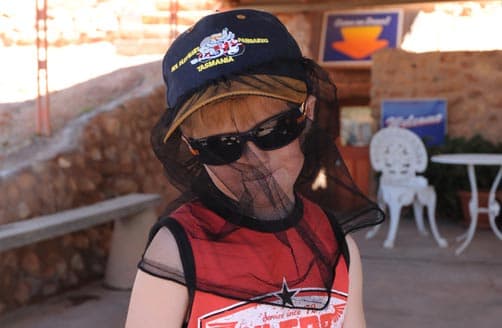 ABOVE: Youri with fly net in Coober Pedy
We bought fly nets that we could wear over our head which worked pretty well.  At least they kept the flies out of our faces.  Even for a short walk outside we wore the fly nets.  If we didn't, we felt like we are eaten alive within a few minutes.  It was hot outside, and even when it cools down, we didn't sit outside.  It was just not possible, or at least not comfortable, with all the flies around.
From Coober Pedy, we drove a few days further north, enjoying the scenery.  There was nothing else to do there but drive.  We stopped at roadhouses to fill up on fuel.  There was a roadhouse about every 400 kilometers, so we really had to keep an eye on our fuel level and we filled it up whenever we could.  We didn't want to run out of fuel in the heat and in such a desolate area.  The good thing was that there were always good signs about the distance to the next gas station.
After a few days, we went near Uluru or Ayers Rock.  This was one of the places we came to Australia for.  When the expectations are high, you are sometimes disappointed when you see it for real.  Not this time.  The 'big red rock' as we called it, was absolutely impressive.  It was huge and it was just there in a relatively flat landscape. The red color of the rock was beautiful against the blue color of the sky.  I can imagine why this was a holy place for the aboriginals.  There was something mythical or spiritual around in the atmosphere.  The nearby Olgas were just as beautiful.
We watched the sunset and saw the colors change from bright red to a dark brown.  The next day we hiked through a gorge between the Olgas.  It was hot.  Only the very early morning temperature was moderate.  Around nine o'clock, it got pretty warm and we were not even there during the hottest time of the year.  In summer temperatures can rise to over 40 degrees Celcius.  We took it easy while walking and drank lots of water.  We really had to make sure that we didn't get dehydrated.  Too bad there were still so many flies.  Besides that, it was great.
They had a nice campground just outside the national park, which was only a few minutes drive from Uluru.  Despite the arid climate, they managed to create some shade and had running water and showers.  They even had a swimming pool, which is nice to cool off after a long warm day.  We really enjoyed it, but after a few days it was time to move on.  We visited Uluru for one last time, drove around, took even more pictures, and then drove away from it.  The kids sat backwards on their seats and waved.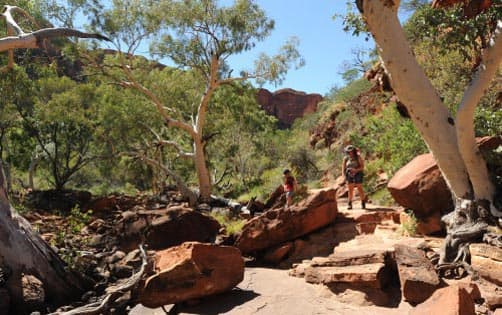 ABOVE: Hiking in Kings Canyon
We visited Kings Canyon and then moved on to Alice Springs.  It felt like we entered an oasis in the desert, which was more or less true.  The campground had nice clean facilities.  There was normal drinking water, grocery stores, and gas stations that had more normal prices then elsewhere in the Outback.
When we got out of the truck, we suddenly realized that there were no flies around!  In Coober Pedy somebody told us that the flies were only there in March.  It was April 3rd, so apparently the fly season was over.  We put our fly nets away and we didn't need them again for the rest of our trip.
We stayed a few days to relax and stocked up on food and water.  Then we drove into the MacDonnel ranges.  This was a beautiful place.  We stayed in a camping area that could only be reached by four-wheel drive.  There was nobody around for miles.  After we put the kids to bed, we would go sit outside.  It was pitch dark and there are so many stars; the sky was amazing.
North of Alice Springs were gem fields where we could dig for gemstones.  This was a lot of fun.  We stayed in a campground at a roadhouse that was 90 kilometers from the main highway.  There was nothing there.  There was no drinking water and they had power from a generator that was switched off at 10:00 pm.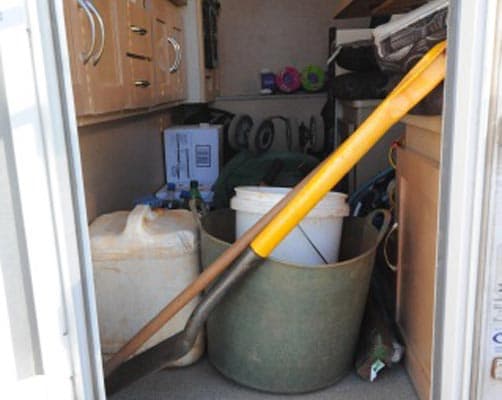 From there we drove to the gem field.  We got a bucket, some water, a pick, a shovel, and a sieve.  In order to find gemstones, we had to dig in the ground, wash it in the sieve, and then see if there were glimmering, red, glasslike pieces of stones in it.  If we were lucky, some of those pieces of stones would be gemstones.  In the red soil and the burning sun we dug the whole morning for granites.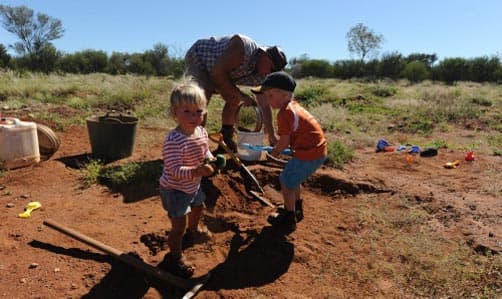 ABOVE: Fossicking on the Gemtree claim in the Northern Territory
The kids helped by digging in the dirt.  By the end of the morning we were covered with red soil and sweat.  But we had a tin full of stones that might be gemstones.
When we returned to the campground, the owner looked at our stones to see if there was anything with any value.  It was a bit frustrating when he looked at our tin and classified most of it as rubbish.  But we didn't do too bad.  A few stones were bright, clear, and without cracks so they were worth cutting.  We decided to keep them as a nice souvenir.
Youri found some nice rocks that he wanted to show the guy that was looking at our stones.  He played the game with us and classified the stones as very good 'rocks' and even put them in a plastic bag for him.  Youri felt proud.  After all this it was really time for a shower.  I can't remember being so dirty, ever.
Our original plan was to drive from the gem field area to Western Australia, but it took us a lot longer to get there than expected.  The delay in the beginning of our Australia trip didn't help.  It was time to reconsider our plans.
If we decided to go west, we would first have to drive a bit further north and then go west and take the route all along the west coast.  It turned out that this is will be about 12,000 kilometers, just as a direct route.  If we took some detours or drove around a bit in places where we could stay longer, this would easily add up to about 20,000 kilometers.  With two more months to go, that was simply too much.
We considered the only shortcut possible.  There was a road that went from Alice Springs to Perth and was 1,200 kilometers, but it was an unsealed road and dangerous if one does it unprepared.  We would need extra spares, tires, water, fuel, a radio or satellite telephone, and preferably to drive with a least two other cars.  We didn't have all this, so this was not an option.  We decided to go for plan B.
We drove further north to Tennant Creek and, instead of going west, we went east.  We regretted it very much that we would not make it to the west coast, but even a year is too short to see everything you want to see in Australia.  The west coast is now on our wish list.   At Tenant Creek we took a right turn and started driving east.
The road east lead us through Mount Isa and then we went southeast through the Outback.  We visited small towns with just a few houses.  The roadhouses in these towns serve very good meals at plastic tables with neon lights.  Most visitors are truck drivers that drive road trains, which are huge trucks that are over 50 meters long.  We also drank a beer in the pub where part of the Crocodile Dundee movie was filmed.  We visited the town where 'Waltzing Mathilda' was first performed and we met very authentic people in very small towns in the middle of nowhere.  We liked the Outback and really learned to appreciate life around there.
Eventually we arrived in Rubyvale, a small town close to Emerald.  Rubyvale is the center of one of the largest gem fields in the world.  We liked digging for gems, so we decided to stay there for awhile.  It's a small town with a very nice, open atmosphere.  The fact that there are gems to be found does something to the town and the people who live there.  The good thing was that people there don't seem to be greedy or mean.  They were all very nice and the atmosphere was pleasant.  They seemed to be happy for people if they find something valuable.  Since you found it yourself and you didn't take it away from them, they don't seem to feel it as competition.
The funny thing was that there were not many tourists around there.  There were some Australian visitors, but we didn't see many foreigners.  The gems to be found at Rubyvale are sapphires.  We couldn't dig for them ourselves because they are too deep in the ground.  But we could buy buckets with soil and stones that come from the mines.  We bought a few and we were lucky.  We found some sapphires that could be cut into beautiful stones.  Nice souvenirs again.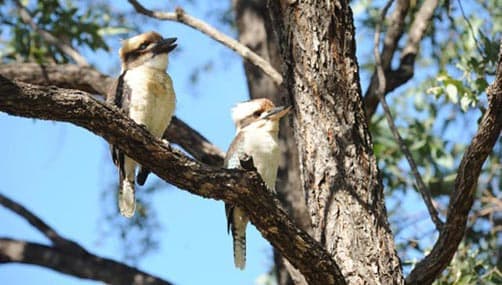 ABOVE: Famous Australian birds: Kookaburras, Rubyvale
Another nice thing about Rubyvale was that there were so many birds.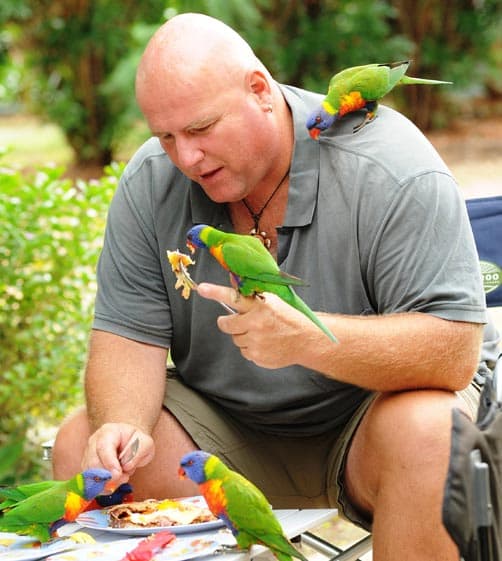 One morning we had breakfast outside and the parrots tried to eat our bacon and eggs.  They were all over us and even landed on Marc's fork!  We liked Rubyvale so much that we stayed there for a week.  We had to say goodbye to the lovely owners of the campground, the cutter in the village, and some other nice people that we met.
From there we drive to Carnavorn Gorge.  This was again a very beautiful national park. We walked along the creek through the Gorge.  It was a beautiful hike.  We had to cross the creek a few times by stepping stones, which felt like a real outdoor adventure.  Michelle sat in the carrier and enjoyed the scenery.  Youri did a really good job.  He walked the whole way by himself, which was ten kilometers long.  We are very proud of him, since he is only four years old.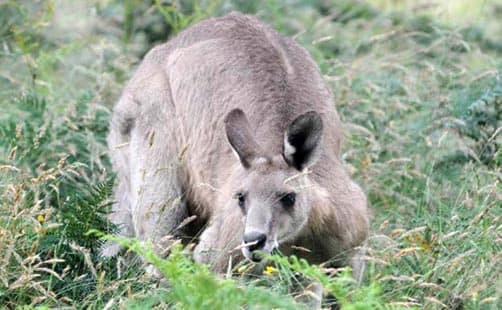 ABOVE: Grey kangaroo at Geehi in Kosciuszko National Park, New South Wales
There were many kangaroos.  They hopped around the camper when we woke up.  It was so nice when we opened the curtains above the bed and the first thing we saw was a kangaroo.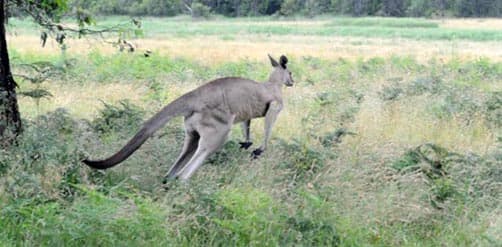 ABOVE: Grey kangaroo at Geehi in Kosciuszko National Park, New South Wales
Michelle was starting to speak and learned the word kangaroo instead of cow, as most Dutch children do.
At night it started to rain and the next morning it made us realize how lucky we have been with the weather so far.  Everything turned into mud and the creek rose a few centimeters overnight.  It was good that we went hiking the day before because it wouldn't have been possible.  Amazing.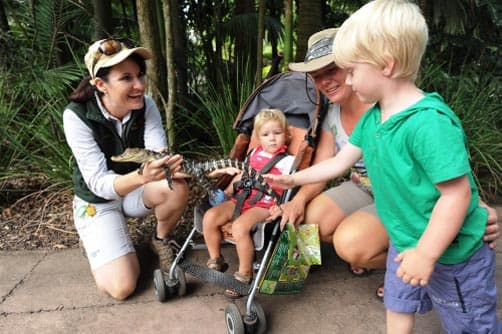 ABOVE: Youri petting a baby crocodile in Australia Zoo
We slowly got back into the civilized world again and headed for Brisbane.  When we got close to the coast, we really had to get used to the crowds again.  We visited the Australia Zoo, which is a few kilometers north of Brisbane.  This is the zoo that was founded by Steve Irwin, known for his hunting after crocodiles.  The crocodile show was impressive and the whole zoo looked very nice and neat.  The kids liked it a lot. Brisbane itself was a very nice city.  It was hard to believe that they had a big flood there a few months before we were there.  They worked really hard to repair the damage and did a very good job.
In only a few days, we drove from Brisbane to Sydney.  We didn't stay there long because we had been there before.  We did visit Sydney itself.  I love this city!  Of course we had to take pictures of our truck camper in front of the Harbour Bridge and the Opera House.  We felt so proud to drive there with our own truck camper!
It was almost time to leave Australia.  We took a week to prepare the truck camper to be shipped to Rotterdam.  To do this, we returned to Kangaroo Valley, where we stayed so long while we were waiting for our camper.  We loved the campground and its owners.  It felt a bit like coming home; we felt so welcome there.
It was funny to feel autumn coming.  Until Brisbane, the weather was nice and warm.  Over a couple of days, the temperatures dropped as we were driving south.  During the day it was still nice, but in the late afternoon and at night it was getting pretty cold.  Good thing we had an all season camper.
We did have to buy some long sleeved shirts for Michelle.  It turned out that she had grown out of her warmer clothes again!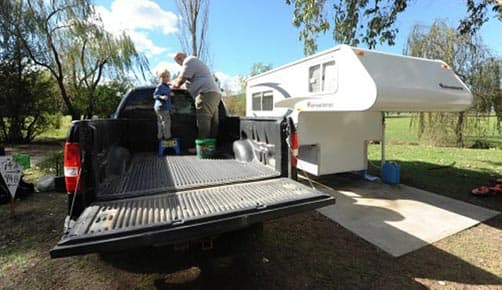 ABOVE: Cleaning the camper before shipping, Kangaroo Valley
Besides cleaning the camper, we had a very relaxed week there.  We went fishing and watched rugby practice.  We went out for dinner with our friends Dion, Tara, and the kids.  They had some kind of lottery at the restaurant and we won a breakfast package.  It contained some very good meat from a local butcher.  No way that we could finish this for breakfast.  For us it was enough for a few dinners!  Then was time to say goodbye, again.  We gave everybody a big hug and drove to Sydney.
We delivered the truck camper at the depot.  They arranged everything with customs and put the truck and camper in a container.  It arrived in Rotterdam when we were long home in the Netherlands.  But, before we go home ourselves, we first went to visit Bali and Singapore.  Our adventure was not over yet.
We loved Australia and it was great to travel by truck camper.  We didn't often see truck campers in Australia, but they are very convenient there.  People we met loved our vehicle and camper unit.  Australia is a great place to go truck camping.  Since there were a lot of places where you go off the sealed roads, we loved the fact that we had a four-wheel drive vehicle with high ground clearance.
The driving distances were pretty long and sometimes there was no interesting place to stop for a few hundred kilometers.  With the kids, we liked that our vehicle was separate from the camper unit.  This made the driving much more comfortable because there was less noise and better seats in the back.
Our Adventurer 80SK truck camper unit was great!  We camped in all kinds of weather and lived in it for a long time.  It took us everywhere we wanted.  This was the journey of a lifetime!
Now we are back home in the Netherlands after a few great weeks in Bali and Singapore.  It is strange to adjust to normal life again.  The kids are adjusting easily. They became very flexible, or probably were already.  They have traveling in their genes forever.
The camper arrived in Rotterdam a few days ago.  It got out of the container without a scratch and is now standing in our front yard.  It feels like something from a good movie went back into reality.  We keep the travel feeling vivid by telling all the travel stories and show the pictures to our friends and family.