Marc van Yperen and Anja Krijnberg send in the Australian chapter of their global truck camping expedition with their two young children.

From July 20, 2010 to June 8, 2011, Marc, our two kids, Youri and Michelle, and myself traveled around the world.  As you can read in Part 1 of our story, "Around the World from the Netherlands: Part 1" we started in Vancouver where we bought our truck camper.  From there we traveled through Canada and the United States.  In Los Angeles we prepared our truck camper for shipment to Australia.  After delivering the truck and camper unit to the shipping agent, we spent a few more days in California.  Then it was time for us to leave the continent of North America.  At that moment we thought it would take a month before our camper would arrive in Australia.
Waiting for the Truck Camper
After we took our camper to the shipping agent in Los Angeles, we flew to Hawaii and then to Fiji.  We had a great time in the Pacific Islands.  In Hawaii we drove around the island in a small 4×4, we snorkeled with sea turtles, shopped for cheap tropical fruit in the Hilo market, and saw an active volcano at night.  In Fiji we stayed at two different resorts on the Yasawa Islands.  We had a cabin right on the beach like the ones you see in pictures; clear blue sky, crystal clear sea with a snorkel reef a few meters from shore, white beaches, and coconut trees with hammocks.  Marc went diving with sharks and saw some impressive species.
On December 8th we flew to Sydney, Australia.  The ship with our truck camper on it was originally due to arrive in Sydney on December 11th.  A few days after turning our truck camper over to the shipping agent, we heard that the shipping agent was not able to get our truck camper on the ship as planned and there would be a delay.  The vessel with our truck camper was now supposed to arrive in Sydney on December 25th.  After that, they would need a couple of days to get it through customs and quarantine.  So we thought it would take at least three weeks before we would get our vehicle back.
We decided to rent a camper van in Australia during the time we had to wait for our truck camper to arrive.  At least we could travel around.  Besides, all the accommodations in and around Sydney were full or very expensive.  It was summer there and the holiday season had started.
With our rented camper van we traveled south and zigzagged a little bit between the coast and inland into the Snowy Mountains and Canberra.  We saw lots of beautiful scenery and kangaroos, of course!  We also took some time to find out where we could insure the truck camper.  We wanted to be prepared to arrange it in one phone call when it arrived in Australia.  After two weeks, we slowly drove back north to Sydney.  We wanted to be close to the harbor when our truck camper landed.  When we checked the tracking site from the shipping agent, we suddenly saw that the vessel was delayed.  It was due to arrive on January 4th!  This was a big disappointment.  Despite that, we had a great Christmas day.  Santa didn't forget us on the other side of the world and we cooked ourselves a fancy Christmas dinner.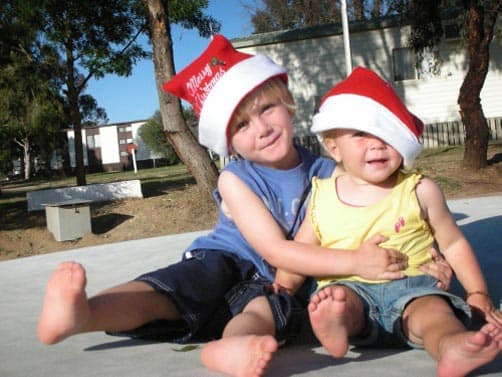 It's a bit strange to celebrate Christmas on a very warm summer day, especially because at home they had a very severe winter with more snow than average.  Everybody sent us pictures from home with heaps of snow.  It felt like we were in a different world.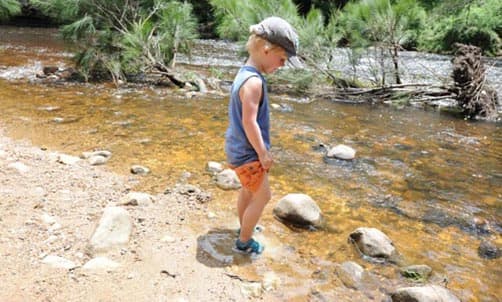 ABOVE: Youri playing in the Kangaroo River on a warm day, Kangaroo Valley
The day after Christmas we drove to Kangaroo Valley.  It was a nice, small town in a very picturesque valley that was a two hour drive from Sydney.  We decided to stay in Kangaroo Valley until our truck camper arrived.  We turned in the camper van and rented a cabin in the campground where we were staying.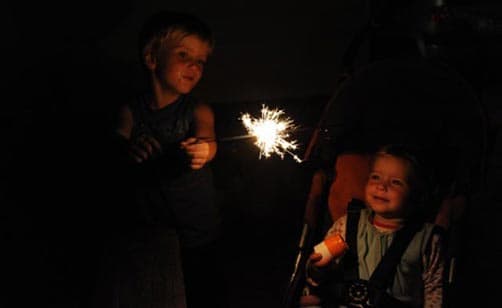 ABOVE: New Year's Eve in Kangaroo Valley
There we celebrated New Year's Eve with a couple of nice people who stayed in the campground.  We sat outside the whole time as it was a very warm day.  We had a nice evening, but we missed the fireworks.  It was not allowed because of the risk of forest fires and the wild animals in the neighborhood.
Truck Camper Arrives