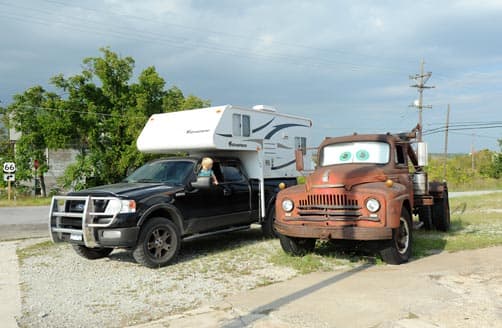 TCM: You are shipping your camper to Australia next.  What did you need to do to prepare your truck camper for overseas travel?
Marc: We just cleaned the truck and camper very thoroughly because they are very strict on that in Australia and we taped all the doors of the closets.  We also had the propane tank emptied.  We delivered the rig to the shipping agent and they took care of putting it into a container and taking care of the paperwork.
There is a huge price difference between different shipping agents and most have no idea what a truck camper is.  We knew from our research that Rhonda from Galaxy Campers has a lot of experience with shipping campers.  She introduced us to CFR Lines.  They knew exactly what we needed.
For the paperwork we arranged a Carnet the Passage.  This is a document for Australian customs that is like a guarantee that we will not import the vehicle into the country.
The truck camper is on the boat right now.  We just hope it will arrive in one piece and gets easily cleared by customs.  We got a message that the truck camper will arrive two weeks later than we first expected.  That's not a problem.  You just can't expect a strict time schedule, so we don't worry about that.
With handling time before and after, it will take almost two months from when we shipped our camper in the United States to when it arrives in Australia.  That is why we decided to stay two weeks in Hawaii and three weeks in Fiji in the meantime.  We will stay a couple of weeks around Sydney until the camper arrives.
TCM: Thank you so much for sharing your adventure so far.  We can't wait to see how your Australian truck camping trip goes.  Safe travels!