We also had to organize things at home.  We rented out our house, which meant that we had to get out all of our personal stuff.  And there was some other paperwork to arrange to make sure that everything at home was in order for the next year.
Then we needed a special travel insurance, because normal insurance will only cover a stay of up to three months abroad.  We also did some preparations for our websites.  I think that is about it.  And then of course we had to pack our bags.
TCM: Wow!  That's some serious planning.  Why did you chose a truck camper over any other form of RV for this trip?
Marc: We looked at our options on the internet.  We had a few things that we wanted in our RV.  First of all, we are not allowed to drive a camper that is heavier than 3,500 kilograms with our Dutch drivers license.  That shuts out a lot of options.  Second, we wanted an RV that sleeps four people.  And third, we preferred a four-wheel drive truck for our trip to Australia and we were willing to give up some luxury and living space for that.  A truck camper met all these requirements.  We also thought that it would be a big advantage if we could leave the camper unit and just drive with the truck if we want.
TCM: How did you find out about the truck and camper at Fraserway?
Marc: We looked on the internet to find where in the United States or Canada we could buy a truck and camper.  We found the website of NATCOA which was a great help.  Here we had access to the website of almost every manufacturer of truck campers in the world.  We started our research there and we sent emails to companies we found on the internet, but we hardly got any response.  People probably thought we were not serious.  We started to call the factories directly, including Adventurer who directed us to Fraserway RV.
TCM: How did you know you wanted an Adventurer 80SK truck camper?
Marc: The Adventurer 80SK met our weight requirements, had a hard roof, and the photographs of the interior looked bright.  A lot of campers have old fashioned designs at least to our taste.  We never actually saw the 80SK before this trip.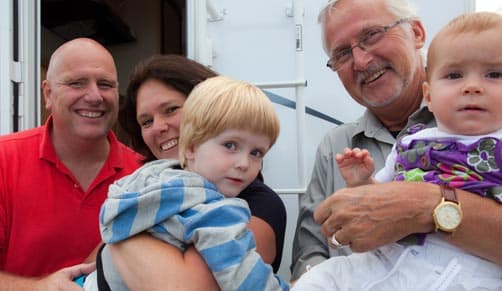 Left to Right: Marc, Anja, Youri, John Vanderboom (Fraserway RV), and Michelle
TCM: How did you arrange it with Fraserway RV to pick up your truck and camper?
Marc: We told Fraserway that we where only interested in a camper if we could find a good and reliable truck to carry it.  Shortly after our first contact with Fraserway, they referred us to a Ford dealer in Abbotsford.  One of the salesmen there used to work at Fraserway so he knew the camper units and could therefore advise us which truck was good for carrying the unit.
He then went looking for a suitable truck.  This took awhile because of the weight restrictions, but he managed to find one.  After he did, we contacted Fraserway and told them that we were interested in the camper unit.  We told them that we were arriving on July 21st and that we would pick up the truck first and then would come to them.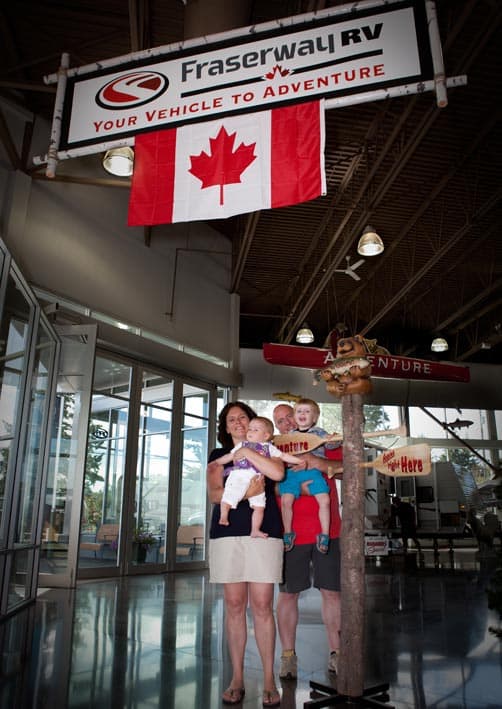 TCM: Tell us about the day you went to pick up your truck camper.
Marc: We were really excited.  Normally you don't buy a thing like this without seeing it!  First we went to the Ford dealer.  We were looking at all the trucks outside to see if we could find ours, but we didn't see it.  So we went inside and met Bruce, the guy that arranged everything for us.  When he showed us our new truck, it looked even better than we expected.
The guy from the insurance company came over and we arranged all the paperwork.  Then we drove to Fraserway.  At first they took us to the camper unit so we could see it.  This also looked very nice.  We looked inside and opened all the closets and imagined what it would be like to live in this for a year.  Youri, our son, climbed on the bed and looked everywhere.  He told us he liked it all, so that was perfect!
We left the truck at Fraserway so they could prepare it and made an appointment to come back the next day to put the unit on the truck and take delivery of our new rig.
The next day we came back and everything was prepared.  First we did the paperwork and then we got all the instructions about the camper.  After that, Fraserway helped us to put the camper unit on the truck.  Then it was time for taking pictures!  All the people at Fraserway were very nice and interested in our travel plans.  They prepared a wonderful welcome package with Fraserway and Canadian goodies.
TCM: That sounds like a very exciting day.  Did you have to make any modifications to your truck and/or camper to make it legal in any of the countries you will be visiting?
Marc: Because a Ford F-150 was the largest truck we were allowed to drive, the weight of the camper came really close to the truck's available payload.  To improve the driving abilities, we had Ford install airbags between the rear leaf springs and a leveling kit in the front.  We also had E-rated tires installed which we can inflate to 80 psi instead of the normal 36 psi.  These modifications made it possible to level out the load and made the whole combination significantly more stable.  This was money well spent.  We also had bull bar installed to lower the impact of road crossing kangaroos in Australia.