TCM: How do your children like truck camping?
Allan: We have never seen our three year old as excited as the day we picked up our camper.  She was doing somersaults over the bed and our youngest discovered the wardrobe mirrors and spent hours admiring herself.  Sleep wise, we all seem to end up in the big bed together.  So much for the idea of the kids sleeping in the over dinette bunk.
TCM: Is Scotland truck camper friendly?
Allan: Scotland is ideally suited to truck camping.  On the islands there are lots of magical spots next to the beach that you can reach using four wheel drive.  On the mainland, there are endless campsites with facilities.
TCM: Do you see many truck campers in Scotland?
Allan: None.  We think we are the only one.
TCM: That's unbelievable!  So there probably aren't too many rules about having a truck camper in Scotland.
Allan: There are no rules regarding truck campers.  On my visit to the Licensing Authority office all the inspector had to say was, "That looks awesome!".
TCM: We agree.  What are some of the places that you would recommend others go to as they travel through Scotland?
Allan: There are lots places to visit in Scotland, especially on the West Coast where you can get a sandy beach all to yourself.  There is also a lot of history in Scotland and you will pass by endless castles and magnificent scenery.  We have bought a Hopscotch ticket from Caledonian MacBrayne ferries and done a couple of island tours.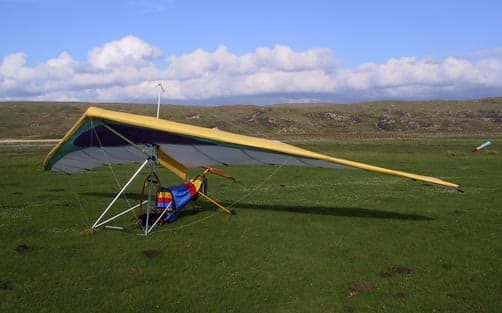 TCM: Tell us about your glider.
Allan: The glider that I bring with our camper is a very basic easy going wing with a power unit attached to it called a Doodle Bug.  The unit has 120cc two stroke go kart engine and carries nine liters of fuel.  This gives the tiny aircraft up to four hours of flight.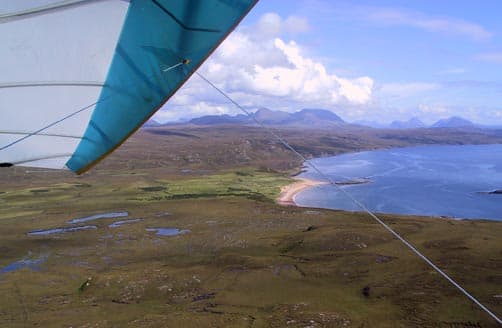 TCM: What's it like to fly the Doodle Bug?
Allan: Gliding is a wonderful experience; something I never tire of and will probably never master!  There's a simplicity to it.  Being able to adapt a simple glider with power enables you to take off from flat ground and fly around your favorite campsite.  It's hard to beat.
I learned to fly over twenty years ago in Glenshee, Scotland.  Our instructor was an Austrian by the name of Gustav Fischnaller who taught hang gliding in the summer and skiing in the winter.  We used to ride our motorcycles to Glenshee with a ruck sack full of sandwiches and spent our day flying down the training slopes and lugging the glider back up.  It didn't seem to matter how much effort you made preparing your lunch.  Gustav's was always better!
TCM: Sounds like good times.  Do you tow your glider behind your truck camper?
Allan: No, the glider goes on the roof and the power unit lies on the camper bed.
TCM: What unexpected challenges have you faced on your truck camping adventures?