Hang on, literally, for a beach side truck camping in Scotland adventure.  Check out the Doodle Bug and a hang gliding flight.  Look out, Scotia below!

Most of us like to physically touch the more expensive objects we buy.  For example, would you buy a house or a car over the internet?  Imagine that you've never seen this house or an example of the car you're buying.  Now imagine that you're not only buying the product over the internet sight unseen, but you're also thousands of miles away, across an ocean, and in a different country from the company you're purchasing from.
That's exactly what Allan Huntly did when we purchased his truck and camper.  Of course risk is second nature to someone who straps a go cart engine to a hang glider and flies around his campsites.  Let's have a wee bit of fun in Scotland.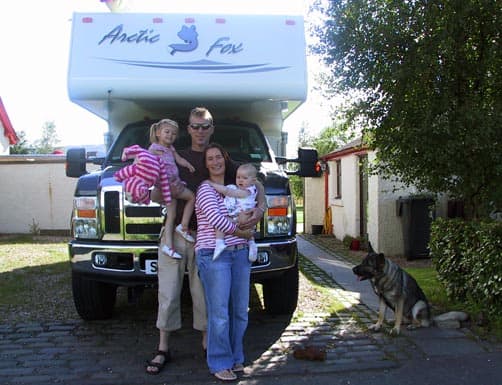 TCM: Tell us how you got into truck camping.
Allan: We bought our first truck camper in 2007.  The truck was a four wheel drive Nissan Navara double cab and the camper was a Nordstar.  The Nordstar was a Swedish built aluminum skinned 2+2 berth camper designed for United Kingdom spec pick-ups.  It was very well built camper, but it was just too small for our family.
We purchased the truck camper after several years of running more conventional campers.  We liked the other campers, but were always looking for something with four wheel drive for wild camping.  Scotland's west coast islands are blessed with some amazing spots.
TCM: How did you know you wanted an Arctic Fox truck camper?
Allan: With the luxury of the internet, we did a lot of research over the course of a year and spoke to various dealers in the United States.  We eventually found East End Campers on Long Island, New York.  From there we narrowed it down to three different campers.  The Arctic Fox scored well with its large holding tanks and full wall slide-out.
TCM: How did you arrange it with East End Campers to have the camper shipped to you?
Allan: Mike Basel at East End Campers took care of the shipping arrangements.  Together with a 2008 Ford F350 dually, the rig was driven to Port Newark in New Jersey  and then shipped to Liverpool.
The whole process ran very smoothly and Mike Basel put our minds at rest.  Obviously we were counting down the days until we could pick it up at Liverpool and were very excited to see it.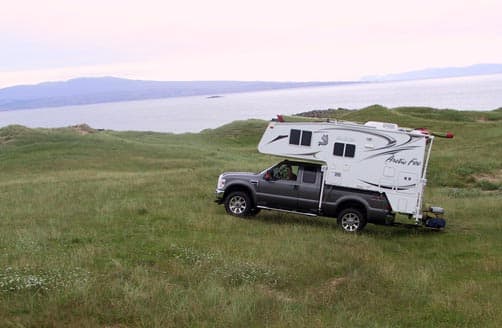 TCM: Did you have to make any modifications so the camper would work properly and be legal in Scotland?
Allan: Not really.  As far as the power, we run 220 volts in the United Kingdom.  This was easily dealt with by buying a very simple building site transformer to knock the voltage down to the United States 110.
The camper was shipped without propane gas bottles but, as luck would have it, our eleven kilogram propane bottles fitted perfectly.  Using ACME adaptors, it was a very simple process to connect the bottles up.
In regards to the exterior lights, I took the vehicle to our licensing authority.  In the United Kingdom a truck camper is classed as an RV and therefore does not need a SVA test which includes light modifications.  The licensing authority seemed quite happy.  Maybe we were just lucky!
TCM: That was lucky.  What do you like to do when you go out truck camping?
Allan: When we go camping, it's a family holiday.  We mainly play on the beach with our girls and our dog.  We also take some toys with us including a small boat which the girls love to take out and fish.  I also have my hang-glider and power unit.  Weather permitting, I usually get some flying done.