Iris and Michael Imwolde bought a Northstar Escape Pod 750 flatbed camper and went on a year long trip from Alaska to Panama.

In an ideal world, it would be easy to fly to another country, rent a truck and camper, and explore to your heart's content.  While this is possible in Canada, it's not quite that easy for the rest of our planet.  I personally think it's a travesty that truck camper rigs are not widely available for rent in the United States.  Think of how many more people would be introduced to truck campers if they were.
There is another solution, one that we even employed with our first truck and camper rig; buy a truck and camper, use it for six-months or a year, and then sell it.  Truck campers hold their value well, and the concept gets even better if you buy a used truck and camper to avoid the initial depreciation.  Of course the real value is to buy a new or lightly used truck and camper, rigorously maintain them, and use that rig to fulfill all of your wildest truck camping dreams for the next ten or fifteen years.  You can't take it with you.
Iris and Michael Imwolde brought another variation of this concept to fruition.  They bought a brand new 2012 Northstar Escape Pod flatbed camper, a 2012 Chevy Colorado flatbed truck, and outfitted the rig with Torklift tie-downs and Fastgun turnbuckles, all from their apartment in Munich, Germany.  These were the first steps in the realization of a dream for Michael.  When he turned fifty-five, they would take a year off and explore the Americas.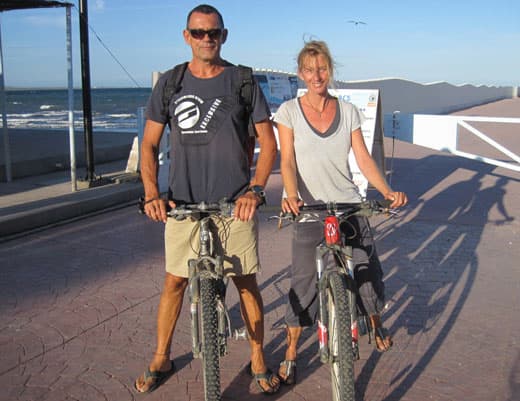 Above: Michael and Iris Imwolde in Baja, California
TCM: Where did you get the idea to travel North America?
Michael: Years ago, I decided to take a sabbatical when I turned fifty-five.  My first plan was to travel on the Pan-American Highway from Alaska to Chile, but later discovered that would be too much for one year.  So we decided to travel through North America and go south to Panama.
About a year before my fifty-fifth birthday, we started the concrete planning of our trip.  Our plan was to start at our friend's house in South Carolina and transverse the United States.  We would visit Montana on the way to Canada and Alaska.  We planned to visit many national parks and interesting towns along the way.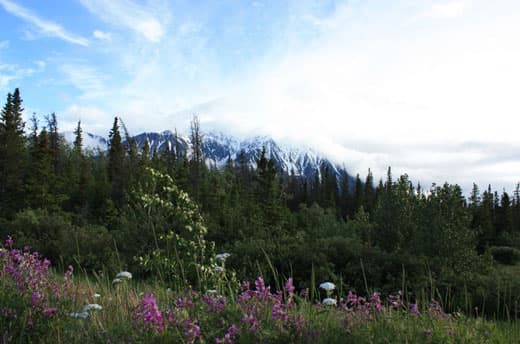 Above: Alaska Highway, Yukon, Canada
From Alaska, we wanted to drive down the West Coast to California.  After traveling the United States and Canada, we would visit Mexico, Guatemala, Honduras, Nicaragua, and Costa Rica.
It soon became clear that we would buy a truck camper in the United States and sell it after the trip.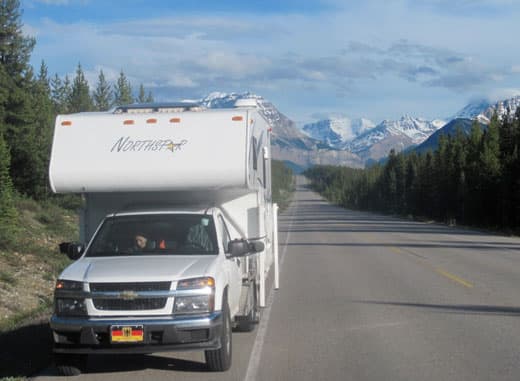 Above: Their Northstar in Jasper National Park, Canada
TCM: What made it clear that you would buy a truck camper?
Michael: We opted for a truck camper because we wanted to have a four wheel drive vehicle and the size of a truck camper met our expectations.  Since truck campers are much less expensive in the United States compared to Europe, we decided to purchase the camper in the United States.  We also saved a considerable amount by not shipping a camper from Europe.

Above (click to enlarge): The interior of their Northstar Escape Pod
TCM: How did you select the Northstar Escape Pod and Chevy Colorado?
Michael: During our internet research for small four-wheel drive truck camper rigs, we discovered Northstar's flatbed truck campers.  The Escape Pod only requires the relatively small Chevy Colorado truck.  While the Escape Pod is relatively small, it has a good amount of space and storage afforded by the flatbed design.
We ordered the camper A&M Services in Kittrell, North Carolina.  Our friends ordered the Chevy Colorado with a flatbed at Burns-Chevrolet in Rock Hill, South Carolina. Unfortunately, our Chevy Colorado was delivered late, so we had to wait five weeks.
TCM: That's unfortunate.  How did you go about starting the trip?
Michael: Since we wanted to spend the summer in Alaska, we needed to set-out from South Carolina in the spring.  We rented our apartment in Munich for a year and flew to Charlotte in April of 2012.
We actually didn't have precise plans about where we would go along the way.  We hit the welcome centers in each state which helped us with detailed planning.  We wanted to be in summer weather all year.
Above (click to enlarge): Traveling the Dalton Highway in Alaska and British Columbia
That meant being in Alaska for the summer, and Mexico for the fall.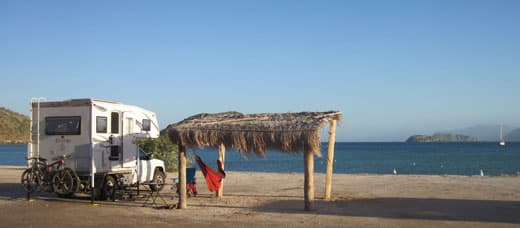 Above: Baja, California camping spot
TCM: What were your biggest challenges as a German exploring the Americas?
Michael: The biggest challenge for us was finding boondocking places to stay for the night.  In sparsely populated states, it was easy.  But, in the big cities, there were often many signs forbidding overnight camping.
Depending on the state we were in, the prices for camping in state parks varied between $10 and $30.  If we had stayed in campgrounds every night, we would have spent more than our $10,000 budget for the trip.
We often stayed in parking lots or gas stations.  We were asked twice by a police officer to park somewhere else.  The beaches of Baja California are public, so that was great for free camping.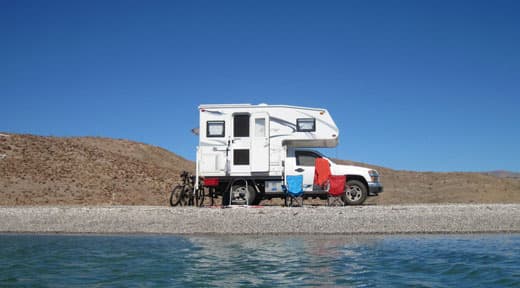 Above: Camping in Baja, California
TCM: What are your plans from here?
Michael: We are back at work in Germany now and preparing for the next big trip.  In 2014 we are planning to bike ride from Vietnam to Indonesia.
It was exciting in the morning not knowing what the day would bring and where you would be in the evening.  We met a lot of nice, open-minded people.  With some we spent entertaining evenings around the campfire and made friendships.

Above (click to enlarge): Exploring the west coast of the United States
TCM: We know exactly what you mean about meeting the most wonderful people on the road, and forging new friendships.  What were your favorite places from your truck camping trip through the Americas?
Michael: I'll give you my top five cities and my top five wildlife encounters, starting with the cities.
1. New Orleans: New Orleans is one of the most beautiful cities on the basis of the historic French Quarter, the architecture of the Spanish and French colonial period, and the local Creole cuisine.
2. Vancouver, Canada: Vancouver is a unique and diverse destination due to the pristine sea and mountain access.  The atmosphere and lifestyle in the bustling city is dynamic and multicultural.
3. Savannah, Georgia: Savannah is charmed by its old town, leafy squares, and many restored houses.  It's one of the finest cities in the United States.
4. San Francisco: San Francisco is unique with its bridges, steep streets, and beautiful old wooden houses.
5. Chicago: Chicago stands out with its great architecture and unique location on Lake Michigan.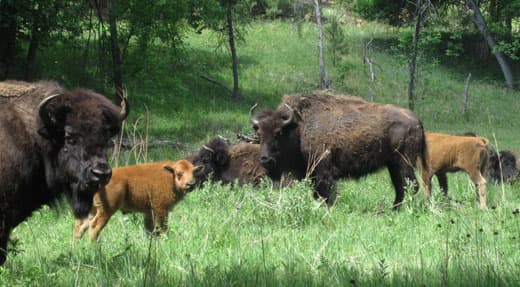 Above: Bison in Custer State Park, South Dakota
My top wildlife encounters were the grey whales in Baja, California, bison in Custer State Park, black bear among the Sequoias in Sequoia National Park, prairie dogs at Devils Tower in Wyoming, and the Pelicans fishing in the Sea of Cortez in the Gulf of Mexico.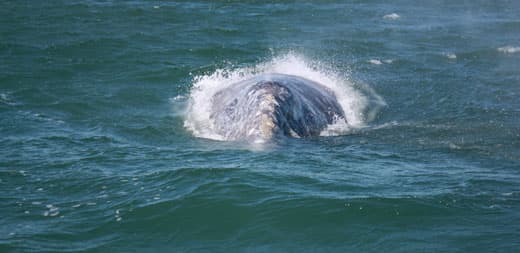 Above: Grey whales in Baja, California
Being together for a year on the road was a great experience for us.  We didn't have a glitch with the truck or camper, neither of us got sick, and we did not experience any crime.  We had a lot of luck.  It was exciting in the morning not knowing what the day would bring and where you would be in the evening.  We met a lot of nice, open-minded people.  With some we spent entertaining evenings around the campfire and made friendships.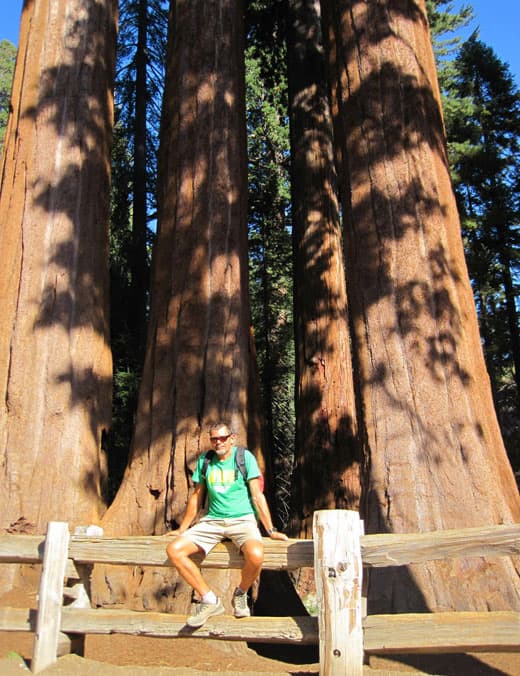 Above: Sequoia National Park, California
Truck: 2012 Chevy Colorado, regular cab, 3.7L, 4WD, automatic, gas
Flatbed: Ute aluminum flatbed with two storage boxes.
Camper: 2012 Northstar Escape Pod 750
Tie-downs/Turnbuckles: Torklift Fastguns
Suspension: Custom Springs
Click here for more information on Northstar's flatbed models.