If you want to see the northern lights while truck camping, you need to make some very specific plans.  Fellow truck campers share where to be, when to be there and what time to watch the horizon.  Make it so.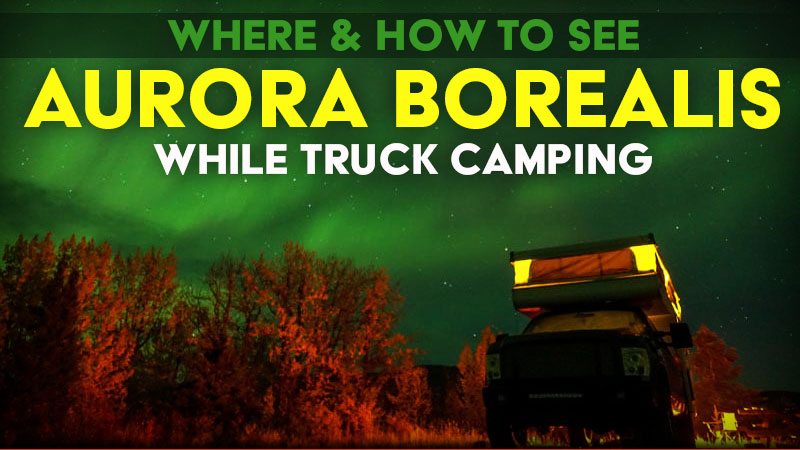 Above: Tangle Lakes on the eastern edge of the Alaska Range, photo taken by Jerry Sadler
The science behind the spectacular beauty of the Aurora Borealis sounds more like something from a Star Trek episode than anything you'd experience here on Earth.
First, solar wind causes disturbances in the Earth's magnetosphere altering the trajectories of charged particles in the upper atmosphere.  Then these particles emit light of various colors (predominantly reds, greens, blues, and ultraviolets) around the poles.  We see these cascading colors as the northern lights.  Beam me up.
Aurora Borealis events are generally only visible in the far north.  For example, Fairbanks, Alaska, and Yellowknife, Canada are popular northern light viewing spots.  With a little research, you'll quickly discover many places to see the Aurora Borealis throughout Alaska and Canada.  Even the Upper Peninsula of Michigan has sightings.
To have the best opportunity to see northern lights, you need to (a) be in one of these northern locations, (b) on a dark and clear night, (c) with an unobstructed view, and (d) a bit of luck.  Yeah, it's not easy.
What follows are the experiences of fellow truck campers who have seen the Aurora Borealis while truck camping.  They reveal where to camp, what to expect, and other things to do when you're there.  You've had the Aurora Borealis on your bucket list all of your life.  It's time to see the lights.
Jerry Sadler
2008 Ford F-250
2006 Northstar 850SC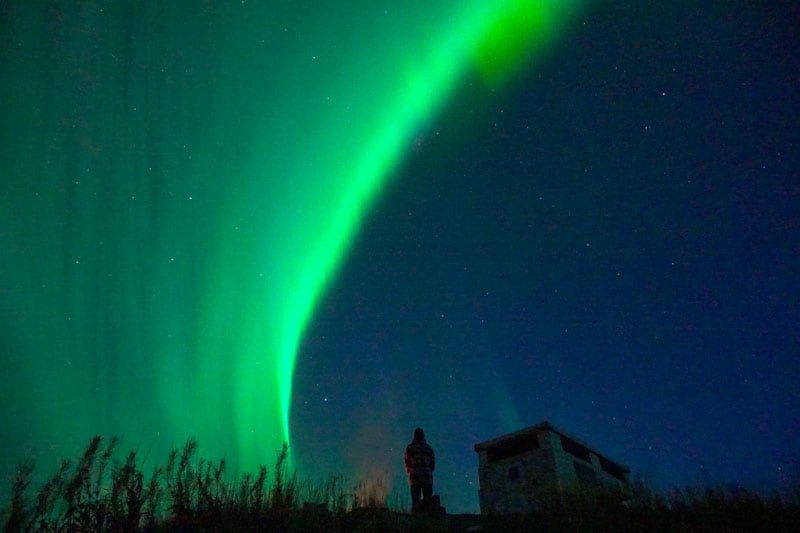 Last fall I took my newly acquired Northstar 850SC truck camper and 16-foot boat out to Tangle Lakes on the eastern edge of the Alaska Range for a three-night trip.
The weather was beautiful for September. The berry picking was still good, the daytime temperatures were in the high 70s and, as a bonus, the duck hunting and lake trout fishing were surprisingly good.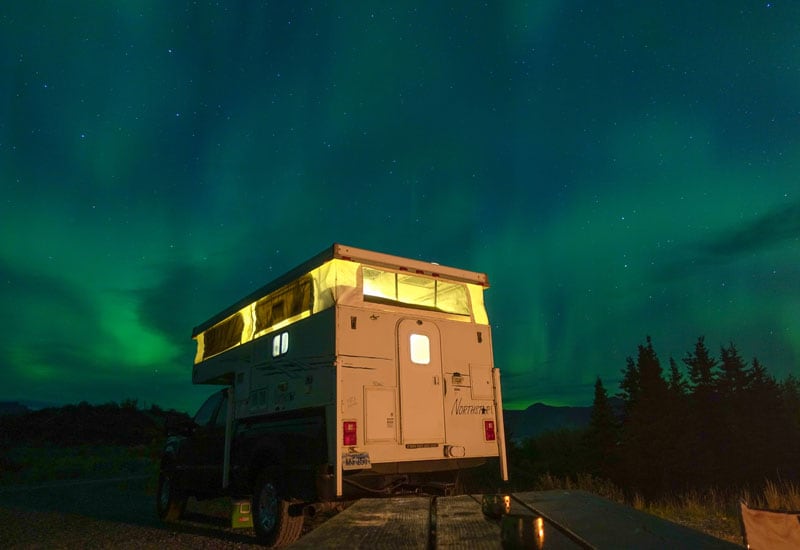 I grew up in Alaska, close to the Arctic Circle, so seeing the Northern Lights isn't the most mind-blowing experience that it might be for others. However, being able to be comfortable with a fire, my girlfriend, and my little home on wheels made the show extra special.
Tangle Lakes Campground off the Denali Highway is where I stayed. You drive down a paved road and then a little gravel road to enter the campground. There are large Class A motorhomes there all the time, so there is no off-roading necessary.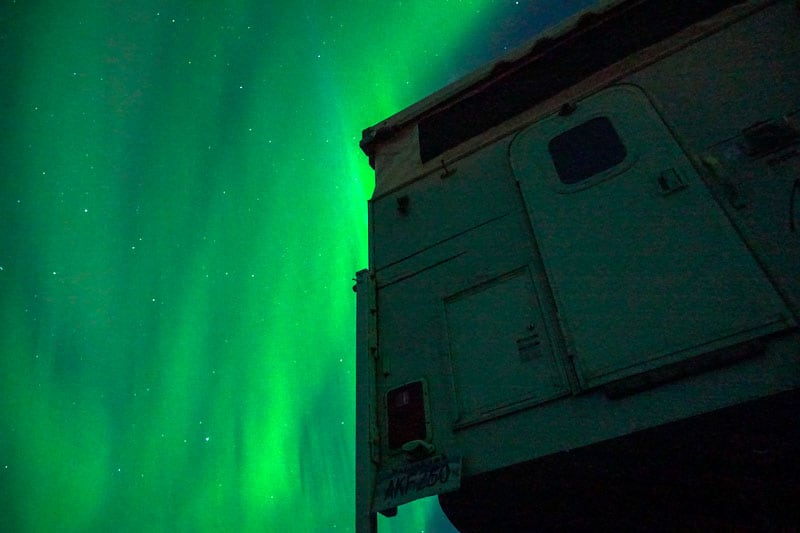 We hiked, berry picked, fished, duck hunted, scoped for moose, and searched for archaeological remnants from the people of the Ice Age. There are over 600 official archaeological sites in the Tangle Lakes Archaeological Site. We found lots of remnants from the making of stone tools on the top of lookouts.
Even though I see auroras quite regularly all fall and winter long, a good show will still make us squeal with excitement and awe.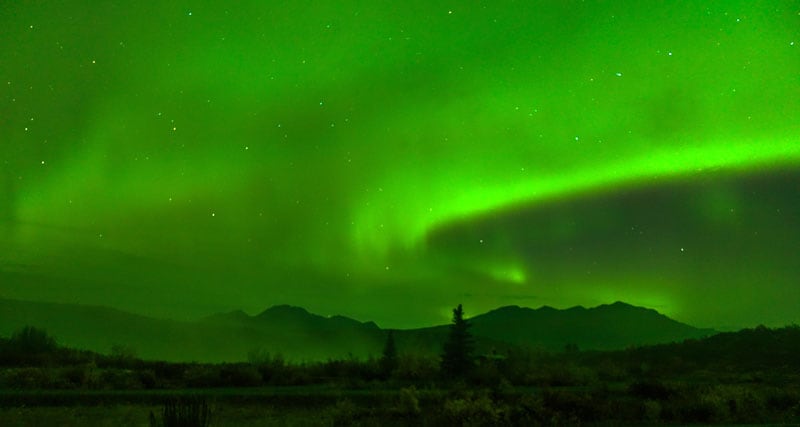 September is one of the best times to watch the northern lights in Alaska. It's warm and there are strong shows. As a bonus, you can get amazing photos of northern lights reflecting off the lakes.
Derek Hansen
2002 Ford F-350
2004 Lance 1010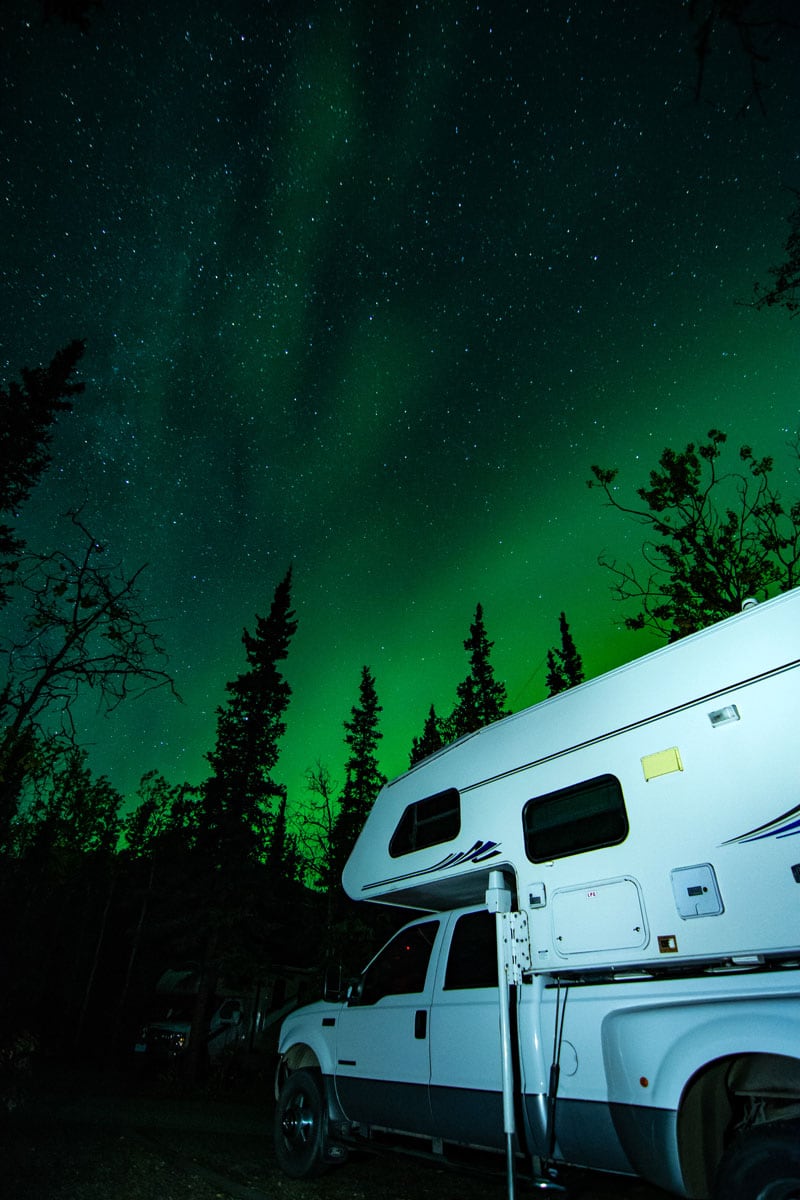 On the morning of September 14, 2018, around 3am, I saw the aurora borealis while camped at the Riley Creek Campground just inside the entrance of Denali National Park, Alaska. It was just a mild display, with the Kp at 4.
Editor's Note: The Kp-index indicates the level of disturbance within the Earth's magnetic field caused by the solar wind. The higher the Kp-index, the more likely you will see a significant magnetic storm, or aurora display.
Seeing the aurora is always a wondrous experience. I live in Alaska and go aurora hunting from time to time in every season except summer, when of course it is doesn't get dark enough to see them.
Some nights you don't see anything and ask yourself why you bother missing all that sleep and making work the next day miserable. But it is all worth it when you catch a light show. It wakes you right up and fills you with awe.
Riley Creek Campground is Denali's main campground, just inside the main entrance off the Parks Highway that connects Anchorage and Fairbanks. Just about every spot is big enough for a truck camper. There are also larger spots for larger RVs, but there are many more regular size site.
There are no hookups at the campground, but there are nice bathrooms and a nearby store. It is usually full in the summer, but it is not as bad in the shoulder seasons. Reservations are probably a must.
We were there to drive the park road during the autumn lottery season. Every September, Denali National Park holds a four-day, "Road Lottery" during which winners of the lottery can purchase a single day permit to drive the park.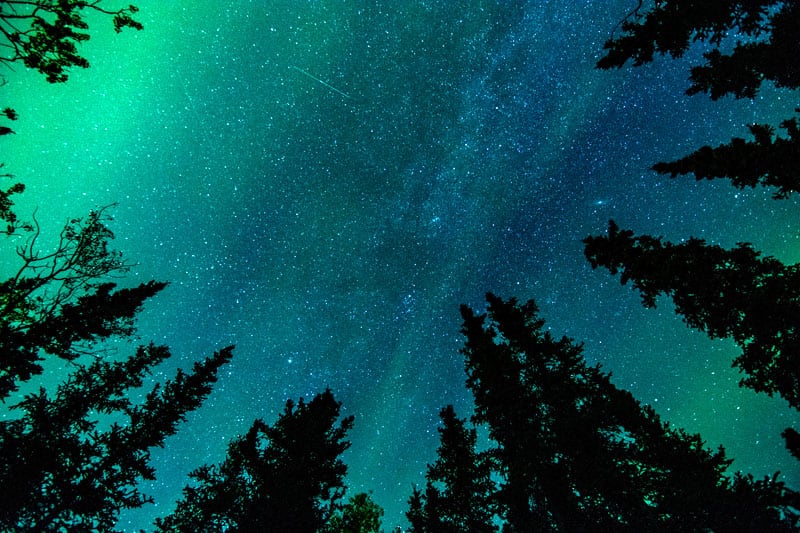 With all the trees obstructing the view, the campground is not the greatest place to see the aurora. A better area would be along the gravel Denali Highway outside the national park between Cantwell and Paxson. There are lots of free places to boondock and wide-open views of the sky.
The solar storms that create the aurora follow an 11-year cycle of rising and falling activity, with the most recent peak occurring in 2013, so this year is a period of lower activity. Most nights there is nothing to see.
There are several websites and apps for checking the aurora forecast – including SpaceWeatherLive – to see if it is even worth going out. They usually can't accurately predict more than a few days out. Sometimes they are completely wrong, just like weather forecasts, but at least you can get a heads up when there is a high possibility of seeing the lights.
In Alaska, Fairbanks is at the ideal latitude for the auroras and gets much more frequent and powerful displays than just a few degrees further south in Anchorage.
Eddie Hayden
2018 Dodge Ram 3500
2018 Phoenix Camper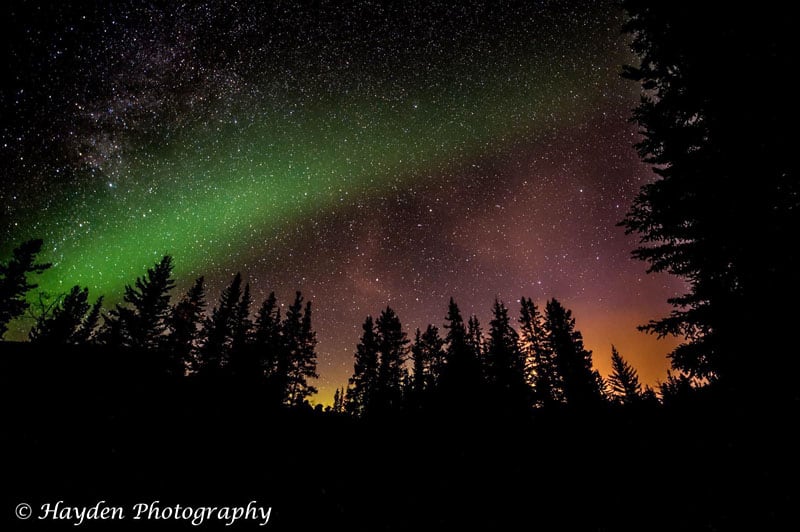 We saw the auroras while camping west of Hinton, Alberta. We were camping in William A. Switzer Provincial Park at Jarvis Lake Campground.
The picture above was taken on September 21, 2015 between 3am and 4am. It was a very strong display at first with a very bright red glow, and then greens started to appear. There was a lot of movement of the aurora. This campground is very wooded so my view was mostly overhead.
William A. Switzer is the only place we have observed the auroras while truck camping. This park has some nice hiking trails. We observed a mountain lion at a distance while hiking. I took a photo with our 200mm just for proof. The park staff said that was the only mountain lion reported all year.
We have also photographed the auroras in Iceland. A lot of times the auroras look like smoke or wispy clouds to the naked eye mostly white or grayish with maybe a little green. It's not until you photograph them that the colors become visible. The sensor in our cameras act like sponges soaking up light. Our eyes don't work that way.
If you really want to see the auroras I would suggest getting an app that gives you alerts, but remember they aren't foolproof. Plan on losing sleep and being disappointed, but it's cool when you see a strong display. I also recommend the University of Alaska's website for their Aurora Forecast.
Alan Hoffman
2012 Ford F350
2016 Eagle Cap 960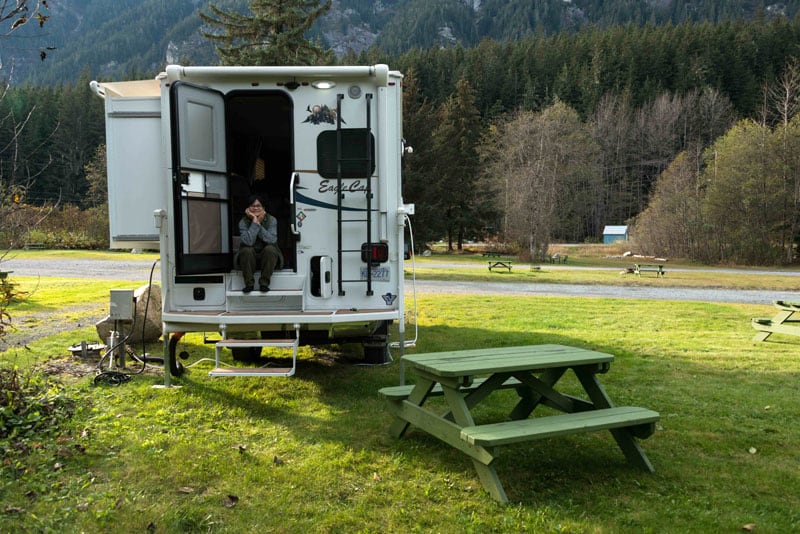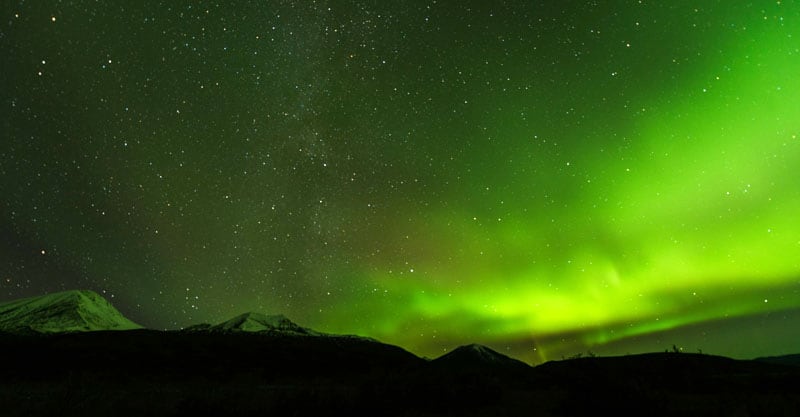 Haines Junction in the Yukon was the one and only time that we saw the Aurora Borealis in all of its glory.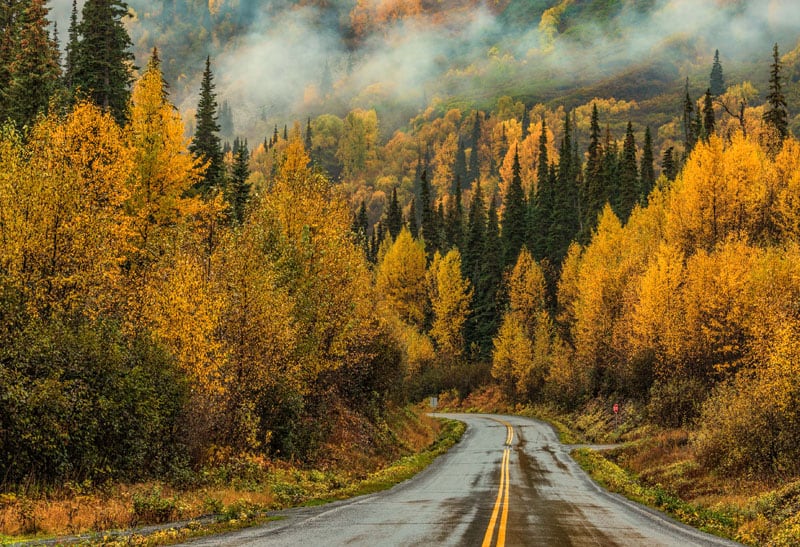 It was a cold day in early October 2017 when we decided to go camping in the Yukon territory not realizing that it was going to be much colder than our home based on Vancouver Island.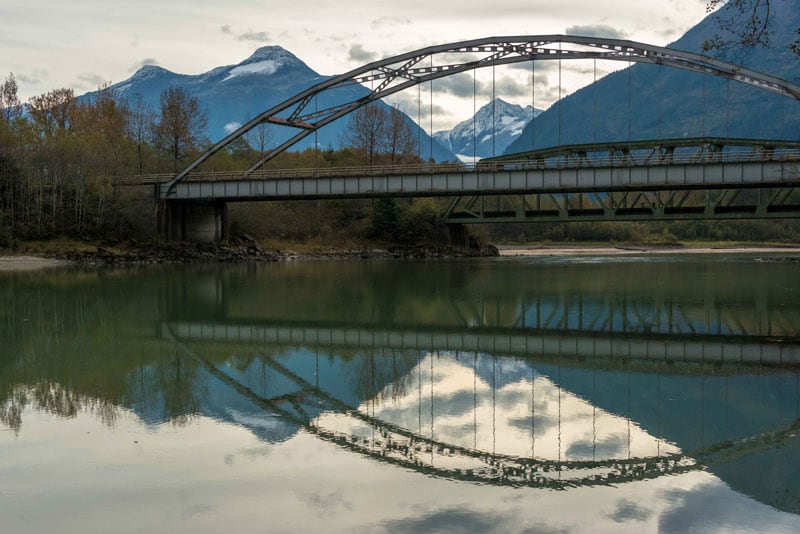 Nighttime temperatures hovered around -10 degrees Celsius (14 degrees Fahrenheit). We had fabulous views of the northern lights at around 3am in the morning using our Nikon D800 E cameras on tripods. Exposure was approximately 30-seconds in length. On a couple of shots, we captured meteors.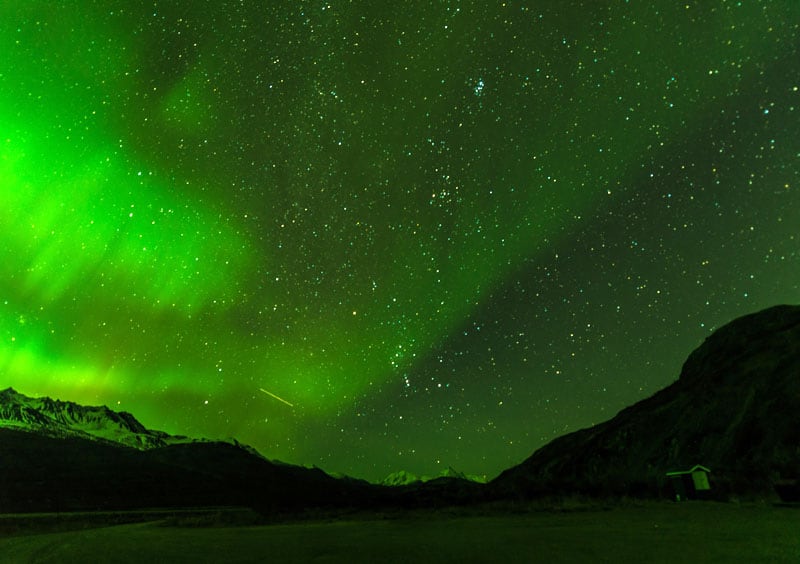 We camped off the Klondike Highway in the Yukon just south of Tutshi Lake. It was just a small turn off the highway with an outhouse and some garbage disposal bins. We dry camped and woke up around 3am to photograph the auroras.
The auroras can be very hard to see with the naked eye. You can see a glimmer in the sky but, when you photograph them using a tripod, they show up in all of their absolute glory.
Chuck Webb
2012 Ford F350
2015 Alaskan 8.5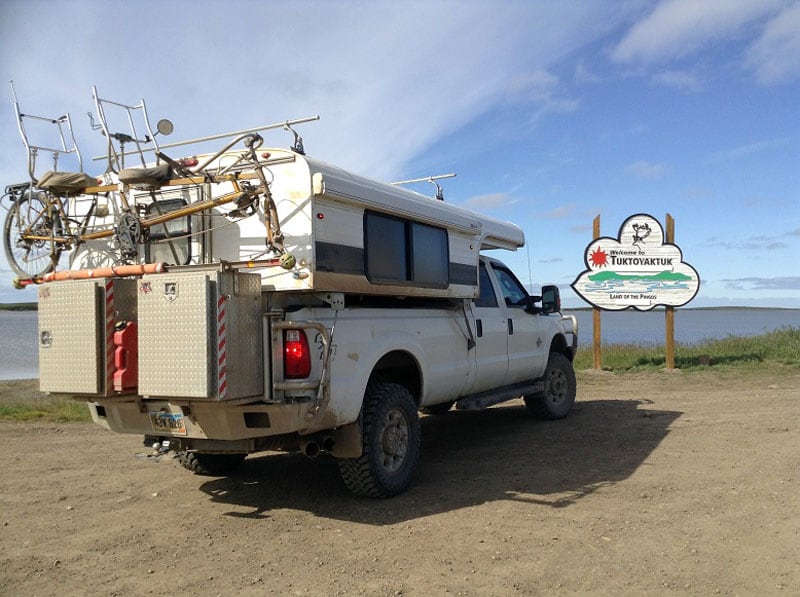 Above: Check out Chuck's tandem recumbent bike on the back of his Alaskan Camper
We went to the Prelude Lake Territorial Park in the Northwest Territories in late August. We were lucky to catch a view of the auroras. It was a totally clear night, around 2am and waves of green came floating overhead.
Prelude Lake Territorial Park is along the Ingraham Trail, northeast of Yellowknife in the Northwest Territories. It's a beautiful campground and has very few people.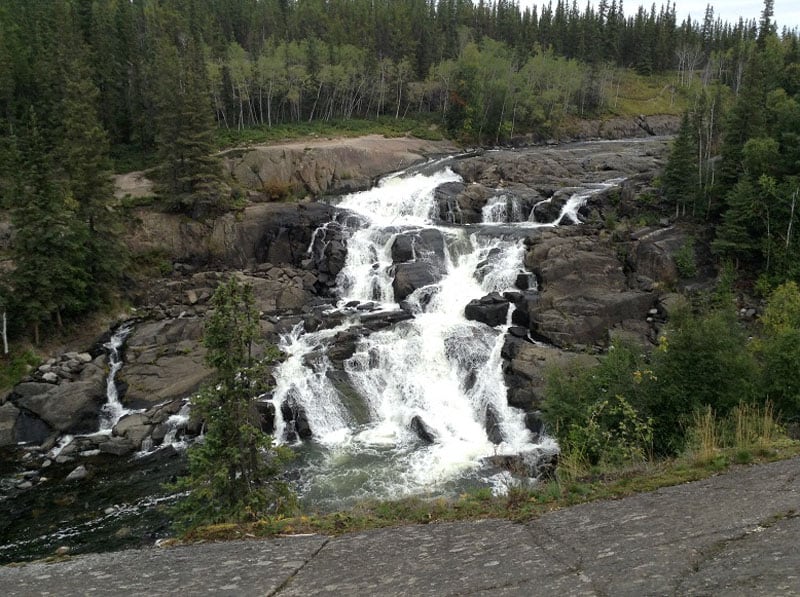 Above: Cameron Falls near the Ingraham Trail in the Northwest Territories
The Ingraham Trail is mostly paved, so there is easy access to Prelude and several other Parks. There are lots of great hikes and lakes galore, so bring a boat, or rent one locally. Fantastic waterfalls are all around the Northwest Territories.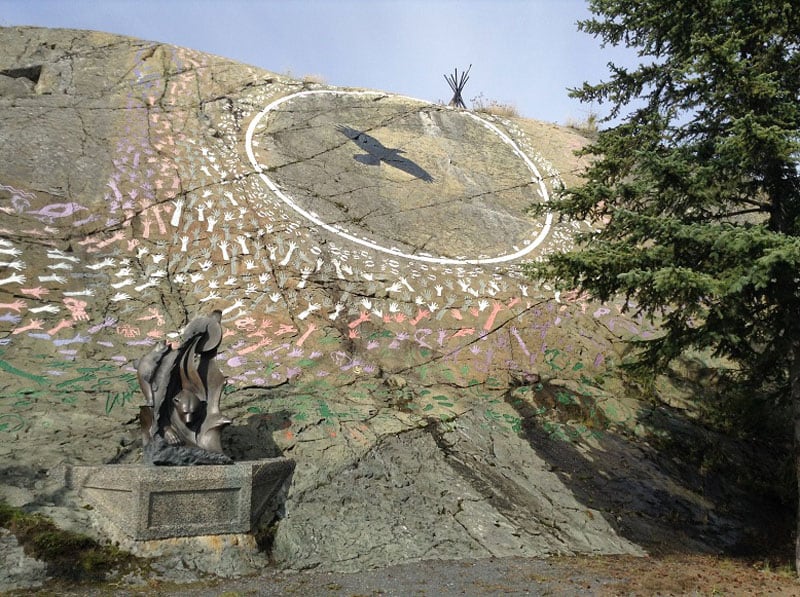 Above: Mural in downtown park, Yellowknife, Northwest Territories
Yellowknife is a beautiful, modern city with all the amenities you'll need.
Kris Cassidy
1995 Toyota Tacoma
2013 Northstar 600SS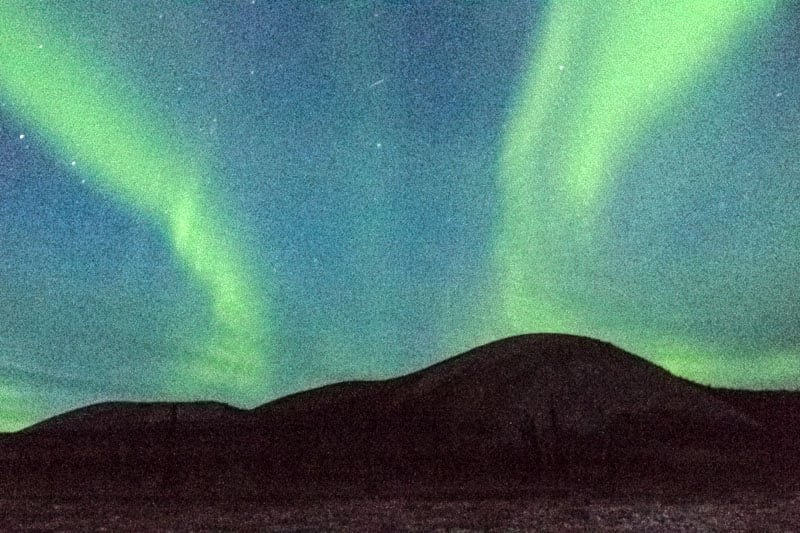 We were on a four-month trip to Alaska, British Columbia, and the Yukon. Our furthest foray north was to the Arctic Circle on the Dempster Highway.
We saw auroras on the Dempster Highway in the Yukon on August 24th between 11pm and 1am. We saw some faint auroras boondocking on the Arctic Circle the night before around the same time.
The celestial show on August 24th had us completely blown away. It was right after we turned back from the Arctic Circle. We did not see them again during our trip.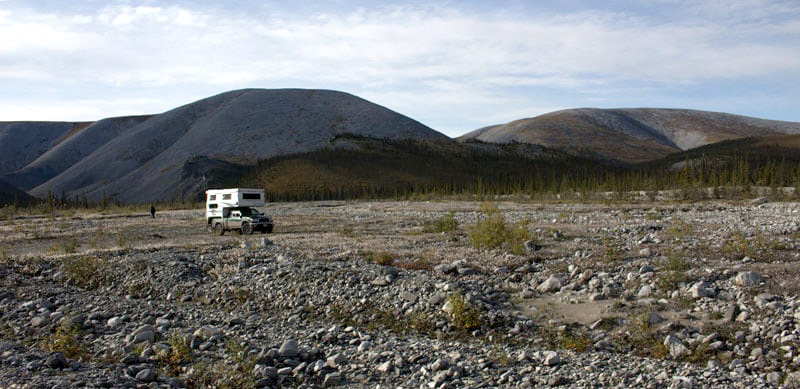 For camping, we boondocked right off the Dempster Highway between Eagle Plains and the Arctic Circle. There are many places to pull off for the night.
The road was in fairly good condition, but muddy. Our rig was caked in mud. Otherwise, we did not have any mishaps on the Dempster.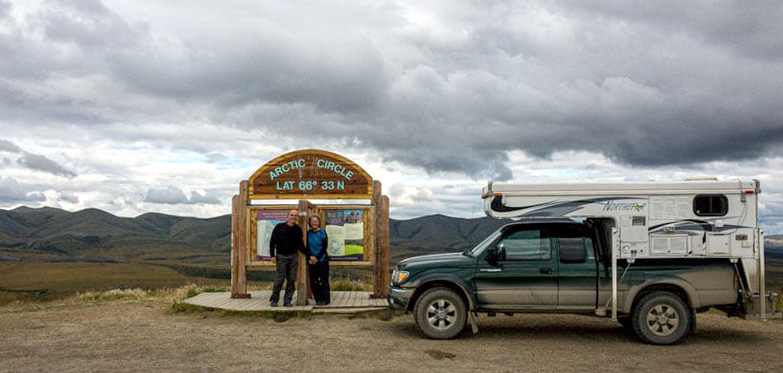 Fall was just beginning in the tundra at this time. We followed the spectacular fall colors for five-weeks on the way down through British Columbia, Montana, Wyoming, and Colorado.
Seeing the auroras was an incredible experience and we want to go back for more!
George Dunstan
2010 Ford F450
2009 Lance 1055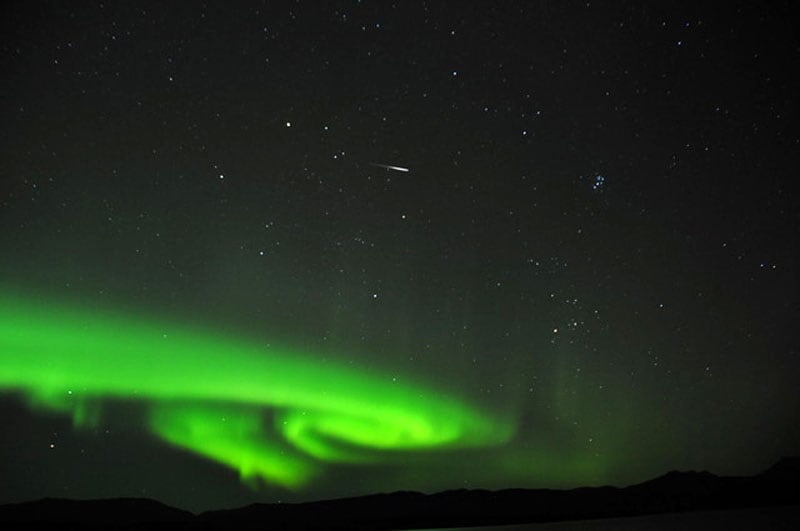 Above: Lake Lebarge Territorial Park, note the shooting star
We were on the marge of Lake Lebarge in the Yukon Territory in late September, sitting outside and reading Robert Service's, "The Cremation of Sam McGee".
After midnight the temperature dropped to 23 degrees Fahrenheit (-5 degrees Celsius). At about 1:30am the auroras started to appear.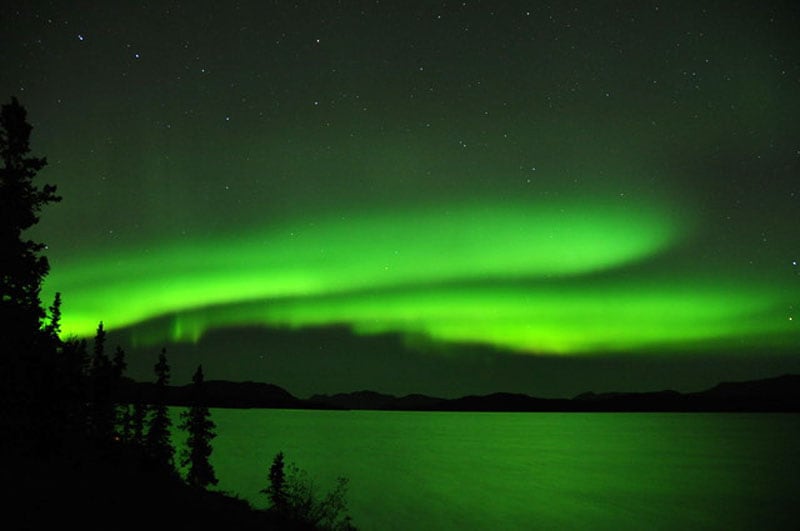 Watching it was magical, enhanced by the reflection in the lake. We had seen them several times before and since, but this was the most memorable.
We camped at the Lake Lebarge Territorial Campground. It has easy access. There is a boat ramp that made launching our kayaks simple.
We also saw auroras in Yellowknife which is in the Northwest Territory in late September around midnight. The lights were wispy and the tall trees framed them appearing below the Big Dipper and provided a stark contrast to the display.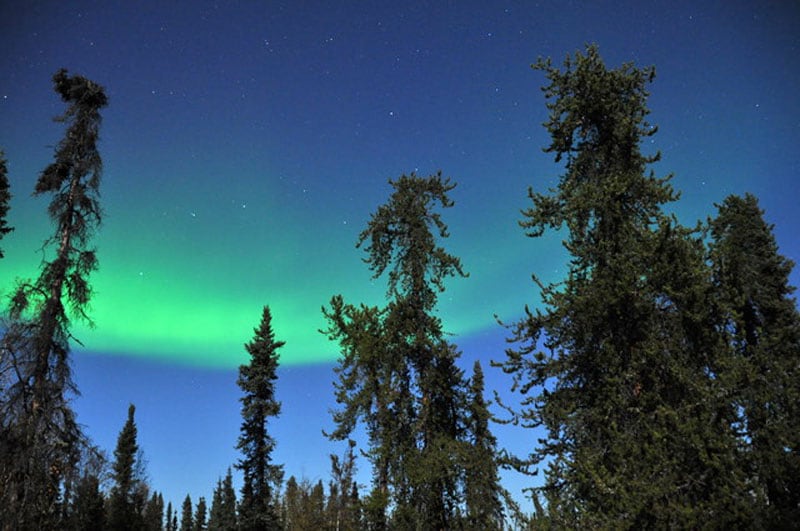 Above: Prelude Lake Territorial Park
We also camped at Prelude Lake Territorial Park. It has easy access. We had to dry camp there because the campground was closed, but they let us stay anyway. We hiked the nature trails and off into the brush.
We did a fair amount of research before we left and would monitor the University of Alaska, Fairbanks, Geophysical Institute Aurora Forecast site. It shows what displays in the days ahead might bring and tried to match that with the weather forecast looking for clear sky locations.
Philip Tron
2009 Chevy 3500
2012 Lance 1050
I commonly see the auroras while deer hunting in November from my farmyard near Devils Lake, North Dakota. If you are far enough from light pollution, the Northern Lights aren't uncommon even where I live in Moorhead, Minnesota. Television weather reports often mention them, but there's too much light pollution where I live.
If you live in a state that borders Canada, watch your local weather reports and be ready to take a drive in the country.