In the cold grasp of winter, Tom Watson and his wife, Sue, set out in their Alaskan Camper to photograph the Pueblo architecture of Mesa Verde and the southwest.

Truck Camping With The Ancients
By Tom Watson
For us, the idea of photographing ancient Pueblo settlements in the southwest had been building for quite some time.  Before our trip, we put a list together including Canyon de Chelly, Kiet Siel, and Betatakin.
When we realized that the distance from the entrance gate to the ruins at Mesa Verde was twenty-five miles, and that only limited camping would be open and available, we decided to immerse ourselves in a more thorough study of Mesa Verde and put the other sites on a future list.
We left Skaneateles, New York on the first of March stopping in Ohio to visit family.  Then we started west on March 10th arriving in Salt Lake City, Utah on March 14th.  On the way, we managed to avoid a major storm across Nebraska by studying the weather map and forecasts.
By delaying one day we drove in the sunshine on dry roads while at least fifty big rig trucks and about one hundred cars were wrecked along the side of the road.  There were probably not enough wreckers across that part of Nebraska to pull the rigs out in less then a week.  It was that bad.
The fact that our trip was planned for the end of winter was not a problem for us.  With our four-wheel drive Ford truck and Alaskan Camper, we were well equipped for winter travel and prepared for nights as low as ten degrees and days just above freezing.
More than once we have driven and camped in blizzards with our four-wheel drive Ford truck and Alaskan Camper rig.  This can be quite tricky as the dirt roads of the southwest can turn into chocolate mousse with a little rain or snow.
With the good weather we traveled 700 miles and met our son in Utah before he left for Japan.  There was no chocolate moose, this time.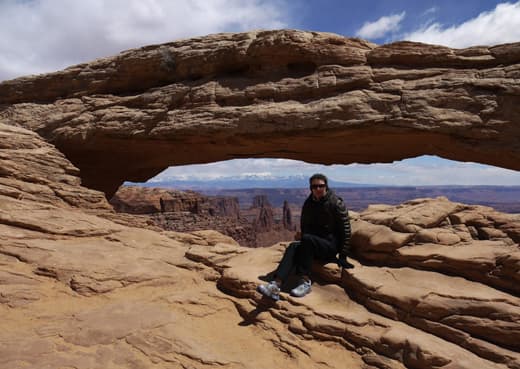 Above: Sue at Mesa Arch, Canyonlands National Park
We had been to Arches National Park many times and decided to skip it this round and start with Canyonlands National Park.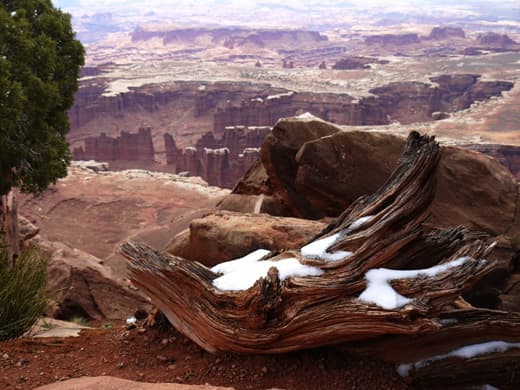 Above: The snow on the dead wood indicates how severe the cllimate is here in the high desert
On the way we attempted to camp at Dead Horse Point State Park, but were turned away by a full campground.  That night we boondocked at Shafer Basin, Bureau of Land Management (BLM) land just outside of the park.  That was a nice surprise.  Our practice is to camp off-the-grid in as wild of a place as we can find.  During the entire trip we never needed to plug into shore power.
From the stunning overlook in Canyonlands, we determined that we are going to put the White Rim Trail on our to do list.  We have the truck and camper capable of doing it.  Now it's just a matter of courage.
After Canyonlands, we stopped at Edge of the Cedars State Park Museum in Blanding, Utah where they have a recreated kiva on an ancient site.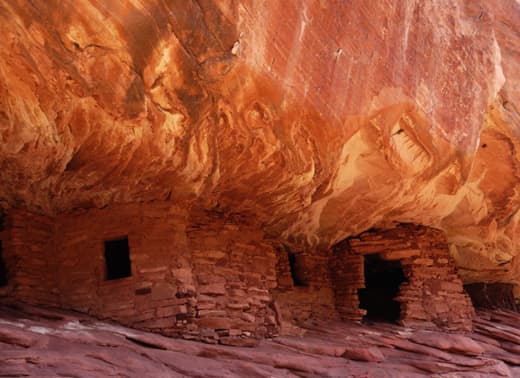 Above: Firehouse Ruin. This rock structure has its own rich color.  For the best photograph, be there in the early morning when the sun is reflected off the other side of the canyon.