In the cold grasp of winter, Tom Watson and his wife, Sue, set out in their Alaskan Camper to photograph the Pueblo architecture of Mesa Verde and the southwest.

Truck Camping With The Ancients
By Tom Watson
For us, the idea of photographing ancient Pueblo settlements in the southwest had been building for quite some time.  Before our trip, we put a list together including Canyon de Chelly, Kiet Siel, and Betatakin.
When we realized that the distance from the entrance gate to the ruins at Mesa Verde was twenty-five miles, and that only limited camping would be open and available, we decided to immerse ourselves in a more thorough study of Mesa Verde and put the other sites on a future list.
We left Skaneateles, New York on the first of March stopping in Ohio to visit family.  Then we started west on March 10th arriving in Salt Lake City, Utah on March 14th.  On the way, we managed to avoid a major storm across Nebraska by studying the weather map and forecasts.
By delaying one day we drove in the sunshine on dry roads while at least fifty big rig trucks and about one hundred cars were wrecked along the side of the road.  There were probably not enough wreckers across that part of Nebraska to pull the rigs out in less then a week.  It was that bad.
The fact that our trip was planned for the end of winter was not a problem for us.  With our four-wheel drive Ford truck and Alaskan Camper, we were well equipped for winter travel and prepared for nights as low as ten degrees and days just above freezing.
More than once we have driven and camped in blizzards with our four-wheel drive Ford truck and Alaskan Camper rig.  This can be quite tricky as the dirt roads of the southwest can turn into chocolate mousse with a little rain or snow.
With the good weather we traveled 700 miles and met our son in Utah before he left for Japan.  There was no chocolate moose, this time.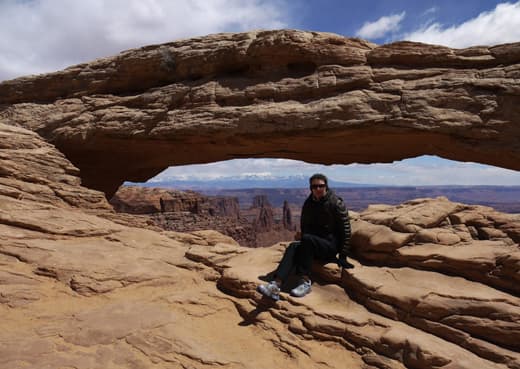 Above: Sue at Mesa Arch, Canyonlands National Park
We had been to Arches National Park many times and decided to skip it this round and start with Canyonlands National Park.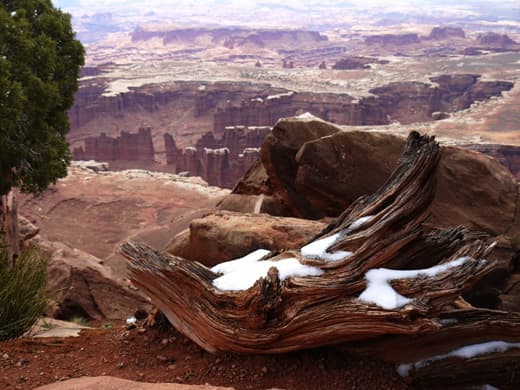 Above: The snow on the dead wood indicates how severe the cllimate is here in the high desert
On the way we attempted to camp at Dead Horse Point State Park, but were turned away by a full campground.  That night we boondocked at Shafer Basin, Bureau of Land Management (BLM) land just outside of the park.  That was a nice surprise.  Our practice is to camp off-the-grid in as wild of a place as we can find.  During the entire trip we never needed to plug into shore power.
From the stunning overlook in Canyonlands, we determined that we are going to put the White Rim Trail on our to do list.  We have the truck and camper capable of doing it.  Now it's just a matter of courage.
After Canyonlands, we stopped at Edge of the Cedars State Park Museum in Blanding, Utah where they have a recreated kiva on an ancient site.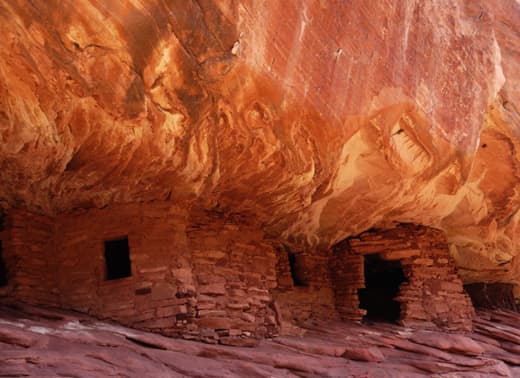 Above: Firehouse Ruin. This rock structure has its own rich color.  For the best photograph, be there in the early morning when the sun is reflected off the other side of the canyon.
That evening we went to find Fire House Ruin and boondocked at the head of the trail.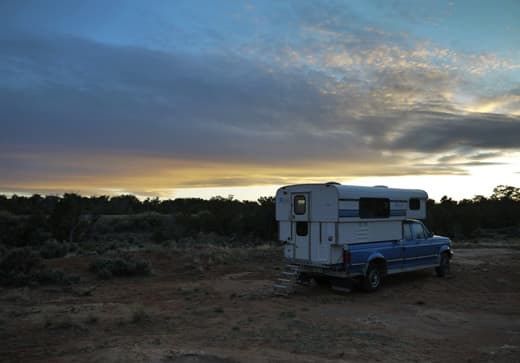 Above: Boondocking at Mule Canyon, which is one mile from Firehouse Ruin
We boondocked there for two nights and enjoyed hiking through the rugged terrain of Mule Canyon.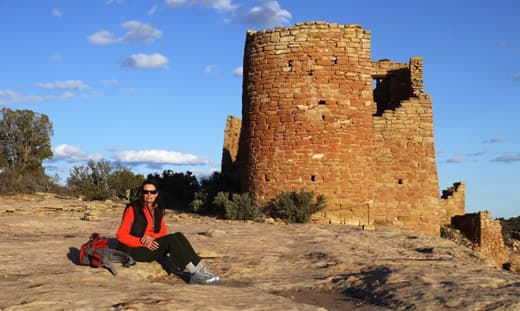 Above: Sue at Hovenweep.  It is speculated that the towers were built for communication and mobilizing defense.
Hovenweep National Monument was our next stop and we stayed at the Hovenweep campground for one night and hiked the trails.  From Hovenweep, we traveled to Mesa Verde National Park, the main focus of our trip.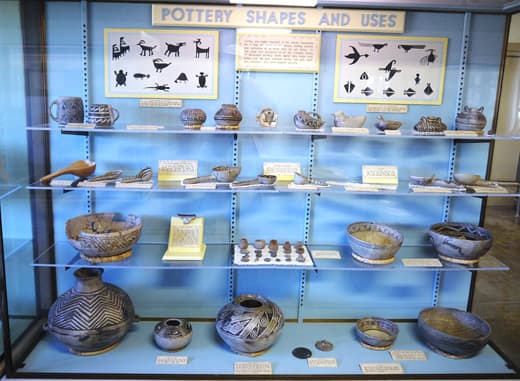 Above: It is well worth spending sufficient time in the museum to understand the importance of container vessels to these people
It was clear that it would take a week to fully comprehend what was offered at Mesa Verde including the visitor center, museum, hikes, guided tours, cliff dwellings, and ancient villages on the mesa top.  The new visitor center is especially well done.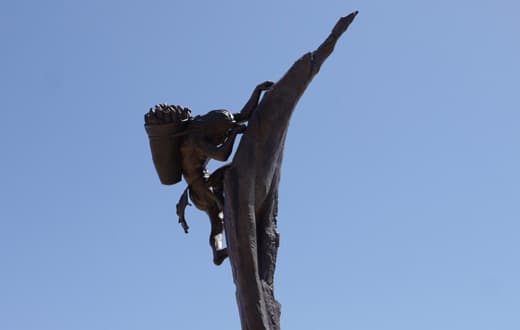 Above: Bronze statue at the Mesa Verde visitor center
There is a splendid piece of architecture including a bronze statue of a Pueblo Indian climbing a cliff that should not be missed.
When entering the visitor center go directly to the ticket desk and ask the very knowledgeable rangers about the tours that you might want to take, and if you're interested in photography, ask about the optimum times to photograph each site.  This advice often pays dividends.
As we already knew, only one small portion of Mesa Verde's campground was open this time of the year.  Fortunately, we had a reservation and dry camped for five nights in the open campsite.  Overnight lows hit sixteen degrees, but it was nice and sunny each day.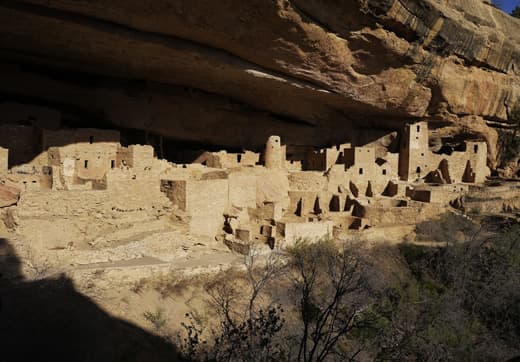 Above: Cliff Palace in Mesa Verde National Park in the late afternoon
There were no crowds in Mesa Verde in March which is why we almost always prefer winter camping.  We were told by the rangers that there could be as many as one hundred people in the guided tour groups during the busy season.  Our group only had fifteen.  While we were there, we hiked every trail that was open.
As an architectural photographer, I studied these dwellings for their building techniques and their environmental adaptations.  My wife and I have been amazed that people could have lived in these harsh conditions in such minimal dwellings.
The cliffs have widespread black staining from the soot of cooking fires.  When the wind is still, you can still smell the fires of 800 years ago.
Although the pit houses and cliff dwellings protected them from the weather, as populations increased, their need to gather fire wood may have ultimately doomed them.  As they went further and further to gather wood to cook and keep warm, they may have eventually altered the climate and rain cycle of the Mesa.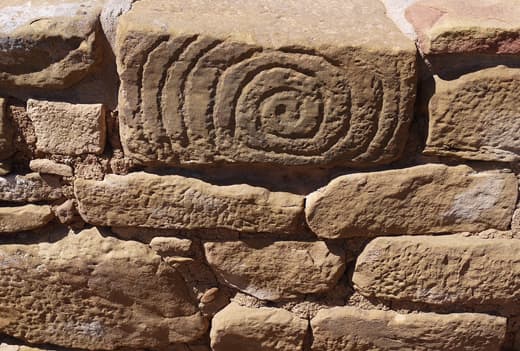 Above: Detail from Far View structure.  Both the shape of this rock and the design were pecked into it using other rocks.  These people had not developed dthe wheel or metal tools.
Also amazing to me is the fact that they built four story structures without the aid of a bubble level or scaffolding.  They fashioned the rocks into acceptable shapes by pecking them with other rocks.  This represents an unimaginable amount of labor.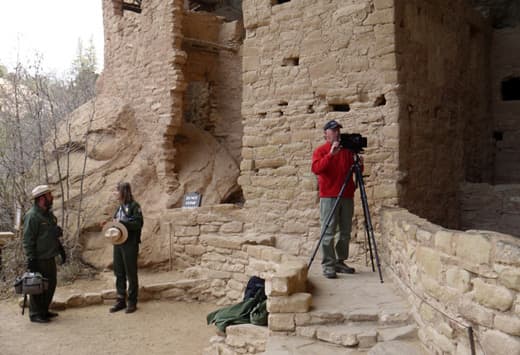 Above: Spruce Tree house is an unguided site and I was allowed to use my tripod and architectural camera
Photographing Mesa Verde is an amazing experience.  The ruins at Mesa Verde are multi-faceted and at different times of the day can yield wildly different, but equally exciting results for photography.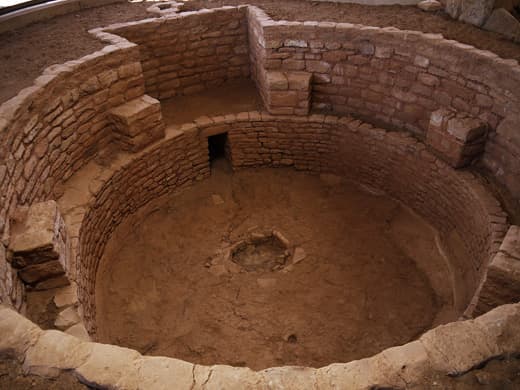 Above: Far view of a reconstructed kiva
For black and white photography, I prefer to work when the sun is not directly on the subject.  For color photography, the late afternoon sun adds color and intensity to these brick and mud structures.
Above: Spruce Tree House in Mesa Verde with reconstructed Kivas
Ninety percent of the time I work with my camera on a tripod.  Using a tripod allows for careful camera placement and compositional study as I adjust for light and focus.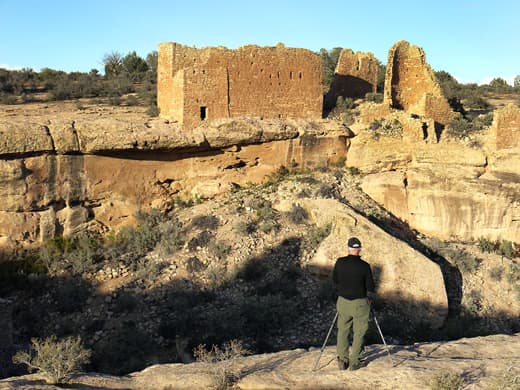 Above: Tom taking a picture with the architectural camera which is impossible to hand hold
I always level my camera with a bubble level.  Viewing the structures at Mesa Verde on the ground glass, I was perturbed that nothing was plumb or level.  These ancient builders constructed these dwellings with only their middle ear to tell them what was level.
Every line of a structure becomes a composition concern as it nears the edge of the photograph.  For instance, you would not want to put only half of a window in a photograph.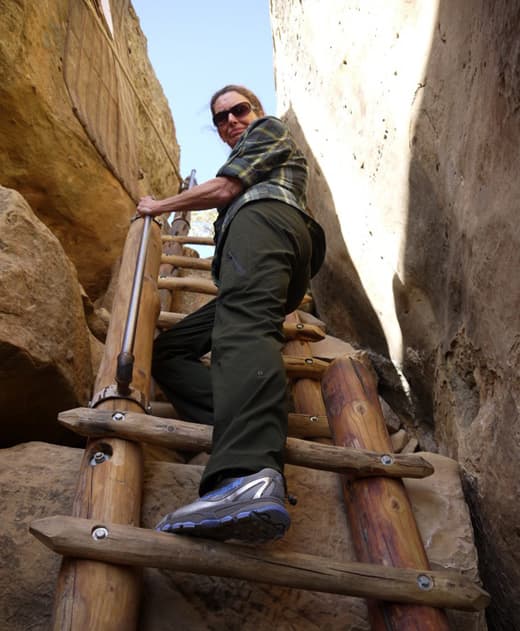 Above: Sue on one of the ladders descending to Cliff Palace
Sue and I are fascinated with the archaeological record left by the dry climate of the southwest.  For Truck Camper Magazine readers interested in archeology, it is my opinion that the southwest is one of the best places to study.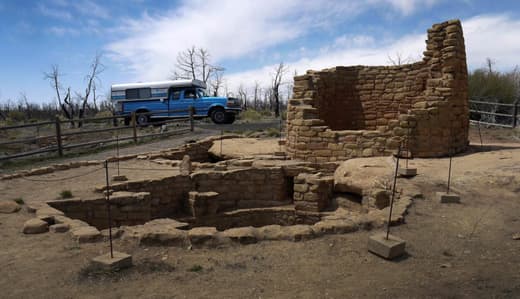 Above: Far View Tower.  Most of the settlements in this area were on the Mesa top beginning 1200 years ago.  The Puebloans moved into defensive positions in the cliffs about 800 years ago.
To a twenty-first century traveler, it is beyond comprehension that these ancient people saved enough food to endure a winter.  In total contrast, a few hundred years later, we were toasty warm in our Alaskan Camper with a propane heater and down sleeping bags.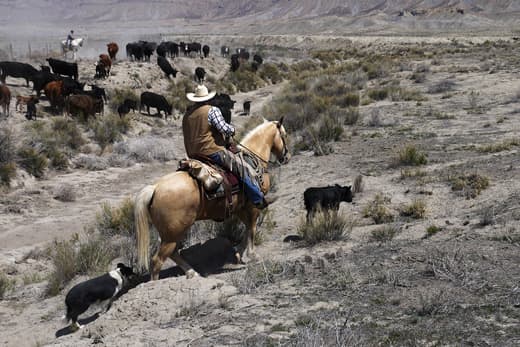 Above: On the drive back to Salt Lake City, we were able to witness an actual round up
From Mesa Verde we headed back to our son's house outside Salt Lake City, hiked some more peaks in the Wasatch Mountains, and headed home.  Perhaps next winter we will return with more time for Canyon de Chelly, Kiet Siel, and Betatakin.