Todd Rightsell shares his list of top shots, top hikes, top drives, top campgrounds, and more top recommendations for truck camping in Grand Teton, Gros Ventre Wilderness, and Teton Pass.

Armed only with his Northstar truck camper, a camera, and the occasional fly rod, Todd Rightsell gets himself into some fairly dangerous situations with wild animals.  In this article, he describes one particular close encounter with a, "grunting and snorting" Proghorn.  A few paragraphs later he's eye to eye with a bison as big as a car in an experience he describes as, "intense".  Most of us consider watching a close match in the Olympics as intense, but evidently Todd has another standard for this emotion.
Perhaps Todd's death defying antics would be for not if he wasn't also a truck camping photo journalist for Truck Camper Magazine.  Anything for a story, right Todd?  That's the spirit!  For the record, we don't encourage Todd's daredevil behavior, but we sure do enjoy reading about it.
For this installment of Top Shots, Todd presents some of the best up-close-and-almost-too-personal animal photographs we've ever seen, and gives us the goods on the best hikes, drives, campgrounds, and more in Grand Teton National Park, Gross Ventre Wilderness, Teton Pass, and its surrounding areas.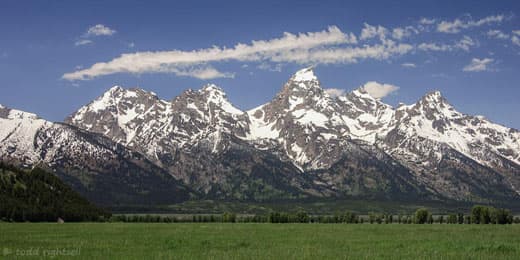 I've been to the Tetons several times before, but have never spent any length of time there as I was always in a hurry to get to Yellowstone.  That was a mistake.  The Tetons are incredible.  I spent nearly the entire month of July in Gros Ventre Campground five miles north of Jackson, Wyoming and managed to fall in love with the Tetons.
If you blow past them in a mad dash to Yellowstone, like I always did, you are really missing out.  The hiking there was surreal.  Yeah, there are crowds on some trails, but the landscape is just big.  There is room for everybody!  Grand Teton National Park is one of my new favorite places.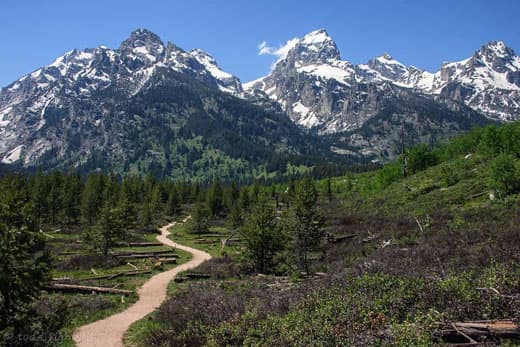 Like I said, the hiking here is surreal.  This photograph was taken on the trail to Bradley and Taggart Lakes, which were a little ways past the small rise in the middle of the picture.  This was a great short hike to get acclimated to the altitude and gives you sweeping, in your face views of the Tetons.
I liked this hike so much I did it three times.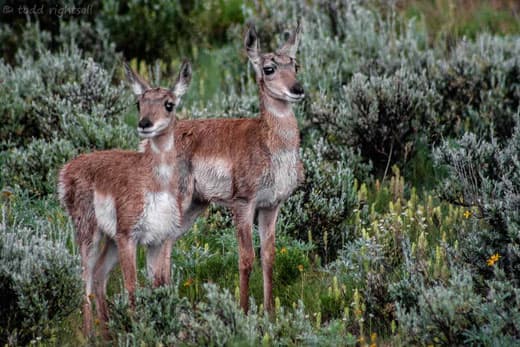 If you guessed deer, you are wrong.  These two Pronghorn were pretty curious and allowed me to get fairly close.  They are usually very skittish and will run before you can even think about getting a picture.  The mama was off to the side watching carefully but never sounded the alarm.  When they go, they go fast.  Pronghorns can run up to sixty miles per hour.
I was taking a fly fishing class in Yellowstone three summers ago and the teacher had us spread out along the Lamar River fishing when two mature males (one chasing the other) ran at full speed behind me and one other class member.  I heard them coming and thought it was a herd of Bison!  They scared us to death.  They came within fifty feet or so of us at full speed and then ran about a hundred yards upstream from me.
The one in front took one giant leap into the middle of the river and one more leap out the other side!  The one in the rear came to a sliding halt at the river bank and they faced off over the Lamar River grunting and snorting at each other.  It was pretty intense.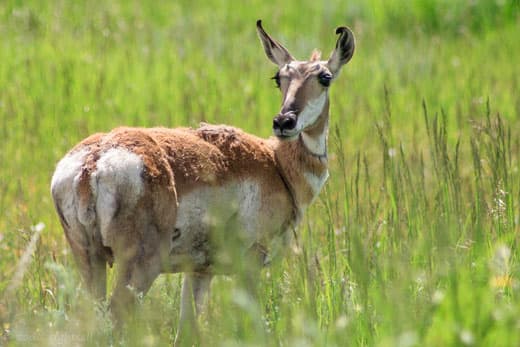 This is another Pronghorn.  Believe it or not, this one was actually taken out the window of my truck on Mormon Row in the Tetons just behind Black Tail Butte.  This is my best ever shot of a Pronghorn.  She was pretty patient and cooperated for a minute or so while I got the camera ready before she got spooked.  I rarely see them in such lush green grass.  This was a real treat.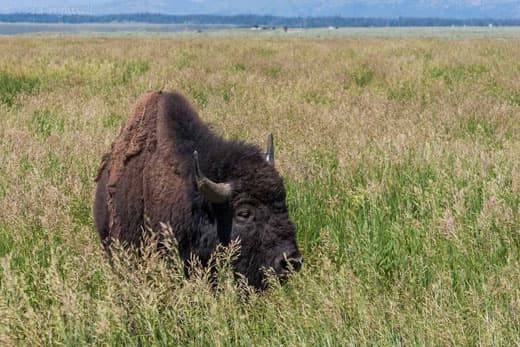 It's amazing to me how an animal this big can move so quietly.  I was out on Mormon Row again taking photos near Moulton Barn, which is one of the iconic landmarks of Grand Teton National Park.  I heard something behind me and turned around to see this big fellow staring right at me!  He was way too close for comfort and I was more than a bit nervous.  The herd there is pretty tolerant of people so he was not aggressive, but to be face to face with an animal that weighs as much as small car is a sobering experience.  I beat a hasty retreat to the truck and waited for him and a few of his friends to pass.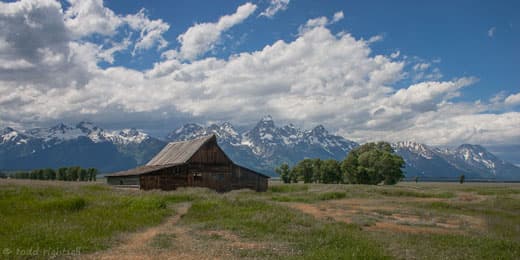 This is the famous Moulton Barn.  As noted above, you have to pay attention when photographing the place because things can sneak up you while you are mesmerized by the jaw dropping scenery.  The Moulton family was one of the original Mormon families that settled at the foot of the Tetons.  That's where Mormon Row in the park takes its name from.  There are several old structures here and this is one of the most photographed scenes in the park.  This summer I plan on getting some even better shots here during sunrise.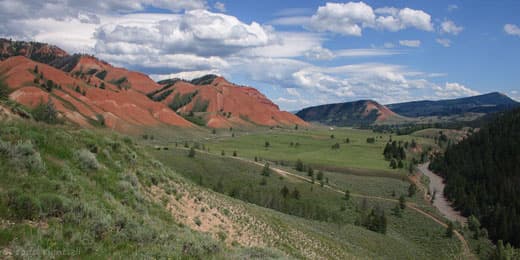 For nearly the entire month of July I stayed in Gros Ventre Campground in Grand Teton National Park.  This is just out behind the campground is the Gros Ventre wilderness, which borders the park.  Again, as luck would have it, there is a road that goes right into the middle of it.  The road leads nearly forty miles out into some of the most pristine and wild country in the lower forty-eight before coming to a dead end near the headwaters of the Gros Ventre River in the Wind River mountains.
The scenery out there is surreal.  And every mile seems to be a little bit different.  These are the Red Hills of Gros Ventre, just a few miles in.  The flat section is a private guest/dude ranch.  From this spot, if you turn around, the Grand Teton is about twenty miles in front of you.  It's a spectacular place to live if you ask me!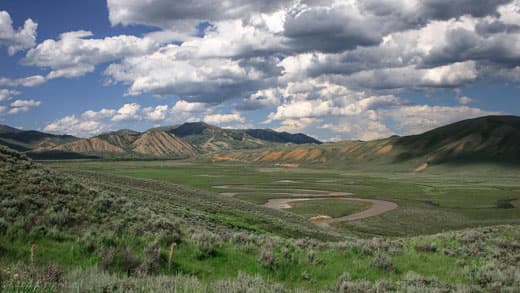 This is another fifteen miles or so further down the Gros Ventre wilderness road towards nowhere.  This is some of the prettiest country I have ever seen, and has to be one of Wyoming's best kept secrets.
The crowds flock to Yellowstone and Grand Teton parks, but this area offers some of the best scenery around with the added benefit of no crowds.  I've been told the Gros Ventre River offers excellent fishing too, although I have tried and haven't had much luck, but then again I can't see the line to tie the knots!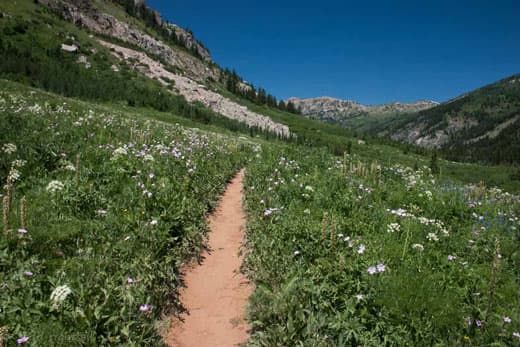 I left Gros Ventre Campground on July 27th and decided to make fresh tracks to somewhere I had never been before.  After a few hours in Jackson stocking up on groceries and essentials, I headed for Teton Pass and Idaho.
Teton Pass is a great drive.  As the name implies, it goes right over the Teton Mountain range just south of the park.  It's pretty steep, but the tin can made it up and over without too much coaxing.
On the other side is Teton Valley, which is gorgeous (like a lot of other places out this way it seems).  This picture was taken on the trail towards the Alaska Basin.  This side of the Tetons is virtually deserted compared to the east side.  I hiked for about two more miles into some pretty thick woods until the trail started to really climb steeply.  At that point, I turned back.  It was what I call "beary scary".  I never passed another soul, but did see a big bull moose on the way out.  No bears though.  Thank goodness.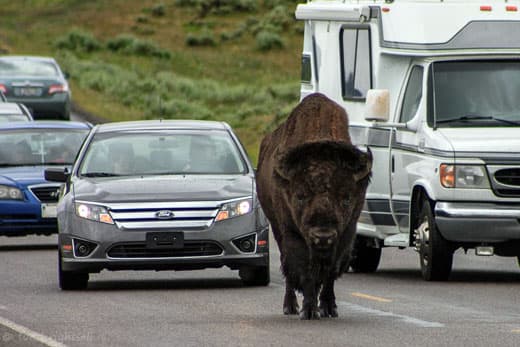 The bison jam!  These things literally stop traffic.  I got caught behind this one for a while.  When I got around him, I went a few hundred yards and pulled off at the next turnout.  I set up the tripod and camera at the rear bumper of the truck camper and waited as he walked straight towards me.  I couldn't have planned it any better.  He came right down the road like it was his and directly at me.  He was about 200 feet from me at this point.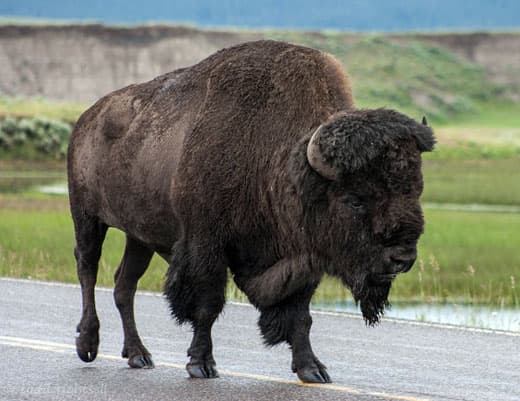 He got closer and closer and I stood there snapping away.  This one was from about thirty feet.  I had the back door of the truck camper open and was ready to bail!  He finally passed about six feet from me and we looked each other in the eyes.  It was intense.  He was so close I couldn't even get a picture with the zoom lens on.  It's hard to believe these massive animals can run thirty-five miles per hour for an hour or more and jump six feet off the ground!
 
 
Grand Teton National Park – Todd's Travel Tips
Top Hikes:

Grand Teton Park is a true "hikers park".  The trails and scenery here are literally breathtaking.  If you made it this far, you owe it to yourself to take these walks.  You won't be disappointed.  And as always, don't forget your camera!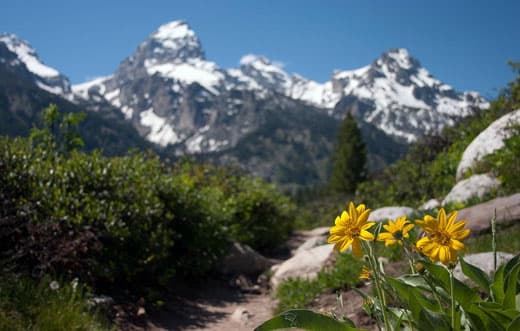 1. Cascade Canyon
This is probably the best known, and most crowded trail in Grand Teton National Park.  It will be crowded, but the jaw dropping scenery makes it worthwhile.  The hike starts with a boat ride across Jenny Lake, which is a great excursion unto itself.
Once on the other side of the lake, you can take a short (less than a quarter mile) side trip to Hidden Falls; a huge waterfall just up Cascade Creek from Jenny Lake.  Don't miss this!  From the waterfall, make your way to Inspiration Point, which rewards you with a panoramic view of Jenny Lake.
A word of warning that this is a pretty brutal, although short climb.  After you reach Inspiration Point, you can relax, as all the hard work is done.  From here the trail levels out and is generally flat for the next four miles as it winds up Cascade Canyon.  The total length varies depending on how far up the canyon you choose to go.  Of all the hikes I have ever done, this would rank in the top five for sure.
2. Phelps Lake
This is a nice short walk to a pristine mountain lake once owned by the Rockefeller family, which acquired and then donated to the government much of the land which is now Grand Teton National Park.  The trailhead is at the Laurence S. Rockefeller Preserve on the Moose-Wilson Road.  The hike itself is a loop and around three miles in length.  It winds through a forested area along Lake Creek before popping out on the shore of beautiful Phelps Lake.
It's hard to imagine owning this lake and having a private compound of homes/guest cabins all for your personal enjoyment.  It's even harder to imagine willingly giving it to the people of the United States.  Generous folks those Rockefellers.
3. Rendezvous Mountain
This is actually the ski mountain of the legendary Jackson Hole/Teton Village ski resort.  During the summer, the gondola to the top is open for riders.  It's a bit pricey at around $25 a person, but the ride up is surreal.  A gondola operator will narrate on the way up and point out the famous Corbett's Coulier, a twenty-five foot drop into a 300 foot long chute that appears to be about eight feet wide.  You have got to be truly crazy (and get permission from the ski patrol) to try that one!
Once on top, you can take a short one mile loop around the top which gives you sweeping views of the entire Jackson Hole Valley.  For the more adventurous, you can take the eight mile trail which criss-crosses back and forth across the mountain to the bottom. A truly unique hiking experience.
Top Drives:
Grand Teton National Park and the surrounding area has some spectacular drives.  If you have time tIme to venture out, try one of the half to full day trips below.  Your tired legs will thank you for the break.  So gas up the truck and hit the road!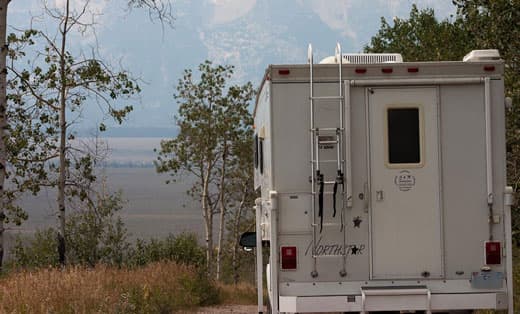 1. Wyoming Centennial Scenic Byway
If you are arriving from the east by far the most scenic way to get here is the Wyoming Centennial Scenic Byway.  On most maps it is listed simply as Highway 26.
You will pick up Highway 26 in Casper, Wyoming and follow it to Riverton, Wyoming.  Once you pass Riverton, the real fun begins.  The road passes through some of the most interesting scenery in the Rockies just before entering the quaint little town of Dubois.  It's a great place to stop and have lunch and explore or shop a bit.
After leaving Dubois you will quickly climb into the Bridger Teton National Forest.  The scenery here is fantastic, and there is camping along the way just in case.  On the way down, your first view of the Tetons is visible and incredible.
2. Gros Ventre Road
You guys with larger rigs may want to ditch the camper for this one.  It can be a bit rough.  I did it without my Northstar and I think it was the right decision.
The drive begins on the road to Slide Lake just a few miles north of Jackson.  Surprisingly, the first few miles of actual pavement are the roughest.  The road improves a bit after it turns to dirt.  This road runs approximately forty miles into the Bridger Teton National Forest before coming to a dead end near the headwaters of the Gros Ventre River.  You won't be able to make it all way unless you are on horseback or ATV.
This ranks as one of my all time favorite drives.  The scenery is as good as any in the United States, and on top of that it's a great place to see wildlife.  Especially pronghorn and maybe even an elk or moose.  Plus you'll have the place virtually to yourself.  This place is really remote.
3. Signal Mountain
For several years I just blew past this turnoff without giving it a second thought.  I finally decided to see what it was all about and realized I'd been missing out.  This is a short drive of about five to six miles which winds to the top of Signal Mountain.
The drive starts at Signal Mountain Campground just a few miles from Jackson Lake Junction, where the dam is.  The signs say no RV's or trailers, but I did it with the truck camper and had no problem.  If you have a larger rig it might be best to go without it.
Once on top, the views of Jackson Hole are some of the best around.  You can see the entire "hole" laid out in front of you with the Snake River meandering through the middle.  It's truly amazing.
Top Campgrounds/Boondocking Spots:
Grand Teton National Park has five major campgrounds suitable for truck campers.  Although I have not stayed in all of them (yet), my favorites so far are Gros Ventre Campground, Colter Bay Village, and a fun boondocking spot.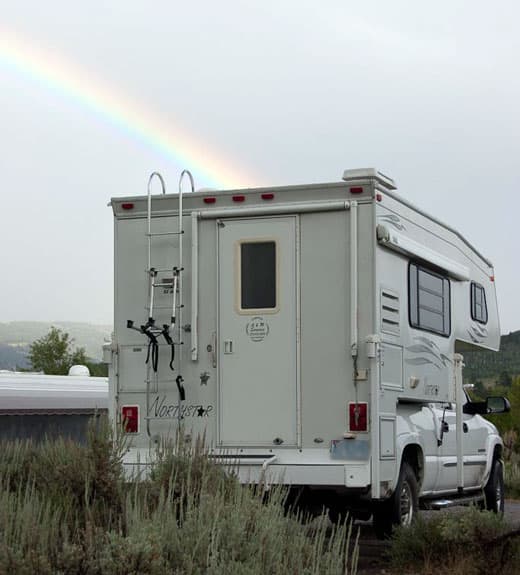 1. Gros Ventre Campground
This is one of the largest campgrounds in the park and I think it's the best.  It has about 350 sites and lies on the beautiful Gros Ventre River, which is a huge plus if you like to fly fish.
Reservations are not accepted, but it rarely fills up.  If you are lucky, you will see moose wandering right through the campground loops in the early morning or late evening.  And to top it all off, they have a great ranger program every night during the summer at the campground amphitheater.
Firewood and ice are available here, as well as a dump station.  Site # B-105 is a great one.  All in all, a great place to camp.
2. Colter Bay Village
This is the other large campground in the park.  Like Gros Ventre, it has around 350 sites.  It is located in the Colter Bay complex on the shore of Jackson Lake.
The Colter Bay complex offers a Visitor Center, laundry, showers, general store, marina, gas station, restaurants, etc.  It is probably the most crowded facility in the park, but it has everything a tired and weary camper could want.  There are several good hiking trails out of the complex.  If hiking is not your thing, you can even rent a boat or kayak.  Guided fishing trips on Jackson Lake are also available, as is a dinner cruise, and more.  It's a bit civilized for my tastes, but to each his own.  A dump station is also available.
3. Boondocking
I probably shouldn't even mention this great site as it may be full the next time I arrive, but here it goes.  If you like solitude and free camping, you'll like this spot.
Take the Antelope Flats Road off the main highway running through the park.  The turn-off is on your right just north of Moose/Dornans.  Go approximately three miles to the intersection of Antelope Flats Road and Gros Ventre Road.  Take a left; this will still be Antelope Flats Road.
It's a dirt road and will get progressively worse but, if you have four wheel drive, you shouldn't have a problem with all but the largest of truck campers.  If it has been raining recently, you may want to wait a day or so to let it dry out a bit.
After you turn left, go about two miles and you will be at the border of the Bridger Teton National Forest and Grand Teton National Park.  You'll see several dispersed campsites on your right.  Grab one and enjoy the stunning view.  It's one of the best views of the Tetons I have ever seen.  And it's free!
Other Recommendations:
1. Get outside!
The Jackson/Grand Teton area is an outdoor paradise.  Whatever you're into, you can do it in Jackson Hole.  Activities include whitewater or gentle float trips on the Snake River, ATV riding in some of the most unbelievable backcountry in the world, horseback rides, cycling, world class fly fishing, and so much more.  And that's just the summertime.  If you decide to come in winter, you'll have another long list of activities to choose from as well.
2. Hit the town! 
Jackson is a mere five miles from the main entrance to Grand Teton National Park and a great place to spend a day.  There is something for everybody.  Jackson offers world class dining and shopping, some great art galleries and museums, as well as several western themed bars and saloons.  In addition you'll find several large grocery stores and laundries, etc.  It's a good place to stock up before heading into the park.  Get fuel here!
3. Take advantage of the Ranger led activities. 
There are some really great interpretive rangers in Grand Teton National Park and they are really good at what they do.  They are there to answer your questions and help you plan your day.  In addition, they often lead campfire programs in the evenings at the larger campgrounds (Gros Ventre and Colter Bay), as well as ranger led walks/talks to some of the more popular destinations within the park.  They are always fun and you'll meet nice folks and learn something too!
4. Most of all, and this almost goes without saying, have fun!