Al Stebbins shares his 8,000 mile truck camping trek from the Shenandoahs, across the plains, into Idaho's City of Rocks, and home.  Thirty-two states for one lucky dog.

In early January of 2013, I tore up my rotator cuff after a day ice climbing.  After surgery, the doctors told me no rock climbing until the beginning of August.  What to do?  In my case, the answer was to be in Idaho's Silent City of Rocks on August first.
On July 14th, I left home in Massachusetts with our dog, Piton, and joined our truck camping friends John and Carol Barry to head for the golden West.  Piton and I were in our Northern Lite truck camper.  John and Carol were in their Lance.
We set course for the Shenandoah National Park in Virginia.  I've been in love with the Shenandoah since I first went there back in the early 1970s.
Back then I had a job as a dishwasher and was involved in some political activities that I was pretty sure would leave me washing dishes for the rest of my life.  I had no money, no job prospect, and no real future.  All I had was my independence.
My girlfriend, at the time, had just graduated from college.  The two of us had an unusual amount of freedom and a nothing-to-lose attitude, so we hit the road.  Our recreational vehicle was my aging Volkswagen Bug.  Our camping equipment consisted of one old red blanket and a soda bottle wrapped in tinfoil, which was all we really needed.  The sixties had broken like a wave on a shallow beach and was receding.  The Age of Aquarius was about to be replaced by John Travolta and disco.  It was all pretty depressing.
Then I discovered the Shenandoah's power to heal one's soul.  In the years to come, my old college roommate, George Sands, and I would backpack the length of the park.  I'd been back many times since, and never seem to grow tired of the place.
Getting back to our truck camping trip, Shenandoah National Park lies along a long ridge line of hardwood southern Appalachian forests.  If you drop off the ridge, the side trails (off the Appalachian Trail) lead down drainages to deep-forested hollows.  Carol, Piton, and I decided to hike down to Doyles River Falls.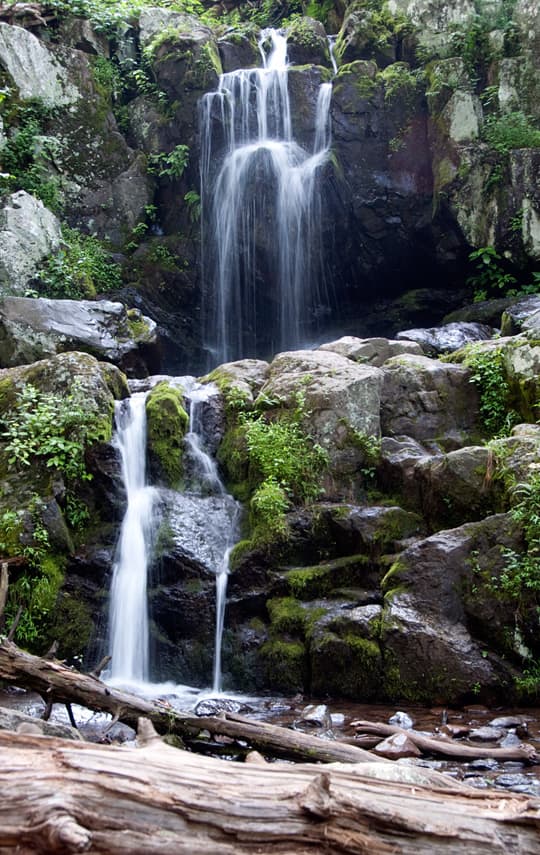 Above: Doyles River Falls, Shenandoah National Park
The start of the trail was easy.  Heck, we were going down hill.  Of course the way back meant trudging up to the top of the ridge.  Nearing the ridge top we stopped to get our bearings and I heard Carol say, "Isn't that a bear?"  Sure enough, it was.  Piton was only fourteen months old and, the good little trooper that he was, he got in front of her and growled (and it's a deep growl) at the bear.  Piton was not only emotionally attached to Carol, but he was also physically attached – he was tied to her waist!  I was envisioning the bear running off, Piton chasing it, and Carol being dragged down slope to her doom!  Fortunately for all, the bear decided to amble off.
From the Shenandoah, we drove our truck campers west, crossed the steep forested ridges of West Virginia, and slipped into Kentucky.  We stopped at Lexington where my bride, Nancy, joined us.  She had never been to Kentucky before and wanted to see it.
Now if your idea of Kentucky is Ma and Pa Kettle sitting on the front porch with a jug of moonshine between them, Lexington won't fit your image.  Nor would you see Elvis walking through the cold Kentucky rain here.  This was horse country with well-manicured horse farms as far as the eye could see.
After Lexington, we crossed the Ohio River and turned west again driving through southern Indiana (Larry Bird country), Illinois, Mississippi, and Missouri.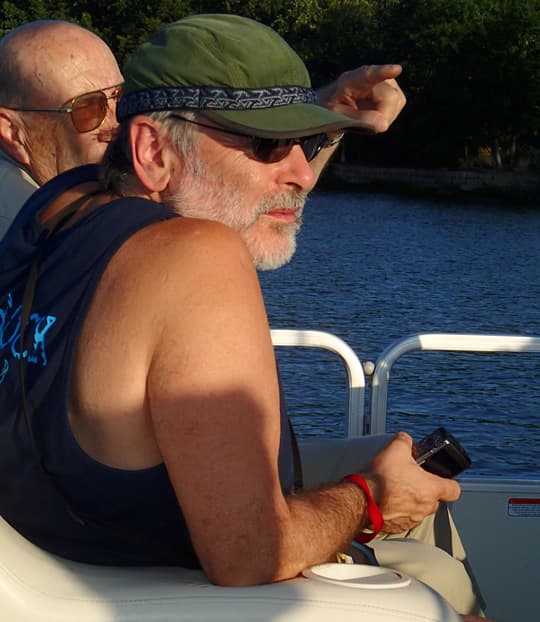 Above: Al and Uncle Frank, Kansas City, Missouri
In Kansas we stopped near Kansas City to spend a delightful evening with Nancy's relatives.  They fed us real Kansas City barbecue, which was a treat for the senses.
Kansas winged by and we camped in east Colorado.  If east Colorado had a motto, it might be, "And you thought Kansas was flat!"
As we approached Denver, we finally saw mountains on the horizon.  We had crossed the Great Plains.
Turning north, we drove until we were in Wyoming and then headed west on Route 80 across the rolling prairies of southern Wyoming.  After sunrise, and before sunset, we saw antelope in the distance.