After 40 years and 250,000 miles, the Kochevers have visited almost every U.S. National Park.  Here are their top twenty off-beat National Park site recommendations, and tips.

Did you know that there are 405 sites in the United States National Park system?  That total includes national monuments, national historic sites and battlefields, national memorials, national scenic trails, national shores, national recreational areas, and yes, national parks.
Even if you visited just one National Park system site per day, it would take over 13 months to experience them all.  Since many of these sites are extremely remote – try Alaska, Hawaii, and off the coast of Key West for starters – the reality is that it would take many years, and thousands of miles traveled.  I don't know about you, but that sounds like a fantastic adventure to us, and a plan.
That's just what John and Marilyn Kochever thought.  Enamored by the abundant beauty and fascinating discoveries afforded by the National Park system, they set out to see them all.  By ship, train, bus, and Phoenix pop-up truck camper, they have visited almost every site over the past few decades.
When we heard of their amazing feat, we asked John and Marilyn to recommend their top twenty favorite sites in the United States National Park system.  Get out your bucket list and a pen.  It's time to add a few more destinations.
The National Park Chase
by John and Marilyn Kochever
We are John and Marilyn Kochever.  We are retired and love to travel.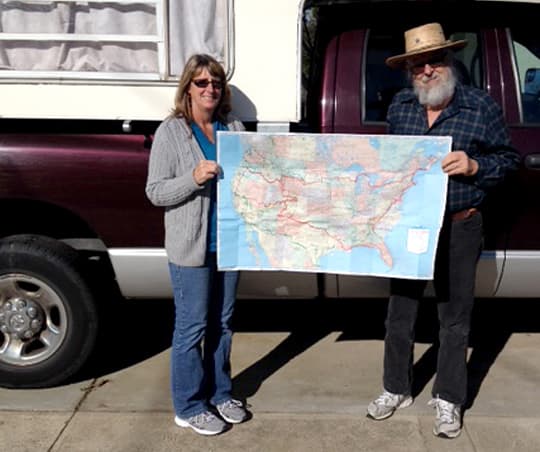 We purchased a 2000 Dodge and a Phoenix eight foot camper when we retired in 2001.  With a pallet of supplies tarped over in the bed of our truck, we stopped in motels until we got to Phoenix Campers in Colorado.  The Phoenix camper crew had our unit waiting for us.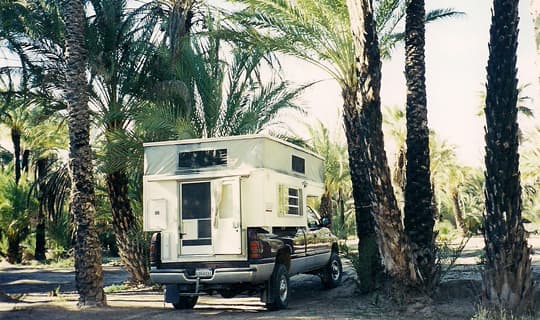 Above: John and Marilyn's 2000 Dodge 2500 and 2001 Phoenix Camper
With the camper installed we headed to Boulder, Wyoming like a couple of kids with a new toy enjoying every moment.  Since then, our Phoenix truck camper has fit our needs perfectly because it is low profile and under 900 pounds dry.
We have most of the usual truck camper equipment; a three way refrigerator, three burner stove, sink with two way faucet, 16,000 BTU heater, and storage.  I can't express how important lots of storage is.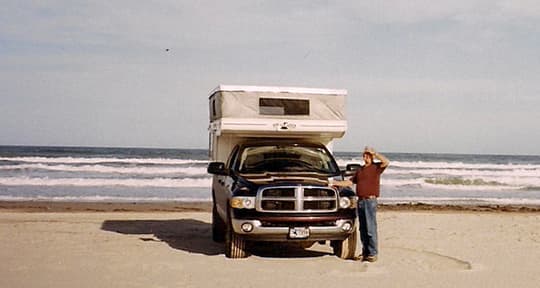 Above: Camping on Padre Island, Texas
We get 16 to 17 miles per gallon.  Traveling costs have been minimal at about $75 per day including food, fuel, camping, park fees, tours and fun activities for both of us.  Alaska runs a bit higher at about $100 per day including a fishing license, fish processing, shipping, etc.  Baja, Mexico a bit less at about $50 per day.
We have dug Amethysts in Canada, picked berries and ate lobster in Maine, oysters and crabs on the East coast, enjoyed Florida and the Keys, and been to New Orleans for Halloween with our Phoenix pop-up camper.
The National Park Chase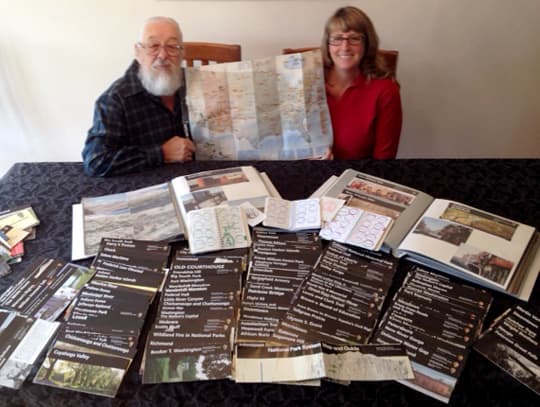 The chase for the 405 National Parks started July 24, 2001 in San Jose, California.  We still have about eighty parks to go.  This is not something you can do in a couple years.  It takes time to do them right.  We're purists.  We want to see them and take the time to enjoy them.
The idea came from years back visiting some of the parks.  Before we met, Marilyn had tent camped and I had camped with a shell on back of the truck.  When we got together, we wanted to do a trip to see the Fall colors.  That's how it got started.
We bought our first National Parks passport book at Mount Rushmore in 2001.  Now we are on our third passport.
National Park System Tips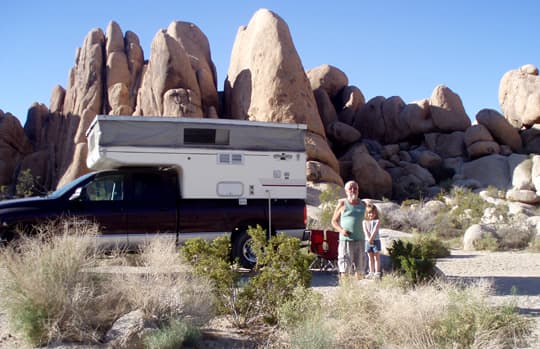 Above: Joshua Tree National Park, Twentynine Palms, California
Before we get to our site recommendations, we have some tips from our years of experience with the National Park system.  If you go to a National Park campground and it's full, go to the gate in the early morning and wait in line.  Ask if there have been any cancellations.  They take people in the order they come in that day.
We also go to Corp of Engineer (COE) campgrounds.  They are the finest campgrounds out there, and usually $12 to $13 dollars a night.  Forest service campgrounds and BLM campgrounds are the most reasonable, and basic.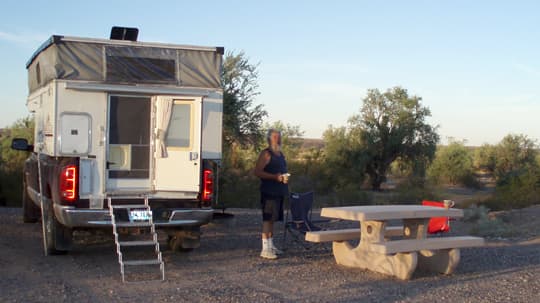 Above: Painted Rock Petroglyph Site, BLM, Arizona
When we camp, we set up early.  By 2:30pm we are looking for a campground.  People are leaving the campgrounds around noon, so at 2:30pm, they aren't full yet.
We have a National Parks Senior Pass which helps with per day costs.  If you are a US citizen over the age of 62, you can purchase a $10 lifetime pass.  This gets you into the National Parks for free and you pay half price for facilities and services including camping, boat launches, and interpretive services.
I also recommend the National Parks Passport App.  The app gives directions, hours, and information about all of the national parks.
National Parks have got to be America's greatest treasures, providing visual beauty and knowledge.  The staff are helpful and courteous.  When we visit a national park, we stop first at the visitor center and go through the museum and displays.  Second, we view the film.  Most parks have one.  Then we stamp our passport book before leaving the visitors center.
Several parks have guided tours or ranger talks that we recommend.  For the children there is a Junior Ranger Program that they all seem to enjoy.
The 20 Best Off-Beat National Parks
Below we have listed twenty of our favorite of the beaten path parks, but it easily could have been one hundred.  Each has been a wonderful experience for us.  Different countries around the world also have great national parks, but usually only a few per country.  We have 405!
The following sites are not in any special order.  They all are special in their own way.
1. Hovenweep National Monument, Colorado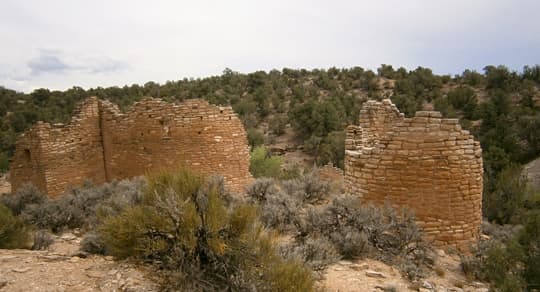 Before I retired, I was a building contractor and studied architecture.  I find round and square structures to be interesting.  Hovenweep's structures were built on the same site about 300 years apart.  There's a great trail through canyon to see several of the structures and sites.
There are so many indian ruins in the Four Corners area.  We could have picked any of them in this recommended list of parks, but Hovenweep is a favorite.
2. El Morro National Monument, New Mexico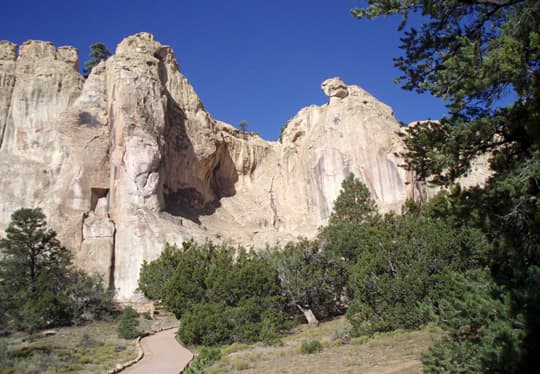 This is one of my very favorite parks.  Spanish and American travelers and Ancestral Puebloans have carved over two-thousand signatures, messages, and petroglyphs on Inscription Rock.  The inscriptions started back in 1583.  The park service took over the area in 1906.
We walked the base of the bluff and the petroglyphs are down low.  You can see them clearly.  That's fairly incredible since the inscriptions start in 1583 and we were there over 430 years later.
3. Nicodemus National Historic Site, Kansas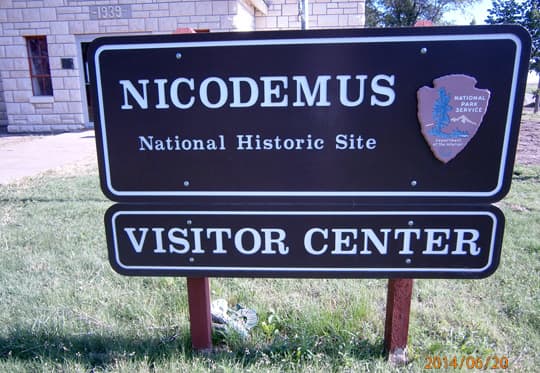 Nicodemus, Kansas is the last all-African-American town.  I did not know there were all-African-American towns until this past summer.  Nicodemus was settled just after the Civil War.  It's maybe twenty blocks long and in the middle of nowhere.
There is an old church, a museum, and buildings.  There is a movie at the visitors center where you learn about the town and its history.  Then you can go out and walk the town to understand it better.
4. Golden Spike National Historic Site, Utah
This is where east meets west and the tracks line up.  The Central Pacific Railroad and the Union Pacific Railroad are facing each other on the railroad track.  On May 10, 1869, the final joining of the rails were signified by the ceremonial Golden Spike.  Golden Spike National Historic Site commemorates the completion of the first Transcontinental Railroad.
Golden Spike National Historic Site is thirty-five miles north of Salt Lake City.  It's in the flat all by itself, so there is no camping available there.
5. Devils Tower National Monument, Wyoming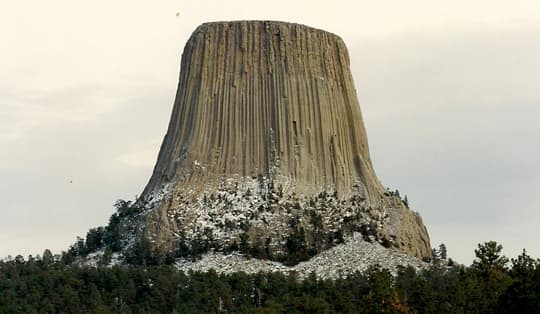 Devils Tower National Monument is a magnificent rock tower with fascinating Indian cultural beliefs about its creation.  It is believed that an Indian was running away from a bear.  The bear was scratching the rock to get up, and that's where the claw marks came from on the rock.
I'm part Indian and Devils Tower conjures up the old Indian ways for me.  I think it's spectacular.  There's camping next to Devils Tower making it very truck camper friendly.
6. Dry Tortugas National Park, Florida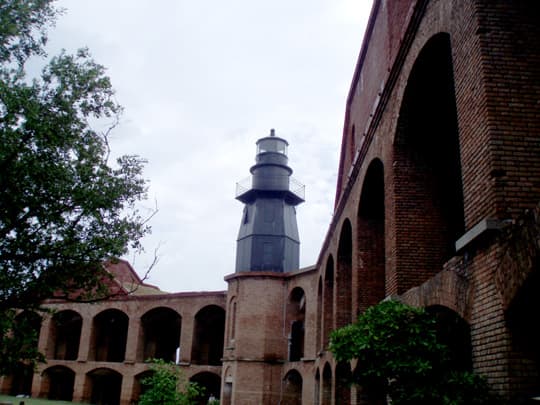 Enjoy a full day tour by boat to get to Fort Jefferson, which is one of the largest brick structures in the world.  You've got to take a boat to get to Dry Tortugas National Park because it is sixty-eight miles west of Key West.  The National Park service has a boat, and there is a private boat company.  It takes two to three hours by boat to get to Dry Tortugas National Park.
The fort looks like it was never finished.  It's massive and spectacular.  Building a fort way out there in the Gulf doesn't seem like a good location for a fort, but it's there.
You can snorkel and the water is crystal clear.  You can also camp on the island.  You get off the boat with your gear.  What you've got, is what you've got.
7. Natchez Trace Parkway and National Scenic Trail, Mississippi and Tennessee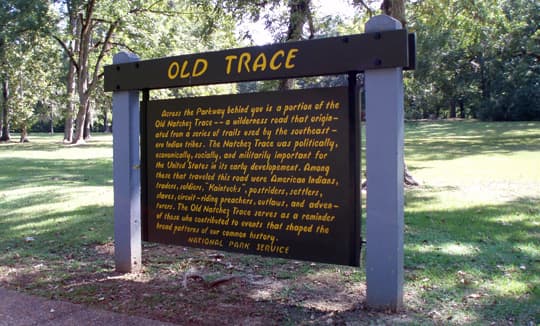 The Natchez Trace Parkway is a 444 mile ancient Indian parkway with turn-outs and historic signs.  We camped and walked where thousands and thousands of ancient people have walked.  That was really neat to me and made Natchez Trace Parkway a favorite.
8. Martin Van Buren National Historic Site, New York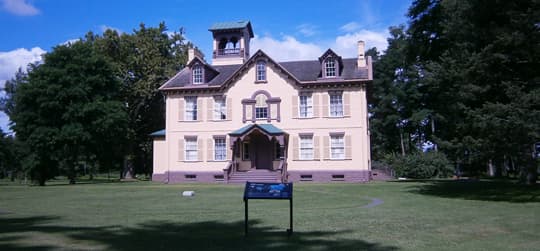 Marilyn and I got tired of going through mansions on the east coast.  Another house, another house.  But, the house of Martin Van Buren was different.  I didn't know a thing about him before we visited his home.  Martin Van Buren's home has all of the original furnishings, which is absolutely outstanding.  We highly recommend that you take the tour of his thirty-six room mansion.
In California we have the Winchester house, built by Mary Winchester, a gun manufacturer's widow.  It's got 200 rooms, but there's not one scrap of anything original.  When we got inside of Van Buren's house, it was full of his furniture, all donated from his children.  That's why I picked this site for our list.
9. Andersonville National Historic Site, Georgia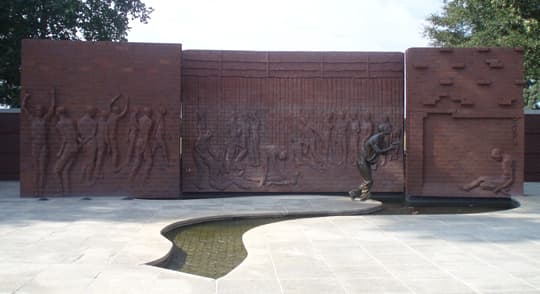 This is a very stirring historical site near Andersonville, Georgia.  We were taught in schools about the prisoner-of-war camps during the Civil War.  This site brings about how gruesome it was.  People should see Andersonville because it is a park that is historically important.
The town is pretty tough; worn out, old, and run down.  We did find a camping spot in town.  I didn't realize until we visited Anderson that there are different parts of the National Park system; national historic parks, waterways, scenic drives.  Anderson being a historic site is not a typical national park.

10. Allegheny Portage Railroad National Historic Site, Johnstown Flood National Memorial, and Flight 93 National Memorial, Pennsylvania
These three sights are all close to each other in Pennsylvania and all bring up visions and deep thoughts.  There may be fifteen to twenty minutes between the sites.
Portage Railroad has lots of canals built in the 1800s.  You come to the Allegheny Mountains, and wonder how they got a boat over a mountain.  Well, they built a cog train, and clogged it up and down the mountain to another canal.  The cog train has disappeared, but just the thought of it was pretty neat as a former building contractor.
The Johnstown Flood of 1889 was a rich man's disaster.  Wealthy industrialists from Pittsburgh, Pennsylvania built a retreat around a lake created by a dam called South Fork Dam.  The dam was compromised to build a road to the retreat, and was otherwise allowed to fall into disrepair.  When the dam broke, over 2,000 people were killed as the water rushed into a canyon.  No one was punished as the result of this incident.
The Flight 93 Memorial is where one of the planes crashed on September 11th.  There is a wall up and a rock where the plane crashed.  They are still working on completing the site. There is a walkway and trees and signs along the walkway that tell you what happened.  In a year or two, it will be all finished.
11. Springfield Armory National Historic Site, Massachusetts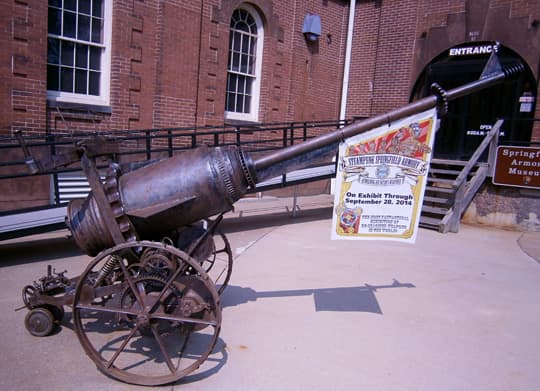 The Springfield Armory, located in Springfield, Massachusetts, was the primary manufacturing site of US military firearms from 1777 until it closed in 1968.  This historic site also has a whimsical side making it even more interesting; welded art.  There's also row after row of armory.  The park service has done a good job of giving the site a positive spirit.
12. Perry's Victory and International Peace Memorial, Ohio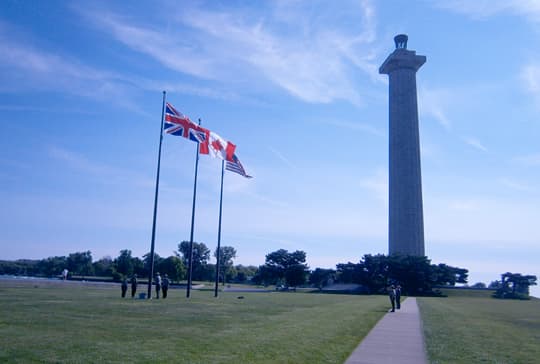 Oliver Hazard Perry was a commodore who led a victorious naval battle in the War of 1812.  The British had long range cannons, and Perry had short range cannons.  When the clash started, the sailers hadn't been on a ship before.  They had to scrape the bottom of the barrel to man all the ships, so Britain had the advantage.  But Perry got closer and did a lot more damage with his short range canons.  He actually killed all the British commanders.  Two British ships even collided, and Perry gained control.  Did Perry get lucky or was this good planning?
While you're there, you can take a ferry ride out to the bay in Michigan.  There's a nice visitors center and an excellent restaurant.  This is a full day experience.  Rent a golf cart, have lunch, and enjoy the site.
13. Appalachian National Scenic Trail, Blue Ridge Parkway, North Carolina, Virginia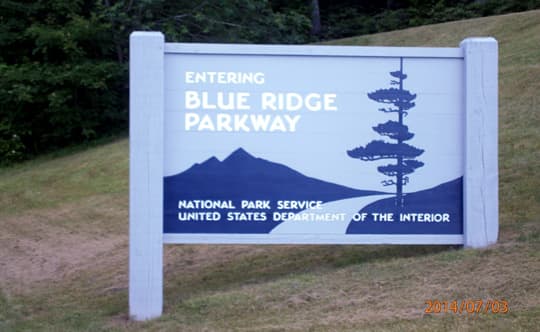 The Blue Ridge Parkway is the longest linear park in the United States at 469 miles long.  This has the most beautiful travel roadways along the East Coast with lots of turnouts.  It's a long drive that includes a few tunnels.  Since we're in a pop-up truck camper, we're only 8'2" high.  If you're in a hard-side camper, check the clearance maps before traveling on the Blue Ridge Parkway.
14. Hopewell Furnace National Historic Site, Pennsylvania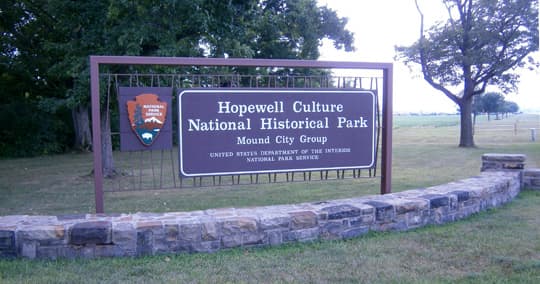 This is a place where you can see what iron production was like from 1771 to 1883.  There are waterwheel driven furnace billows.  A water wheel drove the billows, like a bicycle.  There are two big billows, four or five feet in diameter.  That's what they used to burn and melt the iron.
Hopewell Furnace also shows the community and the church.  The billows are still going now, and you hear it churning along.  It's got some character.  That's what I liked about it.  You can camp nearby at French Creek State Park.
15. Voyageurs National Park, Minnesota
Voyageurs National Park in northern Minnesota is gorgeous.  There are lots of waterways for kayaking and canoeing, and an old restaurant on the island.
The history of the area is really interesting.  Earlier pioneers were always looking for a northern passage from the Atlantic to the Pacific via waterways.  They could make it, but had to carry a canoe to do it.  The beaver fur trading canoes were 32 feet long, and were carried over land by the French and early trappers and traders.  It started a big industry that probably wasn't as pronounced in the United States as it was in Canada.
16. Thomas Edison National Historic Park, New Jersey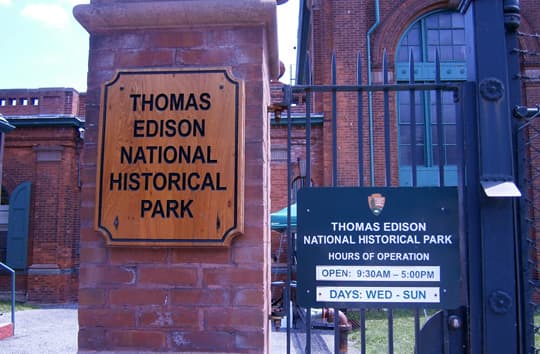 Thomas Edison had a mind with absolutely no boundary.  Take time at this national historic park and be amazed by Thomas Edison's ideas.
Edison's laboratories and other buildings are showcased at this site.  You'll see that he was involved in just about everything.  It was an impressive site, even though it's not in the best area of town.  It's also little hard to park there, but we found a spot across the street.
17. Rainbow Bridge National Monument, Utah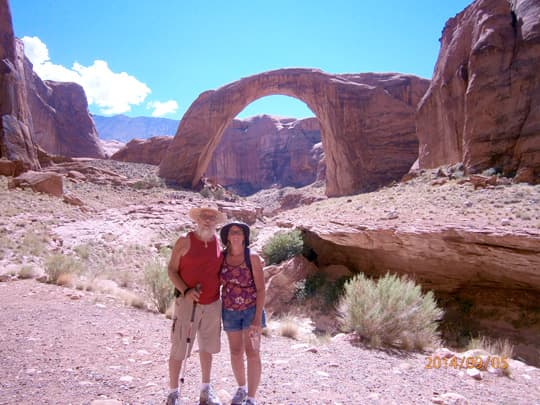 Take all day to go on a boat and hiking tour of Rainbow Bridge National Monument.  You have to take a boat tour to get there and then you've got to walk up a canyon to Rainbow Bridge, which is an arch that spans 234 feet.   At one particular place you have a beautiful view of the bridge.
The native indians have a story about the first white guy who wanted to see Rainbow Bridge.  Evidently he was the pushy type, but not the most clever.  He missed the site, so some other white guy saw it first.  He called it one of the seven wonders of the new world.
I wouldn't say it was any more significant than the arches in Arches National Park.  There is a big campground at Lake Powell.
18. Cedar Breaks National Monument, Utah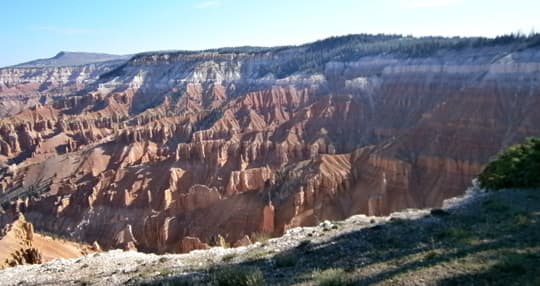 Cedar Breaks is at the very high elevation, 10,000 feet above sea level, and is located near Cedar City, Utah.  Because of the high elevation, I recommend that you visit in mid-summer.  Otherwise it could be very cold at that altitude.
Getting up to the park is beautiful.  In the western United States, you can boondock any place in the national forest, whether they have a campground or not.  We pulled off and dry camped that way a lot.  There are opportunities like that around Cedar Breaks.
I remember there was a little fox running around there when we visited.  He was trying to catch a squirrel.  I've never seen so many park people show up in an instant.  Everybody was watching the fox.  I was having a ball watching the squirrel.
19. Sand Creek Massacre National Historic Site, Colorado, and Minidoka National Historic Site, Idaho and Manzanar National Historic Site, California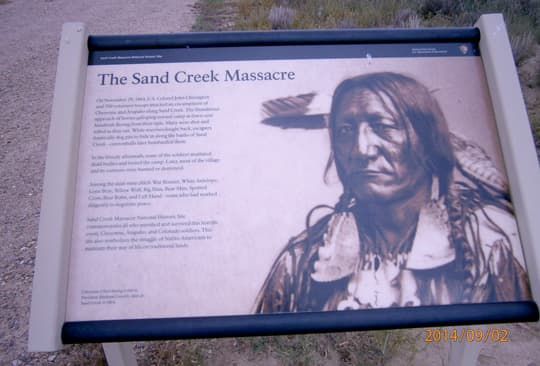 Why did the Sand Creek Massacre happen?  That's the big question.  A 700 main force of militia attacked and killed a peaceful village of Cheyenne and Arapaho Indians.  Many of the slain were women and children.  The responsible colonel never got punished.  All the chiefs went to Washington DC and signed peace treaty.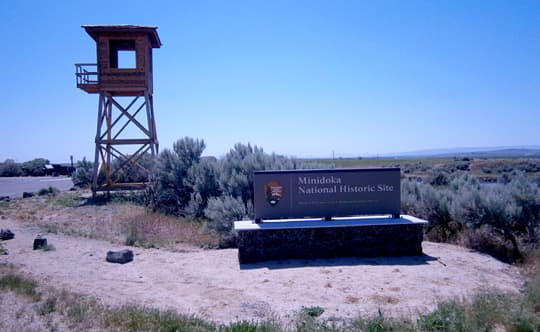 Minidoka and Mazanar were Japanese internment camps.  Many Japanese-Americans lost everything during the war.  The internment houses were built with 2x4s and paper.  The temperatures would get extremely high in the summer and below zero in the winter.  It seems like people coming to America, whether they were Irish or Japanese, have had a hard time throughout history.
When we went to Idaho on our first trip we couldn't find Minidoka National Historic Site.  We asked the locals, and nobody knew what we were talking about.  When we went to Idaho a second time we found it because now they have an official site.
20. Gila Cliff Dwellings National Monument, New Mexico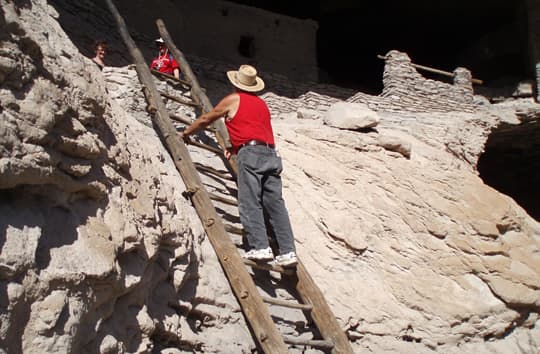 There are so many cliff dwellings in the United States that it was hard to pick a favorite.  The Gila Cliff Dwellings are one of Marilyn's favorites.  It's a nice site and there's a lot of camping opportunities.  It's a drive to get back there, but it's amazing!
21. African Burial Ground, New York

Due to construction in 1991, this African Burial Ground was discovered in the middle of New York City when a tall building was removed.  They knew the African community had a church and burial site back in the 17th and 18th centuries, but didn't know where it was.
They ran into a cemetery thirty feet below the ground.  They stopped construction and negotiated that the museum would be on the lower floor of this building.  I didn't realize how many slaves there had been in the north until we experienced this site.  I had no idea.
22. Steam Town National Historic Site, Pennsylvania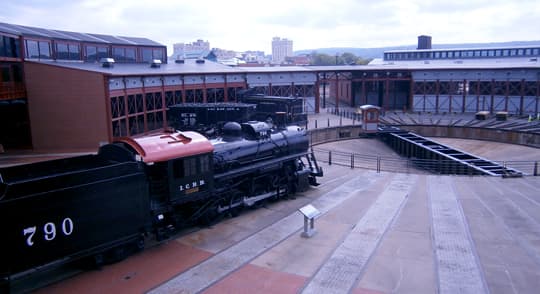 Steam Town National Historic Site is an interesting historical site in Scranton, Pennsylvania that's all about steam engines.  You can take a train ride around town and learn about how the steam industry got started.
Steam engines were categorized by the number of axles they had.  The little ones are out in front.  You can find out what a big boy is, which is the biggest engine.  I can remember steam engines from when I was younger.
Steam Town National Historic Site is an all day visit, a little commercial, and the tickets are on the pricey side.
Wrap Up and Summary
Okay, I cheated and added two extra sites.  With forty years of truck camping and being nearly eighty years old, I am entitled to do this.
Our camper has taken us 250,000 to 260,000 miles, traveling to every state in the continental United States, Alaska, all provinces in Canada, all of Baja, and parts of mainland Mexico.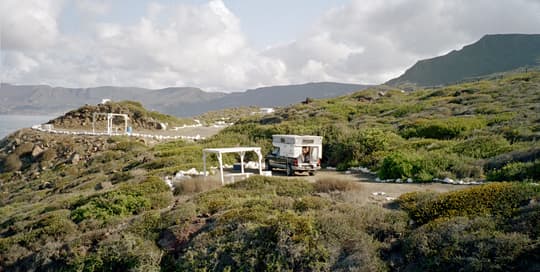 Above: Ensanada Baja, California
Imagine this, a home cooked lobster dinner with a glass of wine in our Phoenix pop-up camper on our Dodge pick up in a National Park campground enjoying a beautiful site out the window.  It doesn't get any better than this.  Go out and enjoy the National Parks!
Truck: 2000 Dodge 2500, four wheel drive, long bed, diesel, single rear wheel
Camper: 2001 Phoenix 8 foot Camper, 890 pounds
Tie-Downs and Turnbuckles: Bolted through the floor
Jacks: Rieco-Titan
Gear: Inflatable raft, small compressor, mounted fishing pole racks, small Weber barbecue
Do you like to travel to the National Parks?  Have you been to more than 100?  Which are your favorites?  If you've been to a lot of National Parks like the Kochevers, we'd love to hear from you.  Please share your story.