After 40 years and 250,000 miles, the Kochevers have visited almost every U.S. National Park.  Here are their top twenty off-beat National Park site recommendations, and tips.

Did you know that there are 405 sites in the United States National Park system?  That total includes national monuments, national historic sites and battlefields, national memorials, national scenic trails, national shores, national recreational areas, and yes, national parks.
Even if you visited just one National Park system site per day, it would take over 13 months to experience them all.  Since many of these sites are extremely remote – try Alaska, Hawaii, and off the coast of Key West for starters – the reality is that it would take many years, and thousands of miles traveled.  I don't know about you, but that sounds like a fantastic adventure to us, and a plan.
That's just what John and Marilyn Kochever thought.  Enamored by the abundant beauty and fascinating discoveries afforded by the National Park system, they set out to see them all.  By ship, train, bus, and Phoenix pop-up truck camper, they have visited almost every site over the past few decades.
When we heard of their amazing feat, we asked John and Marilyn to recommend their top twenty favorite sites in the United States National Park system.  Get out your bucket list and a pen.  It's time to add a few more destinations.
The National Park Chase
by John and Marilyn Kochever
We are John and Marilyn Kochever.  We are retired and love to travel.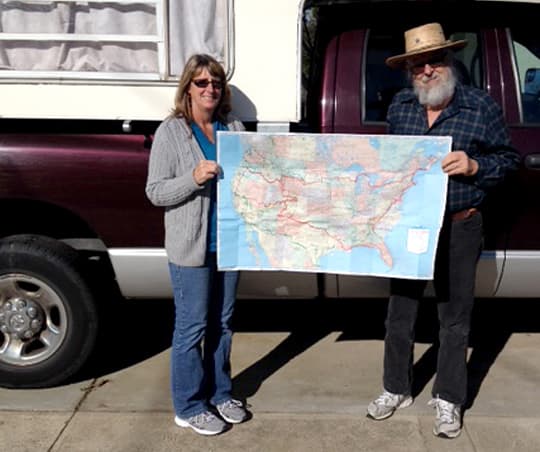 We purchased a 2000 Dodge and a Phoenix eight foot camper when we retired in 2001.  With a pallet of supplies tarped over in the bed of our truck, we stopped in motels until we got to Phoenix Campers in Colorado.  The Phoenix camper crew had our unit waiting for us.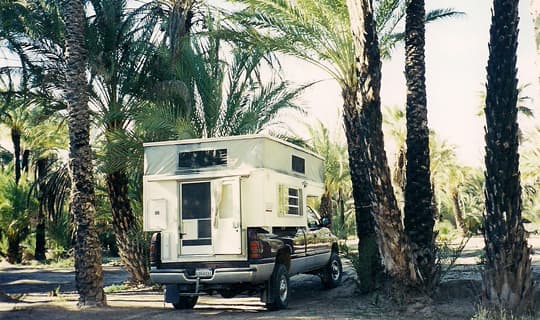 Above: John and Marilyn's 2000 Dodge 2500 and 2001 Phoenix Camper
With the camper installed we headed to Boulder, Wyoming like a couple of kids with a new toy enjoying every moment.  Since then, our Phoenix truck camper has fit our needs perfectly because it is low profile and under 900 pounds dry.
We have most of the usual truck camper equipment; a three way refrigerator, three burner stove, sink with two way faucet, 16,000 BTU heater, and storage.  I can't express how important lots of storage is.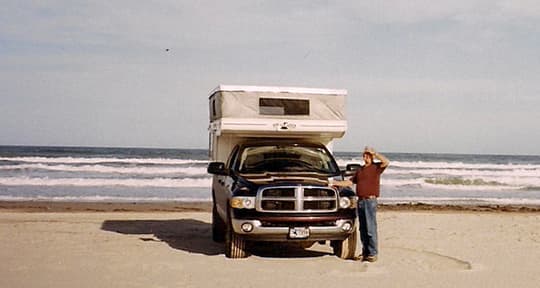 Above: Camping on Padre Island, Texas
We get 16 to 17 miles per gallon.  Traveling costs have been minimal at about $75 per day including food, fuel, camping, park fees, tours and fun activities for both of us.  Alaska runs a bit higher at about $100 per day including a fishing license, fish processing, shipping, etc.  Baja, Mexico a bit less at about $50 per day.
We have dug Amethysts in Canada, picked berries and ate lobster in Maine, oysters and crabs on the East coast, enjoyed Florida and the Keys, and been to New Orleans for Halloween with our Phoenix pop-up camper.
The National Park Chase