Above: Beartooth Lake in the Shoshoni National Forest
The Beartooth Lake campground, with three loops and twenty-one sites in the woods above the Lake, costs $15 a night.  The camping sites are heavily wooded with no real views of the lake.  If you are camping or fishing at one of the many lakes, you can resupply and buy gas at the historic Top of the World store just past Beartooth Lake.  The owners are a good source of local information.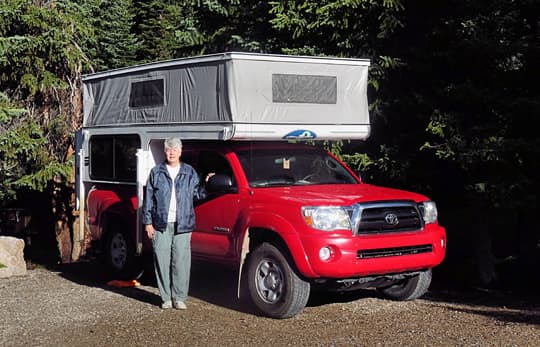 Above: Mary at Island Lake Campground
Another mile beyond the store is Island Lake Campground which also with three loops and 21 sites at $15 a night overlooking a beautiful lake and mountain vista.  Some of the loops are not suitable for large RVs due to the twisty loop road and small sites. There are several hiking paths for those who want to venture deeper into the wilderness alongside this mountain lake.  We camped and encountered mosquitoes in late August.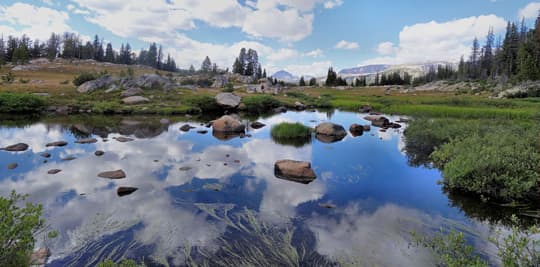 Above: The beauty near Island Lake
From Island Lake, the road climbs above the tree line and switches back and forth to the Beartooth summit at nearly 11,000 feet with views of the area's 300+ mountain lakes.  Oncoming drivers are also sightseeing and may be distracted, so alert driving here is recommended.  We nearly had a head-on collision with a motorcycle that drifted into our lane.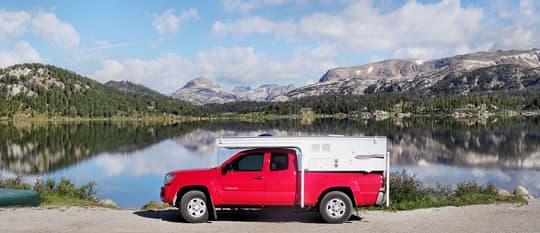 Above: The Jeffries' Phoenix Camper next to Island Lake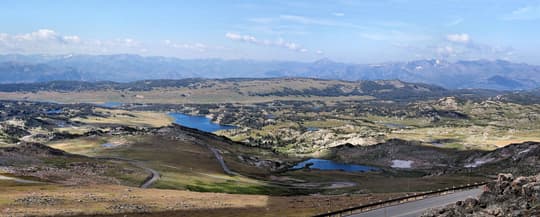 Above: The top of Beartooth Summit with with views across the Absaroka mountain range
After Beartooth summit, you'll see a pull off with a great view of Gardner Lake and the Beartooth spire, for which this range of mountains is named.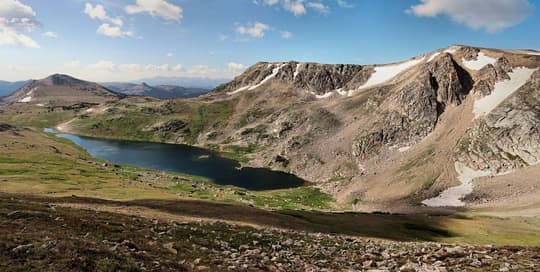 Above: Gardner Lake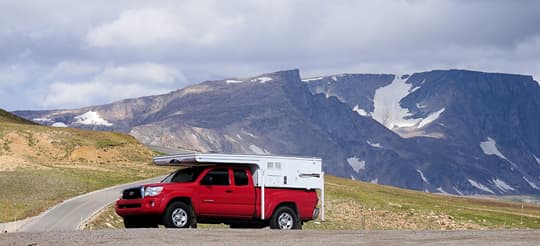 Above: Mary and Jim's Phoenix camper at Beartooth summit
While on top of the world, another pull off just before the Beartooth Basin Ski Area overlooks several pothole lakes in the valley below.  Alpine ski racers are trained at this facility.  One look straight down told me that this ski area was not for the faint of heart.  From the ski area overlook, the road starts down the pass and into Montana.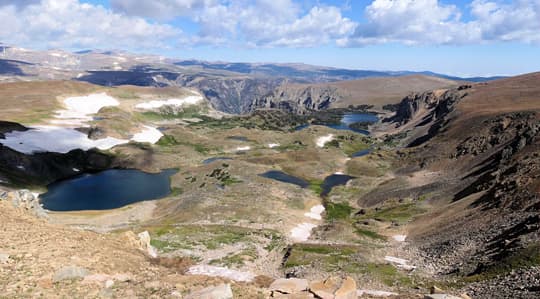 Above: The view from the ski lift area shows several pothole lakes in the valley below