At Buffalo Bill State Park, you will find camping on the Buffalo Bill Reservoir for $17 a night for non-residents.  The camping sites generally overlook the lake.  We camped at the North Shore Bay campground because it's closest to town, and used the campground as a base to explore Cody.  The campground includes three loops, one of which has electricity for an extra five dollars a night.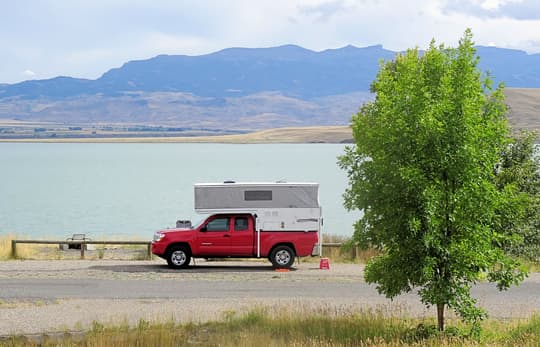 Above: Camping at Buffalo Bill State Park
There is a lot to explore near Cody, including back roads like Highway 291, also known as the Southfork Road, that takes you on a scenic byway where Buffalo Bill had his famous T E Ranch.
If you entered Cody from the South on Highway 120, as we did, Meeteetse, Wyoming has the free Belden Museum with its wonderful photographs capturing the Old West and ranch life.  The museum also includes history and works by the artist Harry Jackson who has displays in the Buffalo Bill Center of the West.
When it was time to leave Cody, we had a decision to make about our route to Red Lodge, Montana.  We had heard about the Chief Joseph Scenic Byway, Highway 296, including Dead Indian Pass.  We chose that route.
It is only 116 miles via Highway 296 to Red Lodge.  To follow our route, we left Cody via Highway 120 North to the turnoff on Highway 296.  After turning on Highway 296, the road starts immediately to climb along the Chief Joseph Scenic Byway up to Dead Indian Pass with views across the Absaroka mountain range.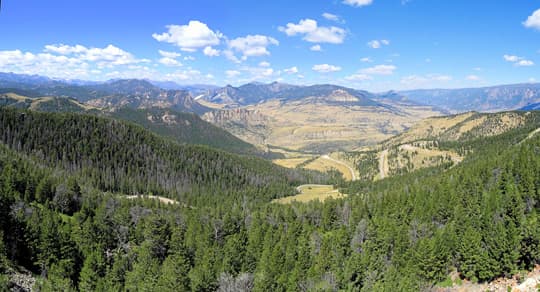 Above: The top of Dead Indian Pass on the Chief Joseph Byway looking across the Absarkoa range
There is a spectacular view at the top of the Pass.  Pull off into the parking area, and see the spectacular Absaroka Mountains and the road winding below.
An interpretive sign gives a quick glimpse of the history of Dead Indian Pass and the last free days of the Nez Perce Indians who were trying to join Sitting Bull after his battle at the Little Bighorn.  Both Indian tribes tried to escape to Canada, but neither tribe was successful.
After descending Dead Indian Pass with its switchbacks, there is a long valley with mountains in every direction.  As you enter this valley, you will see the Dead Indian Campground along Dead Indian Creek.  If this campground isn't primitive enough for you, you can turn off to the left on Forest Highway 101, Sunlight Road, which leads to at least two primitive campgrounds about twelve miles down the gravel road.  We didn't take this gravel road, but it looked very interesting.
Along Highway 296, leading to Clark's Fork River and the junction to the Beartooth Highway, there are more gravel roads to explore with mountain peaks from 7,000 to 12,000 feet high.  You will not find organized campgrounds until you near a small community on the Clark's Fork River called Painters' Outpost.  There you can buy gas, eat a meal, buy camping supplies, rent cabins, or camp.  As you continue on Highway 296, you will see Pilot and Index peaks rising to nearly 12,000 feet.
In a few more miles, you'll reach the junction of the Beartooth Highway, Highway 212, which is closed in winter.  Both the Chief Joseph Highway and the Beartooth Highway are paved, two-lane roads and were in good condition.
The Beartooth Highway
Turn right on the Beartooth Highway towards Red Lodge, Montana.  CBS journalist Charles Kuralt once called this stretch of the Beartooth Highway "the most beautiful drive in America".  The highway opened in 1932, and follows closely the route laid out by General Philip Sheridan.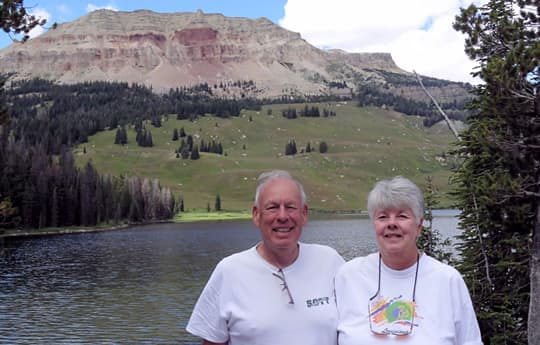 Above: Jim and Mary at Beartooth Lake
After five miles travel on the Beartooth Highway, turning left on Forest Road 142 brings you to the first scenic view at Clay Butte Lookout Tower.  This tower was built in 1942 by the CCC, and gives a panoramic view of several mountaintops.  A little further ahead, a parking area allows for a beautiful view of Beartooth Lake in the Shoshoni National Forest.