To celebrate their fifty year wedding anniversary, Skip and Linda Bosley follow the Lewis and Clark trail, get their kicks on Route 66, and rediscover the American West.

California Here We Come
By Skip Bosley
We had crossed the continent four times previously before setting off on a trip to celebrate the fifty year anniversary of our wedding.  In all of our earlier trips we were reminded of the many strong and adventurous souls that had crossed long before us; in wagons, on horseback, and afoot.
For our first cross-country truck camper adventure in 2005, we followed the trail of Lewis and Clark.  Along the way we kept track of the places and peoples Lewis and Clark discovered and met.  It was the 200th anniversary of the Lewis and Clark Expedition to explore the West, a project commissioned by President Thomas Jefferson.  There were many commemorative activities celebrating Lewis and Clark as we crossed on route to Alaska.  It was fun and educational to keep track of that historic ramble.
Rock and Roll Queens have electric dreams when seeing the Route 66 scenes.
On this, our anniversary commemoration, we chose a southern path.  The theme, "Get Your Kicks on Route 66" rang in our ears as we revisited some of the high spots of the sixties era on this storied route.  Along the way, sculptures including old Cadillacs half buried in a field, giant balls of string, and long abandoned tourist traps advertising all sorts of oddities, recalled us to a simpler time of gentle humor and wonder.
Our truck camper, like the Conestoga Wagons of old, is our home on wheels.  We're at home where ever we are.  No need to rush along.  We try to savor and see the sites that molded our history.
In this time of internet and advanced media, it is like traveling with the complete Library of Congress on board.  Any question of history just needs a keystroke to have the answer.  All local events are chronicled on the radio and television as we pass through.  Our satellite radio, with its local conditions stations and vast catalog of topics, has also been very useful.
Skip's Tip #1:  We fitted a magnetic satellite antenna under the bug deflector across the front of our truck's hood to get it clear of the camper overhang of the cab.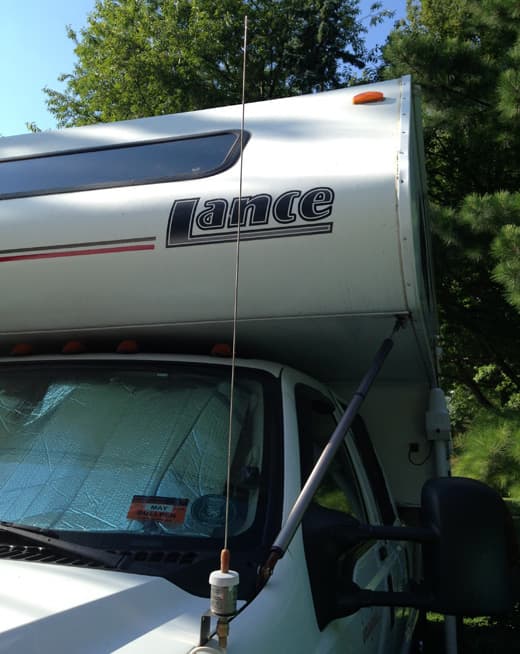 Above: Marine VHF antenna
We also fitted a Wilson trucker cell phone antenna with an adapter pigtail that fits our broad band internet device to increase our internet range.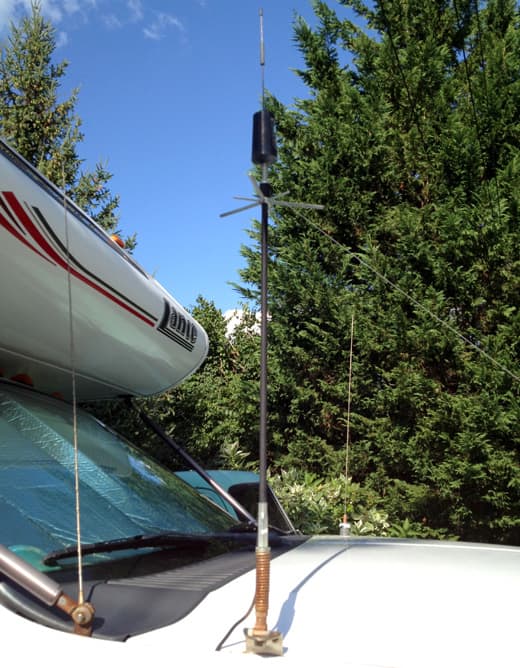 Above: Wilson trucker cell phone antenna
We have a marine VHF antenna fitted in the hood seam that gives an excellent signal reception of the NOAA (National Oceanic and Atmospheric Administration) weather channels which are on our CB radio.  We rarely use the CB for traffic information, particularly when our granddaughter is aboard due to the very stupid language from some truckers.  For the most part, when we have asked for information on the CB, we have been quickly rewarded with good data.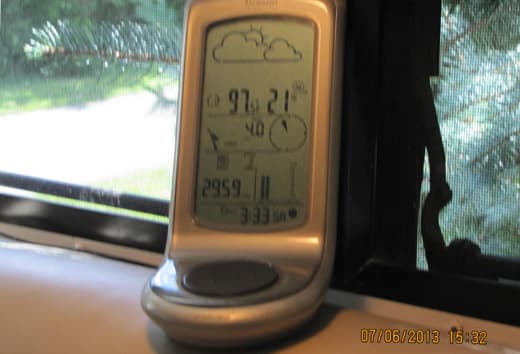 Above: Weather station inside the camper
In early May of 2009, we began our westward trek by heading southwest and onto the Skyline Drive in Virginia.  The route joins the Blue Ridge Parkway combining more than six hundred miles of majestic views as it winds along the ridge tops.  We could have easily spent a month along this beautiful drive.
As we drove into Tennessee and the entrance of Smoky Mountain National Park, the weather changed and sheets of rain doused our windshield.  To escape the torrents, we drove on to I-40 West.  To date, we have yet to explore Smoky Mountain National Park, but it is high on the bucket list.  The Interstate travel allowed us to catch up on our schedule.  We had been invited to a gathering at a friend's place in Prescott, Arizona and it was time to make tracks.
The Walmart Road Atlas gave us locations and zip codes (for satellite TV aiming) of Walmarts as we crossed Arkansas, Oklahoma, and New Mexico lickety-split.  We stopped around 4:00pm at a Walmart in New Mexico and parked under the mercury vapor lights.  To our surprise and delight, we have discovered that Walmart's mercury vapor lights charge our batteries through the solar panels at night.