Skip Bosley shares insider tips on Florida boondocking, state park reservation strategies, and taking grandkids to the Magic Kingdom.  It's a top secret mission to the Sunshine State!

Truck campers and grandchildren are the perfect fit.  Our three darling grandchildren have all traveled with us in our truck camper.  Noah, the oldest, was with us on our Alaska junket.  Hap, the middle one, has camped and fished with us on Assateague Island, Maryland and in Florida where both of our grandsons reside.  Cassie Anna, the youngest, has been with us on many of our excursions to and through the Great North Woods, across the continent to California, all along the Pacific shore, Yosemite, and the magnificent parks of Utah.
Secret Mission: The Sunshine State… and the Magic Kingdom
The reason behind this Florida trip was a surprise birthday party for Cassie at the Magic Kingdom in Disney World.  Cassie Anna was seven going to eight on this trip; her Disney Princess status still very current.  Her parents and other Granny were flying in to join in the fun.
Cassie has been truck camping with "Bambi" and "Poppio" since she was four years old.  She is an experienced truck camper adept at spotting boondocking possibilities, helping to layout our courses with the GPS program in our laptop, remembering to get the trash out of the camper when we fuel up, and is masterful at finding the best diesel prices.
Recently, a television comic was musing about the special relationships found between grandkids and grandparents.  He said it could be because they shared a common enemy, the parents.  On each of our trips with the grandkids, a major problem has been getting the kids away without the parents, who don't want to be left alone, and want to be in on the fun.  "We'll send postcards every day", we tell them.
Then we smile and quickly dash toward the rig.  Linda, Cassie, and I leap into the cab, giggling and waving to those we're marooning to their daily responsibilities, whilst we, the three worldly wanderers, are free from daily cares and on the road again.  Wowwee!
Skip's Tip #1: When traveling with grandchildren, or any kids, have copies of medical insurance cards, birth certificates, passports, or school IDs.  We have a signed and notarized permission document, found on Google, that permits us to make decisions on medical and travel emergencies for our grandchildren.
Chesapeake Bay Bridge-Tunnel
A south-bound trip from the Delmarva Peninsula (Delaware, Maryland, and Virginia) requires crossing the Chesapeake Bay where it meets the Atlantic Ocean via the Chesapeake Bay Bridge-Tunnel.  The whole crossing is twenty-three miles, with two one-mile tunnels under the deep water channels.  Along the route, close to the center, is a man made island which has a nice restaurant for a break in the action to watch the goings on.
As you pass through the toll booths on route to the elevated bridge-tunnel highway, there is a pull-off for closing the valves of our camper propane tanks.  The average crossing time is less than half hour, so a refrigerator and food will be fine turned off during the crossing.  After crossing, there is another pull-off for restoring the propane flow that is well marked.  I don't use the twelve volt system to operate the refrigerator anymore.  When I forget to switch it, battery power suffers.  We use propane for the refrigerator, exclusively.
The views as you cross the Bay Bridge Tunnel are vast.  Salt marshes along the southern tip of Delmarva give way to long sights into the Atlantic Ocean and the Chesapeake Bay.  Great ships of every description can be spotted on ingress or egress.  Huge aircraft carriers convoyed with service vessels, ore and container ships, and large and small fishing boats are all passing in the two main channels.  On a clear day, the far shore is easily spotted, seabirds soaring all around.
The two tunnels can be a hairy drive in a truck camper.  They are two lane, one north, one south, down from the four lane divided highways of the bridge works.  Seeing an eighteen wheeler coming at your truck camper out of the darkness is a white knuckle experience.  I try to look at the center line and keep a proper distance as I pass.  After a short while you get the hang of it.  Then I begin thinking about the 1,000 foot carrier crossing over our heads!
Skip's Tip #2:
Keeping track of tire pressure is paramount.  As the ambient temperatures change, tire pressures will also change.  Safety, tire wear, and economy are all at risk.  Since we have a built-in 2500 watt AC generator on board, a small AC air compressor fits into an out side locker.  It is capable of 110 psi, which will work on the 19.5" "H" rated tires we use for highway travel.  The compressor has come in very handy on lug nuts and filling air mattresses.  Ours came from Northern Tool for less than $100 bucks.
The GPS is useful in getting through the maze between Virginia Beach and Norfolk; it is a mixture of Route 13, I-64 then on to Route 58.  This is a time to be paying attention because it is tricky; being in the proper lane to change from one route to another, carefully, is what is needed.  If you miss an exit, it's not hard to recover.  We know that from experience.  After Route 58, it's on to I-95 south.
We have stayed in some commercial campgrounds in the past, but no longer.  With our trusty Walmart Atlas, which includes a Walmart store finder, we can easily find convenient on and off spots to overnight.  The Walmart Atlas also has the zip codes to aid in satellite aiming.
At Walmart, we always park under a bright mercury light array for security, but also to charge our batteries from the solar panels.  Should there be the rare, "No Overnight Parking" signs on the lot, we ask a manager and they have always directed us to the rear of the store where the delivery trucks park at night.
Shopping for the best fuel prices helps miles to pass.  Cassie runs the laptop, GPS, and internet.  We Google and Twitter our way toward the big fun to come.  It is difficult to utilize the CB any more to get travel information because some of the language is rude and sad.
Skip's Tip #3: On our ladder is a rack to carry two chairs, two folding tables, and a sturdy collapsible portable step.  Behind the ladder we carry two chairs-in-bags.  Shock cords are utilized to keep everything secure.  From many years of experience, I always use two shock cords for each item.  Over time, sunlight will deteriorate the covers of the shock cords, so they should then be replaced. 
Since we have a large front cooler rack mounted on our truck, I use shock cords to hold a grill, flag poles, umbrellas, and the bikes we tote too and fro.  I also carry a variety of bike locks to deter theft.  No far no losses.  I do not use shock cords on the roof rack where visual inspection is not easy.  On the roof rack I lash a fishing rod carrier with good Dacron line, which is resistant to solar breakdown.
Finally Florida
Our first overnight in Florida was at the Gamble Rogers State Park at Flagler Beach on the ocean, just north of Daytona Beach.  Our grandson, Noah, a co-conspirator, lives close by.  He came for dinner and was to meet us at Disney World for the birthday bash.
Gamble Rogers was a folk singer, song writer, and humorist, who, in 1991, gave his life saving someone at the very beach where the State Park is located.  We had a remote but interesting connection to him.  In 1980, we took John Lennon, Yoko, and their son Sean on a luncheon cruise in Palm Beach, Florida on our charter sailing yacht, "Imagine".  Lennon was ecstatic about sailing.  Shortly after our sailing cruise, he wrote, "Beautiful Boy".  In the song, John sings a line often attributed to Gamble Rogers, "Life is what happens to you, while you're busy making other plans".  I think Lennon was honoring Gamble Rogers with that line.
Gamble Rogers State Park is a winner.  We have camped there many times, often without reservations.  Our strategy for Florida State Parks is arrive at 3:00 PM, or maybe a little before.  We have always gotten in on a cancelled reservation, winter or summer.  With internet via a cellular broad-band card, reservations can easily be made whilst driving, but even if the reservations desk says no-vacancy, we still go and have always gotten something.  With the truck camper, we can move from site to site as needed and smaller sites are okay.
Skip's Tip #4: Although we do not often make reservations at campgrounds, sometimes during high season it may be required.  We have internet access via a cellular broadband card that pretty much works everywhere, even when underway.  Through the web, we can connect with national, state and county parks.  We also seek out local knowledge, asking for recommendations when possible and ask any source to aid in our enjoyment while traveling.  We have been steered to a lot of wonderful experiences by asking for directions.  We stay clear of rest stops, as they have too many unsavory reports.  Libraries, sporting goods stores, and restaurants have been good stopping points.
The section of the beach at Gamble Rogers State Park are the calving grounds for Right Whales.  We could hear them calling and singing from off shore as we lay in our camper bunks.  It was also sea turtle hatching time.  The Rangers directed us to extinguish any lights after dark.  The newly hatched turtles will come toward the light source rather than going into the sea.
The next morning we packed up and headed west toward Orlando, Florida.  I assigned Cassie a task on her computer learning program, "Jump Start Second Grade".  She became so engrossed in the computer she only realized our true destination as we drove under the great arch announcing, "The Magic Kingdom".
Fort Wilderness Campground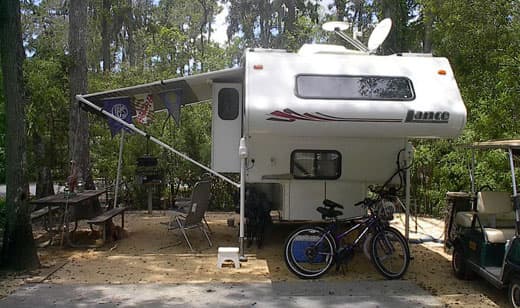 Above: Fort Wilderness Campground, Disney World, Florida
We have avoided staying in commercial campgrounds as much as possible in our many several years of RV travels.  An exception is Fort Wilderness Campground at Disney World.  It is superior in every way.  A stand out feature at Fort Wilderness are the large and well separated campsites that are carved out tropical foliage.
One of the many advantages of truck campers is that the smaller size permits us to say in tenting sites, an advantage we enjoyed at Fort Wilderness.  Water and electric are provided, and the price is much less expensive than the large pull-through sites the larger RV rigs require.  We were directed by the Fort Wilderness staff to pull in to any vacant RV site when we wanted to dump.
The campground is made up of a series of loops and there are showers and laundromats in each loop, along with water and electric hook-up.
Skip's Tip #5: Most of the places we visited on this trip had laundry facilities, but should you find yourselves in a place without a coin laundry, we have a trick for doing laundry from our sailing days.  We fill our cooler with soap and water and travel along, eventually replacing the soapy with clear rinse water.  We have a cooler rack fitted on the front of our truck, but the cooler could easily be carried in the shower.  Use a shock cord from handle to handle to prevent sloshing out.  And a small plunger can serve two purposes.
Skip's Tip #6: We have a small diameter 1/4" cable with springs swedged on either end attached to the brackets that hold the tie-downs to the truck camper.  This works as a clothes line.  We keep clothes pins on it as we go, but only use it for drying, when we're stopped.  It has been very useful for drying bathing suits, towels, or anything else.
We went over the map of the campground and chose the most well positioned site available.
Fort Wilderness is located across the lake from the Magic Kingdom.  Large passenger launches run back and forth on the large lake and then the Monorail can be utilized to get to all of the attractions.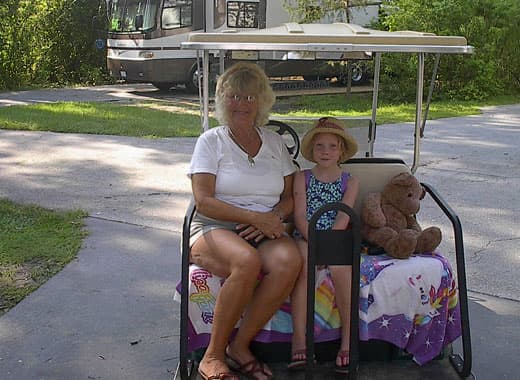 Above: Linda and Cassie Anna in their rented golf cart
Although there are many transport services available including regular busses, we always rent a golf cart for the duration of our stay in Fort Wilderness.  The golf cart comes in handy to run around to the many features within Fort Wilderness.  At each parking place are power stations to charge the golf cart batteries.  Disney has the best coverage of all the details necessary to completely enjoy time spent in the park.
After we set up the rig, we went to the hotel to meet with the rest of the party arriving from the airport.  The room was decorated with streamers, balloons, and presents from the Disney characters.  A cake and ice cream were in the refrigerator.  Cassie was really surprised.  It was the most extraordinary birthday time I could have imagined.
Disney World, Epcot, and Animal Kingdom
For those that have never been, there are a number of theme parks at Disney World; the Magic Kingdom, Epcot, Hollywood Studios, and Animal Kingdom.  The Magic Kingdom consists of rides and attractions and all things Disney, including the characters and the places from the many popular films.  With Cassie Anna, we dined with the princesses and took turns on the rides in the Magic Kingdom.
Epcot is dedicated to technology and international culture.  We had dinner at Epcot in an outdoor English Pub in Epcot overlooking the large central lake.  The fireworks that night were the best display we had ever seen!
The next morning we explored the Animal Kingdom for the first time.  Animal Kingdom is dedicated to animal conservation.  We had lunch in the restaurant beside the Zambezi River.  We were in Africa, and the day was spent surrounded by the wonders of the many African animals and their habitat.
From experience, staying in a truck camper is the most comfortable and least expensive way to stay in Disney World.  It was an unforgettable two days.
South to the Florida Keys
In the morning, Cassie Anna's parents, grandmother, and cousins were homeward bound.  The three of us headed south to the Florida Keys.
Linda and I lived in Florida for twenty years in Palm Beach.  We left in 1999 to look after our aging parents.  We thought Florida was crowded when we moved north.  As we drove down the Florida Turnpike, lands that had been heavy glades were now completely developed.  Even in July, the so called off-season, the traffic was sometimes intense.
We got a late start from Orlando and at 4:00pm began to look for a spot to overnight in Palm Beach County.  A highway sign touted, "Lion Country Safari", an attraction consisting of a large variety of African animals that are free roaming.  The park also had a campground.  The campground at Lion Country Safari was not crowded that evening.
It was wild, really!  There were lots of lions, zebras, and many other species lounged beside the roadways as we drove through.  Unlike the Animal Kingdom where the critters are life-like, these critters were full of life.  At night, in the truck camper, in the campsite, the lions roared and burped.  There was chattering and screaming, chuckles and chirps until the wee hours.
Skip's Tip #7: All along the ways we have traveled, Cassie Anna has collected both enameled pins and squashed pennies.  We have all enjoyed these mementos.  They are worn, traded (a great way to meet new friends) and saved to recall a time or place.  Disney has great pins sold at all the venues.  The kids wear them on ribbons and swap and chat about them.  By far the beat pins we have discovered in our travels are from Wm Spear Design in Juneau, Alaska (www,wmspear,com).  We buy their pins as presents and they are well received and take up little space.  You will notice that the federal parks and many other attractions have them.
As we strolled enjoying the sounds of an African evening, we met some fellow truck campers returning from the Florida Keys.  They recommended that we talk to some of the smaller privately owned resorts.  They had dry camped for several weeks beside the water at privately owned resort for cheap.  This would soon prove to be an incredible tip.
After breakfast the following morning, we drove through the safari park again.  We were told the lions were well fed which is why they don't eat the antelope and other animals.  Even so, we kept our windows rolled up tight!
Southbound again, we stayed on the Florida Turnpike toll road, avoiding I-95 and the always heavy traffic of South Florida.  By this point, we were well west of the heavily populated urban centers of Fort Lauderdale and Miami.  At 3:00pm, we checked in to John Pennekamp Coral Reef State Park on Key Largo.  We had no reservations but were able to get in on a cancellation.  That would become a frequent occurrence.  We never failed to find a place in the many state parks dotting the Keys, with one exception.
In the morning we had one of the most memorable times of this or any other adventure. Cassie Anna swam and played with dolphins at Dolphin Cove in Key Largo.  This is not the usual dolphin show.  For a fee, you may swim and interact with dolphins.  In a large cove fenced off from the sea are about a dozen adult, juvenile, and baby bottle-nosed Atlantic dolphins.  With close supervision, we watched and photographed Cassie Anna swim with, be towed by, kiss, and snuggle with these magnificent creatures.
On alternating days the dolphins swim with tourists and then act as therapy animals, mostly with children.  The therapy offered to both those with a medical need and those without, is permanent and very, very good for the spirit.
Fishing Bridge Boondocking
There are two bridges connecting each island in the Florida Keys, an old bridge, and a new bridge.  The old bridges are now fishing bridges.  Each old bridge has a parking lot for the fisherman who often fish from these bridges all night.
It is well know that most, if not all, truck camper owners love both fishing and sleeping, at night.  Both of these activities can be pursued on and from the parking lots of the old bridges.  We have spent many such times and never been disturbed, a boondocking bonus of truck camper operation.  When not actively engaged in fishing, we lean a rod against the ladder by the back door.
We had been warned that Marathon Key could be a difficult place to find a good camping spot summer or winter.  I had made an, unusual for us, reservation at a commercial campground.  We arrived at check-in to find row upon row of giant diesel pusher RVs packed so close that they could either have their slide-outs deployed or their awnings out, but not both.  This was not our idea of living free.  We were able to let our reservation go to another, without the loss of the deposit.  The charge in this park was more than $100 per night, the deposit substantial.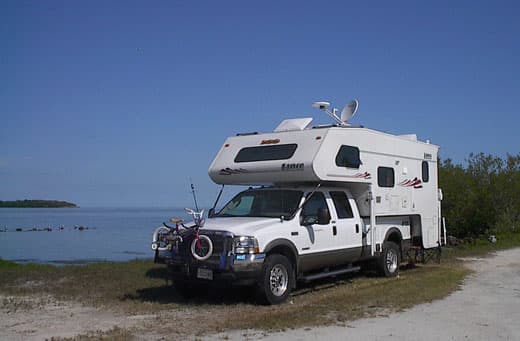 Above: Linda and Skip's rig at their dry camping spot in Marathon
After talking to several resorts, we found a resort that accepted our request to dry camp on their property.  The resort grounds looked like something you would find in the Bahamas.  Ten or twelve cinder block cabins.  A utility building is set off on the side and a small manager's apartment overlook a pool carved from the coral rock which is filled and renewed by the tidal flow.
A brief negotiation set a weekly rate.  For one week, we parked at the water's edge, with no hookups, for the daily rate of the RV campground.  We were able to dump at a pipe behind one of the cabins.  Free washers and dryers were included, as was water.  We stayed for a month, and came and went as we explored and fished on the adjacent Keys.
Unfortunately, the resort where we stayed is no longer in business.  There are many small resorts scattered throughout the Keys similar to resort we stayed at.  I'm sure an arrangement could be worked out with some of these resorts (or hotels, motels, marinas, etc.) to accommodate our flexible truck campers.  It sure doesn't hurt to ask, or to apply the Zen Technique to cause a pleasant result.
Key West is an interesting island.  It is difficult to get around in an RV, even in our truck camper, as the streets are narrow, and parking is sparse.  In contrast, Marathon had everything we needed, stores for groceries, hardware, and tourist stuff.  We rented a skiff for snorkeling and stayed a few nights at Bahia Honda State Park where Cassie had some playmates.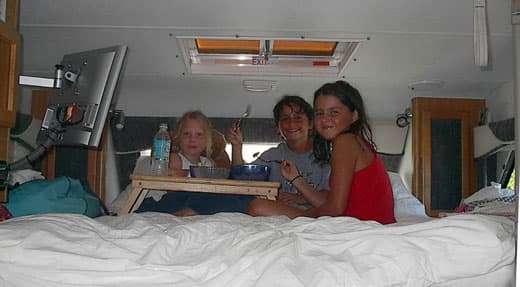 Above: Cassie Anna and her new Florida friends in the Keys
Cassie Anna was painting pictures, writing poetry, and in and out of the water like a little seal.  She had met a girl, her age, traveling in a rental RV, who was from Paris, France.  They were inseparable, sharing their different experiences and interests.
We had the majority of our meals on board.  We showed Cassie Anna how to prepare some our many recipes gleaned from the far corners we have traveled by land and by sea.  Planning and preparing the meals as we travel is one of our great pleasures.  Using locally grown and caught food is healthy and delicious.  Cassie Anna was up for trying just about anything.  We dined out perhaps once a week.  At the restaurants, the rule was to try to have something we had never before eaten.  One restaurant meal was just about as costly as a week of home truck camper cooked food was for us.
Skip's Tip #8: Our whole crew loves to cook.  The cooking implements including the oven, range top, microwave, gas grill, and electric frying pan are put to work depending on weather and the recipes.  A four quart pressure cooker has been a very useful device.  It saves on cooking fuel and does soups and stews and lots of other concoctions, quickly and thoroughly.  The electric fry pan comes in handy to do bacon, crab cakes, or anything that splatters.  It can placed it outside on a little aluminum folding table and plugged in under the slide-out.  We often use the outside shower hose, with the little table and a dish drainer, to clean everything up outside.
Homeward Bound, Walmart by Walmart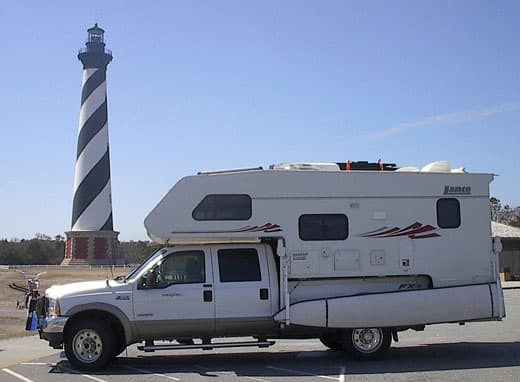 Above: Linda and Skip's rig in North Carolina on the return trip
As our departure time drew near, we decided to stay as long as possible in the Keys and then hotfoot it home, stopping only to rest.  We spent three days and two nights on the return course.  Walmart parking lots were spaced conveniently for early stops and early departures.  Cassie Anna passed the days with her "Jump Start" computer learning program, switching to our broadband connection to locate the best fuel prices as we traveled north.
We had deposited large sums in our memory banks.  Each of us to this day remembers and refers to our Florida, Disney World, and Florida Keys adventure.  Travel, we say, is the University Without Walls.  That summer was unforgettable!