14 experienced truck campers reveal where to go, what to see, and where to camp in Ouray, Silverton, Durango, and the Million Dollar Highway.  The incredible off-road opportunities alone make this Southwest Colorado destination an absolute must.  All aboard!

There are two areas in the United States that Angela and I return to again and again during specific times of the year; Florida in the winter, and the Four Corners region in the Fall.  If you haven't put either of these destinations on your truck camping bucket list yet, do it now.
Florida in the winter requires months-ahead planning and often expensive campground reservations, but is truly truck camping paradise from November through March.  If nothing else, join fellow truck campers at the Florida Flywheelers in Fort Meade in late February.  That annual event and truck camper gathering is a must attend.
In contrast, the Four Corners area is full of free BLM camping opportunities and offers seemingly endless natural wonders to hike, explore, and photograph.  Put another way, it would be a mistake to consider the Four Corners as anything less than a major destination that could easily fill a month or two with some of the best experiences possible in a truck camper.
For this destination article, we examine just one quarter of the Four Corner opportunity; the San Juan Skyway.  Designated as an All-American Road in 1996, the San Juan Skyway is a 233 mile loop that includes the historic towns of Ouray, Silverton, Durango, Mancos, Dolores, Stoner, Rico, Telluride, and Ridgway.
Along this route you'll take in some of the most beautiful mountain, river, and wilderness views the United States has to offer.  Just be sure to hang on to that steering wheel as you gawk at the San Juan Mountains.  US Highway 550 (aka the Million Dollar Highway) between Ouray and Silverton is just a touch terrifying with its steep and guardrail-less sides.  Honestly, it's not that bad, and the waterfalls and mining ruins along the way make the journey a truck camping favorite.  You must go!
Dan Sundt
2005 Chevrolet 2500HD
2003 Hallmark Ute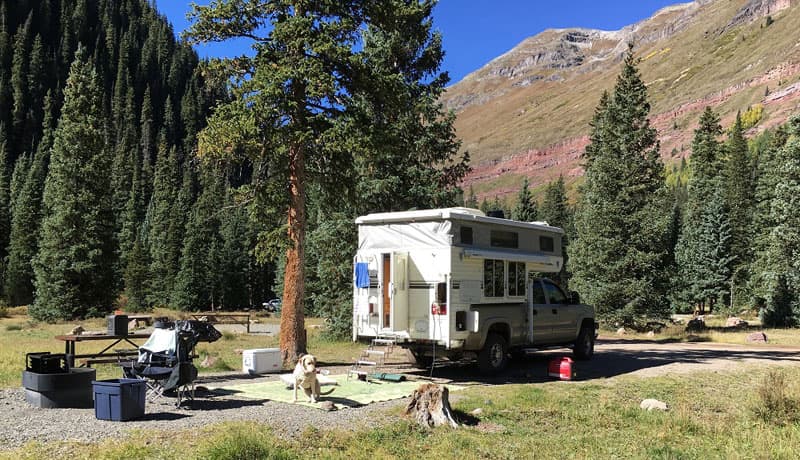 We have camped several times at South Mineral Creek, which is a Forest Service campground outside of Silverton.  It's a beautiful campground with the South Mineral Creek running alongside it.
South Mineral Creek is at the end of a dirt road.  There's a trailhead there for the hike to Ice Lake.  Going to the lake is a strenuous three and a half mile hike that takes you above the timber line around 12,000 feet.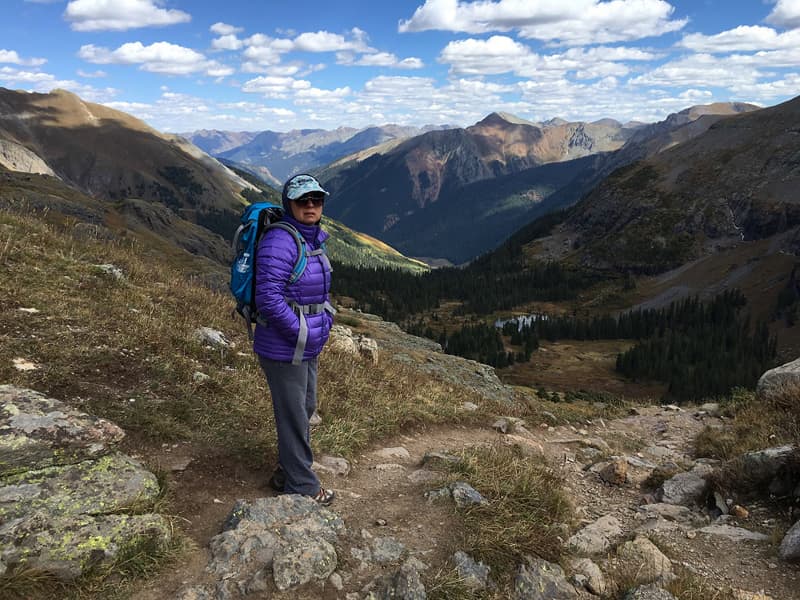 If you're going to hike to Ice Lake you will need a good pair of hiking boots and don't forget a camera.  The views are incredible!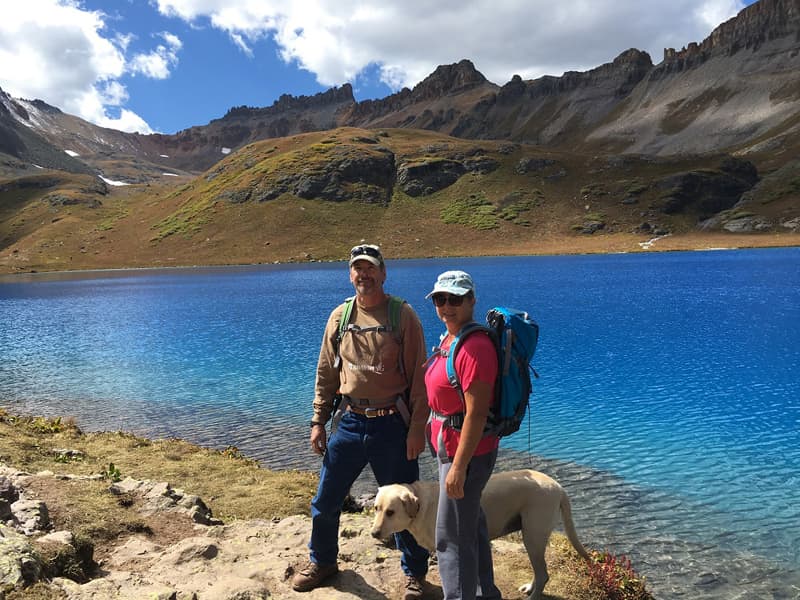 When we were at South Mineral Creek last year, we saw two moose while driving up to the campground.  I had never seen moose in southwest Colorado before.  That was an added bonus.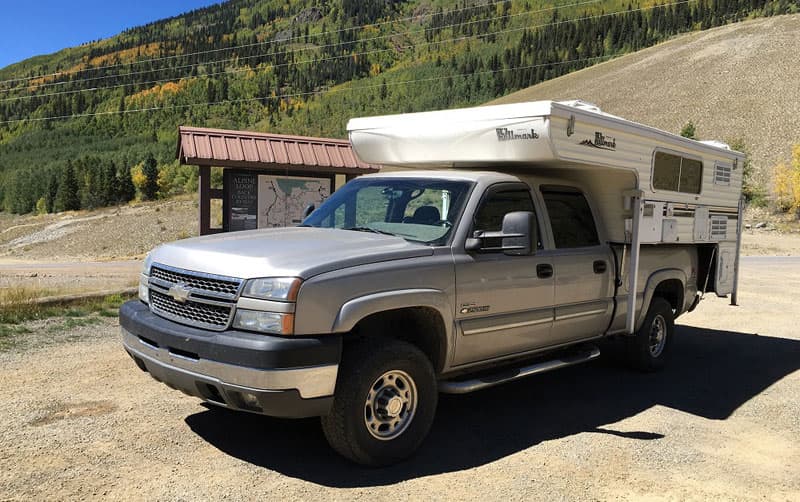 The campground is only about five miles outside of Silverton off of Highway 550 on the way to Red Mountain Pass and Ouray, Colorado – another beautiful place!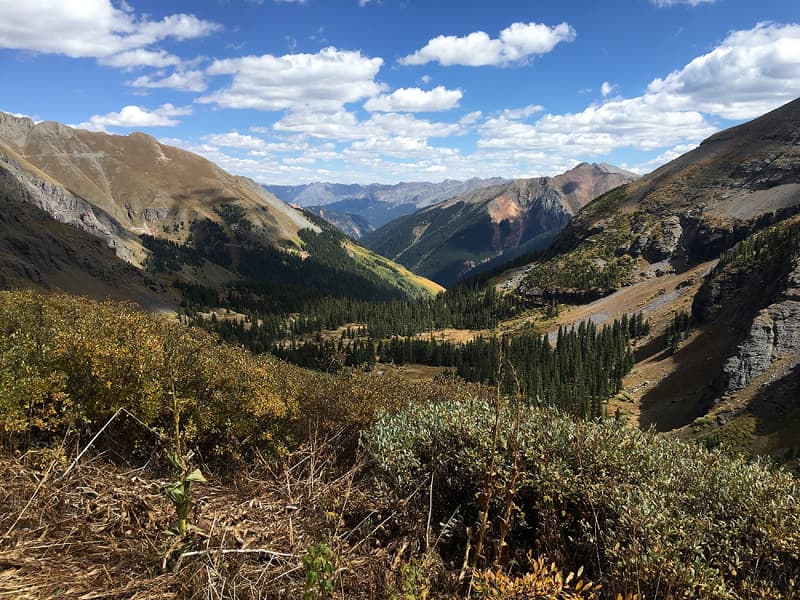 All the old mining buildings and mines alongside Red Mountain pass between Silverton and Ouray are a time capsule of the past and a great history lesson.
Rick Hermanns
2002 Chevy Silverado 2500HD
2006 Travel Lite 960 RX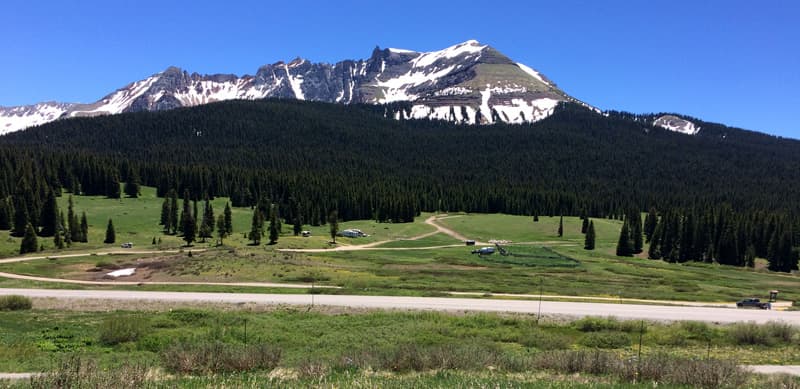 Go to Lizard Head Pass!  The hiking is spectacular and you can turn around when you are breathless from the elevation.  We pulled our Honda ST1300 sport touring motorcycle so we rode the parkway on the bike.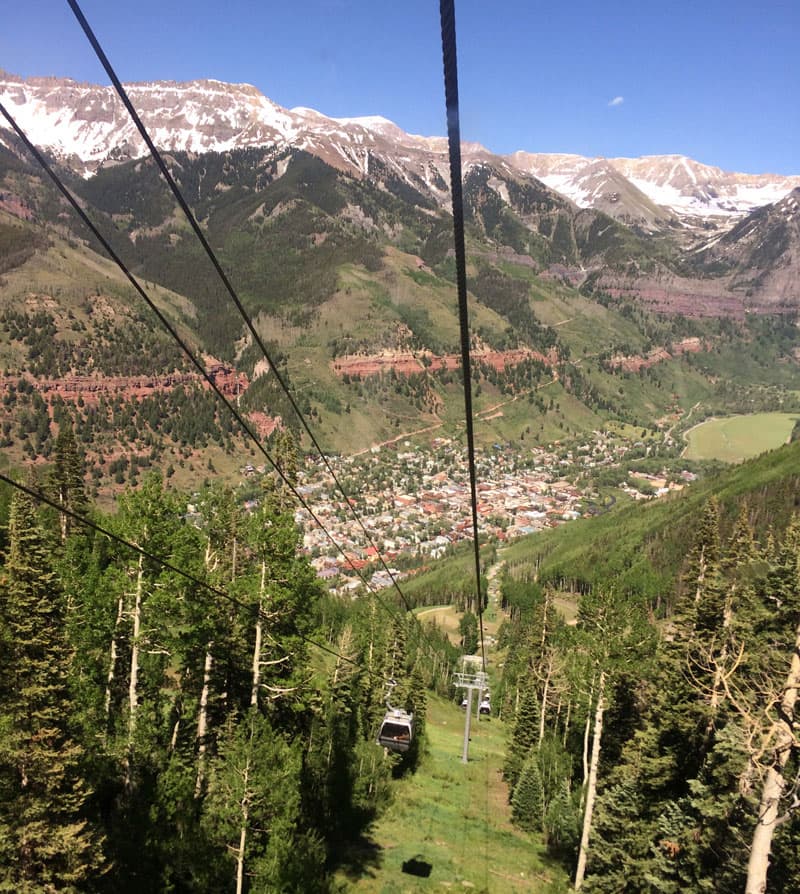 Above: Free gondola in Telluride
Telluride is also worth a visit.  Take the free gondola down from Mountain Village so that you avoid driving in Telluride.  Many summer festivals are held there.  We went to the Telluride Bluegrass Festival, which was the best time.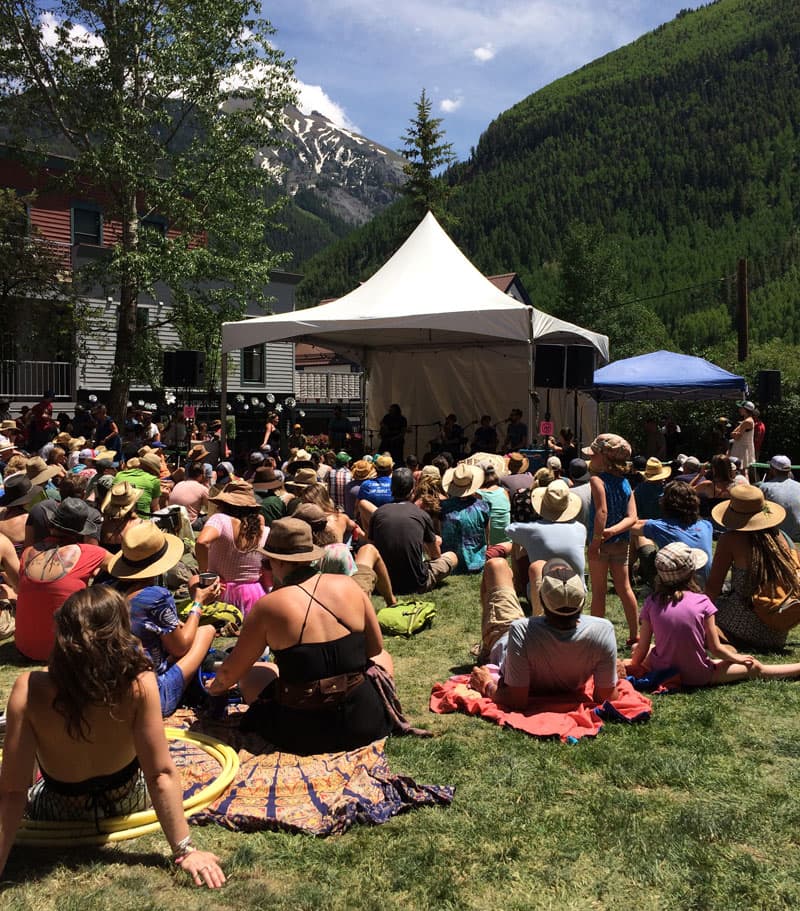 The Million Dollar Highway from Ouray to Silverton is one not to miss.  Amazingly, there was a bike road race over the highway when we were there.  Watching the cyclists climb to 10,000+ feet over the mountain was something else.
The waterfalls flowing out of the mountains are stunning.  Ouray and Silverton are distinctly different, and both are great little mining towns.  Lunch at the Handlebars Restaurant and Saloon was a treat in Silverton.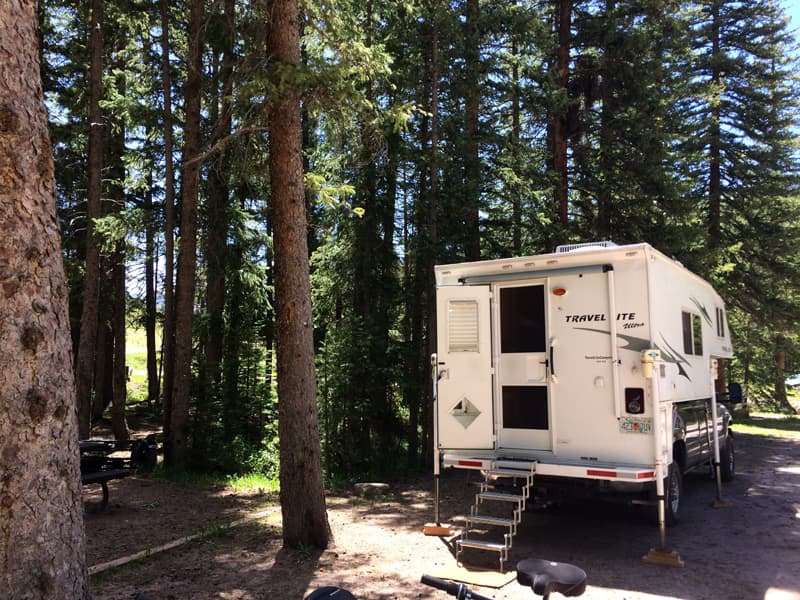 We stayed at Cayton Campground in Rico, Colorado.  Located in the San Juan National Forest, it's a stunningly beautiful campground with the Dolores River running right through.
Cayton Campground is remote with limited amenities.  There is electric, but no sewer or water at the campsites.  Drinkable water is available at both bathrooms.  The bathrooms have vault toilets and no showers.
There is no cell phone or internet there.  We would go to the town of Rico for cell service and the little library in Rico has internet service.  The scenery is spectacular and the hiking is plentiful, but the elevation makes hiking strenuous.
Don't miss Mesa Verde National Park in Cortez.  Definitely spend a day there.  The archaeological museum in Mesa Verde was a highlight for us.  It was definitely one of our favorite stops on our eight week trip to the four corners area.  Go!
Todd Harps
2003 Dodge 3500
2004 Bigfoot 10.6
Pretty much everything is truly fascinating in this area, but there are a few slightly off the main track highlights.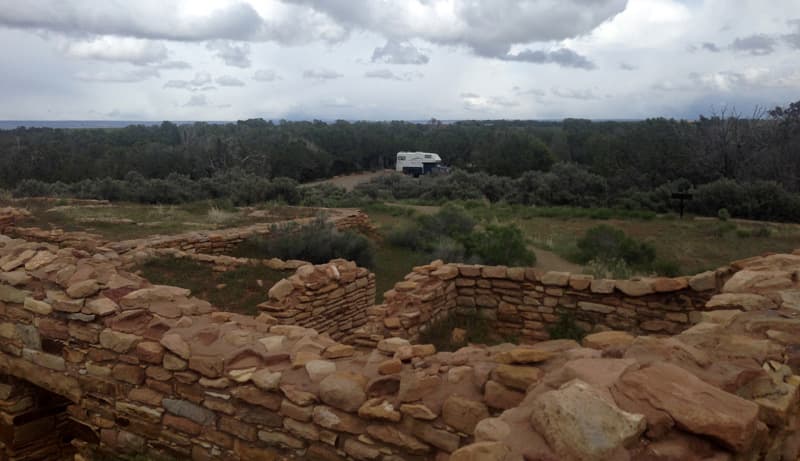 Above: Lowry Pueblo
I recommend going to the upper and lower areas of Lowry Pueblo and Sand Canyon Pueblo.  There is an excellent hike to multiple small towers and ruins from the lower trailhead on McElmo River Trailhead.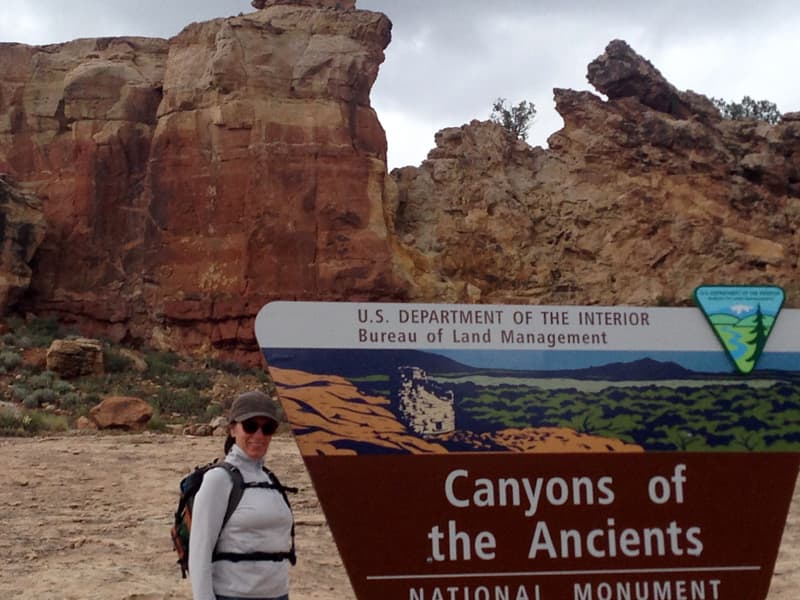 Above: Sand Canyon Lower Hike
The upper main Pueblo (accessed from north of Cortez) is still mostly buried remains of a huge (420 rooms, 100 Kivas and 14 towers) structure.  It's well worth the wander, and the major vibe my wife and I experienced during our walk there.  There was a mellow, timeless pause among the ruins.
Olio in Mancos is a phenomenal intimate restaurant with world class food!  The Rustico Restaurant in Telluride is also wonderful.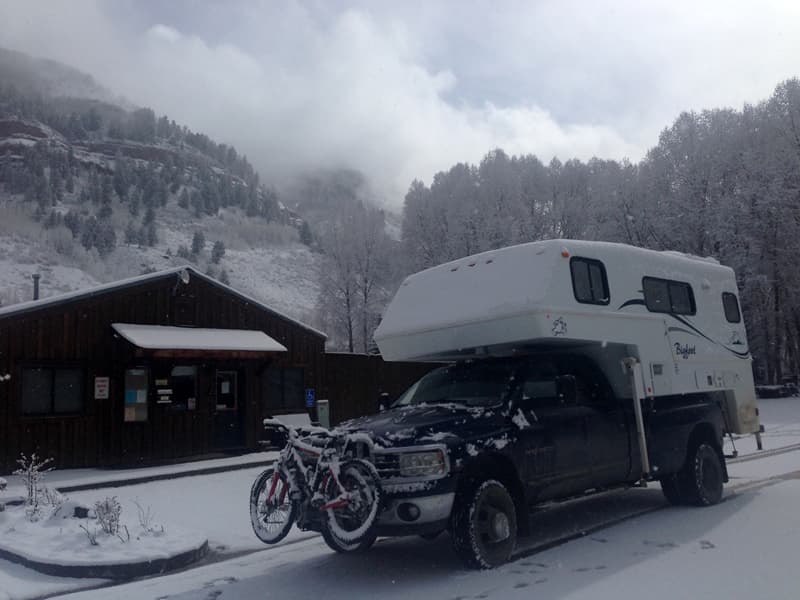 Above: Telluride in May
In Telluride, Westinghouse worked with Nikola Tesla's discovery of alternating electrical current to run almost 2.5 miles of power line from a hydroelectric plant in Ames to the Gold King Mine.  Eventually, power those lines would be brought into town, and Telluride would become the first town in the country to be powered with alternating current electric power.  Don't miss the Bridal Veils Powerhouse above town.
Tim Nugent
2005 Ford F350
2011 Palomino 1500
Clear Lake is situated between Silverton and Durango.  It is accessible only with four-wheel drive, but its well worth the trip.  It's located off of County Road 20, above South Mineral Creek Campground.  Primitive camping is available at Clear Lake with fantastic views, hiking trails, abandoned mines, and trout fishing in the lake and streams.
Aside from primitive camping at Clear Lake, there is great backpacking opportunities at Ice Lake, Highland Mary Lake, and several other places in the area.  South Mineral Creek Campground is a place I camped with my family when I was a kid and have taken my wife and kids there several times as well.
Between Durango and Silverton there are three lakes that you can camp at as well.  It is mostly primitive camping but one of the lakes has some improved areas.  Those lakes are Andrews Lake, Molas Lake and Little Molas Lake.
Since I was a little boy, the Hot Springs at Ouray were a must stop when ever we were in Southwest Colorado.  Swimming in a pool fed by hot springs is something everyone should try at least once.  It's very relaxing, and lots of fun too.
Mesa Verde National Park is located in between Mancos and Cortez.  The Pueblo Indians inhabited this area and established a community constructed along the cliffs.  Go there for great historical information, fantastic scenery, and lots of family fun.
Jesse and Kathy Taylor
2006 Sierra 2500 HD
In between truck campers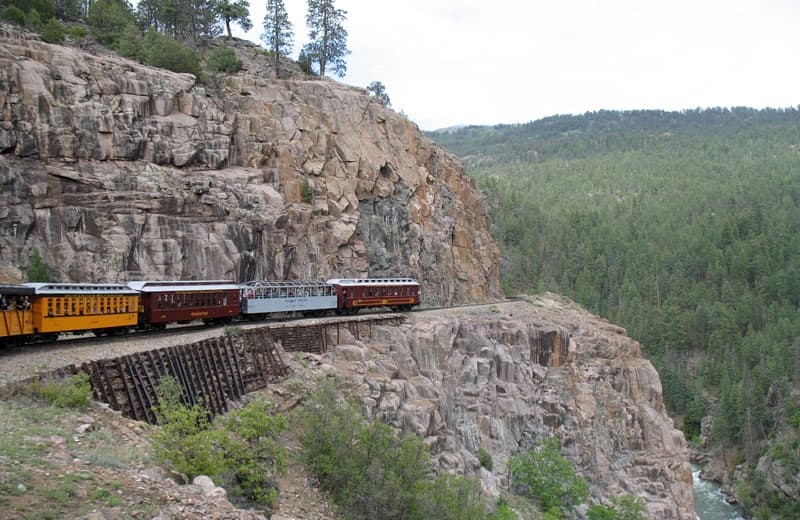 We stayed at the United Campground on the northern edge of Durango and had the pleasure of seeing the Durango-Silverton steam train chug through the campground and past our campsite twice a day.
We took the free shuttle trolley bus into town and stopped for a wonderful breakfast at Jean Pierre Bakery and French restaurant.  After breakfast, we grabbed a raspberry croissant to go and took the train to Silverton.
The train ride up and back was fantastic.  Don't worry about assigned seating as the train turns around at Silverton and you get the other view on the way back down.
Here are some suggestions:
1. If you take the open converted flat-bed car with sunroof, purchase the plastic wrap-around eye protectors for the engine coal soot.
2. Get the endless supply of coffee, soda, and water in the insulated souvenir drinking mug in the refreshment car.  Sorry, no alcohol on board.
3. Seats are not held for your trip back.  Tour buses take people up and they ride the train back down.  Don't let them grab your seat at the turnaround in Silverton!
4. United Campground has a stop right at the entrance to the campground.
5. The train has two units going up in the morning and two return trips in the afternoon.  If I may suggest, take the free shuttle bus into town, eat at Pierre's, and then walk the three or four blocks to the second train.
In Dolores visit the Goose train in town and then have a Mexican lunch at a local restaurant within walking distance of the Goose.  I can't remember the restaurant's name.  I just remember the copious amount of food for the cheap price.
Rick Johnson
2004 Ford F350
2007 Lance 1181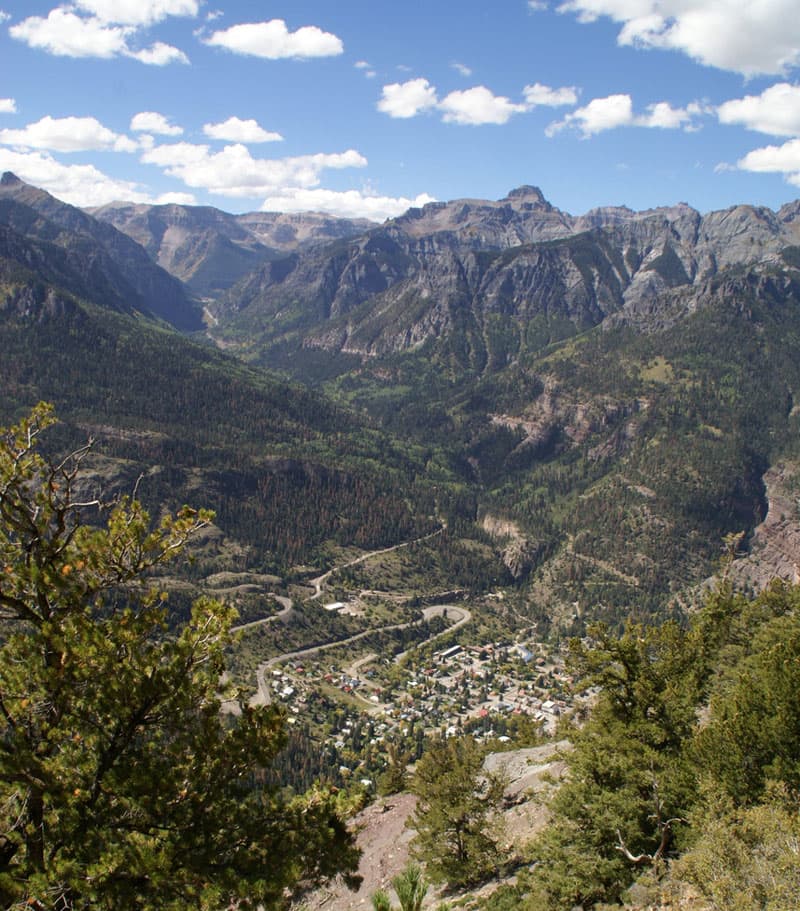 Above: The view of Ouray from the Amphitheater Campground
The peak fall colors in this area are usually from September 20th through the 30th.  It's our first choice for fall colors in The Southwest.   The Million Dollar Highway from Ouray to Durango has three high passes that are spectacular at that time of year.  The town of Silverton at the end of the narrow gauge railroad is a bonus.
The train from Durango to Silverton should be on everybody's lifetime bucket list. It is not to be missed!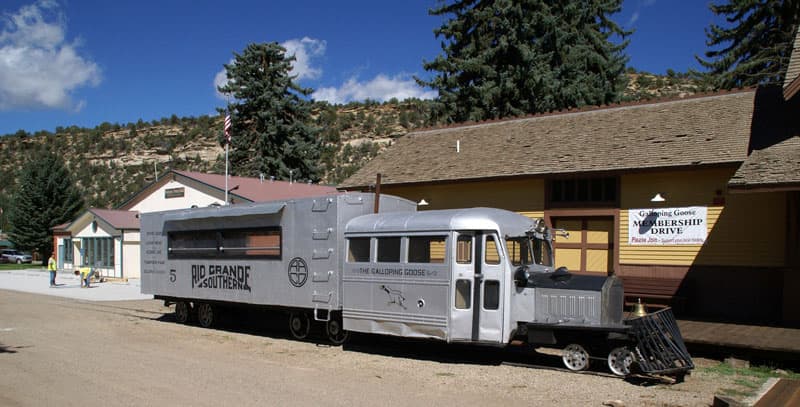 Above: The Galloping Goose in Dolores, Colorado
Forest Road 38 northeast of Dolores has several campgrounds.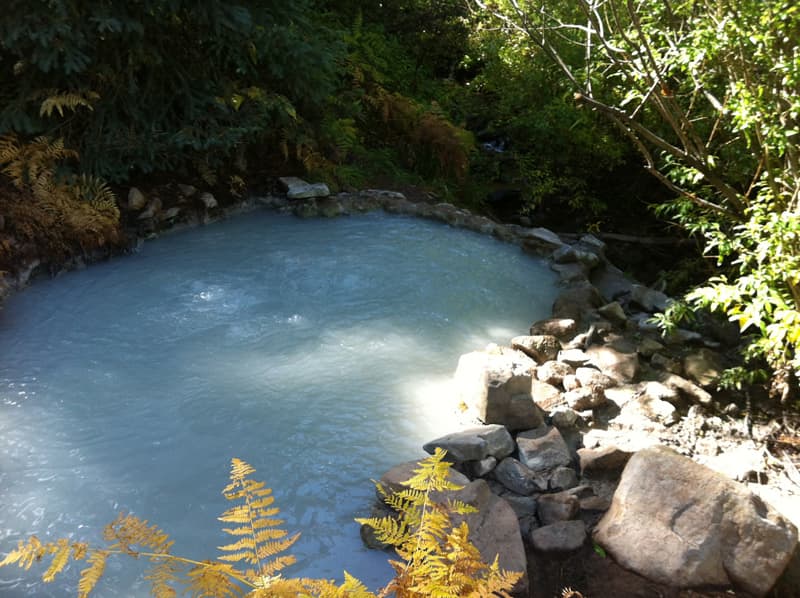 Above: Take the hike to Geyser Warm Springs (no bathing).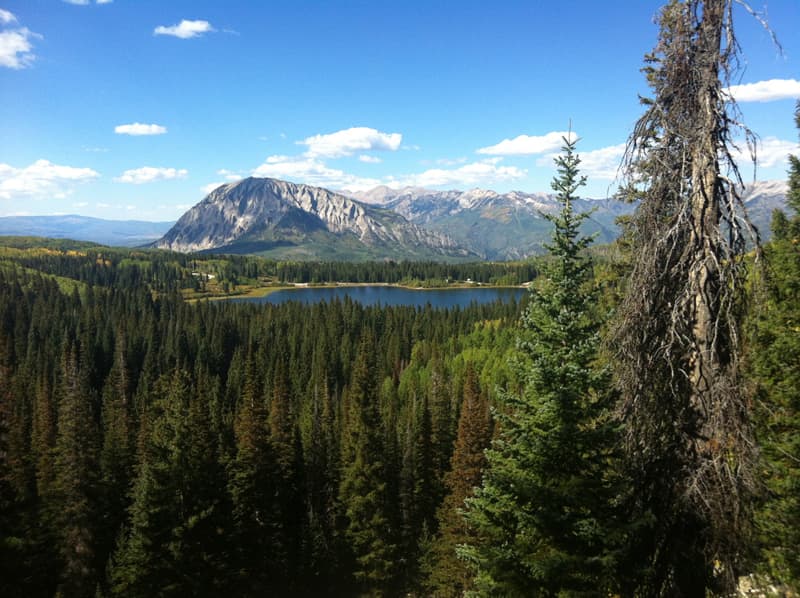 Above: Woods Lake, west of Telluride
Good campgrounds are Burro Bridge Campground, Woods Lake Campground, and Ouray's Amphitheater Campground.  It is high above the town and very popular.  You must arrive early to get a spot.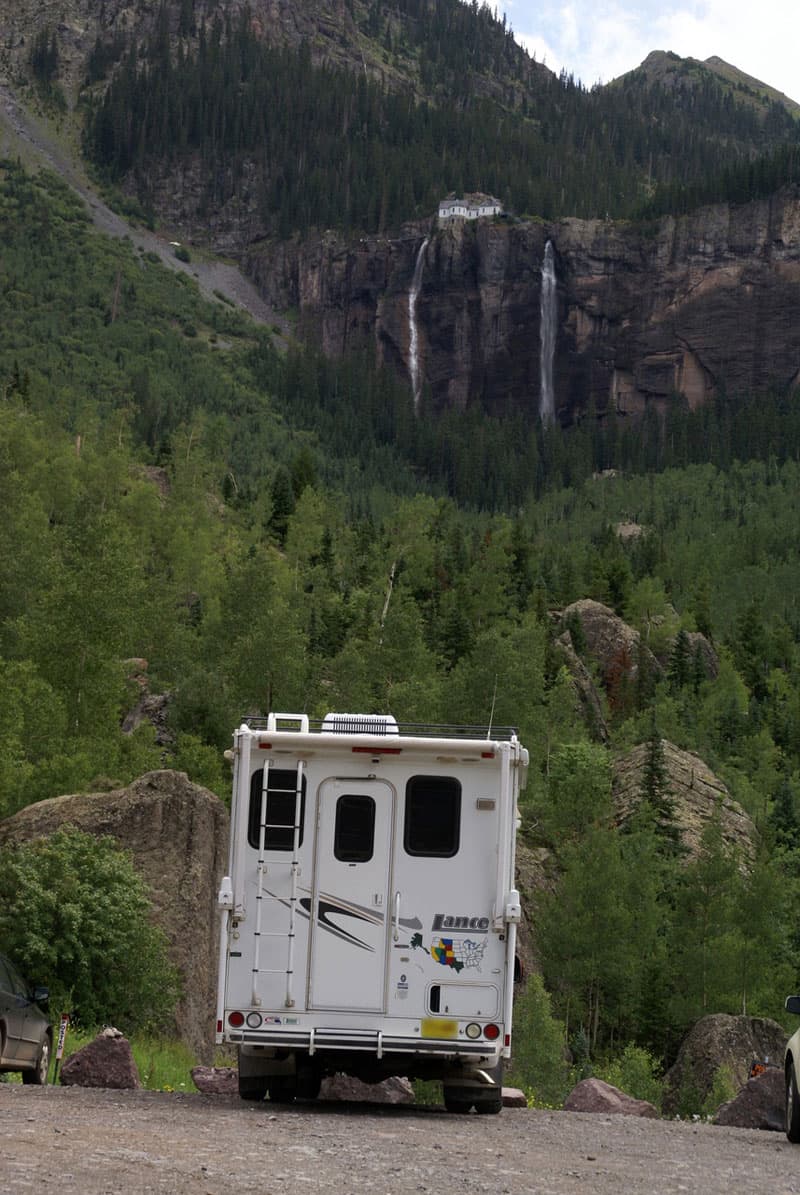 Above: Bridal Veil Falls just outside Telluride, Colorado
South of Telluride I recommend Matterhorn Campground and Sunshine Campground. Both are Forest Service Campgrounds.  Full prices range from $10 to $18 depending upon popularity.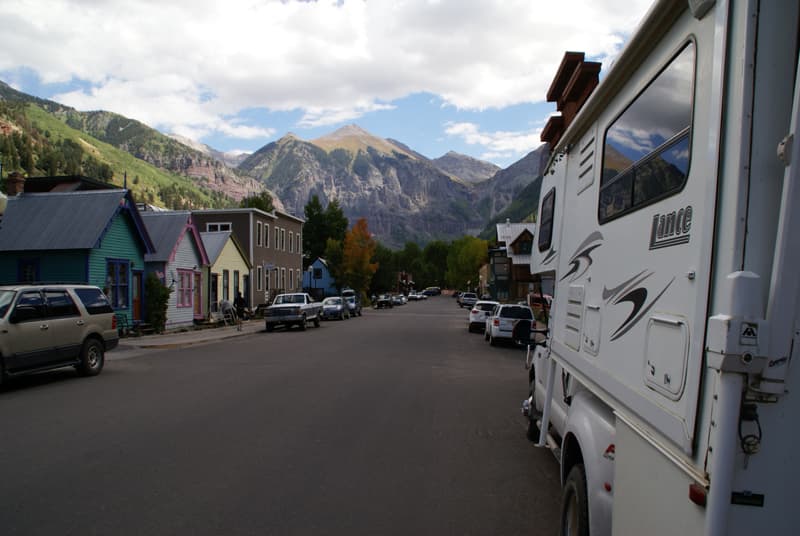 We have also enjoyed Black Canyon of the Gunnison.  Lake City and the Alpine Loop over Cinnamon and Engineer Passes are for Jeeps and ATVs.  Further east you can go over Slumgullion Pass and Spring Creek Pass to Creede and South Fork.  Also, I recommend visiting the Crested Butte area and the the town of Saguache in the North Pass area.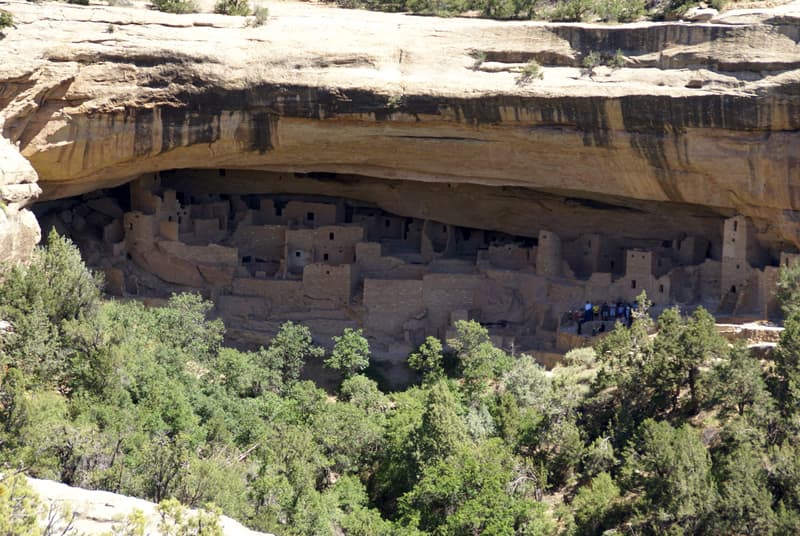 There are literally tons of places to visit.  Also, the crowds from the east slope of the Rockies never seem to make it there.
Bring your camera!
Bill Strickland
1996 Ford F250
1999 Lance 845
I have been to this area at least 12 of my 18 trips out west.  I also take a trail motorcycle to explore many side roads from nearly every town.
The Durango and Silverton railway has great photo opportunities.  I recommend that you ride in the last car on the eastern side, which is the right side if you are leaving from Durango.  You will have the mountains on your left and the great scenery is on your right.  During the turns you can photograph most all of the train and scenery.  The train stops in the middle of town in Silverton.
While you are in Silverton, be sure to roam the full length of main street and the next street to the south.  You can later take the trip from Silverton to Ouray and then to Telluride in your vehicle.
Going in a clockwise direction on this loop will be more reassuring to those unfamiliar with cliff roads as the mountains mostly are on your right.  There are no shoulders on lots of the roads and no guard rails, and straight drop offs on the western side.
Be sure to stop at every opportunity for photos.  Notice all the old mines across the canyon.  It's a great loop!
Go on a walking tour of Ouray and Telluride.  Many old homes and stores/saloons are preserved.  The road from Silverton to Ouray was once a toll road with the toll gate about half way up.
At one time, the local indians raided Ouray and were chased south toward Silverton.  The US Army gave chase.  At the toll gate, the operator let the Indians through.  When the Army got there he closed the gate, demanding the toll.  The army's leader asked why he let the Indians through with no toll.  The gateman said they are not citizens so he let them through.  The army didn't have the toll so they had to turn back!
There are several campgrounds in and around these areas.  Most are nice.  I have nothing negative to say about any of them.
All of this area is at high altitude.  Walk carefully and slowly.  You can get out of breath and balance quickly.  Take along plenty of water and snacks if you hike.
Leather boots are a must if you plan to preserve your feet and ankles.  You will be walking on loose and sharp rocks in most places.
Take your binoculars and a camera with a telephoto lens.  There is lots of wildlife along the way.  Take your time and talk to the locals for friendly advice.  The resident hiking shops can help you.  There are many interesting side trips, homes, mines, and abandoned railroads to hike, mountain bike, or trail motorcycle. I've never had enough of this area.
I have 80 to 100 small paperback books from each state I visit including Montana, Wyoming, Colorado, Arizona, Nevada, and South Dakota.  These books have lots of informative stories and photos.  There are so many beautiful uninhabited towns, mines, waterfalls, and streams.  Most people go to the tourist areas and miss the most beautiful spots.
Bob Devantery
2014 GMC 3500
2012 Lance 1050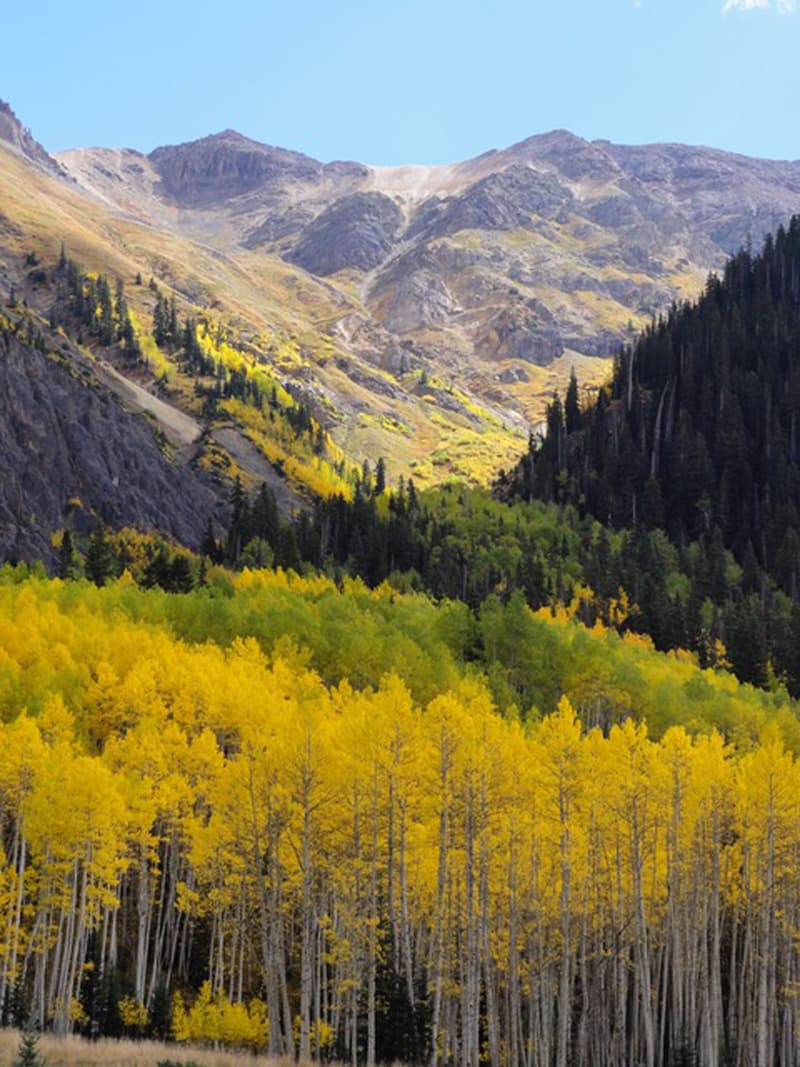 I am from the New Hampshire and always thought my beautiful multi-colored maple trees were the best for color, but I now realize the aspens are just as beautiful.  We enjoyed Red Mountain Pass and the beautiful Aspen trees.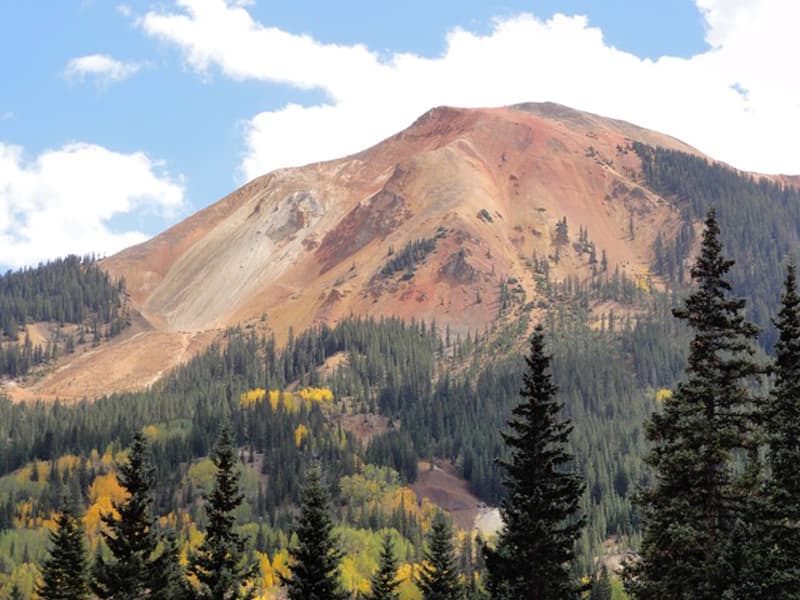 I recommend hiking to the waterfall in Ouray.  It is called Box Canyon Park.  It is a short walk at the beginning of the Million Dollar Highway in Ouray as you are leaving heading to Silverton.  There is a staircase down to the bottom of the box canyon.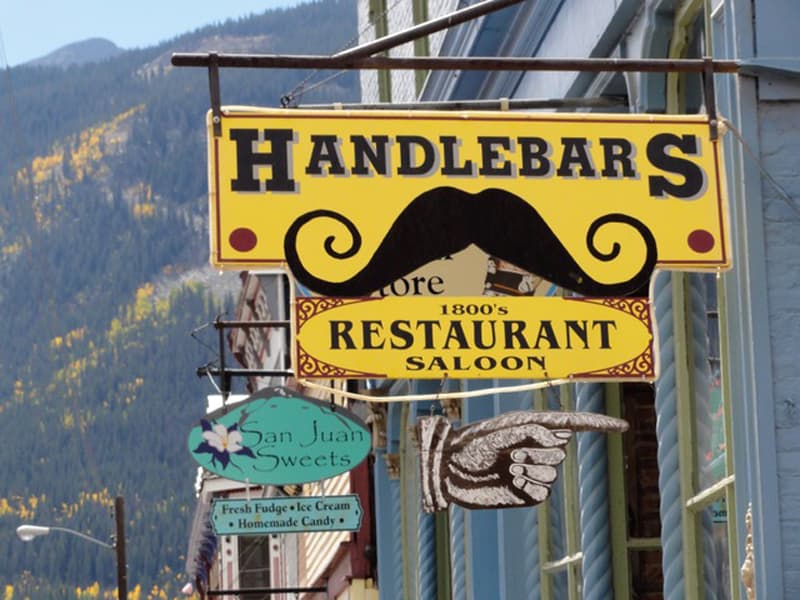 We recommend Handlebars Restaurant and Saloon.  It is the best place to eat in Silverton.  There are lots of stuff hanging from the walls and ceilings.
David Weinstein
1999 Ram 3500
2005 Arctic Fox 1150
Without a doubt, the scenery is great throughout the San Juan Skyway.  The town of Ouray leads to the most spectacular road to Silverton.  Then when you get to Silverton, take the Durango and Silverton Narrow Gauge Railroad Train and enjoy the trip without driving.  The layover for lunch in Silverton is just great.
Bob Lick
2003 Dodge 3500
1993 Alpenlite 11'6″
The Ouray Jeep Jamboree is a lot of fun.  You must have a Jeep to attend.  This year it is the weekend of September 14th to 16th and is already sold out.  Keep an eye out ahead of time to get tickets.  We had a lot of fun when we did it.
The Durango-Silverton train ride is something not to miss.
Wayne McDaniel    
No truck/camper at this time
The area from Durango to Ridgway, Colorado is one of dramatic mountain beauty.  The unpaved roads through the mountains were cut by miners searching for gold and silver a hundred years ago.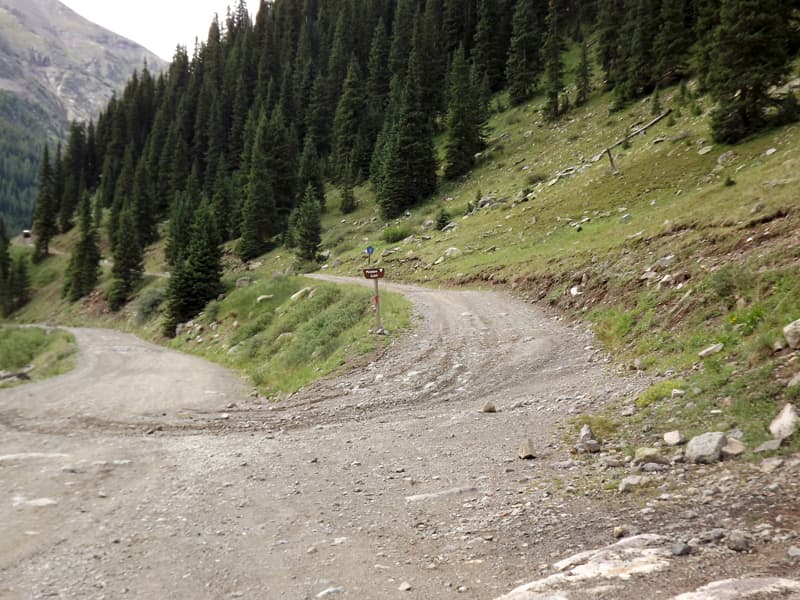 Above: Road to Picayune Gulch approaching Animas Forks
Today those roads provide access through dramatic beauty for Jeeps, dirt bikes, and ATVs.  Going up and over the unpaved roads is not for heavy truck campers.
Easy access to two great campgrounds are a short distance outside of Silverton at 9,318 feet.  Just north of Silverton on the west side of the highway leading to Ouray is South Mineral campground.  There are undeveloped campsites without charge, and a developed campground.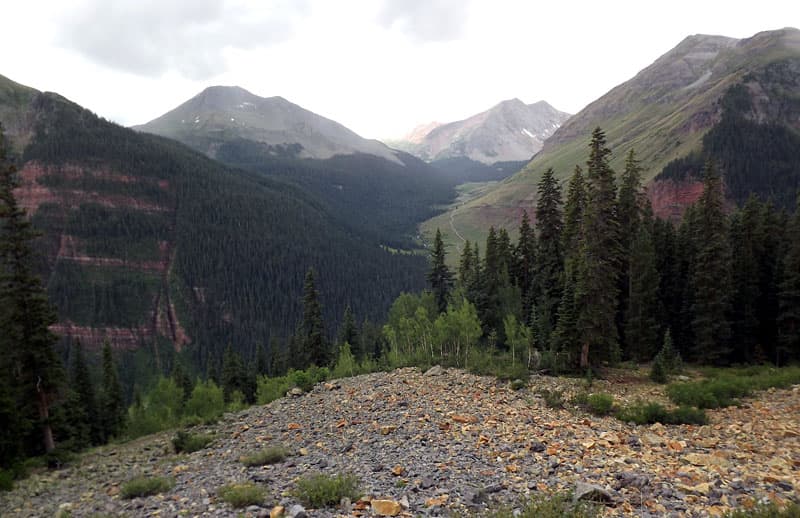 Above: View of Valley from Clear Lake Road
The dirt road up to Clear Lake offers a great view of the valley to the west, and the lake offers fishing and alpine beauty above the tree line.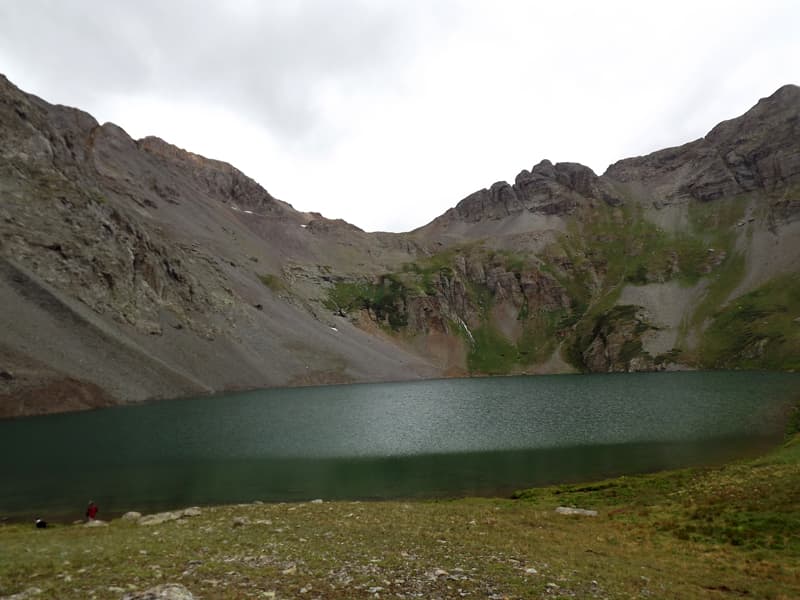 Above: Clear Lake
About 8 to 10 miles east of Silverton is Eureka at 10,000 feet.  There is a large undeveloped area just before the road crosses the river and heads up to the remnants of Animas Forks, perhaps the most photographed ghost town in Colorado.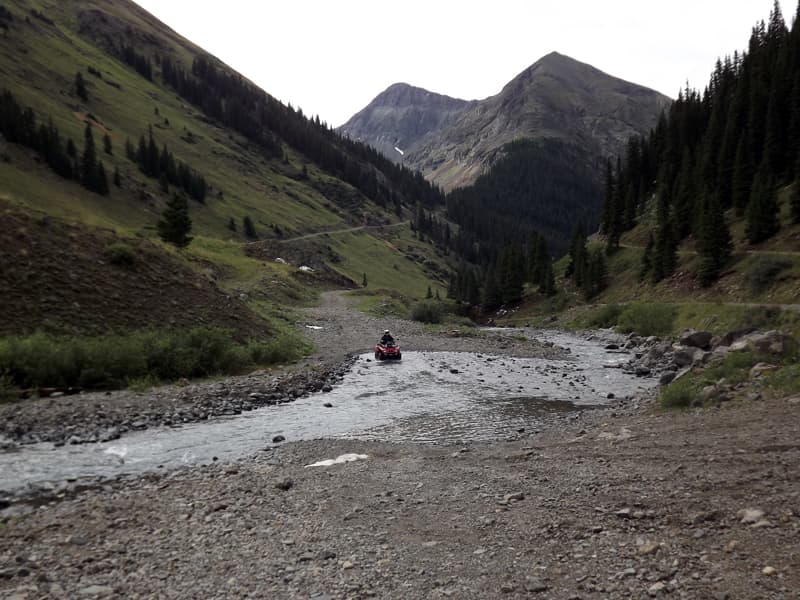 Above: Approaching Animas Forks from Eureka
This large area is suitable even for motorhomes and was transferred to private ownership through a government land swap about six years ago.  The site went from free to $10 a night.  I suspect since then some amenities have been added and the price has been raised.
This is the best site to launch from with an off-road vehicle (not a heavy truck camper) to go over either of two passes that lead to Lake City.  Lake City is a quaint little town with beautiful Lake San Cristobal just south of it.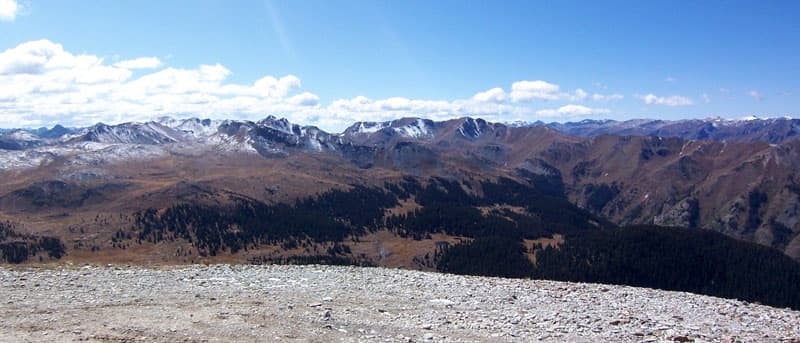 Above: Engineer Point looking down on Mineral Point
You can make the entire loop from Eureka to Lake City and back in a day.  Four wheel drive is needed in one or two places over Cinnamon Pass at 13,000 feet, or Engineer Pass at 12,800 feet.  The view from Engineer Point looking down on Mineral Point, just west of the pass marker, is truly dramatic.  By taking Engineer Pass you will come to the remnants of Capital City before you reach Lake City.
At Capital, take the road uphill to the left.  It will lead up beside North Henson Creek.  Years ago you could take a dirt bike through a bog, up to dramatic table land – American Flats.  Now you will come to a locked gate, but less than 100 yards back, you can pull off the road at a sweeping switchback and hike uphill to the Flats above.  The elevation at the switchback is about 11,000 feet.  On top, the terrain of American Flats can bring to mind the beauty of scenes from The Sound of Music.
Another road leading to impressive beauty is Last Dollar Road, just west of Telluride. This is another road suited for off-road vehicles.  Last Dollar goes over the end of a mountain and comes out some miles west of Ridgeway.  Near the crest of Last Dollar is a small area of Aspens that has a south view to Mt. Wilson and Wilson Peak, which is dramatic.
Getting back on the blacktop at the north end, head east to Ridgway.  After a few miles you will come to two or three dirt roads on the right; West Dallas Road, Dallas Road, and East Dallas Road.  Up (I think) East Dallas, you will quickly come to a ranch header for the Double RL ranch.  It is the 17,000 acres owned by Ralph Lauren and his wife Ricky.  The ranch was featured in Architectural Digest magazine over ten years ago.
The sign at the header says, "Private land, stay on road next seven miles."  In less than seven miles you will come to a sign saying entering Uncompahgre National Forest.  The road becomes steeper at that point, and I have not taken it to the end.
I have been in San Juans from March through early October over a number of years and have appreciated their beauty every time.
Paul Roberson
2014 Ford F350
1988 Lance 980
We worked for four winters at Durango Mountain resort and skied Purgatory and Telluride many times.  We have traveled the San Juan Skyway loop several times at different times of the year.  Red Mountain Pass is a gorgeous drive, though somewhat treacherous due to the mountain switchbacks.
Touring the beautiful Swiss chalet town of Ouray (pronounced you-RAY) is a treat within itself.  One joy is to watch the ice climbers pick their way up the frozen waterfall.  Another is to experience the Ouray Hot Springs Pool.
Silverton is a neat restored mining town with much to see and do.  The Durango-Silverton steam train ride is a glimpse into the past because you see untouched mountainous territory.
Renting a four-wheel drive Jeep and driving across the mountain to Lake City invites many picture perfect moments.  It is not a good trip for campers or low-centered vehicles.
If you are a snow skier, Telluride Mountain has a 360-degree view.  On a clear day the view is more than fabulous.  One can see for a hundred miles and the snow covered terrain is captivating.
One campground we stayed at is Westerly RV Park which is about eight miles north of Durango on Highway 550.  Geof and Eugenie Schlitgen have a beautiful RV park just across the street from Trimble Hot Springs.  That is open all year.  Nightly rates are $37 to $45 per night.
Little Molas Pass Lake is a forest service campground that is primitive, but has wonderful cool clear air and lots of trails to hike.  In wintertime, be sure to take snow skis and snow shoes.  Summer time take good hiking boots or tennis shoes and drinking water.  You are in a high altitude and can get dehydrated quickly.
Erwin Greven
2002 Chevrolet 2500HD
2002 Lance 921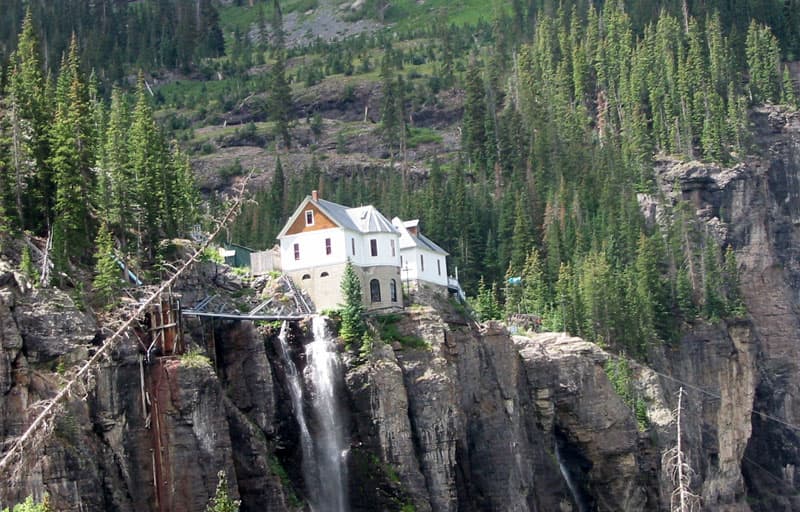 Above: Power plant, Black Bear Pass
We have spent some time up in that area.  I think that if you can do it, go to Black Bear Pass.  We have taken our own Jeep over the pass.
If you don't have a Jeep there is a tour company called SOA in Ouray that runs shake and bake tours down Black Bear Pass and comes back over Imogene Pass.  Black Bear Pass is not for the faint of heart with drop offs in the thousands of feet.  The views from Black Bear Pass are stunning.  If you are really afraid of heights, I recommend you don't do this.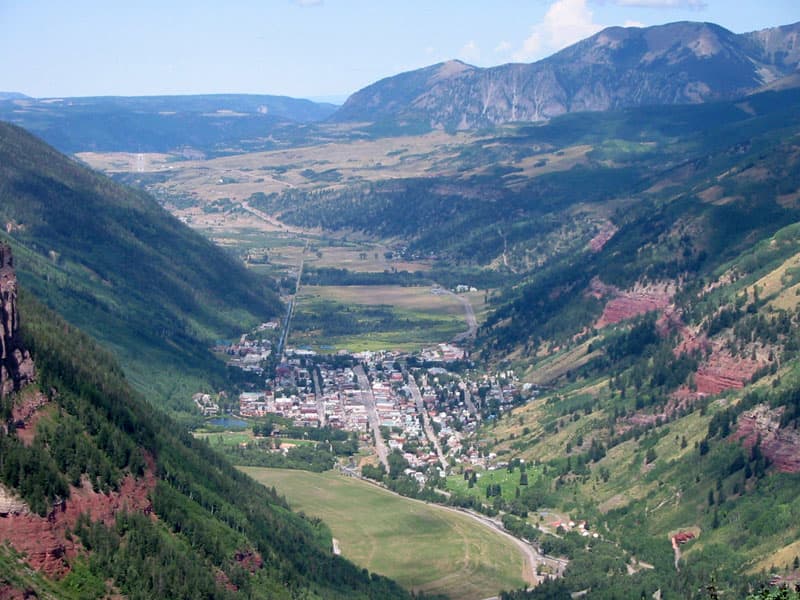 Above: Telluride from Black Bear Pass
For a milder trip you can ride the Durango and Silverton train out of Durango up to Silverton.  You can take the bus back since the train is slow.  If you catch the train in Durango try to sit on the right side of the train for the best views.
About five miles outside of Silverton there is a mine called the One Hundred Mine.  They do tours and take you inside the mine on an old ore train.
On your way up to the One Hundred Mine about two miles out of town you will pass the Mayflower mill.  They also do tours inside the mill.
If you follow the road out of Silverton 12.5 miles you will hit the ghost town of Animas Forks.  The last time I was there the road was in very good shape and easily doable with a pickup truck.  I would check road conditions in town, especially if there has been a lot of rain.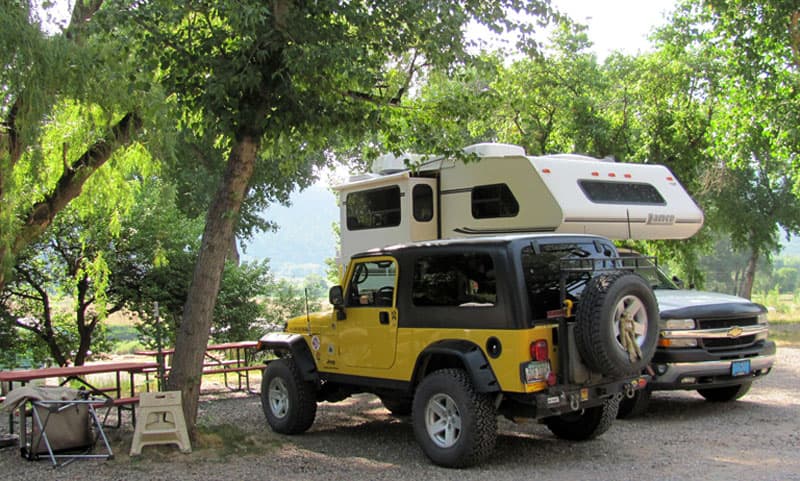 When we camp in Durango we always stay at United Campground north of town on US 550.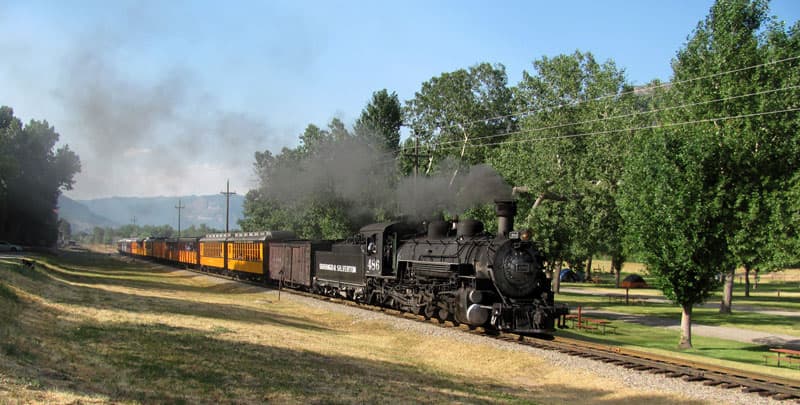 We like to stay there because the Durango and Silverton train goes right through the middle of the campground and you can watch the trains up close.  The rates are $45 to $50 per night with hook-ups.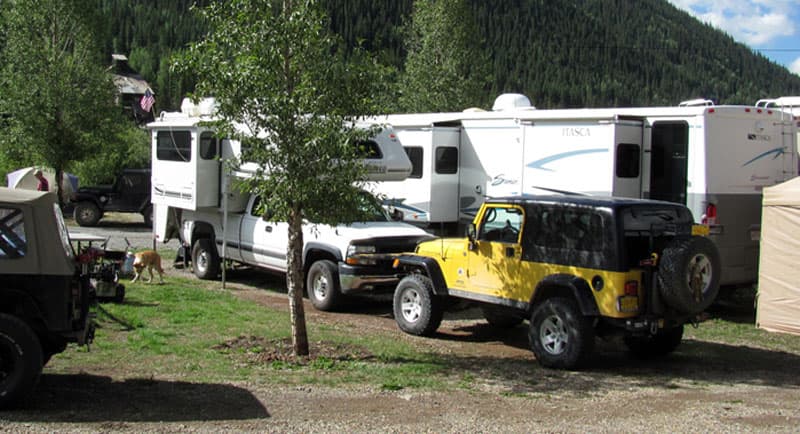 When we stay in Silverton we like to stay at the Silver Summit RV Park.  As you come into town you take a right on 7th Street.  They have great views, are walking distance to town, and Jeep friendly. The rates are $35 to $40 per night with hook-ups.
When we stay in Cortez we like to stay at the UTE Mountain Casino RV park.  The casino is south of Cortez on US 160/491.  You can walk from the RV park to the casino and eat dinner.  The rates are $35 to $40 per night with hook-ups.
I recommend that you bring rain gear.  It has rained every time we have been there.  Bring some warm clothes because it can get cold at high elevations.
I recommend a book called, Guide to Colorado Backroads and 4-Wheel-Drive Trails by Charles Wells.  Bring cameras with extra cards and binoculars.
Grant Weatherburn
1973 Chevy C30
1994 Lance 900
Lightner Creek Campground in Durango was like an oasis after spending nearly a week driving in the hot desert.  The campground is located by a beautiful creek surrounded by a lush forest.  The sites had good privacy.
Durango to Silverton was a spectacle.  The Million Dollar Highway will never be forgotten.  It is awesome.