Bill Semion and his cat, Sadie, dare us to explore the western wonders of Nebraska.  History buffs, train nuts, and Wild West enthusiasts, get ready to hitch your wagon to the Cornhusker State.

For years we have allowed our cat, Harley, to ghost write most of what's found here in Truck Camper Magazine.  At long last, we have found another truck camping cat who can write.
Bill Semion's feline, Sadie, has put paw to paper (or in this case, keyboard) and produced much of the work that follows.  After reading what Sadie and Bill have written, we're sure many will follow their truck camping tracks to explore the incredible American story of Nebraska.  Thank you Bill and Sadie for sending in your story.
Sadie's Nebraska: Where the West Begins
by Bill Semion, and Sadie the Cat
I have to admit, I wasn't too excited about driving here.  Cars and trucks make me nervous.  As I'm writing this, we are heading from Michigan to Fort Lupton, Colorado to get something called a "Hallmark".  Then we're going to Nebraska, to help Bill, one of my humans, write about "The West".  Or, as he says, "Where The West begins" – whatever that means.
I should probably introduce myself.  I'm Sadie.  And yes, I'm a cat.  The humans that belong to me are Bill and Denise.  For Bill, this trip is a big deal.  He's picking up a new truck camper, his first.  I couldn't care less.  He says I'll like it, but it takes a lot to impress us cats.
Sometimes Bill just talks as if either myself or the other human is actually listening.  Bill keeps saying, "If you want to discover The West, Nebraska is a good place to start".  He explains that humans have to discard the notion that there's nothing interesting in Nebraska, that it's Nebraska where you begin to feel the pull of The West.
Blah, blah – whatever.  You can't fool me, I'm a cat.  I'm not some goofy dog hanging its face out a window, jowls flapping and drooling in the wind – gross!  Cats are much more sensible.
Where was I?  Oh yeah.  Along the way I'll let Bill do some of the talking.  I do like to sleep.  Hey, it's what cats do, right?  Bill can fill in what he saw as I nap.  Speaking of naps, it's time for about a twelve-hour one.
From Pop-Up Trailer to Pop-Up Camper
Okay, Sadie, thanks for the introduction.  My name is Bill Semion and I'm going to share with you some of the amazing places we have enjoyed in Nebraska.  But before I get to Nebraska, I'd like to share the story of how we decided to go from a pop-up trailer, to a pop-up Hallmark Ute truck camper.
For me, it was all about practicality.  While our Hallmark truck camper is more compact than the pop-up trailer, I also has a lot more flexibility.  We also tow a boat.  Before we had the Hallmark, I had to "deadhead" to retrieve either the boat or the trailer once the other was staged.
Then I saw a Hallmark pull into a campsite in Colorado.  I invited myself in for a look as a couple from Steamboat Springs set up.  Almost immediately, I was hooked.  With a Hallmark rig, all I would have to do is pull the boat behind the camper.  Bing, bang – problem solved.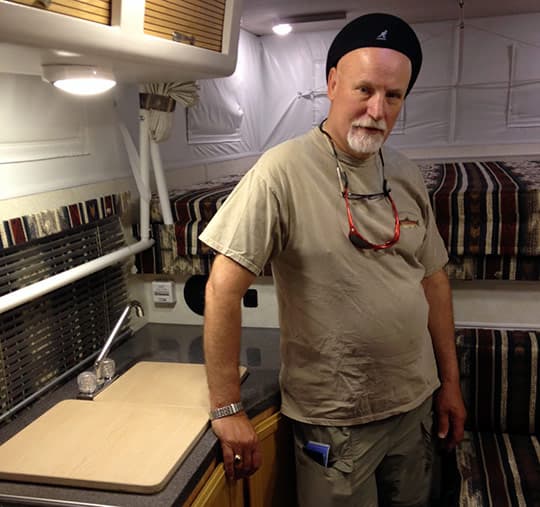 Above: Bill standing inside his 2014 Hallmark Ute
I also liked the layout of the Hallmark, its compactness, and the fuel-saving pop-up roof.  I visited Hallmark in Fort Lupton a few days later and picked the unit I wanted.  I selected the Hallmark Ute to fit my Ford F-250 Crew Cab.
Hallmark custom manufactured the truck camper to my specifications and I took possession the following July.  The only suspension I had added was airbags, at Hallmark's recommendation.  They have resulted in smooth and stable handling.
Above: Hallmark's Andy Ward with Denise Semion