Bill Semion and his cat, Sadie, dare us to explore the western wonders of Nebraska.  History buffs, train nuts, and Wild West enthusiasts, get ready to hitch your wagon to the Cornhusker State.

For years we have allowed our cat, Harley, to ghost write most of what's found here in Truck Camper Magazine.  At long last, we have found another truck camping cat who can write.
Bill Semion's feline, Sadie, has put paw to paper (or in this case, keyboard) and produced much of the work that follows.  After reading what Sadie and Bill have written, we're sure many will follow their truck camping tracks to explore the incredible American story of Nebraska.  Thank you Bill and Sadie for sending in your story.
Sadie's Nebraska: Where the West Begins
by Bill Semion, and Sadie the Cat
I have to admit, I wasn't too excited about driving here.  Cars and trucks make me nervous.  As I'm writing this, we are heading from Michigan to Fort Lupton, Colorado to get something called a "Hallmark".  Then we're going to Nebraska, to help Bill, one of my humans, write about "The West".  Or, as he says, "Where The West begins" – whatever that means.
I should probably introduce myself.  I'm Sadie.  And yes, I'm a cat.  The humans that belong to me are Bill and Denise.  For Bill, this trip is a big deal.  He's picking up a new truck camper, his first.  I couldn't care less.  He says I'll like it, but it takes a lot to impress us cats.
Sometimes Bill just talks as if either myself or the other human is actually listening.  Bill keeps saying, "If you want to discover The West, Nebraska is a good place to start".  He explains that humans have to discard the notion that there's nothing interesting in Nebraska, that it's Nebraska where you begin to feel the pull of The West.
Blah, blah – whatever.  You can't fool me, I'm a cat.  I'm not some goofy dog hanging its face out a window, jowls flapping and drooling in the wind – gross!  Cats are much more sensible.
Where was I?  Oh yeah.  Along the way I'll let Bill do some of the talking.  I do like to sleep.  Hey, it's what cats do, right?  Bill can fill in what he saw as I nap.  Speaking of naps, it's time for about a twelve-hour one.
From Pop-Up Trailer to Pop-Up Camper
Okay, Sadie, thanks for the introduction.  My name is Bill Semion and I'm going to share with you some of the amazing places we have enjoyed in Nebraska.  But before I get to Nebraska, I'd like to share the story of how we decided to go from a pop-up trailer, to a pop-up Hallmark Ute truck camper.
For me, it was all about practicality.  While our Hallmark truck camper is more compact than the pop-up trailer, I also has a lot more flexibility.  We also tow a boat.  Before we had the Hallmark, I had to "deadhead" to retrieve either the boat or the trailer once the other was staged.
Then I saw a Hallmark pull into a campsite in Colorado.  I invited myself in for a look as a couple from Steamboat Springs set up.  Almost immediately, I was hooked.  With a Hallmark rig, all I would have to do is pull the boat behind the camper.  Bing, bang – problem solved.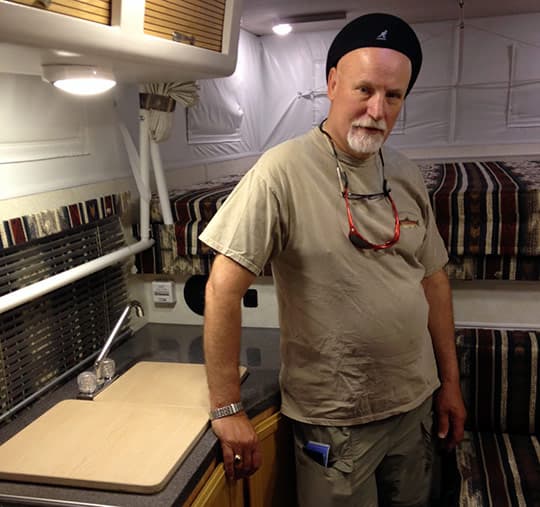 Above: Bill standing inside his 2014 Hallmark Ute
I also liked the layout of the Hallmark, its compactness, and the fuel-saving pop-up roof.  I visited Hallmark in Fort Lupton a few days later and picked the unit I wanted.  I selected the Hallmark Ute to fit my Ford F-250 Crew Cab.
Hallmark custom manufactured the truck camper to my specifications and I took possession the following July.  The only suspension I had added was airbags, at Hallmark's recommendation.  They have resulted in smooth and stable handling.
Above: Hallmark's Andy Ward with Denise Semion
I can't say enough great things about my Hallmark, or the Ward family who owns the company, and sent me on my way.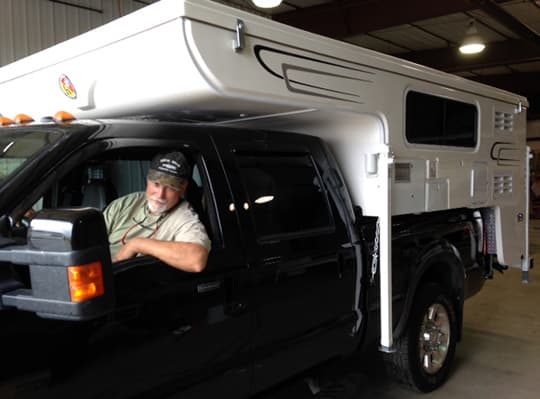 Above: Bill finishing up at the Hallmark factory
We took a shakedown trip to the subject of his article; Nebraska.  Here's a roundup of things I found in just one area of the state, near the town of North Platte.  And when I mean near, this is a "Nebraska near" meaning a strip from North Platte north – almost to South Dakota.
Buffalo Bill State Historic Park
There are several campgrounds in the area of North Platte, but we chose one of the twenty-three gravel pad back-in sites with electric at Buffalo Bill State Historic Park – right on the North Platte River.  While the campground has little shade and no showers or dump station, there is water from a central hose.  You're essentially boondocking, with amenities.  You're also camping on Buffalo Bill's original homestead, very close to sites you'll want to see.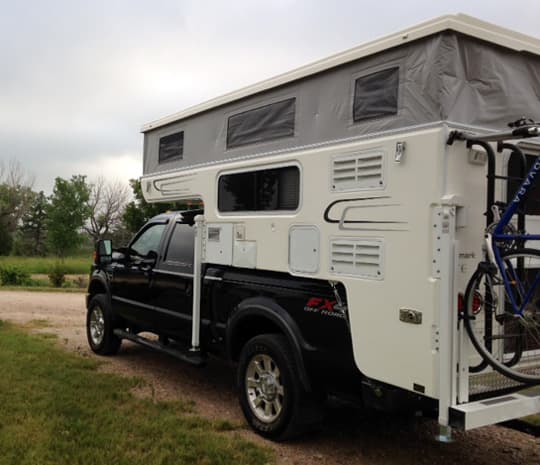 Above: Buffalo Bill's Scout Rest Ranch campground
Truck Camping Tip: Over major summer holidays the campground fills quickly, but other times you can take your pick of sites.  It cools down at night there, even in July.  With a Fantastic Fan and an open window or vent, you'll keep cool at night.  The campground is very affordable at $11 per night, plus a Nebraska parks pass ($5 daily, $25 annual).
Lincoln County Historical Museum
The story of the original North Platte Canteen and what it meant to World War II servicemen and women unfolds at this small history museum at North Platte's west edge.  At its height, a troop train passed through the old North Platte station east or west every hour, prompting locals to wonder what they could do to give the men and women aboard, some of whom would never see home again, a taste of home.
You'll learn how they met every train, for five years, with coffee, homemade pies, fried chicken, and even birthday cakes, all during food and fuel rationing.  For many of the six-million GIs who stopped, it was the only real meal on the entire cross-country trip they could afford, because it was free.
It's said that engineers nearly always found a "problem" with each train, squeezing an few extra minutes into each visit.  It's an amazing story of sacrifice and what Americans can do when we pull together, not apart.
Truck Camping Tip: While the train station is gone, you can still see the original North Platte Canteen site in North Platte.  Ask at the museum for directions.  There is plenty of space to park your camper.
Bailey Yard Train Spotting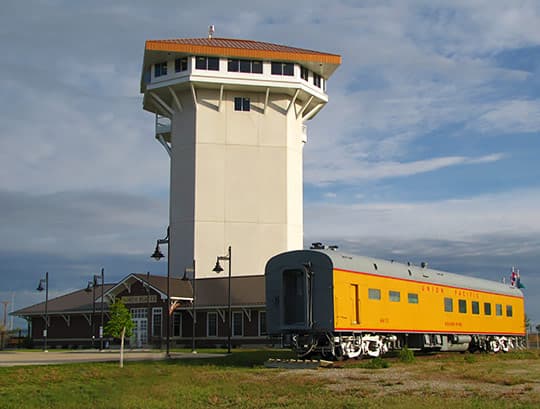 Above: The Golden Spike Tower
Try to imagine a railroad yard eight miles long and two miles wide.  With 315 miles of track, the Union Pacific Bailey Yard is the largest of its kind.  It's where 138 trains hauling 14,000 rail cars each day rumble through on the original Transcontinental Railroad route.  It's also North Platte's largest employer, and a must-visit for any ferroequinologist, or train buff.
At the Golden Spike Tower's eighth floor observation deck, volunteers tell you what's happening below.  You'll see the east bound and west bound "hump yards" where gravity is used to send cars down a grade, slowed by retarders, before a gentle 5 mph bump into the next car to form a train.
Visit during the mid-September Rail Fest to see steam and other Union Pacific "heritage" locomotives and tour the yard up close.  Also make sure to check out North Platte's Cody Park and the huge Union Pacific Challenger steam locomotive on permanent display there.
Truck Camping Tip: Park RVs of any size here, and at Cody Park in the city.  And it's only a few miles south of the campground.
Fort Cody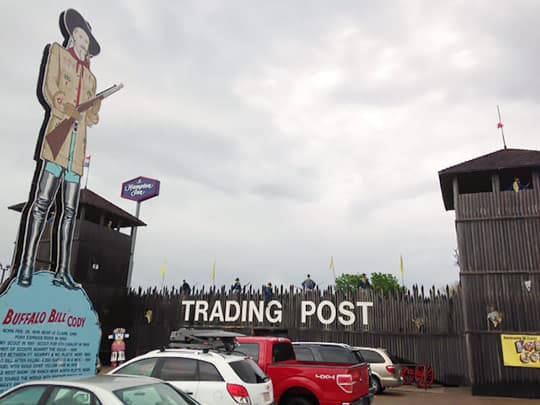 Above: Buffalo Bill Cody Trading Post
Fort Cody is every kid's dream western souvenir superstore.  When we visited over Memorial Day weekend, you could almost hear the kids in every passing car and RV clamoring to stop just off I-80, where the original Lincoln Highway runs past the front door.
Inside you'll find an animated, 20,000-piece, miniature Buffalo Bill's Wild West Show that took twelve years to create.  There's also plenty of Buffalo Bill-related paraphernalia to keep everybody busy until the miniature show starts.
Truck Camping Tip: There is plenty of RV parking out front of Fort Cody.  Adults with kids: prepare to have your wallets lightened, but your fellow young travelers quieted.
Fort McPherson National Cemetery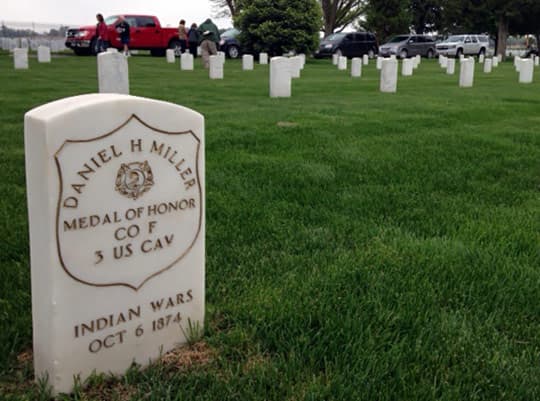 Above: Fort McPherson National Cemetery
About ten miles southeast of North Platte, more than 10,000 veterans and eligible family members rest in a fenced enclosure.  There are soldiers who fought from the Indian Wars to Vietnam to conflicts in the Middle East, including five-hundred "unknowns", sixty-three "buffalo soldiers", several Medal of Honor recipients, and a Pawnee cavalry scout.  The cemetery occupies a corner of the original fort, built in the 1800s to protect wagon trains.
Truck Camper Tip: Parking is limited at the cemetery.  Nearby, stop along the original Lincoln Highway to visit Conroy's Grave historic site, a local farmer killed by Indians in 1868.
Buffalo Bill Ranch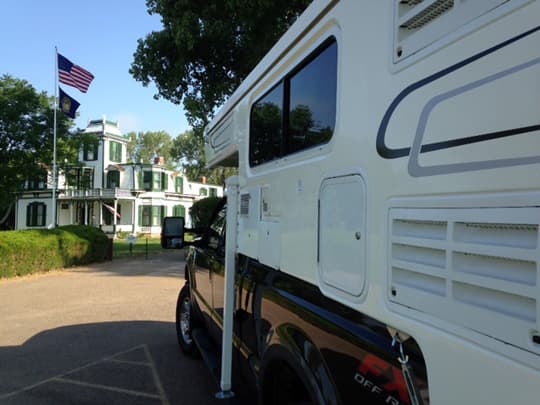 Above: Buffalo Bill's Scout Rest Ranch house
If there ever was a character personifying The Wild West, it was William F. "Buffalo Bill" Cody. Buffalo Bill chose North Platte for his 4,000-acre Scout's Rest Ranch at the height of his popularity.  At the time, his Wild West Show and Congress of Rough Riders exhibition toured the United States and Europe.
Cody was a Pony Express rider, an Army scout, a Civil War soldier, and a buffalo hunter.  In 1872, after guiding a Russian Grand Duke on a buffalo hunt, his fame spread even more.  He headed east to perform in a play about The West, whetting his ego and imagination.  His first show, the Old Glory Blowout, celebrated North Platte's 1882 Fourth of July.  It was the first-ever commercial rodeo and set the pattern for his Wild West shows that ran until in 1911.
He died in 1917 after losing most of his money in bad investments and living the good life.  The ranch became a state park in 1965, and his ornate house is open to tour, as is the original barn.  Cody insisted that each bedroom feature something that was unheard-of at the time, a closet.  The parlor features original furniture.
Truck Camper Tip: North Platte has a rodeo in Buffalo Bill's honor during the annual June Nebraskaland Days.  Lots of RV parking is only a mile from the campground.  Cody's grave is atop Lookout Mountain, near Golden, Colorado.
Pony Express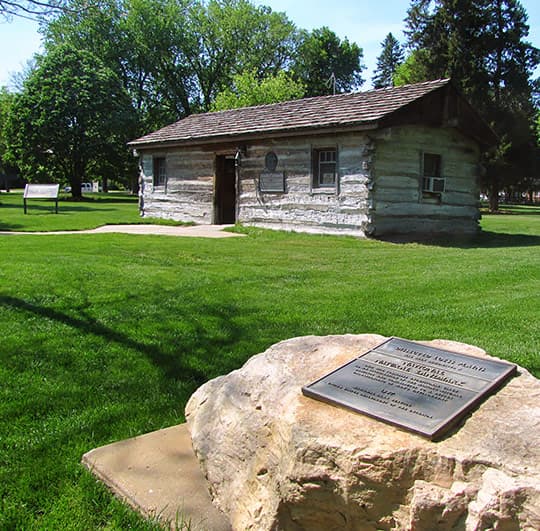 Above: Original Pony Express in Gothenburg
Just thirty-eight miles east of North Platte is an original Pony Express station in the city park of Gothenburg.  There are other stations noted by historical markers, but this is the most intact.
Historical markers outside the log building, and guides inside, tell about the service that carried mail between St. Joseph, Missouri and Sacramento, California in ten days.  Each rider carried twenty-two pounds of mail eighty to one-hundred miles in ten hours before resting, changing horses every ten to twelve miles at a station.  The service never made money, and closed with the advent of the telegraph.
The Oregon and Mormon trails also passed where the station now stands.  One person in 10 who started on the Mormon Trail and one in every 17 on the Oregon Trail never made it.
Truck Camper Tip: There is plenty of on-street RV parking to discover this unique piece of Americana.  An annual west-east re-ride takes place each June.
Lincoln Highway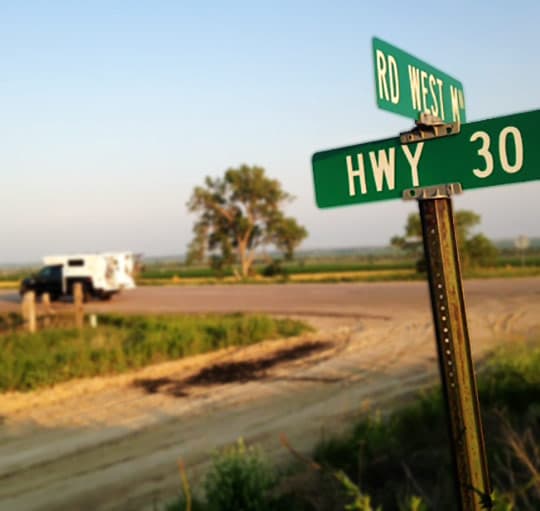 Above: Great sign at California Hill denoting the road west that thousands of emigrants took in the mid-1800s
If Route 66 is the "Mother Road", then Lincoln Highway is the "Father Road".  It's the nation's original transcontinental auto route, stretching from New York City to San Francisco.  It followed much of the Oregon Trail route when it was laid out in 1913, forever becoming part of The Great Platte River Road.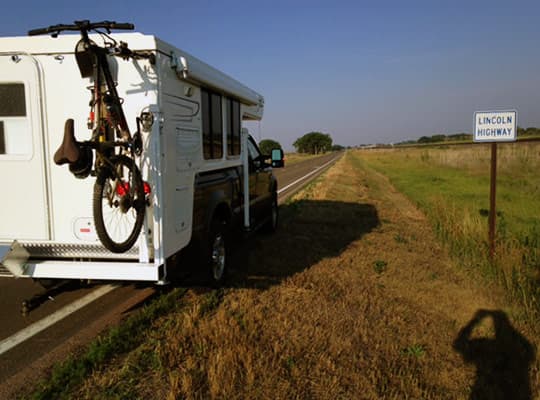 Above: The Lincoln Highway
In the 1800s, the Oregon Trail, and then U.S. 30, was the way west for hundreds of thousands, until the Interstate system made it a byway.  The Lincoln Highway carried thousands of motorized emigrants on its back heading both west, and east – one of them my father driving to a new life and a $5 a day job in Henry Ford's Michigan auto plants in the 1920s.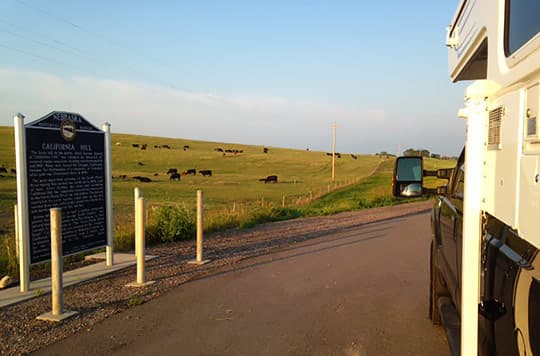 Above: At California Hill historic marker along US 30, where wagon trains once traveled, now traced by Bill, Sadie, and Denise
You owe it at least a few miles of respect, if only to see U.S. 30 leap over the hills, glinting in the sun.  At the California Hill historical marker west of North Platte, still-visible wagon ruts tell of the Oregon Trail that the highway partly piggybacks.
Truck Camper Tip: Continue your stay at North Platte, or head west along U.S. 30 to camp at spots like McConaughy Reservoir near Ogallala, Lake Ogallala State Park at the reservoir's eastern end, and the flagship Cabela's store in Sidney to the west.  Route 66 gets all the fame, but U.S. 30 has some serious American history of her own.
The Sand Hills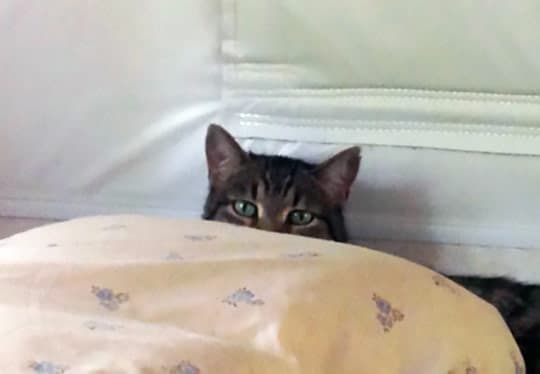 Above: Sadie just awake enough to snack and get more comfortable
Bill says we're heading north, into Nebraska's Sandhills.  Yes, Sadie here.  The sand looks pretty inviting to me, but enough of that.  I'm awake just enough for a snack and to get into a more comfortable position on this Hallmark's nice queen-size-plus bed.  Whaaat?  Sleeping all day is hard!  Alright Bill, back to you.
Thanks Sadie.  The Sandhills region was once called the Great American Desert, because it was until someone decided cattle could do well there.  They were right.  Cattle played a part in stabilizing the sandy glacial hills with grass.  The spots listed below are in the Sandhills, some sixty miles north of North Platte.  That means it's time to move to the Nebraska National Forest.
Nebraska National Forest
Stop laughing, especially if don't believe Nebraska has a tree at all.  Drive toward Halsey and you'll find the Bessey District forest, part of the 90,000-acre Nebraska National Forest, the largest hand-planted forest in the nation.
Camp at one of the twenty-seven back-in and pull-through sites amongst Ponderosa Pines or opposite the Middle Loup River.  With electric, a free shower, and flush toilets, it's $11 a night if you're under 65 years old, just $4.50 if you're more vintage.
While you're there, tour the oldest federal tree nursery.  The nursery provides 2.5 million seedlings for forests across The West.  You can also climb the observation tower to see 22,000 acres of forest from one spot.
Truck Camper Tip: Sites both along the river and on the hills above are well-shaded, but not so much that I couldn't use a solar panel to keep my batteries charged.  The bathroom and shower was only a short walk away.  The only hassle was Union Pacific's coal trains ceaselessly whistling past.
Canoeing the Niobrara
Near the forest, springs in the Sandhills form the shallow upper Niobrara River.  This is your opportunity to hop into a raft, canoe, or kayak near Valentine for a three-hour float down riffles and small rapids in the Fort Niobrara National Wildlife Refuge.
Takeout is at Smith Falls State Park and Campground, just before the river gets white water nasty.  The new campground is rustic with no developed electric or pad sites and pit toilets, but there is decent camper access.  While in Valentine, stop for dinner featuring Nebraska-raised beef at the Peppermill.
'Crafty' Hats, Boots, Wine to Vinegar
Outside tiny Thedford, Kaycee Orr-Hoffman's got your hat.  She practices her craft on century-old equipment, sculpting, shaving and steaming tough beaver into works of wearable western art at her Bar None Hat Company.  Her shop has lots of RV parking, and it's near Halsey's Bessey Ranger District campground.  Kaycee makes only one-hundred hats per year, spending fifteen hours or so on each.  She charges between $400 to $700 per hat.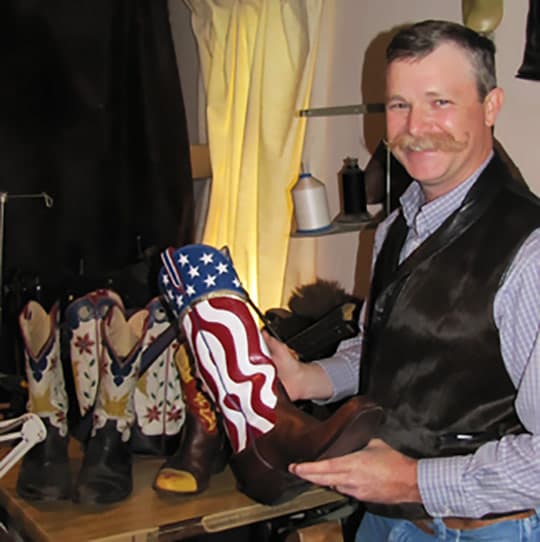 Above: Kyle Rosfeld, Owner and Chief Employee of the Sandhills Boot Company
Nearby in the metropolis of Cody – population maybe one-hundred in summer – Kyle Rosfeld, Owner and Chief Employee of the Sandhills Boot Company, will outfit your lower extremities with hand-made boots or shoes.  Five months of work on circa 1890s equipment and about $1,000 later, they're yours.  Rosfeld also makes custom-fitted vests for about $250.  Expect to see one on my back this fall.
A few lariat tosses away, George Johnson will tell you his gourmet vinegar business is a retirement hobby that got out of hand.  He'll also tell you how his vinegars sometimes take up to five years to ferment.  He may also tell you why his vinegary is named George Paul.  His vinegar starts around $10 and goes up to $40.
What goes better with Nebraska beef than Nebraska wine?  Greg and Tim Nollette's Niobrara Valley Vineyard has already medaled in international competition.  Its tasting room is just a short drive from Valentine.  Your camper should easily manage the dirt road, but go slow and watch out for cattle at this working ranch.
Explore Nebraska
If you're still not sure that it's worth pulling off Highway 80 to explore Nebraska, I'll include a few links to websites with even more information.  In the mean time, Sadie and I will be returning to Nebraska for more of The West.