Fellow truck campers reveal their favorite must-see hot springs, ancient ruins, steam railroads, fishing opportunities, boondock spots, campgrounds and drives in northwest New Mexico.  Gotta go to Chaco.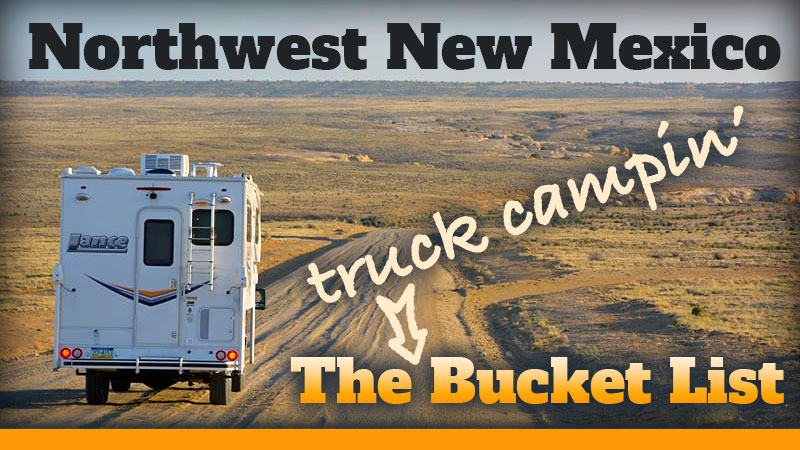 Kris Cassidy
2016 Ford 350
2018 Wolf Creek 840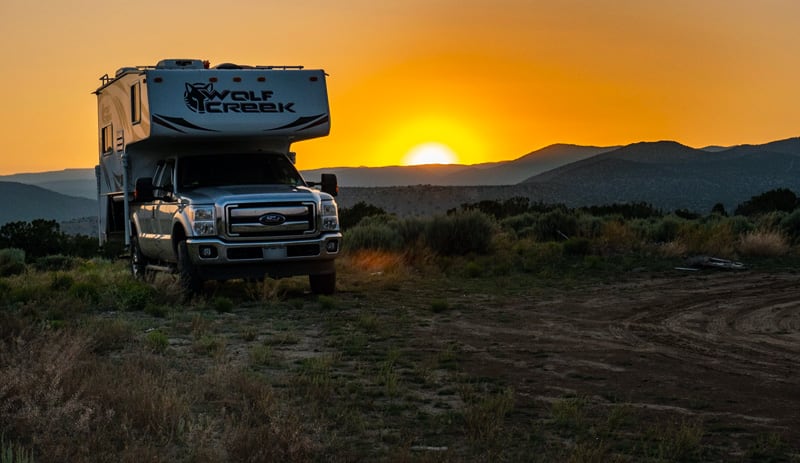 Above: Boondocking in Carson National Forest
Ojo Caliente is a remote, but developed hot springs north of Santa Fe.  We have stopped there several times en route from Colorado to California and plan to go back to spend a longer period of time there to explore.
The hot springs have many different pools and are beautifully designed, as is the surrounding garden.  The restaurant is absolutely first class, and not to be missed.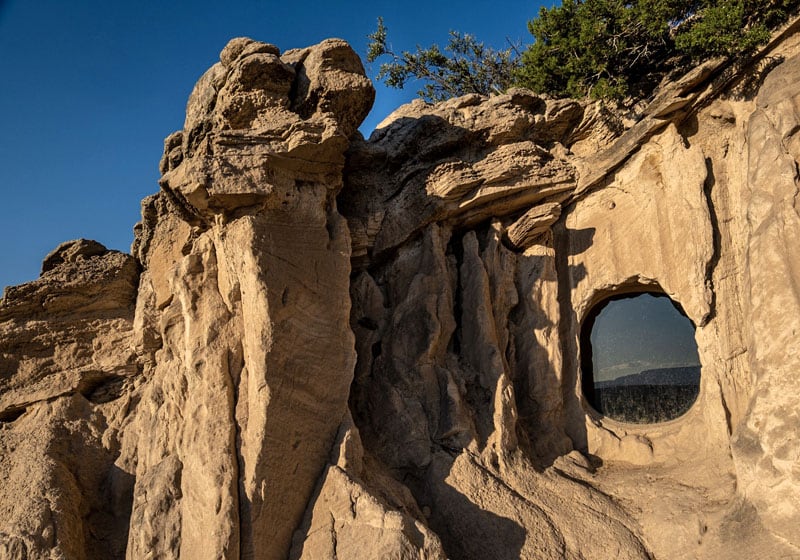 Above: Windows Of The Earth in the Sand Cave
Nearby is the Sand Cave at Origin, which is a cave dug into a sandstone rock by an artist with artwork carved into the sides.  A unique experience is to take this tour and meditate in the cave to the sound of the singing bowls.
You can camp in the campground at the hot springs if you want, but we prefer boondocking a few miles away in the Carson National Forest.  There are several forest roads to choose from with ample boondocking opportunities.
Eddie Hayden
2005 Dodge Ram 2500
2013 Palomino Bronco
Bisti/De-Na-Zin Wilderness Area has very interesting geography and rock formations which makes it otherworldly.  There are unique photo opportunities both day time and night.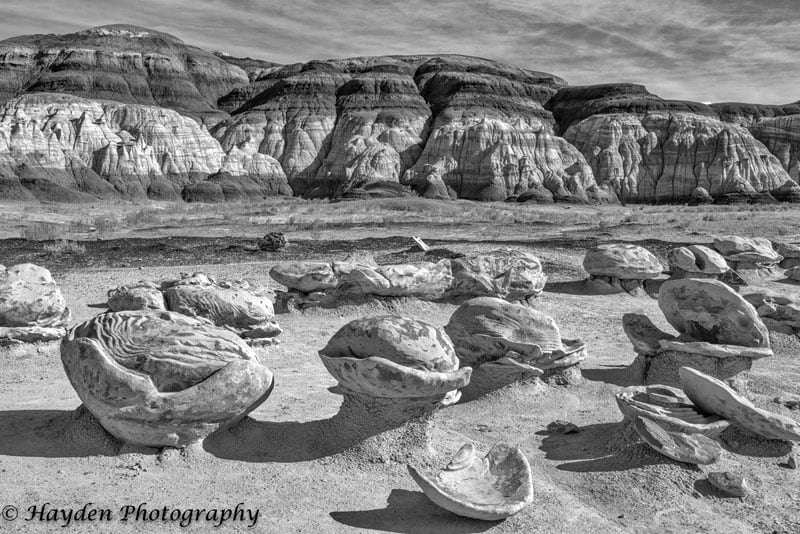 Bisti covers approximately 40,000 acres.  When we visited at the parking area there was a kiosk with GPS coordinates.  I would recommend using GPS to hike this wilderness area because there weren't any marked trails when were there.  This area was a pre-historic swamp, so hiking isn't strenuous, but it is the desert.
This area is so vast that it's not easy to experience it in a day.  The most well known features are one to four miles from the parking area.  I think a visit to Bisti is best if you do some pre-planning.  There is a lot of information online.  FarmingtonNM.org has good information about this area with GPS information that can be used with Google Earth.
When we visited the parking area it was just a dirt lot with a few post to define the boundaries.  There was a fence on the side where the hiking area started.  I would pick late fall for a visit because the temperatures would much better.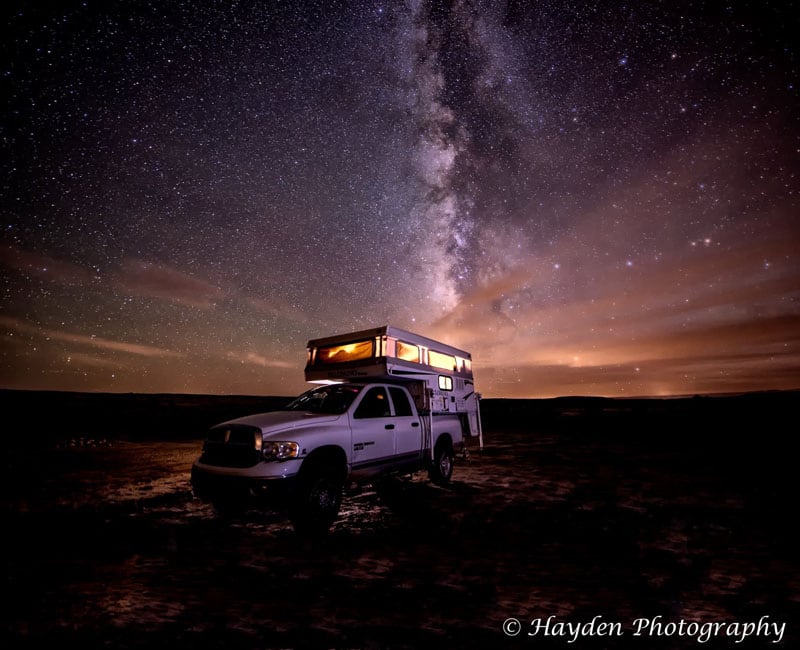 You can stay overnight in the parking area at Bisti Badlands.  The parking area doubles as a place to boondock.  When we were there we had the place to ourselves.  I think with social media it has become a more popular destination.  Please treat this wonderful place with loving care.
Todd Harps
2018 Ram 4500
2018 Eagle Cap 1165
Northwest New Mexico is a varied and interesting place to visit.  There are too many things to list, so I'm going to share some highlights.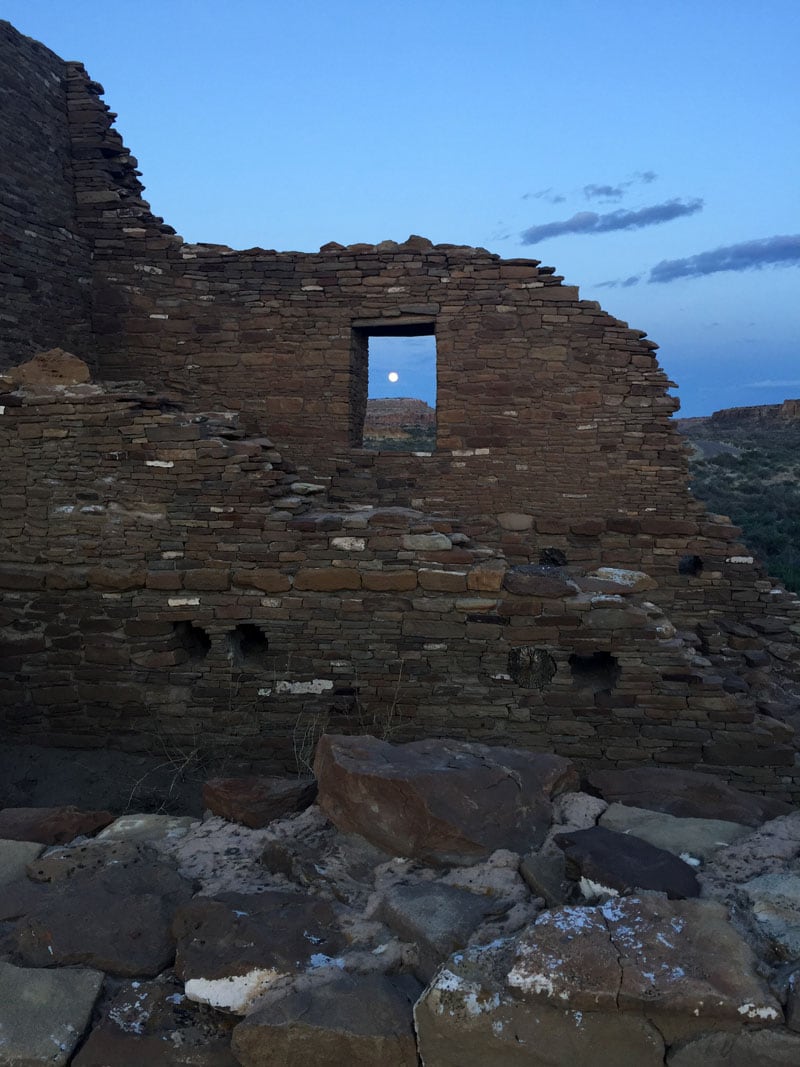 Above: The moon through one of the ruins at Chaco Culture National Historical Park
Chaco Culture National Historical Park (Chaco Canyon) has beautiful campsites and multiple extensive ruins. Bring your bike or hiking shoes so you can visit all of them.  Aztec Ruins National Monument near Farmington is another extensive ruin site and museum.  These locations are not dog friendly due to the ruins.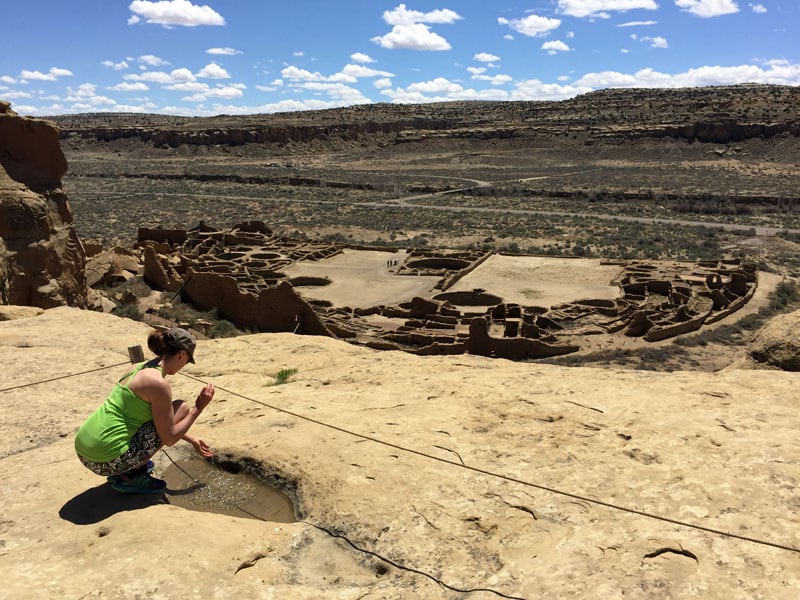 Above: Pueblo Bonito, Chaco Canyon
Highway 64 from Farmington through Chama to Abuiquiu is a beautiful drive through high plateau and forest.  Don't miss Echo Amphitheater just before Ghost Ranch.  It has a small campground with great views.  Poshuouinge Pueblo Ruins is right by Abiquiu.
Ojo Caliente Hot Springs is the best commercial hot springs, period!  There are RV hook ups, a spa, steam, sauna and multiple pools, rooms, bar and a restaurant.  It's a favorite of ours after days on the road.  Nearby there are several nice hikes and collapsed remains of old ruins.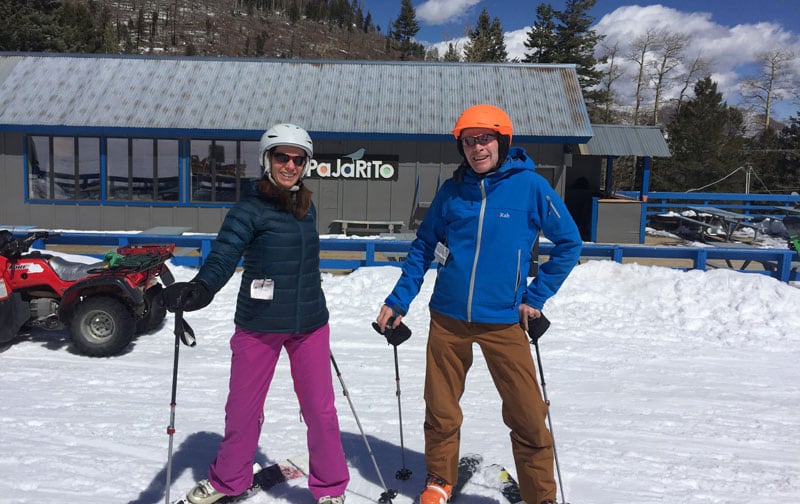 Above: Pajarito ski area
For skiers, Sipapu and Pajarito are sneaky fun local ski areas.  Pajarito is just past Los Alamos.  Whether you believe it in their mission or not, it's a fascinating visit.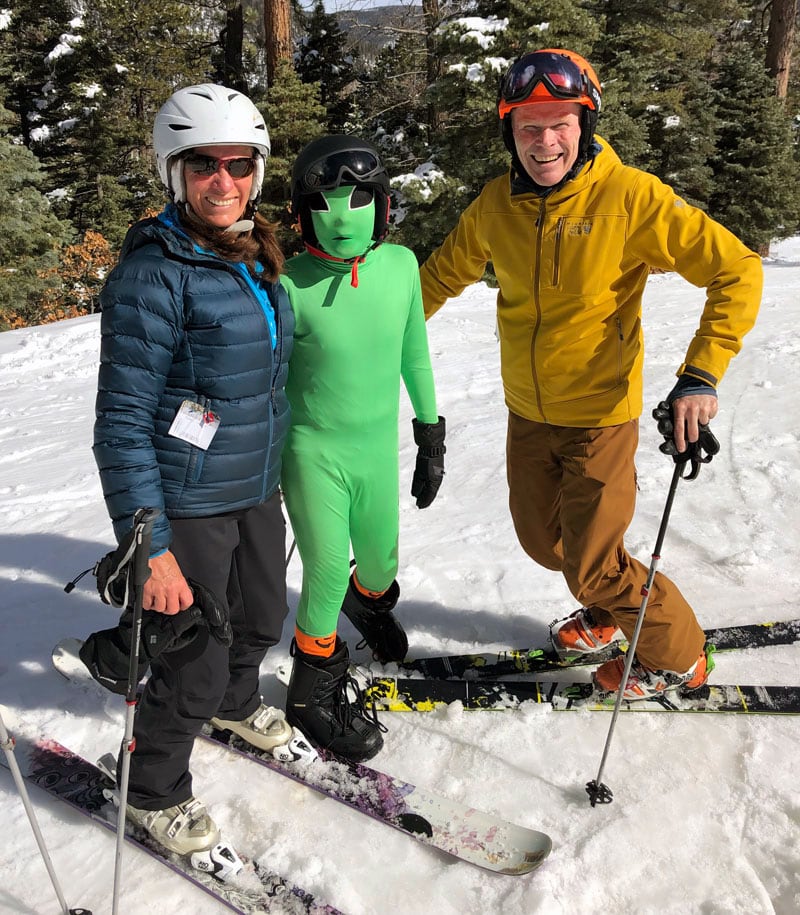 Above: Sipapu Ski Area, alien sighting
The town of White Rock below Los Alamos has a city-owned paved RV parking lot next to the visitor center with views.  If you want power, it's $20 with a dump and water available.  There are 16 stalls and it's way better than a Walmart.
The Pig and Fig Cafe across the street serves a great breakfast.  Don't miss the numerous hiking trails surrounding White Rock above the Rio Grande.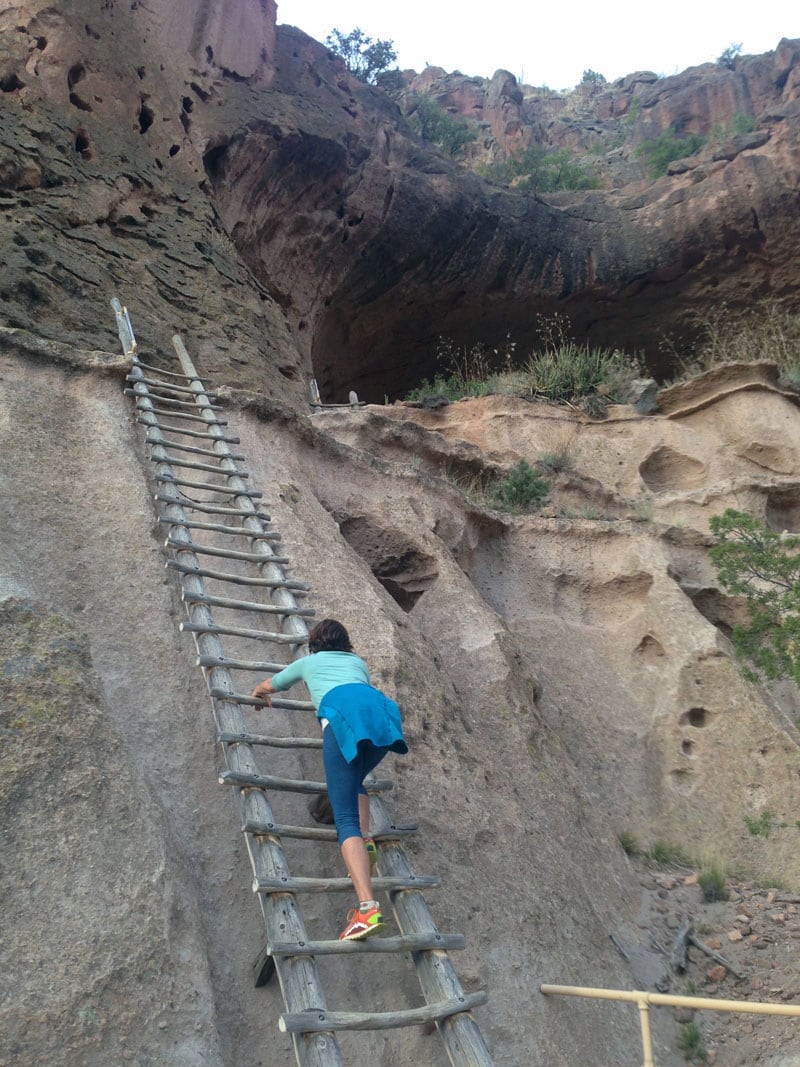 Above: Bandelier Alcove House Ladder
Bandelier National Monument is another set of really cool ruins including cliff dwellings and a Kiva set in an alcove that requires ladders to visit.  It has a large campground, and some of the campsites have hook-ups.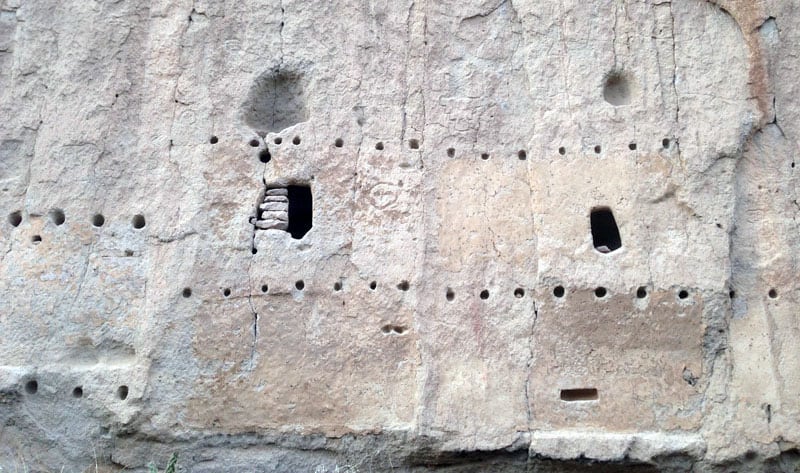 Above: Bandelier Cave And Artwork
Valles Caldera is a beautiful drive on Highway 4 out of Los Alamos through Jemez Springs and Pueblo.  Further south is El Morro National Monument on Highway 53 southeast of Gallup.  It's another gem with a small campground, a scenic hike to Pioneer inscriptions, and then up to a sandstone bluff with ruins.
Just about every highway in this area is worth a drive.  It's always different and spectacular.  We have camped in Ojo Caliente, Bandelier National Monument, El Morrow National Monument, the Pajarito Ski Area, White Rock City RV Park, and numerous boondocking sites.
Bill and Kira Jones
2017 Ford F-350
2018 Northern Lite 9-6Q SE
The New Mexico Mining Museum in Grants, New Mexico is mostly a uranium mining museum.  We were not expecting much, but it turned out to be one of the best mining in situ simulation exhibits that we have seen.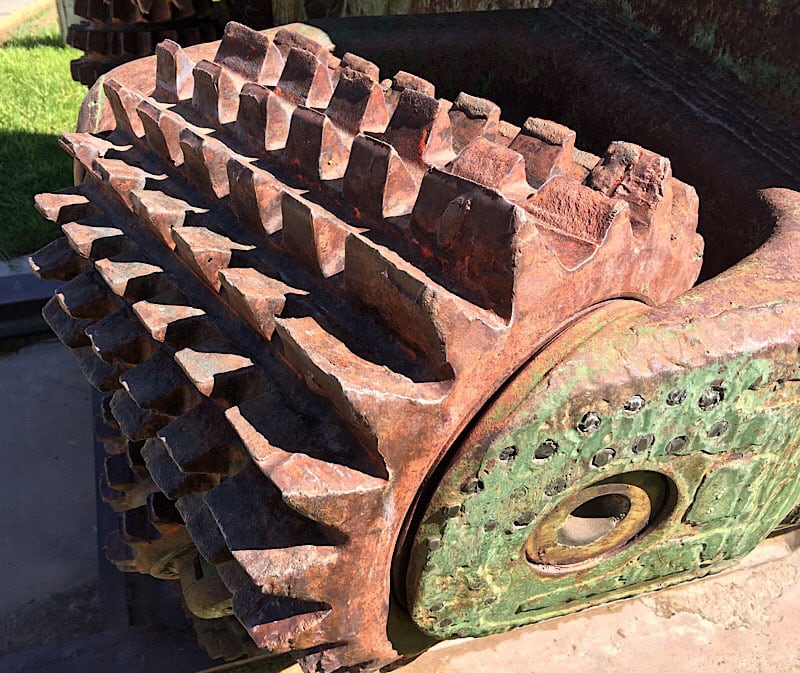 There is a beautiful collection of minerals and equipment on the first level.   The lower second level is a layout that replicates going into a uranium mine.
There are many different rooms and the equipment (a vast array of mining devices) is arranged in the manner that it was employed.
The other cool thing – that they allowed and encouraged us to do – was to take our two dogs on leashes down into the mine exhibit.  Very few museums have allowed the dogs to enter.
There is a very nice city park just outside the museum.  We parked there for lunch and the museum visit.  There is a Route 66 Interstate shield with an opening that can be driven through, but there's not enough clearance for a truck camper or RV.
We visited the Western New Mexico Aviation Heritage Museum while out refilling our propane cylinders.  The outdoor layout is very interesting, free and open daily.
The area is populated with beacons, towers, guide shapes, and many types of markers that can be seen from above to guide pilots on early cross country aviation routes.
The area and equipment is well maintained and informative.  It's an important preservation of early aviation ground based guidance devices.
The interior of the museum is in Milan, New Mexico and is open only on Saturdays.  You can see photos of the museum in Google maps.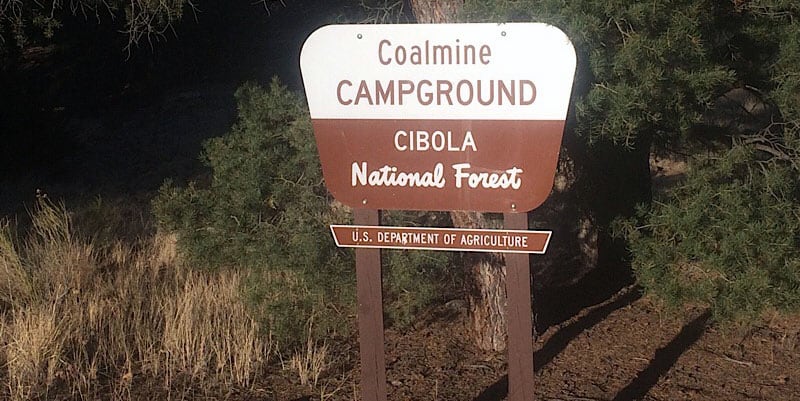 We stayed in Coal Mine Campground that is patrolled and serviced daily.  It's very quiet and we were the only occupied site much of the time.  A very nice, small, low cost, somewhat remote (no cellular service for us) campground.  There were no hookups or water, and pit toilets.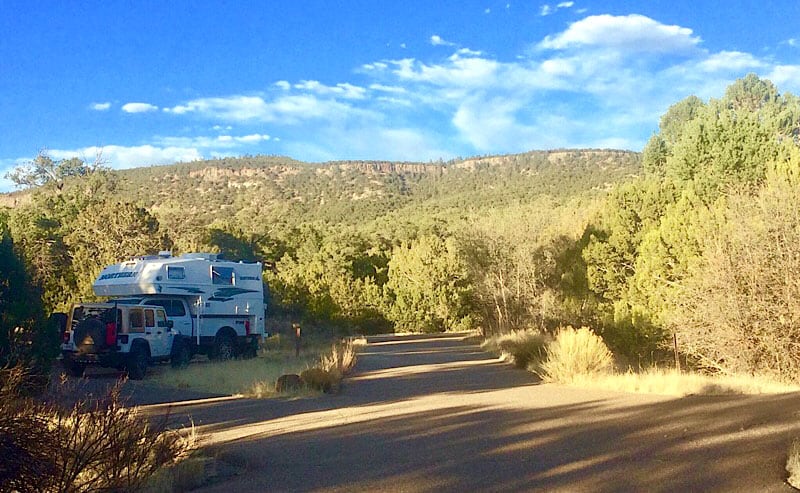 Coal Mine Campground is very good for an interim stay when transiting I-40 east/west, especially if you want to get away from the noisy and beaten concrete/asphalt path.  There are several trails around and radiating to/from the campground.
Grants is also a good town to find real western New Mexico food at several low cost places.  Propane refills, groceries, gasoline and other supplies are also available at reasonable prices.
On our way northward, we were low on gasoline, propane, water and, of course, beef jerky.  We also needed to take a shower and dump tanks.  The Sinclair in Farmington, New Mexico was ideal for our needs.
We noticed that the Sinclair was very busy with locals coming in to refill one or more propane cylinders.  Kira had found the place with the lowest cost fuel and propane.
Here is our review of the Sinclair station (2707 E Main Street, Farmington, NM):
One of the best places we have ever stopped to fuel our RV, dump tanks and refill propane.  Extremely accommodating and knowledgeable staff.  Easy in and out for any size RV, including towed vehicles or trailer.
The dump station is reasonably level and very clean.  Dump station and potable water are free.  Inquire inside to utilize the dump station and/or potable water.  Do business with this facility to maintain this excellent operation and services.
Propane refilling services availability is 6:00 AM to 10:00 PM.  Propane is sold by the gallon, in tenths.  The store also has propane tanks (many sizes) and support equipment (hoses, valves, and fittings and many other devices for consumer level propane utilization).  Large empty lot behind the store can be used for up to one hour for parking your attended RV (inquire inside).  Dino photo-op out front.
Angela White
2013 Chevy 3500
2013 Lance 855S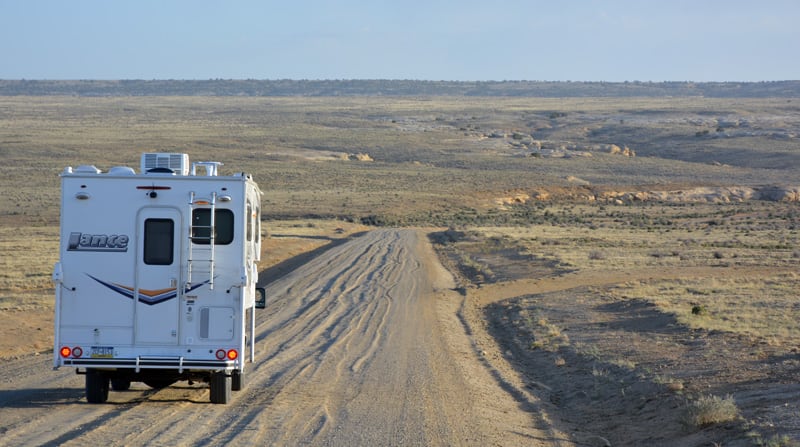 Chaco Culture National Historical Park had long been on our bucket list.  In the spring of 2013 we took the 21-mile northern road (8-miles paved and 13-miles washboard) into the national park.  It was a bit jarring in spots, but slow and steady we made it there.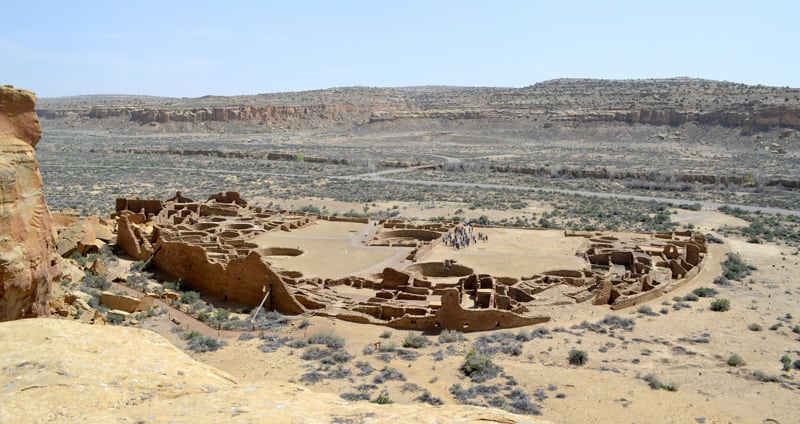 Above: You can see a group with the ranger in the Great House
Upon arriving we went to the visitor center where they told us about a ranger talk through the Puebloan ruins.  It was May and the sun was intense.  During our hikes we wound up wearing extra sunscreen and hats.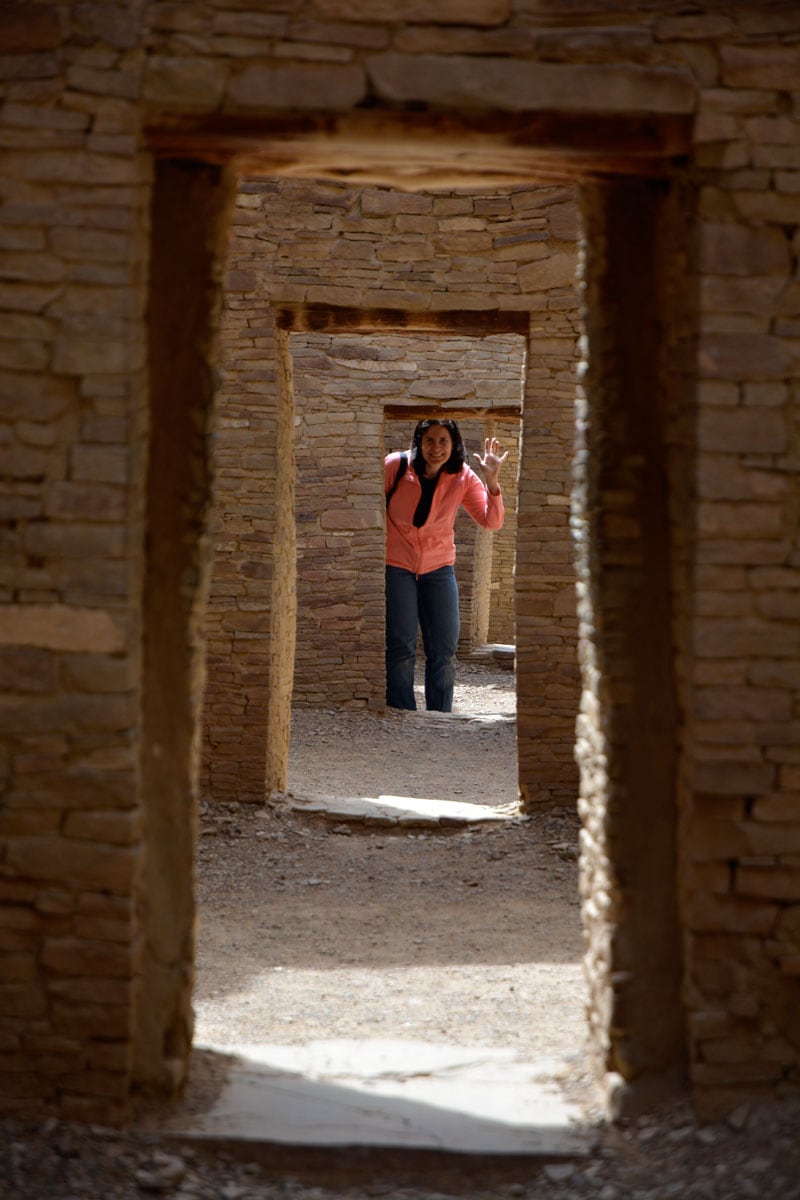 The ranger talk was amazing!  Still to this day it is one of the most incredible tours we have ever been on.  The ranger taught us so much about the way the Pueblo people lived and the reasons behind their fascinating architectural designs.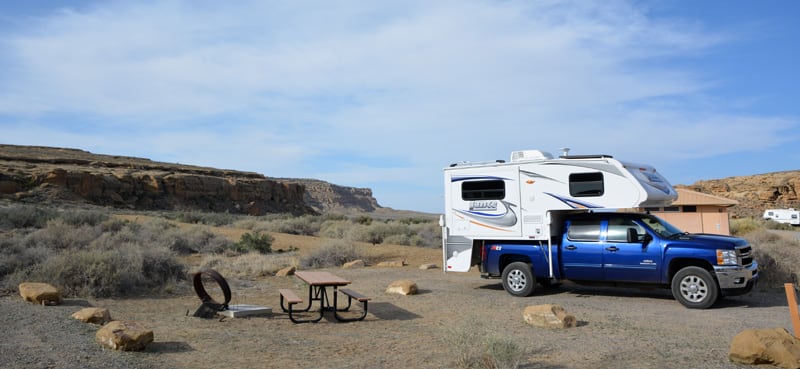 The campground at Chaco Culture is $15 which included a fire pit and a picnic table.  There are no hookups, but there is a dump station and water in the campground.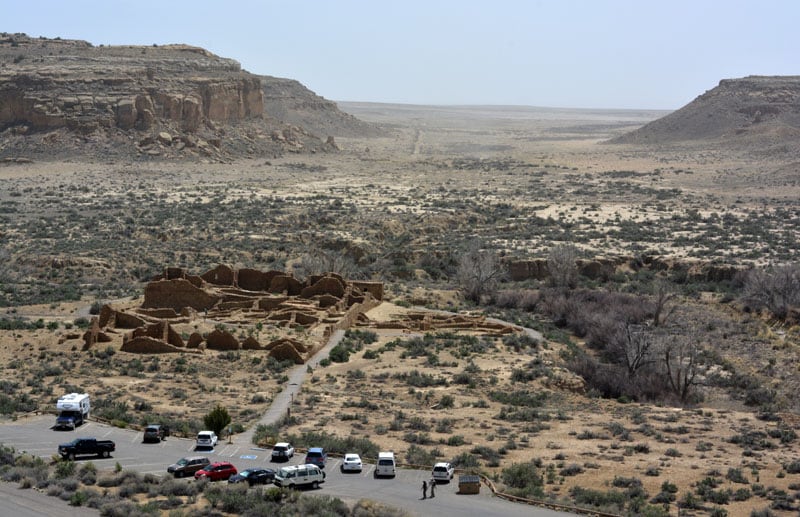 Above: There is lots of parking, so taking your rig around is not hard to do
On the way out of Chaco Culture we met a Hallmark owner on the road.  He told us about a great free BLM campsite nearby called Angel Peak Scenic Area.  It was a wonderful spot with a beautiful view.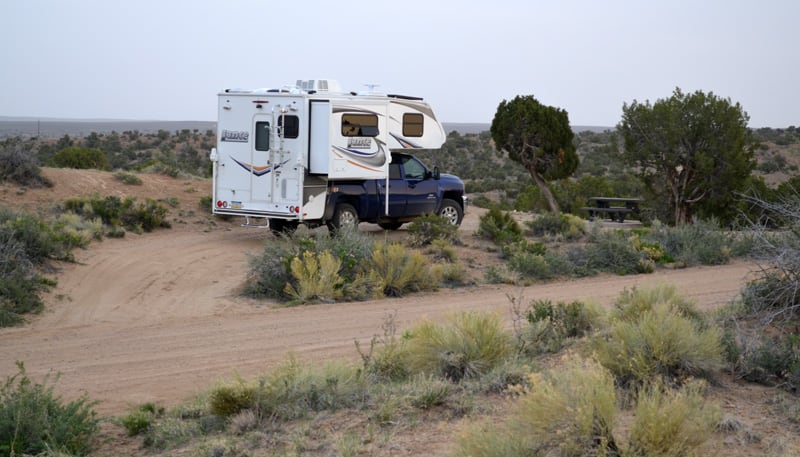 Above: Angel Peak, BLM area in New Mexico
Lee Nelson
2015 Ford F-350
2015 Lance 1052
We decided to go to the Albuquerque Balloon Festival a few years ago.  After an absolutely horrific camping experience and battling the hordes at the balloon festival, we headed back to Denver via the back highways.
Our goal was to spend a couple of nights in Chama, New Mexico and ride the Cumbres & Toltec Scenic Railroad.  We left Albuquerque mid-morning with a goal of maybe staying at Heron Lake State Park that night.  It was a scenic drive and we stopped several times along the way.
We arrived at Heron Lake State Park around 2:30pm.  There is only one campground with hook-ups, so we elected to do our usual, dry camping.  The Ranger issued us a permit and told us to camp in any site that was open.
There was nobody camping in any of the campsites this late in the year, so we found a site overlooking the lake. The next day we got up and hiked around the lake and up to the dam. We broke camp around noon and headed north to Chama.
We didn't have any plans or reservations, but came upon the Sky Mountain RV Resort.  We told the owner that we had reservations for the train the next morning.  He said that he would be happy to give us a ride up to the train station and pick us up when we returned.  Then he gave us a nice electrical site away from the rest of the giant motorhome crowd.
We spent two nights there. Even though the weather was not the greatest for our train trip, we still enjoyed our stay. I would highly recommend Sky Mountain RV Resort.
I also recommend Chaco Canyon National Historical Park. It is not crowded and has incredible ruins. The campground is small and rustic, and a dark sky.
Tom Bryan
2014 Chevrolet Silverado 2500
2012 Wolf Creek 850
At the Fort Wingate and McGaffey exit south of I-40 east of Gallup there is lots of nice off-road boondocking as well as a United States Forest Service campground called the Quaking Aspen Campground.
This is high desert country so the temperatures are cooler than southern New Mexico.  After cooking out on the grill and taking a short walk through the woods one evening, we woke up to a still and exceptionally quiet morning with an unexpected blanket of snow.
There are lots of sites to enjoy in the area; El Morro, the Ice Caves, the Navajo Indian Reservation, and Trading Posts in Gallup.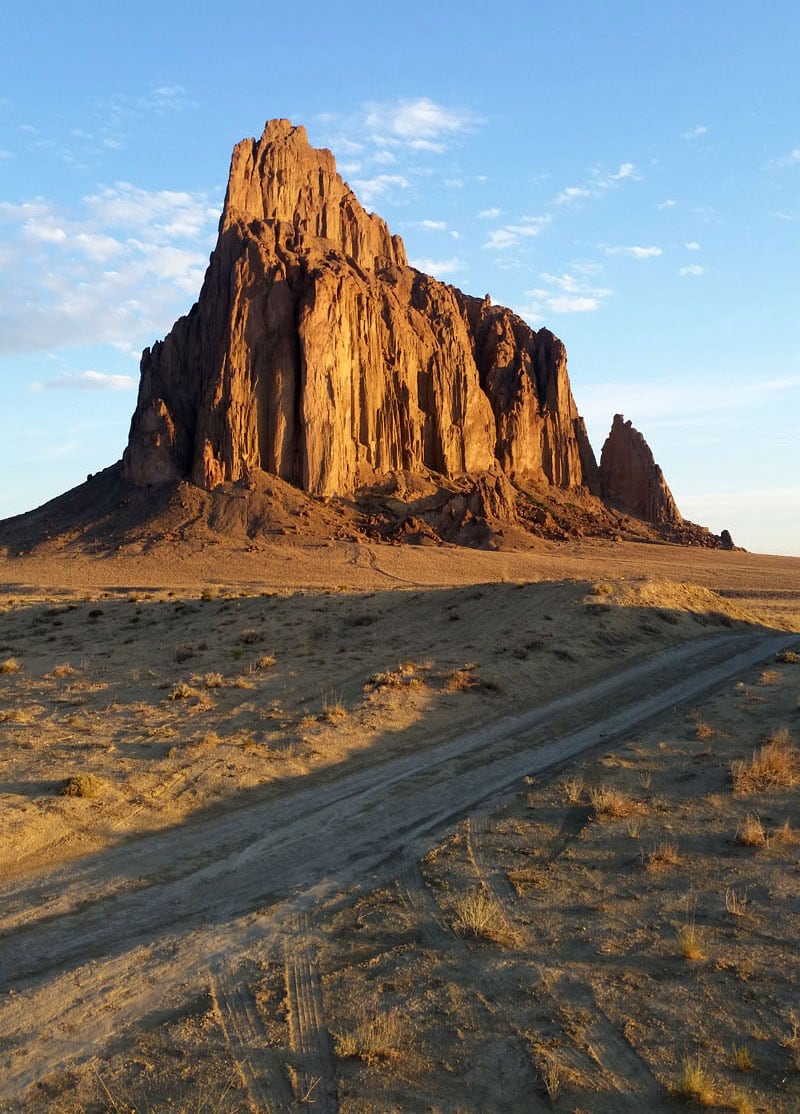 We were able to boondock at Shiprock.  This is where part of the Johnny Depp movie, The Lone Ranger was filmed.
Bill Peters
2017 Chevy Silverado
2013 Four Wheel Camper Hawk
U.S. Route 64 between Tierra Amarilla and Tres Piedras is a beautiful drive.  Hopewell Lake Campground in the Carson National Forest is a great stop.  During rutting season, the elk bugling will keep you awake.
Some boondocking sites are available, along with a great campground with friendly hosts (last time I was there). It is high in the mountains, so it's cool in the summer.
Valles Caldera National Preserve is another great place.  It's a private ranch donated to the people of the United States for enjoyment.  NM-126 between Cuba and Valles Caldera National Preserve is a nice drive.
Canjilon Lakes Recreation Area was a beautiful place that is well off the beaten path, but has been closed in recent years due to diseases and bugs killing the trees.
Harry Palmer
2008 Dodge 2500
2008 Lance 915
At Navahoe Lake, near Aztec, New Mexico, we camped below the lake and fly-fished below the dam in trout waters.  The camping was good and the fishing was very good.  Some of the fishing is restricted due to it being designated for fly fishing, but this is only for a mile or so below the dam.
Each year the camping sites can change due to drought and funding.  The Navahoe Lake extends into Colorado, so it's a great place to visit and camp.  I've not camped in the above dam campgrounds, but I understand they have a lot of space.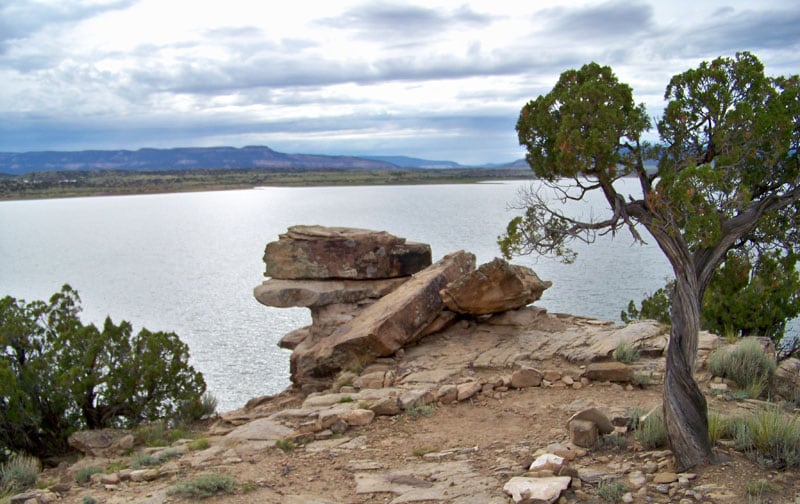 Above: Bluewater State Campground near Prewitt
Bluewater State Campground, off I-40 near Prewitt, is a nice park with a decent amount of camping.  Horses have been seen going through the park.  The lake has a lot of fishing.  Catching them can be a challenge.
Many of the designated campsites are not level, but what works for a truck camper is not the same as what a Class C or Class A motorhome requires.  Prices were reasonable at around $8 per night.  We camped in the upper campground, which is far from the water.
Jacob Brokke
1996 Ford Bronco
1996 Lite Craft PopUp Camper
Above: Valles Caldera National Preserve
On our way from Los Alamos to Jemez Falls, we got our first taste of what was to come when we passed the Valles Caldera National Preserve.  The views were breathtaking.  Only a few more miles west we found The Las Conchas Trailhead (35.815301, -106.533016) alongside the East Fork Jemez river on NM 4.  We stopped to watch some rock climbers on the Jemez Cattle Wall and decided to follow the trail down to the river.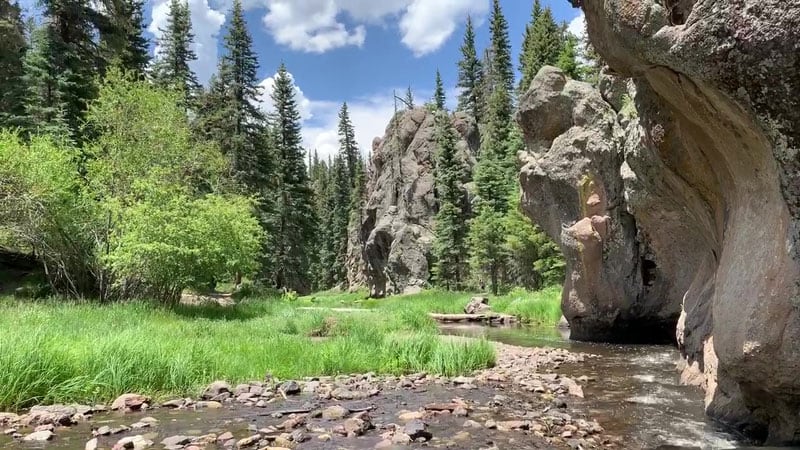 Above: Las Conchas Trailhead
After traveling all over New Mexico for four weeks, we were not looking forward to leaving this beautiful state.  We were once again surprised by more jaw dropping views and sense of peace and beauty of this unforgettable location.  The blue sky covering the mountains and the river streaming along the bright green grass through the pine trees and meadows was a sight we will continue to cherish.
We had spent the night at the Jemez Falls Campground only five miles up the road from this trailhead.  The campground cost $10 a night.  There are clean toilets, but no showers.  There was no electric or water at the very spacious sites in loop 1.  Drinking water was available throughout the campground.
The area is covered with wondrous trails and beautiful Ponderosa Pines.  The night sky was spectacular.  We will definitely return here for further exploration.
Connie Westbrook
2000 Chevy 3500
97 Lance Squire 5000
Bandelier National Monument has cliff dwellings you can climb in and other artifacts.  When we were there you parked and rode a bus into the park.
Chama has Cumbres & Toltec Scenic Railroad, a narrow gauge coal-fired steam railroad, similar to the Durango-Silverton railroad.  The railway goes to Antonito, Colorado and back.
Abiquiu and Heron Lake are very nice campgrounds.  On Highway 64 west of Taos is the Rio Grande Gorge Bridge.  You can walk across it and look down into the gorge.
At Arroyo Honda, you can drive west and down to the Rio Grande River.  There is a bridge that goes across and back up on the other side, if you want to do that. Look for Road B-007.  Once you get to the river there is a swimming beach.
Les Cahal
2017 Ford F250
2011 Northstar 850SC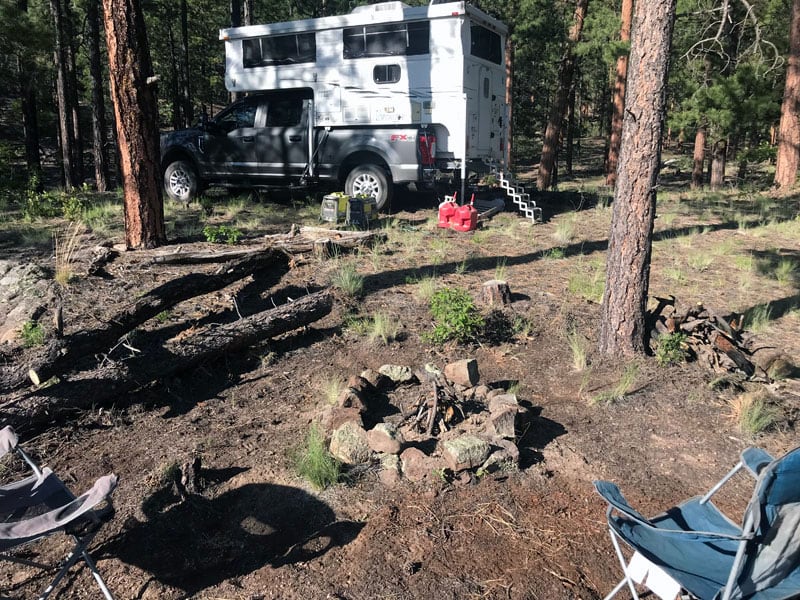 I recommend Forest Service Road 19.  The road is dirt and gravel, and fairly well maintained.  There are really great views as you go up the mountain.  The forest is open with very little undergrowth.  There are tons of four-wheeler and hiking trails.  The temperatures in the summer nights dip down in the 40s at times making it perfect for camping.