Ken: We upgraded our camper to two batteries and wired them in parallel.  Fully charged, the two batteries last us about a week of careful usages, and greatly extend our boondocking capabilities.
TCM: What are some of your favorite places to go truck camping?
Ken: We mainly go on weekend trips.  We've also gone on vacations to the Black Canyon of the Gunnison and look forward to more long trips, like to Moab, Utah.
We also enjoy visiting Kenosha Pass south of Denver and boondocking in Pike National Forest.  There's a lot of good camping and hiking in that area, especially off Highway 9 North and West of Leadville.
We look for places that are no more than four hours from where we live.  For example, Homestake Reservoir in White River National Forest is a good camping spot.  The Holy Cross Wilderness Area is also really pretty.
There are other spots we enjoy like the Weston Pass Campground over by Fairplay, Colorado.  We park at the trailhead and hike the twelve mile loop.  Then we come back, have a hot tea or coffee, and relax.  At Missouri Lake, we also park near the trailhead, go hiking, and then spend the night there in our camper.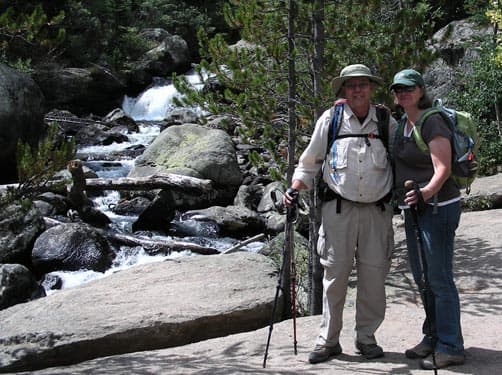 On a Friday night, we might go to a high mountain lake and spend the night right at the trail head.  The next morning, we wake up right there and hike the high mountain lake.  I might spend that night in a tent that I put in my backpack.  My wife, Krista, might stay in the camper.   It's very nice to get back into the camper after a hike and know that we will be comfortable and dry.  The truck camper gives us a lot of freedom.
TCM: It sounds like you've done quite a bit of hiking.  What's the most amazing place you've ever hiked?
Ken: I would say the hike from Rocky Mountain National Park to Mills Lake.  It's a beautiful route, even though it can be crowded during peak season.  For a hiking experience without people, hiking up to Missouri Lake is a beautiful trek uphill.  Holy Cross Wilderness Area or White River National Forest is also jaw dropping as the trails there go to the high mountain lakes.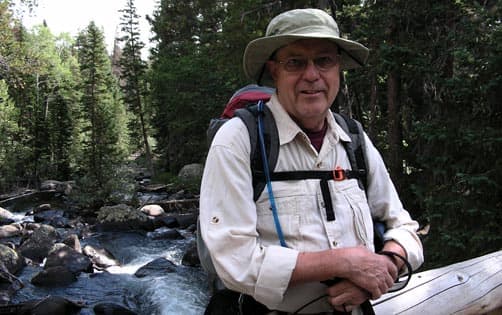 TCM: Do you have any tips for someone who is interested in day hiking?
Ken: You should exercise when you're not hiking and do a lot of walking to stay physically fit.  You need to have the right shoes, walking sticks, rain gear, food, and lots of water.  In Colorado, always be ready for a change in the weather.  If you are not used to elevation changes, don't start climbing in altitude immediately.  Take a day to get acclimated.
When I go hiking, I take my illustrated trail maps, compass, and GPS.  We typically stay on the designated trails.  When I go out, I definitely let people know where I'm going and when I'll be back.  I don't deviate from that plan.
I have a whistle in case I get lost as well as a fire starting kit, flint, and steel.  I also have a tent and sleeping bag if I'm hiking overnight.  Sometimes I'll bring a water pump that filters the water from a stream or lake.