With his custom Phoenix pop-up truck camper, hiking enthusiast Ken Rogman loves camping at his favorite Colorado boondocking sites and hitting the trail.  Don't miss Ken's top spots list!

There's nothing like experiencing a new place on foot.  A fly over is fine for an overview.  A drive by is good for a glance.  But, if you really want to know a place, there's nothing like hiking boots, sneakers, or sandals.
And just so you don't think we're discriminating against your favorite footwear, feel free to set out with pumps, crocks, clogs, flip flops, moccasins, snowshoes, flippers, slippers, loafers, high tops, Mary Janes, galoshes, waders, cowboy boots, crampons, or even some pointy winklepickers.  Heck, you can go barefoot or in a nice pair of pink polkadot Pippi Longstocking knee socks for all we care.
The point is to jump out of the plane, get out of the truck, and explore new places on foot.  Just remember a parachute if you do the whole jumping out of a plane thing.  We would hate to lose readers, even if you are wearing polkadot socks.
Ken Rogman certainly shares our passion for exploring a place on foot.  His truck and custom Phoenix camper were selected to get him to Colorado's most amazing trail heads.  Once there, he sets out for hours of hiking adventure.  Best of all, Ken shares his favorite boondocking camp sites and trails at the end of his article.
Lace up those stilettos.  It's time to take a hike.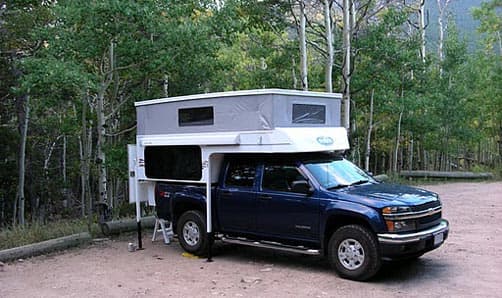 TCM: How did you get started with camping?
Ken: I was in the Boy Scouts in a small Illinois town.  We would hike the local oak tree forests, parks, and with permission, put up tents in farmer's woods.  I've been in love with hiking and camping ever since.
My wife and I started out tent camping.  Early on we had a tent big enough for my wife and daughter and three cots, but we didn't really like that.  We also tried camping out of our Chevy Blazer with a tent on the back that extended out.  Eventually I convinced my wife that we should get a truck camper.
TCM: That's a big change from a Chevy Blazer and tent to a truck camper.  What was it about a truck camper that appealed to you?
Ken: I can get a truck camper into spots that I can't get a travel trailer into.  We can go off-road on Jeep trails with a truck camper.  We also like to boondock.  With a truck camper, you have a stove, furnace, water, and refrigerator.  You're sleeping up off the ground and you're able to stand up rather than crawl through like we did for our Blazer and tent set-up.  And we have found some amazing spots to camp for the night in our truck camper.
TCM: Tell us about your custom Phoenix pop-up camper.
Ken: It started three years ago with the purchase of a Chevy Colorado truck that I took to Robby Rowe of Coyote RV.  My wife and I talked with Robby about what we wanted in our new custom camper including a two-basin sink, three-burner stove, refrigerator, and an outlet for our DVD player when it rains, hails, or snows, and we have been camping in all those weather conditions.  Truck camping is by far the best.  Once Robby knew what we were looking for, he built a camper that perfectly fit our truck.
TCM: You also said that you love to boondock.  How is your rig set up for boondocking?