With his custom Phoenix pop-up truck camper, hiking enthusiast Ken Rogman loves camping at his favorite Colorado boondocking sites and hitting the trail.  Don't miss Ken's top spots list!

There's nothing like experiencing a new place on foot.  A fly over is fine for an overview.  A drive by is good for a glance.  But, if you really want to know a place, there's nothing like hiking boots, sneakers, or sandals.
And just so you don't think we're discriminating against your favorite footwear, feel free to set out with pumps, crocks, clogs, flip flops, moccasins, snowshoes, flippers, slippers, loafers, high tops, Mary Janes, galoshes, waders, cowboy boots, crampons, or even some pointy winklepickers.  Heck, you can go barefoot or in a nice pair of pink polkadot Pippi Longstocking knee socks for all we care.
The point is to jump out of the plane, get out of the truck, and explore new places on foot.  Just remember a parachute if you do the whole jumping out of a plane thing.  We would hate to lose readers, even if you are wearing polkadot socks.
Ken Rogman certainly shares our passion for exploring a place on foot.  His truck and custom Phoenix camper were selected to get him to Colorado's most amazing trail heads.  Once there, he sets out for hours of hiking adventure.  Best of all, Ken shares his favorite boondocking camp sites and trails at the end of his article.
Lace up those stilettos.  It's time to take a hike.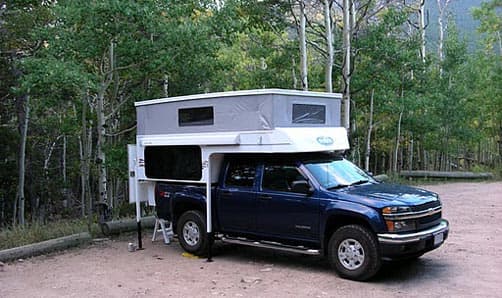 TCM: How did you get started with camping?
Ken: I was in the Boy Scouts in a small Illinois town.  We would hike the local oak tree forests, parks, and with permission, put up tents in farmer's woods.  I've been in love with hiking and camping ever since.
My wife and I started out tent camping.  Early on we had a tent big enough for my wife and daughter and three cots, but we didn't really like that.  We also tried camping out of our Chevy Blazer with a tent on the back that extended out.  Eventually I convinced my wife that we should get a truck camper.
TCM: That's a big change from a Chevy Blazer and tent to a truck camper.  What was it about a truck camper that appealed to you?
Ken: I can get a truck camper into spots that I can't get a travel trailer into.  We can go off-road on Jeep trails with a truck camper.  We also like to boondock.  With a truck camper, you have a stove, furnace, water, and refrigerator.  You're sleeping up off the ground and you're able to stand up rather than crawl through like we did for our Blazer and tent set-up.  And we have found some amazing spots to camp for the night in our truck camper.
TCM: Tell us about your custom Phoenix pop-up camper.
Ken: It started three years ago with the purchase of a Chevy Colorado truck that I took to Robby Rowe of Coyote RV.  My wife and I talked with Robby about what we wanted in our new custom camper including a two-basin sink, three-burner stove, refrigerator, and an outlet for our DVD player when it rains, hails, or snows, and we have been camping in all those weather conditions.  Truck camping is by far the best.  Once Robby knew what we were looking for, he built a camper that perfectly fit our truck.
TCM: You also said that you love to boondock.  How is your rig set up for boondocking?
Ken: We upgraded our camper to two batteries and wired them in parallel.  Fully charged, the two batteries last us about a week of careful usages, and greatly extend our boondocking capabilities.
TCM: What are some of your favorite places to go truck camping?
Ken: We mainly go on weekend trips.  We've also gone on vacations to the Black Canyon of the Gunnison and look forward to more long trips, like to Moab, Utah.
We also enjoy visiting Kenosha Pass south of Denver and boondocking in Pike National Forest.  There's a lot of good camping and hiking in that area, especially off Highway 9 North and West of Leadville.
We look for places that are no more than four hours from where we live.  For example, Homestake Reservoir in White River National Forest is a good camping spot.  The Holy Cross Wilderness Area is also really pretty.
There are other spots we enjoy like the Weston Pass Campground over by Fairplay, Colorado.  We park at the trailhead and hike the twelve mile loop.  Then we come back, have a hot tea or coffee, and relax.  At Missouri Lake, we also park near the trailhead, go hiking, and then spend the night there in our camper.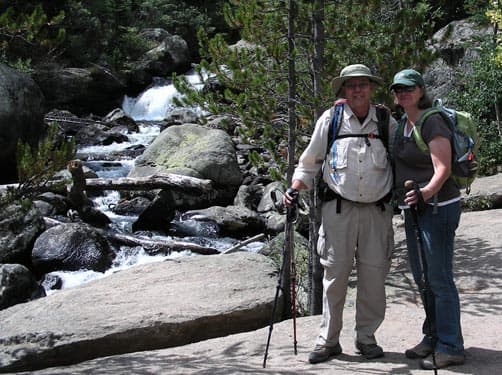 On a Friday night, we might go to a high mountain lake and spend the night right at the trail head.  The next morning, we wake up right there and hike the high mountain lake.  I might spend that night in a tent that I put in my backpack.  My wife, Krista, might stay in the camper.   It's very nice to get back into the camper after a hike and know that we will be comfortable and dry.  The truck camper gives us a lot of freedom.
TCM: It sounds like you've done quite a bit of hiking.  What's the most amazing place you've ever hiked?
Ken: I would say the hike from Rocky Mountain National Park to Mills Lake.  It's a beautiful route, even though it can be crowded during peak season.  For a hiking experience without people, hiking up to Missouri Lake is a beautiful trek uphill.  Holy Cross Wilderness Area or White River National Forest is also jaw dropping as the trails there go to the high mountain lakes.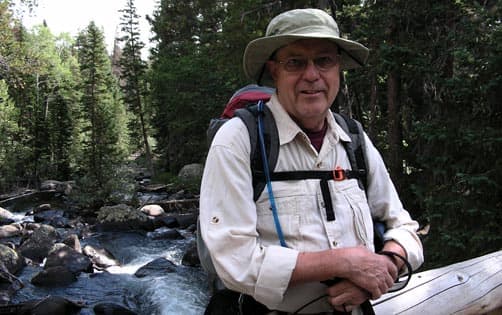 TCM: Do you have any tips for someone who is interested in day hiking?
Ken: You should exercise when you're not hiking and do a lot of walking to stay physically fit.  You need to have the right shoes, walking sticks, rain gear, food, and lots of water.  In Colorado, always be ready for a change in the weather.  If you are not used to elevation changes, don't start climbing in altitude immediately.  Take a day to get acclimated.
When I go hiking, I take my illustrated trail maps, compass, and GPS.  We typically stay on the designated trails.  When I go out, I definitely let people know where I'm going and when I'll be back.  I don't deviate from that plan.
I have a whistle in case I get lost as well as a fire starting kit, flint, and steel.  I also have a tent and sleeping bag if I'm hiking overnight.  Sometimes I'll bring a water pump that filters the water from a stream or lake.
TCM: That sounds like very good safety advice.  We use a SPOT Satellite Messenger which emails friend and family your GPS location via satellite.  For someone who is not sure about their navigations skills, like us, it's a nice peace of mind accessory.  Is there anything else that we didn't ask you about that you would like to add to your interview?
Ken: Once you learn how to do it, it's really easy to load and unload the camper on the truck.  It's also really easy to set up once you're ready to camp for the night.  All we do is unlatch the four clamps, pop-up the top, level off, and extend the legs.  It's simple and it's so much more comfortable, clean, and relaxing than a tent or a SUV.
TCM: Thanks Ken.  Could you send us some additional information about the places where you enjoy truck camping and hiking?
Ken: Yes.  I'll send you a list.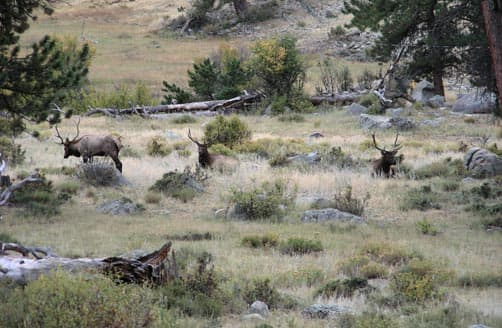 ABOVE: These elk were on the other side of the berm from our camper.  We stood on the top of the berm, and the elk just laid there for their photo opportunity.  Hope you can enjoy the elk bugling season mid September to mid October.
Here's the list of favorite camp sites and hikes that Ken sent to us.  Most of the camp sites and hikes are in central Colorado, outside of Denver.
Name of Trail/Campground: Rich Creek Trailhead near Fairplay, Colorado
Trail Distance: 12.5 mile loop
Difficulty: Moderate hike with little elevation change
Boondocking: Yes
Cost: Free
Things to See: Beaver ponds, deer, elk

Name of Trail/Campground: Western Pass Campground
Trail Distance: Varies depending on the hike you take to Rich Creek
Difficulty: Moderate hike with little elevation change
Boondocking: First come; first serve camp sites – no hookups
Cost: $8 a night
Things to See: Beaver ponds, deer, elk
Name of Trail/Campground: Rocky Mountain National Park
Trail Distance: Varies depending on the hike you take
Difficulty: Easy to moderate the further up you go
Boondocking: No boondocking in Rocky Mountain National Park
Cost: National Park Fee, $10 lifetime for Rocky Mountain National Park
Things to See: Miller Lake, Wild Basin, and Bear Lake
Tip: Moraine Park Campground is the best for elk in the B Loop at the end of September.  When we went, the elk were on the hill.

Name of Trail/Campground: Just after Kenosha Pass
Trail Distance: Colorado Trail
Difficulty: Moderate
Boondocking: Yes, anywhere along FR 127
Cost: Free
Things to See: Hike the Colorado Trail, wildflowers, fall colors
Tip: Take 285 out of Denver.  There is a road that hooks up to the Colorado trail.  You come down a big hill, take the first left onto FR 127.  It goes back in quite a ways.  You can pick up the Colorado trail in a couple different spots.  You can also stop anywhere along the road, pull off to the side, and hike.
Name of Trail/Campground: Rock Creek Trailhead – behind Kenosha pass
Trail Distance: The trails are clearly marked with signs that say, "Colorado trail", and "Ben Tyler Gulch"
Difficulty: Neither is too strenuous.  It may be moderate for those who aren't from Colorado and aren't used to the elevation.
Boondocking: Yes
Cost: Free
Things to See: Hike along a creek, rock formations, old log cabins.
Tip: We've had the truck camper at a thirty degree angle going in and out.  It's not a place you want to take a trailer.  You can camp back there.  When the stars come out, it's wonderful, and quiet.
Name of Trail/Campground: Homestead Reservoir to Fancy Lake and Missouri Lake
Distance: It's kind of a loop and goes about 5.5 miles up to Missouri Lake, then goes over a ridge to Fancy Lake and comes down to the same trailhead
Difficulty: This is a more difficult trail as most high mountain lakes are straight up hikes
Boondocking: Yes
Cost: Free
Things to See: Fancy Lake and Missouri Lake

Name of Trail/Campground: Native Lake trail over by Leadville
Distance: 4.8 miles
Difficulty: Moderate to difficult hike
Boondocking: Yes, at the trailhead parking lot
Cost: Free
Things to See: You go up over the tree line, across the ridge, and back down into the lake, nice trout in the lake.
Wherever you can hook up to the Continental Divide or Colorado trail, there's great hiking and you can usually stay at the trailheads in your camper.
Truck Camper Rig
Truck: 2005 Chevy Colorado, extended cab, single rear wheel, short bed, 4×4, gas
Camper: 2007 Phoenix 6 foot camper
Tie-downs and Turnbuckles: Coyote's turnbuckles and tie-downs
Suspension Enhancements: Airbags on the Rear
Gear: N/A