The Gros Ventre Slide Area is a nice geological point of interest where the side of a mountain slid off and caused a lot of changes to a river corridor and damage to human habitation downstream.  It's a short, easy hike to see a well documented historical event.
6. Moose Wilson Road and Pilgrim Creek for Wildlife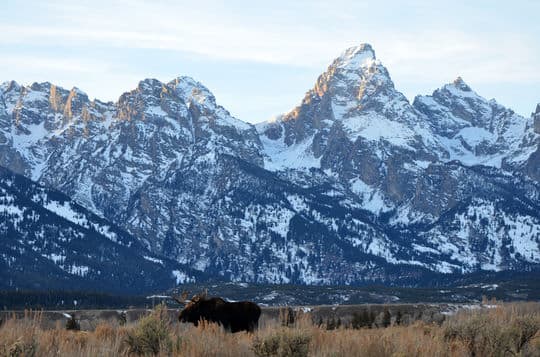 Above: A moose in Grand Teton National Park
The Grand Tetons are an incredible sight and the visitor center at Moose, Wyoming is a great viewing place where the names of each tetonic peak are marked on a pointer along the floor.  From there, take the Moose Wilson Road for an almost sure citing of wildlife from Grizzly and black bears, to moose, deer, Great Gray Owls, and beavers.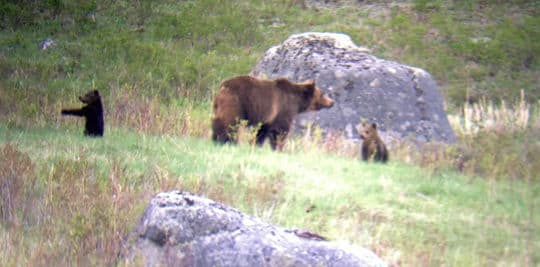 Above: Bears in the Pilgrim Creek area
Definitely bring bear spray.  The Grand Tetons are a good place to see Grizzly Bears, especially the Pilgrim Creek area.  Binoculars and cameras are a must, too!  I always bring a GPS, but the trails are well marked.
7. Boondocking at Pacific Creek and Gros Ventre Road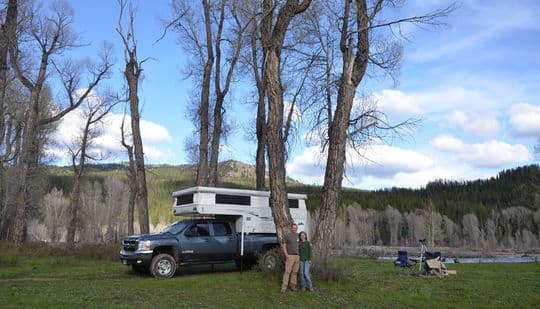 Above: Boondocking at the Pacific Creek area, about ten miles up Gros Ventre Road
Campgrounds are highly reserved and can be tough to get into from June through September.  Boondocking is a bit tough to find, but I have had good luck at the Pacific Creek area, and about ten miles up the Gros Ventre Road.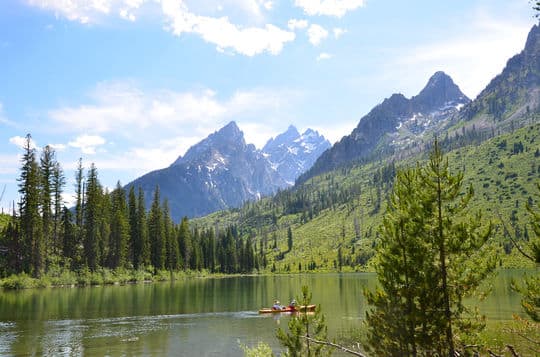 Above: Wade, swim and boat in Grand Teton National Park among beautiful backdrops.
For alternatives, there are some great city parks and hiking trails along String Lake, Leigh Lake, and Jenny Lake.  String Lake is especially pretty and you can wade, swim, and boat there among some beautiful backdrops.
Nearby Bonus: Yellowstone National Park
Don't forget the world's first National Park and America's greatest treasure, Yellowstone National Park, adjoins the Grand Teton National Park on the north side.
Starting earlier this year they may have started requiring a separate entry fee for each park.  If you plan to visit more than one national park in the next twelve months, I highly recommend getting an "America the Beautiful" annual park pass ($80).
Nearby Bonus: Jackson, Wyoming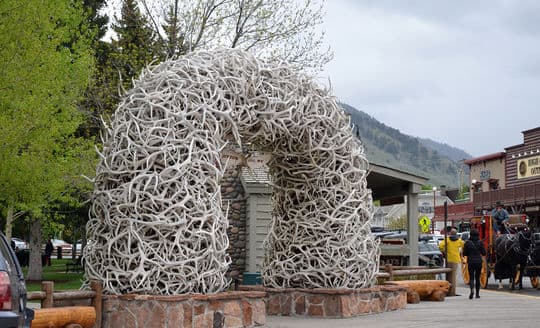 The town of Jackson, Wyoming is a great place to visit.  You can see the elk antler arches in the central city park.  The National Elk Refuge is a sure thing for elk, but only in the late fall/winter timeframe.  You may also get lucky and see the Pinnacle Peak Wolves in that area.
Nearby Bonus: Granite Falls in Bondurant, Wyoming