TCM: Do you feel like you're missing out by not being near your friends and family all the time?
Judy: We spent most of our lives in a fairly small town and most of our friends aren't there anymore.  We have been on the road for ten years now and most of our friends are also traveling.  We keep in touch with cell phones and email and get together far more often than if we were in a house somewhere.
We have far more friends now than ever before and see them all over the country.  All of our kids live in the Chicago area and we camp host at a nearby state park when we want to see them.  We fit our family time into our travel plans.
Last year we were in the Chicago area for the month of April, then left for the summer to tour the Canadian Maritimes.  We were in the Chicago area again for the month of October.  This year we will probably be in Chicago for a few months over the summer.  When our daughter lived in Maryland for a few years, we camp hosted near her house in Maryland, so there are advantages to being mobile.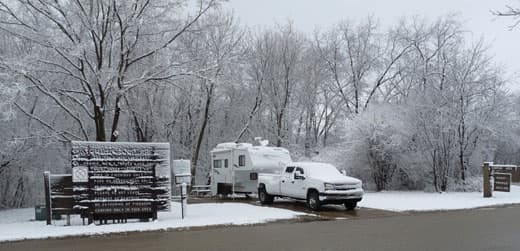 Above: Illinois camp host site near family
If your children are spread around the country, you can spend time with them all.  You're going to miss out on some things, but if you want to travel, this is a great way to do it.
TCM: When you're on the road, what's your schedule?
Jerry: We travel on a whim.  We know where we're going, but when or how we get there is part of the fun.  That's a big reason we bought the truck camper.  We like the back roads and small towns and often stay in places we never knew were there.
There's always a place to stay at the end of the day.  We are nosey and can always find something to do.  We may stay a day or two in a place and just poke around.  Then we move on to the unknown.  There are all kinds of interesting places and things out there waiting to be found.
We rarely stay for more than a few days anywhere when we're on the road.  We stay at fairgrounds, county or city parks, National Parks and forests, BLM land, and US Army Corps of Engineers Campgrounds.  We find all kinds of places to camp and the truck camper always makes it easy to fit in.
TCM: How do you decide where to go next?
Judy: We travel with the weather and look for anything that seems interesting to explore.  This winter, we will explore the BLM lands of the southwest desert.  In early spring, we'll head to the National parks in Utah and that area.  Next summer we will camp host near the kids.  Sometime in September we will head to either Churchill, Manitoba to see the polar bears and the Aurora Borealis, or we will head east to the truck camper rallies and explore the East coast.  For next winter we may head to southern Mexico, one of the areas we really enjoy.
This is all very flexible and can change at any time.  If either of us finds something else to do, we talk it over and make a new plan.  We have completely changed plans while driving down the road.  That is one of the beauties of being a full timer in a small rig.
TCM: Since you've been full-timing, where are some of the places that you've been?
Judy: Alaska, Western Canada, the Canadian Maritime Provinces, the East Coast, the Florida Keys, the desert Southwest, the West Coast, and over 20,000 miles in Mexico.
TCM: Is there any other advice that you'd like to give people who are thinking about full timing in a truck camper/RV?
Jerry: We all have our own needs and ideas.  If someone already has a RV, we think they should keep that and their house and hit the road to wherever they want to go.
After a winter or two of being a snowbird, they should have a good idea of how they want to go from there.
Judy: They may find that being a snowbird with a house is best for them.  If they do go full time, they will have a better idea of the type of travel they like to do, and maybe the type of RV they really want to have.