Above: Cape George, Ballantyne's Cove, Nova Scotia

TCM: What made you want to sell your condo and become full timers RVers?
Jerry: We enjoyed traveling in the fifth wheel and realized that there was no real need to go back to the condo.  Alaska, the Canadian Maritimes, and the National Parks in the Southwest would all be summer trips and we wouldn't even get to the condo.  It was an easy decision to sell it.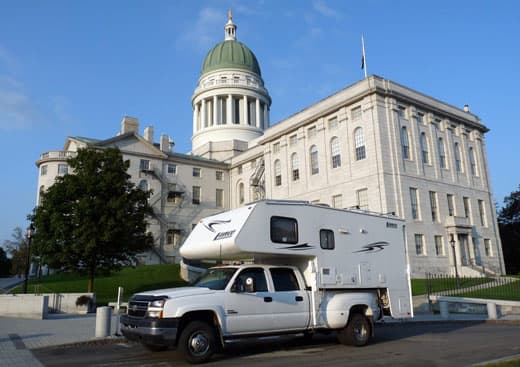 Above: State Capitol, Maine

Judy: We retired eleven years ago.  The first five years we traveled eight to nine months each year in the fifth wheel.  We sold the condo six years ago and have lived in the fifth wheel and the Lance ever since.  We spend about half of our time in the fifth wheel, and half our time in the truck camper.
TCM: Without having a house, do you worry about not having a physical home to go back to should something happen?
Jerry: We think about that, but we don't worry about it.  Judy has had two total hip replacements on the road, one in Indianapolis and one in San Antonio.   We stayed in the fifth wheel with no problems.
When people live in a house, they seek medical treatment near that house.  We are able to go to where we thought the best treatment would be.  We didn't have to worry about the house; we just found the best treatment and went there.  I have been to hearing specialists in Phoenix and San Antonio.  We are both retired from the medical field and find that our mobility is a real advantage in seeking quality care.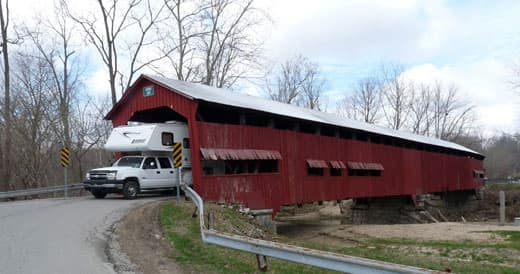 Above: Greencastle, Indiana

TCM: How do you handle the regular day-to-day stuff like getting the mail, paying bills, handling taxes, and insurance?
Judy: We use a professional mail service in Sioux Falls, South Dakota.  There are others in Rapid City, South Dakota, Florida, and the Escapees mailing service in Livingston, Texas.  Many RVers use these services and they are all good.
We have our mailing service forward our mail to a post office via general delivery, or a campground, or friend's house whenever and wherever we want to get it.  We usually get our mail every two to three weeks.  We initially went to Sioux Falls to set things up and this was very easy to do.  In two to three days all the legal stuff can be done and you will have all your questions answered.
Driver's licenses, license plates, auto insurance, and voter cards are all done through that address.  South Dakota has no state income tax and we get our federal tax forms the same way anyone else gets them.
We use credit or debit cards most of the time and most bills are automatically paid from our bank account.  We vote by absentee ballot and that is very easy to do.  Cell phones, the internet, and these professional services make everything easy to do.  There is no reason why you can't go anywhere in a RV and do the same things to get your day-to-day stuff done.
Above: Solar panels were a modification they made on their new Lance 1181
TCM: Did you make any modifications to your camper to make it more compatible with your full-time lifestyle?
Jerry: We really didn't need to modify the camper for our lifestyle.  We can be in our Lance for six to eight months at a time and we go anywhere we want to go.  If we had hook-ups more often, we wouldn't need to do anything with the camper and we would be fine.  As it is, we hardly ever hook-up or stay at campgrounds which required some modifications to be able to be off-the-grid and comfortable for a long period of time.  Our camper has a solar system, catalytic heater, and water filters to extend our boondocking capabilities.