Truck Camper Magazine readers share their best recommendations for free and frugal RV camping in Maine.  Here's how you explore the Pine Tree State on the cheap.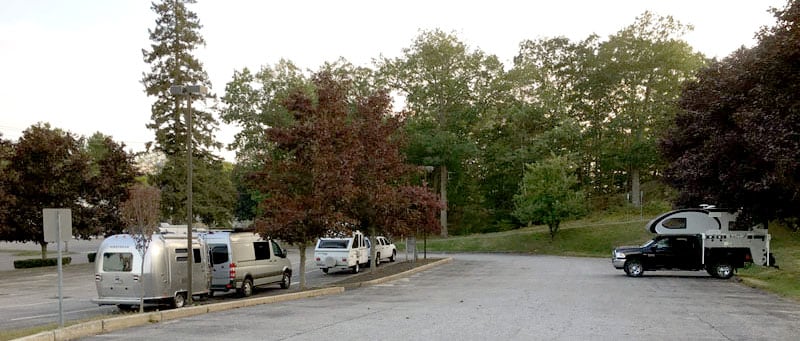 Above: Free overnight parking is available at L.L. Bean in Freeport, Maine
Whenever the Northeast comes up in conversation, money soon follows.  Whether we're talking about the cost of housing, taxes, fuel or any other standard of living, nobody claims the Northeast is frugal place to live.  Well, unless you're a squirrel.
This is why we asked our readers for free and cheap camping opportunities in Maine.  We have always wanted to explore Maine, but were concerned about the two C-words; cost and crowds.  For yours truly, a cramped and expensive campground is the exact opposite of what I enjoy about truck camping.  No thanks.
Reading between the lines, it seems that our concerns are legitimate.  Unlike the western United States, there are not a lot of free and cheap camping opportunities in Maine (or the entire Northeast for that matter).  The good news is that there are some in Maine, and they are listed below.  Our readers rock.
We will combine these suggested bargains with a smattering of higher-priced campsites and moochdocking with friends.  Sprinkle in a few Harvest Hosts and Boondockers Welcome locations, and call it an adventure.  Look out Pine Tree State.  Here we come!
Paul Fraser
2017 GMC Sierra 1500
2017 Northstar Liberty

Finally, after a couple of years of benefiting from the experiences of others, I am now able to offer something of my own; free parking on the coast of Maine and how I stumbled upon it.
The method I used was by scanning the Maine coast in the general direction of where I wanted to go on Google Earth.  Specifically, I was looking for anywhere along the coast that wasn't developed, either privately or publicly.
I started at the Maine-New Hampshire border, just north of Portsmouth, and followed the coast north.  Approximately twelve-miles north of Kittery following Maine Rt.103 to US-1A, in the town of York Beach, I found the Cape Neddick Nubble Lighthouse.
Physically, this is a small peninsula, jutting out from a residential section along the coast.  At the end it there is a small island approximately 50 to 100-yards off shore upon which is a classic Maine Lighthouse.  On the peninsula there is a small museum and a snack bar with parking along the perimeter of the peninsula.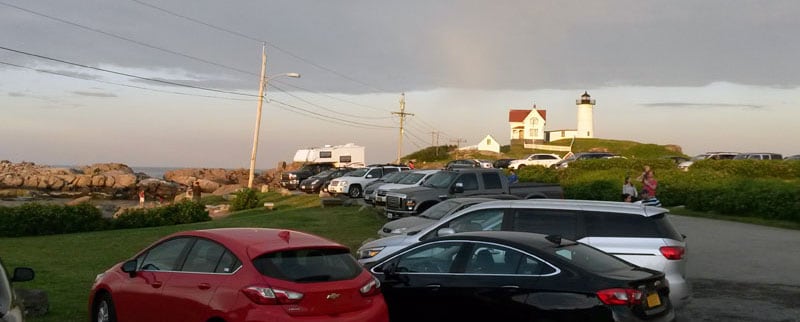 I did the usual transient camper wander-around-the-property looking for no overnight parking signs and found none.  I also noted that there were no signs suggesting any specific jurisdictional boundaries.
So, I had dinner, and joined a couple of dozen other people watching the sunset, (sort of), and enjoyed some live music outside the souvenir stand.  When I decided to turn in, I observed that there were quite a number of couples and small groups, "watching the submarine races".
Since I chose to park within feet of the rocks, the sounds of their voices, while not particularly loud, were something I dealt with until approximately 2:00am, when they seemed to drift away.  "Yay", I thought, "I will get some uninterrupted sleep".
I was wrong.  Apparently there is a whole different group of people that liked the lighthouse atmosphere.  Around 4:30am, the people whose hobby is to take pictures of lighthouses as the sun comes up started arriving.  So, I gave up trying to sleep and went outside and took a bunch of pictures myself.
No one bothered me about staying there.  During the evening, I did observe a local patrol car pass through a couple of times, so I know it was patrolled – at least during the prime tourist times.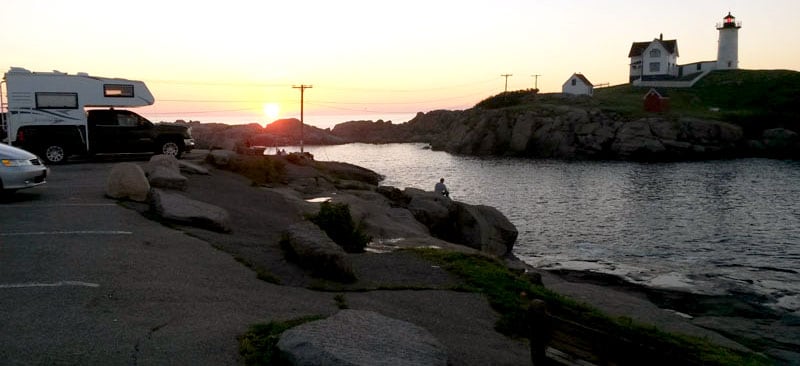 Bottom line is that I found a free, picturesque, safe parking area near a snack bar, on the coast.  It is approximately a dozen miles or so north of Portsmouth, New Hampshire where Rt-1A connects directly to Rt-1 (and I-95, if you are so inclined).
Editor's Note: In a follow-up email we asked Paul what, "watching the submarine races" meant.  Here is his reply:
In my day, which is clearly way before yours, when a couple would park by a river or lake late at night to, ostensibly, "watch the stars" or get some privacy, it was often referred to as "watching the submarine races."  It seldom involved submarines, and even less often, races.
Jodie and Chuck Ramsey
2012 Chevy Silverado 3500
2014 Adventurer 116DS
We've dry camped at a few businesses across Maine.  In Scarboro, there is a Cabela's with a dump station.  There are good restaurants in the adjacent shopping plaza from ribs to pizza to a local candy maker.

In Freeport, the community has a parking lot dedicated to RVs near the train station and the L.L. Bean outlet.  L.L. Bean's flagship store is a short walk up the hill.
We have also overnighted at Walmarts in Thomaston (Rockland), Ellsworth (Bar Harbor), Houlton and Calais.
Russell Thompson
2014 Ford F-350 Super Duty
2011 Palomino HS-2902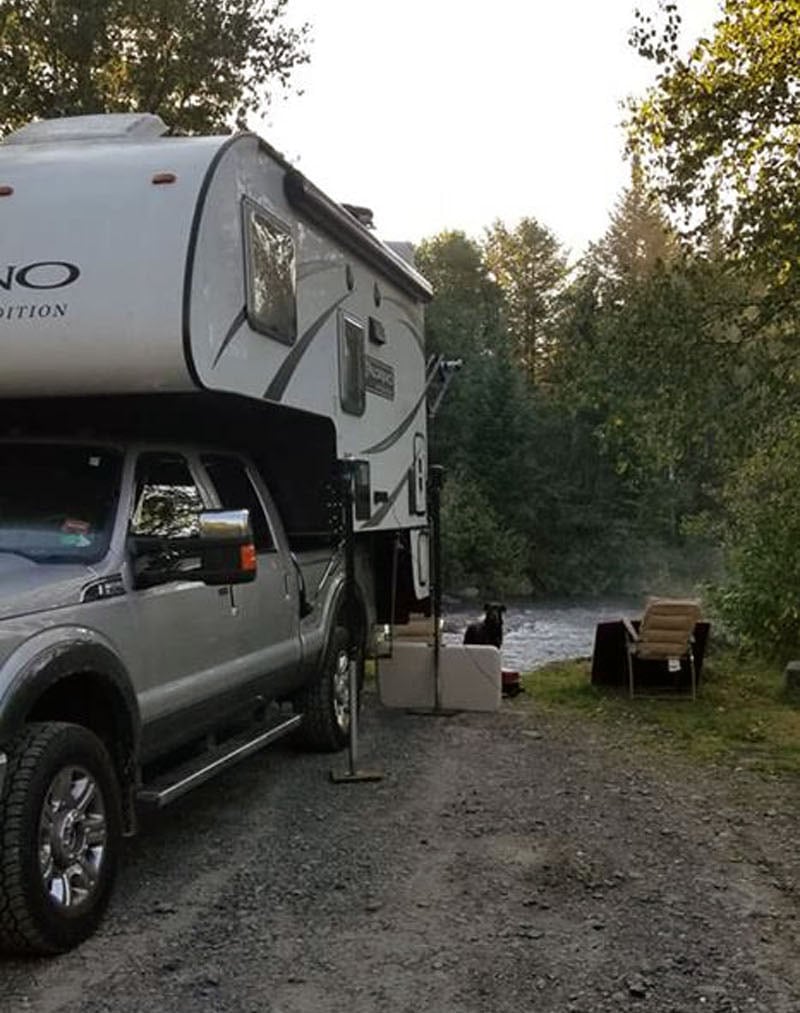 Above: Camping in the North Maine Woods
If you are looking for the ultimate boondocking experience, head north and hit the logging roads north of Greenville and Rockwood.
Miles of roads are mapped out on a Delorme Map that usually put you near a nice fishing stream or pond with nothing but solitude and more stars than you can count.
Unless the road is gated, there is no fee.   The Delorme map will show the roads and mark the established camping sites with a little red teepee.
The only thing you have to do is obtain a permit for your campfire.  This is easily done through the local town Fire Warden office.
Cell service is sometimes sketchy, but you are never too far from a town in an emergency, or if you just need supplies.  I've lived here my whole life and the North Maine Woods is the only way to do free camping.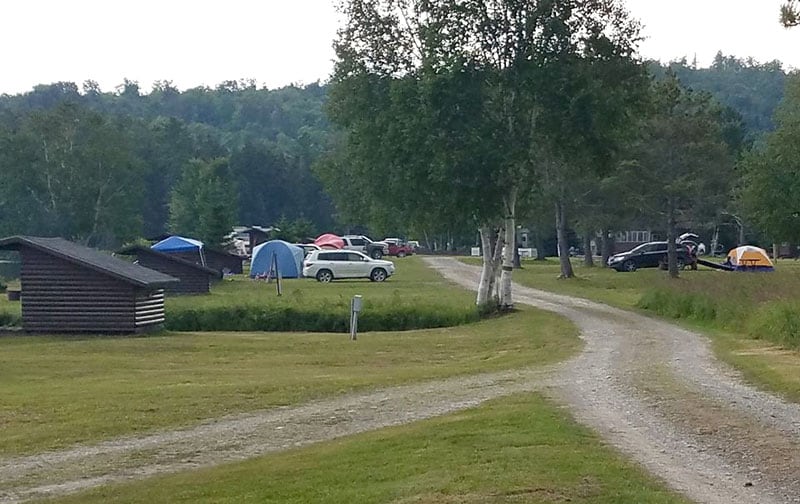 Above: Seboomook Wildnerness Campground
For more civilized camping, Seboomook Lake Campground is situated in the middle of nowhere at the tip of Moosehead Lake.  Seboomic Wilderness Campground in Seboomook Lake, Maine is $20 a night for their budget site, which has no services and isn't directly on the lake.  It's $30 a night if you're on the lake with electric and water.  Their phone number is (207) 280-0555.  Deer walk the campground freely and are people friendly, so bring a camera.
The North Woods paper companies have campsites on some of their properties with a nominal $5 to $10 fee if (and only if) one of the employees is checking the sites.  So you may get a free stay on a decent site with fire ring in some of the most pristine territory.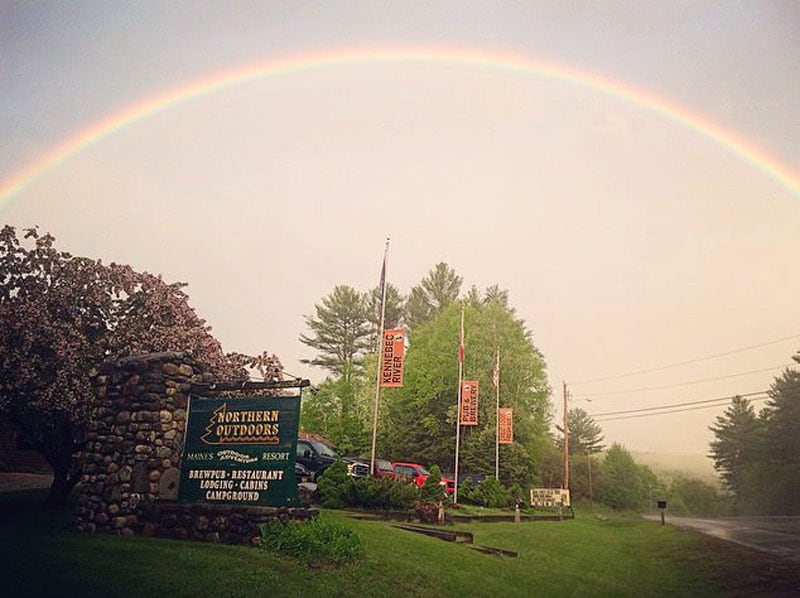 If you are into whitewater rafting, my favorite is Northern Outdoors in The Forks, Maine.  Campsites are $13 per person each night.  The home resort just up the street offers entertainment and an in-house micro brewery.
Brett Burguard
2017 Ford F-350
2012 Northstar Igloo

Reversing Falls Park in Pembroke is a free boondocking location.  This is way Down East near Eastport.  It's a beautiful, remote, on the water and quiet spot.
Riverside Park is way up north in Fort Kent. I t is operated by the city.  I think it was $20 when I was there in 2017.  The camping area is in an open field tucked behind the fire department.  I didn't take photos, but there are some on their website.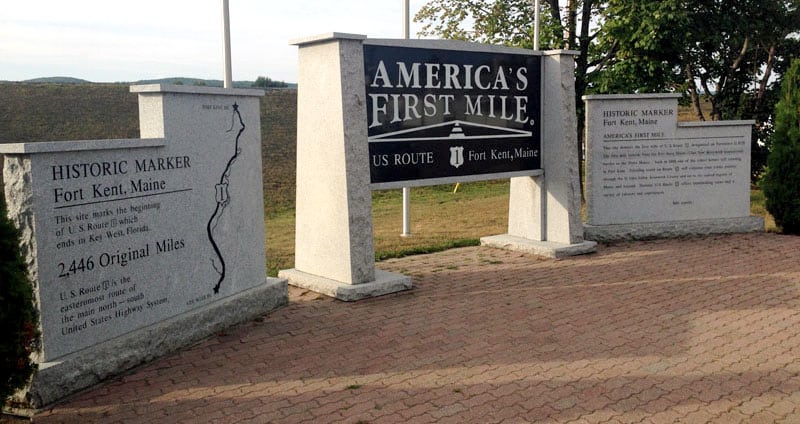 Fort Kent is where US Route 1 begins.  You know, that road that ends in Key West, Florida.  See how I snuck another attraction in there.
Harrie Ashley
2018 Ford F350 SD
2005 Lance 1030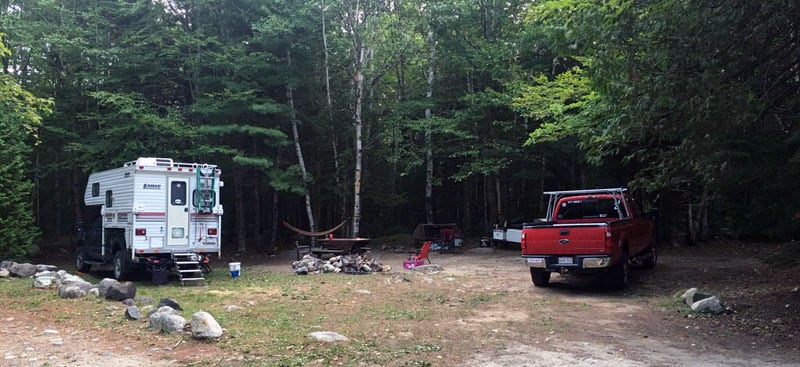 Duck Lake Unit Campground has 20 sites.  There are clean pit toilets 15-miles in from the nearest tar road.  It's free, and if it's not a holiday weekend, it's hardly used.  Nearby unknown lakes have numerous sites as well.  Those are all free.  We are still exploring further north.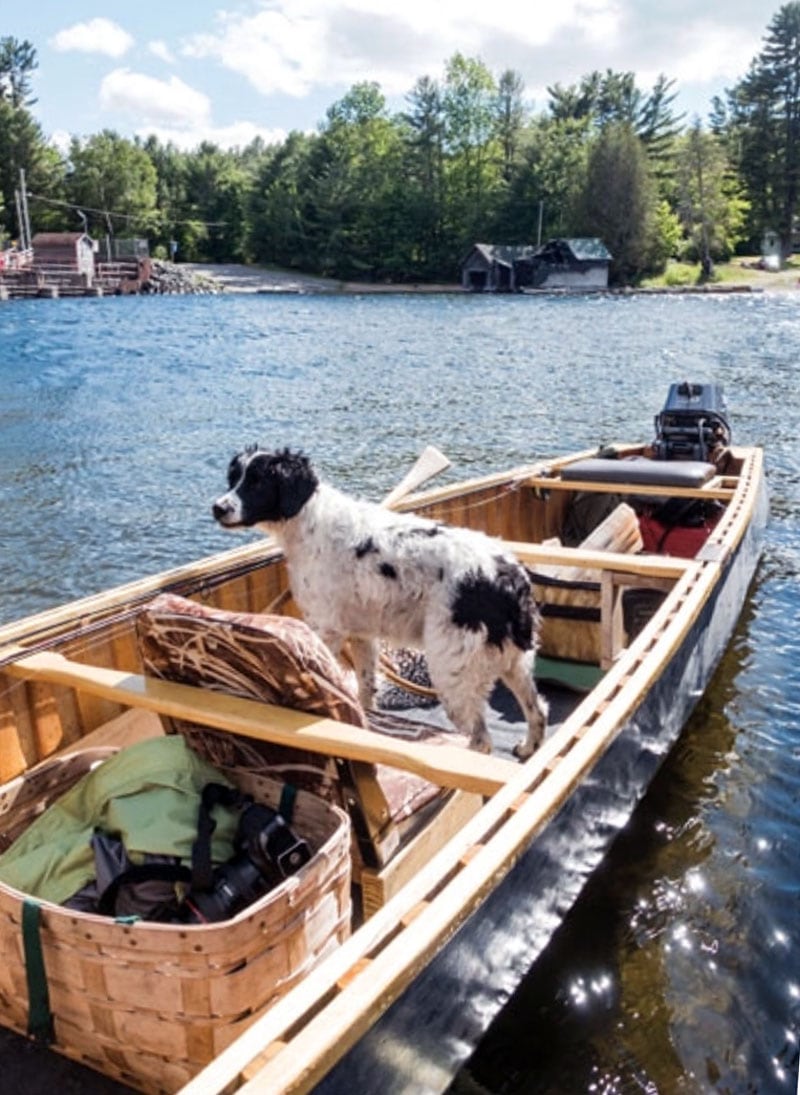 I recommend that you purchase a Delorme Maine Gazetteer.  It has hundreds of off the beaten path forest campsites.  The North Maine Woods will charge a fee to enter at the gate house.  Then you are free to find a site that suits you on thousands of miles of dirt roads.
Ron Ross
2017 Dodge Ram
2018 Northstar 850SC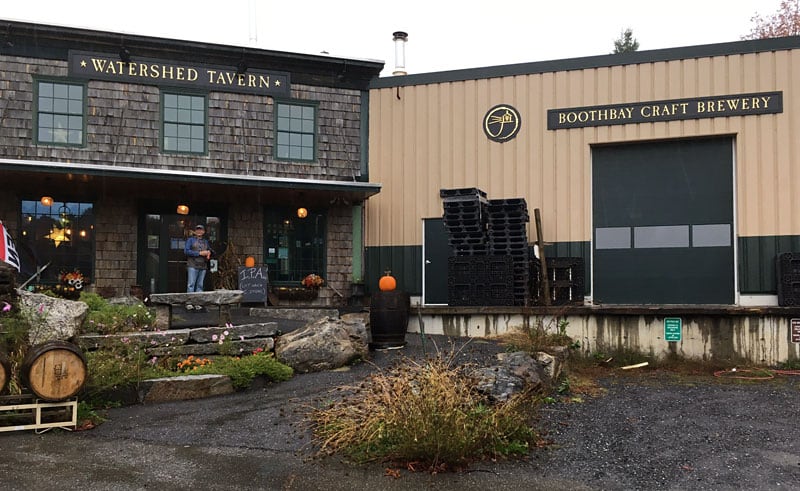 The sign in front of the tavern reads, "IPA lot when I drink".  Get it?  The humor was not lost on me – no sir!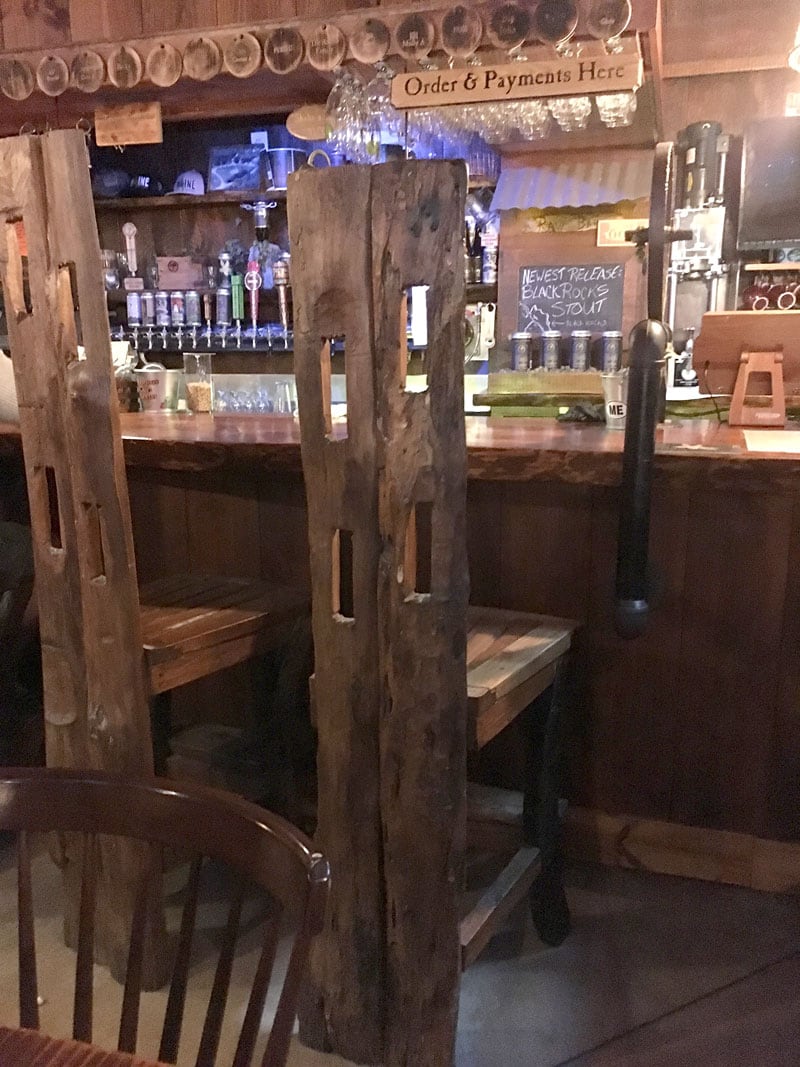 Above: How cool are the bar stools?  They are made from old fence rails.
On the way to the park we spent one night at Boothbay Craft Brewery, a Harvest Hosts stop located in Boothbay, Maine.  Lori and Win Mitchell were the hosts and couldn't have been nicer.
We sampled IPA beer in the Watershed Tavern which was a very cool place!  Camping was free and we bought a couple of samplers which led to a glass or two which led to a good night sleep!
Ray Steinmeyer
2007 GMC Sierra 3500
2007 Host Yellowstone
Winslow Park was $30 a night.  Cobscook Bay was $17 last year for residents.  It's a little more for out-of-state, but I don't know how much.
The North Woods above Moosehead is controlled by a north woods association that changes its name every now and then.  There are some controlled campsites in this area.  I haven't been to the North Woods for a few years.
There are boondocking places along the Golden Road, and others.  You will find these in old logging cut-over areas.  It's not very pretty, but it's free.
Curt Carter
2014 Ram 3500
2016 Cirrus 800
L.L. Bean has free overnight parking but get there early to claim a spot with shade.  It can get crowded during the summer.
Check the L.L. Bean web site to plan your stop on a night when they have music.  Carry your lawn chairs across the road to enjoy a free concert.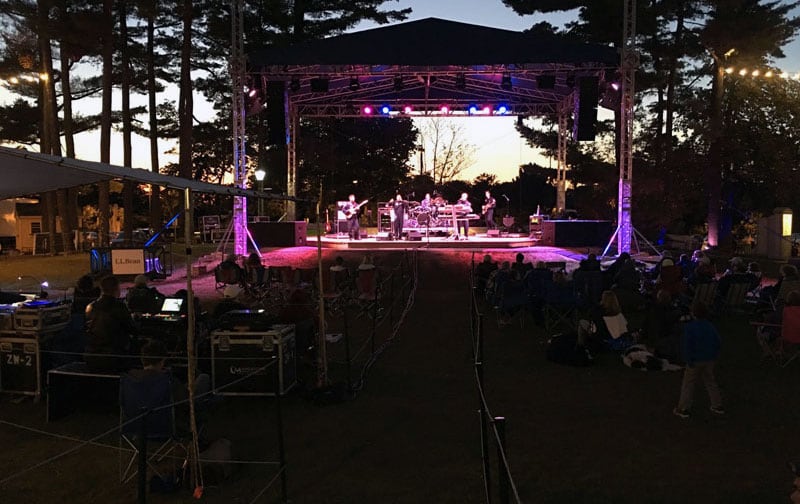 Above: L.L. Bean Summer weekend concert
For less people, go to the next peninsula for Schoodic Woods Campground.
Carl Ragland
2002 Chevrolet 2500
2004 Alaskan 10′ cabover
Grab a DeLorme Gazetteer and take the backroads.
I was finishing up a trip to Mount Washington and crossed over into Maine on US Highway 2.  I didn't get to explore any further than the town of Bethel since my vacation was rapidly heading to an end.
In Bethel, I went to the Maine Mineral and Gem Museum.
Then I found a dispersed campsite on Little Larry Road.  To find it, take Highway 2 to Gilead.  Then head south on Route 113 past the Hastings Campground to Little Larry Road.  There were several spots along the road.
If you'd prefer, the Hastings Campground is $18 a night for non-electric.  There are pictures of Hastings Campground and of the Maine Mineral and Gem Museum on line.
I found the free campsites on freecampsites.net.  I also use Campendium for low cost or free sites when I travel.
Patsy Leavitt
2013 Toyota Tacoma
2018 Four Wheel Camper Fleet Shell
We camped at one of the remote campsites managed by the North Maine Woods Association, the Pleasant River Campsites.  The fee was $10 per night plus $7 per person.  Our nearest neighbor was over a quarter-mile away!
The site was on a pristine river (the Pleasant River), and accommodated three tents and one truck camper.  It was a very quiet place except when the logging trucks went by on their way to work at 3:30am.  Time to brew the coffee.
Cobscook Bay a Maine State Park that's $20 a night for residents and $30 a night for out of state.  Cobscook Bay is a gorgeous ocean side campground with good basic amenities (showers and toilets).
Rangely State Park is another Maine State Park that's $20 a night for residents and $30 a night for out of state.  Rangely State Park has lakeside sites with good basic amenities (again, showers and toilets).
Camden Hills State Park is just over the $20 mark ($25 resident/35 out of state) but is in a great location for day hiking the mountain (hill) range and very near the ocean.
Anne Brown
2013 Ford F-450
2018 Host Mammoth
Boondock spots are rare in Maine.  L.L. Bean in Freeport has a parking overnight area for RVs (you don't have to ask to stay).  Most Walmarts will let you stay overnight.  Lots of people stay in back of the Kittery Trading Post just as you enter the state (ask to stay).  That's a noisy but fun place to shop and wander through.
Click here to get more destination ideas from around the World, Canada, Alaska, and around the lower 48.