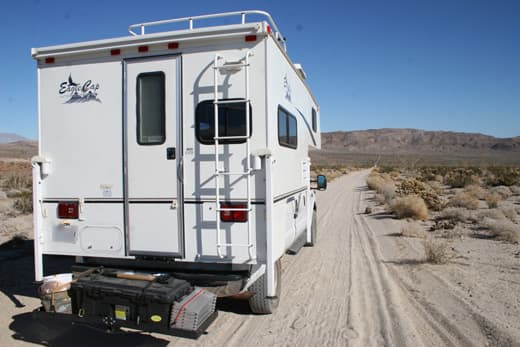 Above: Dos Cabezas, Anza Borrego, California
There are two main rules for remote camping.  First, you have to have your camp fire in metal container.  And second, you have to be one car length off the road when you camp.  That gives you unlimited camping options.  There are some areas where there is a sign where it says no camping.  They'll let you know if you can't camp in a specific area.
It's worth noting that California requires a person pulling a trailer to only use the far right two lanes on the freeway.  You cannot use the HOV lanes pulling a trailer.  The two right lanes on the freeway are usually beat up pretty bad with lots of pot holes and bumps because all the semi trucks use them.  Having a truck camper allows use of the entire freeway system saving us many hours of travel time.
TCM: Anza Borrego sounds amazing.  We are definitely putting that on our bucket list.
Nolan: You really should.  We love living in San Diego and there is so much to do with the nearby desert, mountains, and beaches.  We rarely need to travel far.
Truck: 2001 Ford F350, crew cab, long bed, single rear wheel, 4×4, diesel
Camper: 2004 Eagle Cap 800 Lite
Tie-downs/Turnbuckles: Happijac
Suspension: Bilstein Shocks
Gear: Cargo carrier, double hitch – two hitch receiver, Yakima bike rack, two hundred watt solar panels, all LED lighting, Sure sign inverter 300 watt, swivel mount with tv and dvd, Catalytic Wave 3 heater, increased size of battery box – two group 27 batteries Trojan