On the 4th of July, we got permits, took the truck camper out, and traveled to Horseshoe Meadows.  The heat wave hit on the way and it was 114 degrees in Owens Valley.  Up in the mountains, it was raining and cold.  Inside our camper it was warm and cozy.
During that time we were acclimating to the altitude.  We made a great meal on the stove, and drank lots of water.  We woke up the next morning, hiked, and felt fine.  We ended up summiting Mt. Langley the next day.  We have never had altitude sickness again.
Above: Coachwhip Canyon, Anza Borrego, California. Click to enlarge.
TCM: You said that you go to the mountains, beach, and desert.  That sounds great for traveling year round.
Nolan: We typically try to go camping in the desert between Halloween and Easter when the weather is comfortable and we don't have to run the air conditioning.  If we do, we have the Coleman Mach air conditioner and the Honda EU2000i generator.  We've also done early season desert trips using the heater.
In April and May, it gets hot in the desert so we start beach camping.  We also go to Laguna at 6,000 feet.  It's a nice meadow with biking and hiking.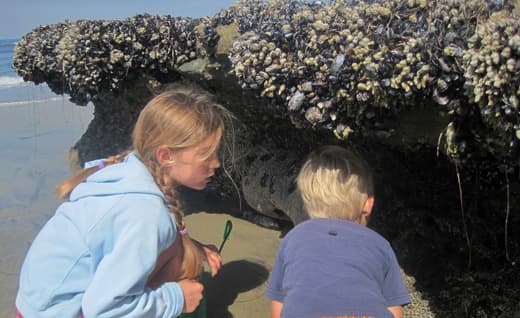 Above: Tide pools north of San Elijo, California
TCM: What places in and around Southern California would you recommend to fellow truck campers?
Nolan: For the beach, the ideal location is San Elijo State Beach in Encinitas, California.  It's one of the only state beaches in California where you can get a beachfront site with hookups.   Another reason I like San Elijo State Beach is the access to the beach.  Some other state beaches limit beach access.  San Elijo has small bluffs and the beach is all sand.  It's not a rock beach.  It also has a good surf break.
There's a nice hike going north to see tide pools.  It's not an easy hike, but it's a nice stroll along the beach.  There are also a lot of reefs for snorkeling and you can go kayaking.  It's also super close to Starbucks and grocery stores.  Plus, it's right off the freeway so it's easy to access.  The only negative is that there is a train that goes by.  If you are by the ocean, you don't hear it as much.
Above and Below: Laguna Campground in Mount Laguna, California.  Click to enlarge.
For the mountains, I recommend Laguna Campground in Mount Laguna, California.  A lot of people camp there in tents.  It's perfect for truck camping.  It's dry camping and open year round.  When snow is in the forecast, we'll go up there to watch the snow.  Laguna Campground also has amazing mountain biking trails.
Above: Anza Borrego, California.  Click to enlarge.
For the desert, Anza Borrego Desert State Park in southern California is a truck camper's dream.  I can't believe I don't see more truck campers out there.  On the first experience we had on the trails, I saw smiles on my children's faces and I was hooked.  I fell in love with it.
There is camping everywhere in Anza Borrego.  Each time we go we try to see different areas and different parts of the park.  There's rock art, cave paintings, ancient Indian villages, pottery shards, and palm groves.  There's even a railroad that they made through the park.  It's not being used now but there's talk of it coming back.  There are tunnels and you can hike the longest curved wooden trestle in the world, the Goat Canyon Trestle.  That's a very spectacular hike.
Above: Anza Borrego, California.  Click to enlarge.
There's an ancient fresh water lake, Lake Cahuilla.  There are clams, shells, and pottery shards along the shoreline.  Millions of years ago, it was an underwater sea, so you'll find fossilized sand dollars.  Geologically, Anza Borrego has much to offer.
The book we use most is AFoot and Afield: San Diego County by Jerry Schad.  If you are ever coming to San Diego it is a must purchase.  Also the forum on anzaborrego.net is a great resource as well.
Basically all options for camping are available in Anza Borrego.  There is a developed campground with full hookups.  There are several undeveloped campgrounds that charge a small fee.  You can get away in Anza Borrego and you don't have to worry about off-roading.