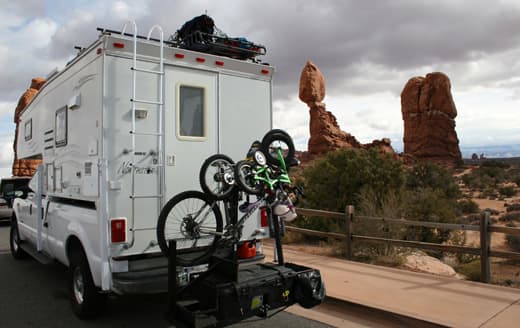 Above: Arches National Park, Utah
Once again I found a used camper that fit my criteria; a Northstar Laredo.  I actually bought it for not much more than I sold the Sun-Lite Eagle.  I loved the Northstar.  It was very well built and had a U-shape dinette.  We took a trip to Colorado Springs in the Northstar to visit my aunt and uncle.  During the trip we stopped in Arches National Park and Zion National Park.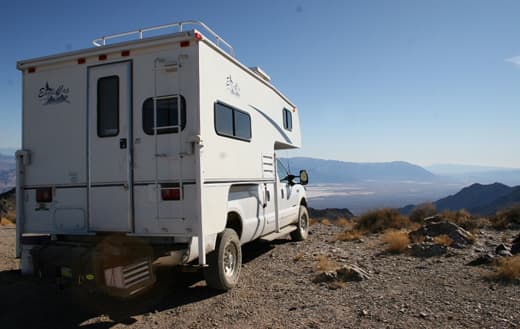 Above: Aguereberry Point in Death Valley, California
Eventually I decided I wanted a larger truck camper with an aluminum frame.  I put the Northstar Laredo on Craigslist and, once again, did well when I sold it.  Then I found our current Eagle Cap 800 Lite.  It was local and featured an aluminum frame.  It's been a great camper for us.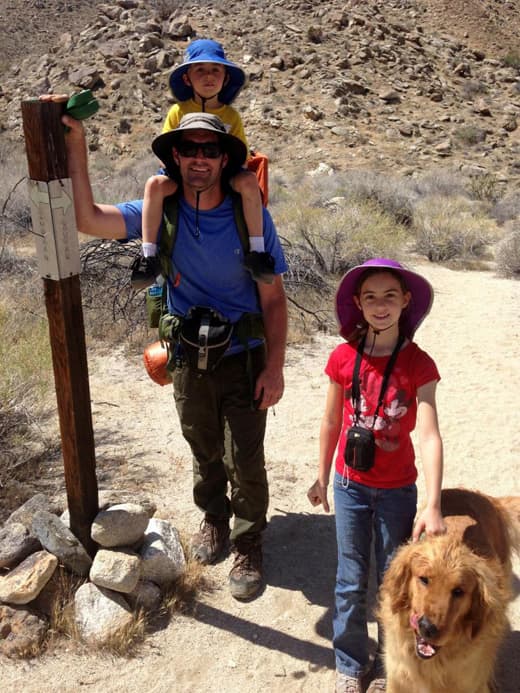 TCM: How do your kids, Brenna and Brett, like truck camping?
Nolan: They love it. We're a very close family.  My wife, Kelly, will be home schooling our kids this year.  Brenna is in third grade and Brett is in kindergarten.
I am a Regional Sales Manager for a plumbing manufacturer and my territory is the western United States.  I often travel to the different areas I cover.  During the week, we have been staying in hotels.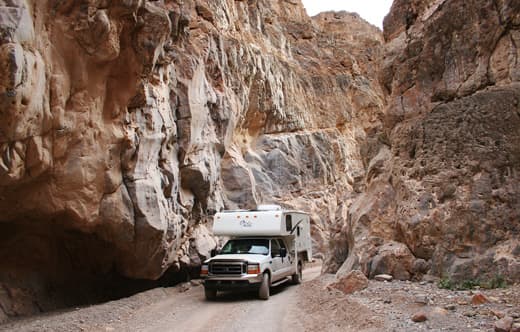 Above: Titus Canyon Road, Death Valley National Park
On the weekends, we go camping in national parks.  We just returned from Yosemite after being in Bakersfield and Fresno during the week.
Above: Canyon Sin Nombre, Anza Borrego, California. Click to enlarge.
When we're camping, we're outdoors.  We ride bikes, hike, and cook.  I'll take the kids for a weekend so Kelly can have a break, and sometimes the kids go with grandma and grandpa and Kelly and I go out.
When we're off-roading, I make the kids get out and guide me.  This helps them to learn the proper way to navigate through tough off-road areas.  It's been fun to teach them how to navigate off-road.  Of course I ways make sure I can see them so they stay safe.

Above: The Sierras. Click to enlarge.
TCM: You also talked about using your camper to acclimate to the higher altitudes in the Sierras on your backpacking trips.  How does your truck camper help with that?
Nolan: When you are at 6,000 feet and above, you tend to get altitude sickness.  I learned that the hard way.  When we first married, I knew nothing about altitude sickness.  We live at about 1,400 feet.  We drove to Horseshoe Meadows which is up at 11,000 feet, and hiked to 12,000 feet right away to camp.  My wife threw up because of the altitude sickness.  The only cure is to go down lower and retreat.  Our trip was over, and we ended up going home.
Now we know what to do.  Most importantly, we stay hydrated, and camp at elevations below the main hike to allow our bodies to acclimate to altitude.