San Diego resident Nolan Sturgeon takes his family and Eagle Cap camper to the Pacific Ocean, Anza Borrego Desert, and Mount Laguna.  Don't miss Nolan's top Southern California picks.

There's no better way to find the best places to go truck camping in a given area than to talk to a local truck camper who enjoys truck camping close to home.  They often know the best sights to see, the best campgrounds or boondocking spots, and when to go for the best weather.  This is exactly the kind of information that can make the difference between a good trip, and a great trip.
Now on his third truck camper in eight years, Nolan Sturgeon loves exploring Southern California with his family.  Best of all, Southern California offers Nolan a world of truck camping opportunities from ocean front, to desert landscapes, to mountain vistas.  No matter what the season, Nolan has a truck camping destination in SoCal.  Lucky for us, he shares his local Southern California favorites as part of his truck camping story.
Speaking of Nolan's truck camping story, it begins, as so many truck camper stories do, with some howling wind, a flapping tent, a deflated air mattress, rocks, and a truck camper that happened to be camping near by.  You would think the truck camper industry plans these "coincidences".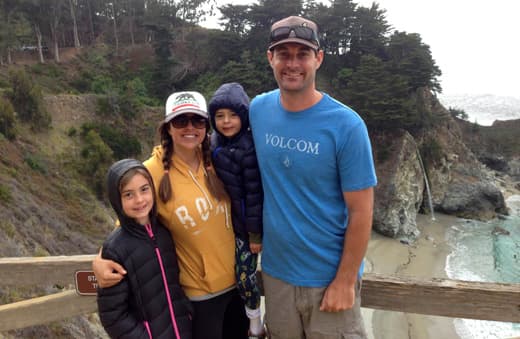 Above: Brenna, Kelly, Brett, and Nolan Sturgeon in Big Sur, California
TCM: How did you get into truck camping?
Nolan: I really got into truck camping when my wife, Kelly, and I first got married and we were pretty much over sleeping in a tent.
The trip that changed it all was a Baja surf trip in 2005 when our air mattress sprung a leak in the middle of the night and we ended up sleeping on rocks.  Also, the wind was howling and the tent was flapping around like crazy.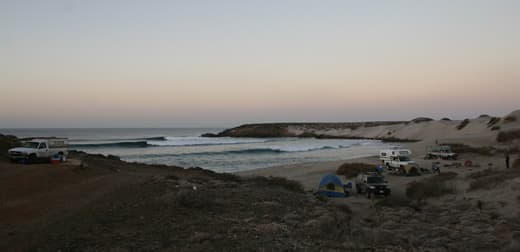 Above: Baja, California; realizing truck campers were the way to go
I crawled out of the tent in the morning with only a couple hours of sleep to see the neighbor in a truck camper who had pulled up right on the beach.  He had his cup of coffee in hand and was stretching out his arms ready to tackle the surf for the day.  He looked so well rested, and I remember thinking that I was never sleeping in a tent ever again!
When we got back from Baja trip, I went to the internet like most people and started searching.  That's when I came across Truck Camper Magazine.  Before that, I always thought truck campers were all the same.  On Truck Camper Magazine, I learned that they are manufactured differently, with different materials, and there a lot of options available from pop-tops, to hard sides, to slide-out models.  Then you have to learn about payload capacity, camper weight, and matching.  It was a little overwhelming at first.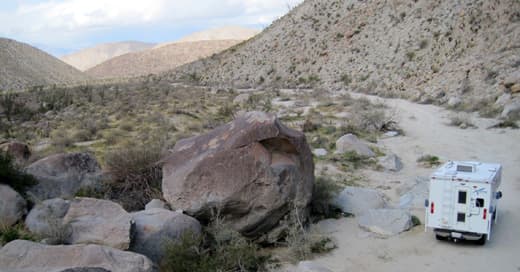 Above: Anza Borrego, California
TCM: Did you already have a truck at the time?
Nolan: I had just purchased a Tundra, so I was limited in what camper I could get.  I went on Craigslist and started searching for a used light-weight camper.  I found a Sun-Lite Eagle for $5,000.  That camper was a good low-cost introduction to truck camping for us.  That's about when my daughter was born.  The Sun-Lite Eagle had no bathroom, but it had a heater to keep my daughter warm.
We used that camper for a couple of years.  Then I realized I needed a four wheel drive vehicle for where I wanted to go and I wanted a hard side.  A hard side would also be more secure.  In the desert, where the wind can blow at sixty miles per hour, a hard side would give us more comfort.  We also go winter camping, so I wanted to have a four season camper.
That criteria had me looking at different brands.  I found a 2001 Ford F350 that was used as a plumber's truck with a rack.  It was perfect because I was not worried about getting the truck scratched.  The F350 also offered much better payload.