Off-road adventurer Maggie MacPherson shares her favorite BLM roads, canyons, arches, slot canyons, and ghost towns in the Grand Staircase-Escalante and Vermillion Cliffs National Monuments.

The Grand Staircase-Escalante and Vermillion Cliffs National Monument are in the area between Highway 12 to the north, the Burr Trail Scenic Byway on the east and Highway 89 on the south and west. It's a huge area with fantastic books dedicated to its spectacular offerings.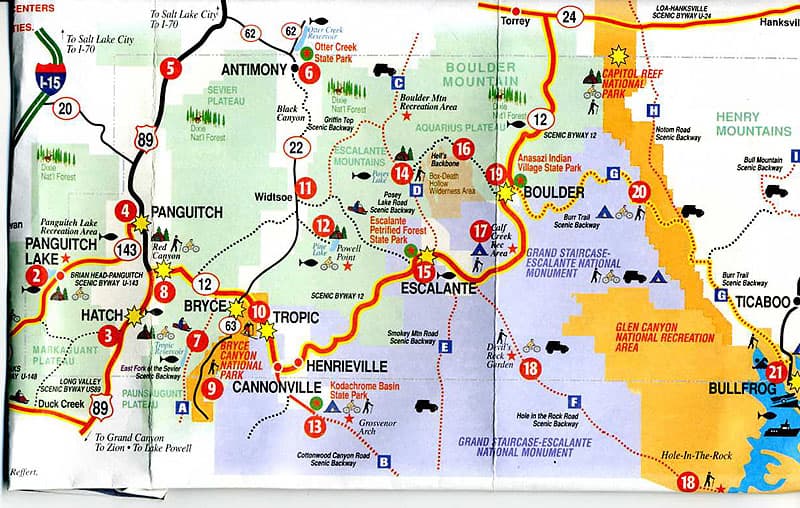 One of our favorites is the Hole-in-the-Rock Road that the Mormons took to cross the Colorado River in 1879 when they were going to settle in the area around what is today Bluff, Utah.  It begins just north of the town of Escalante.  We once drove it in our camper with my sister and brother-in-law following us in a rental car.  I'm sure the rental agency would not have approved.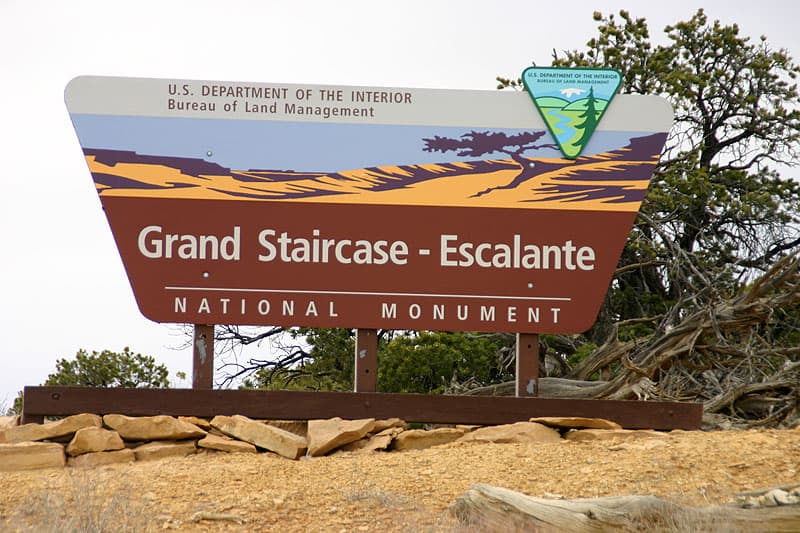 The first 48 miles is a pretty good dirt road that most cars can drive, but you are more comfortable with a four wheel drive vehicle, especially for the last five miles.  This should not be attempted in the rain.  Along the way are many adventures.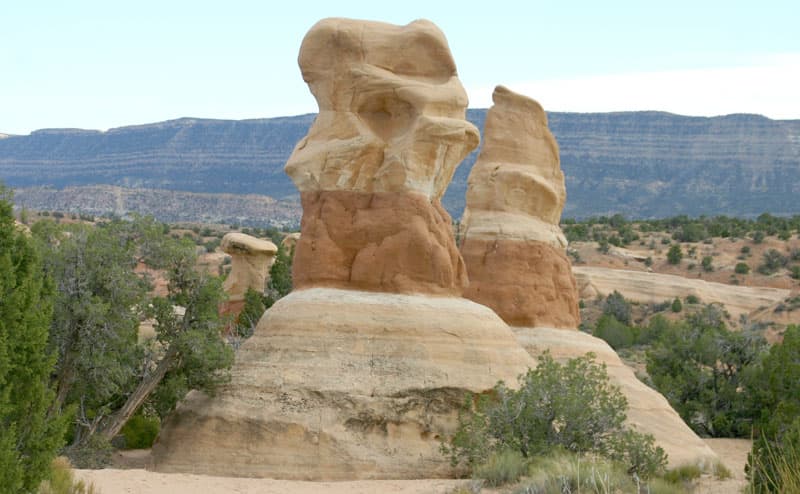 Above: Devils Garden Off Hole-In-the-Wall Road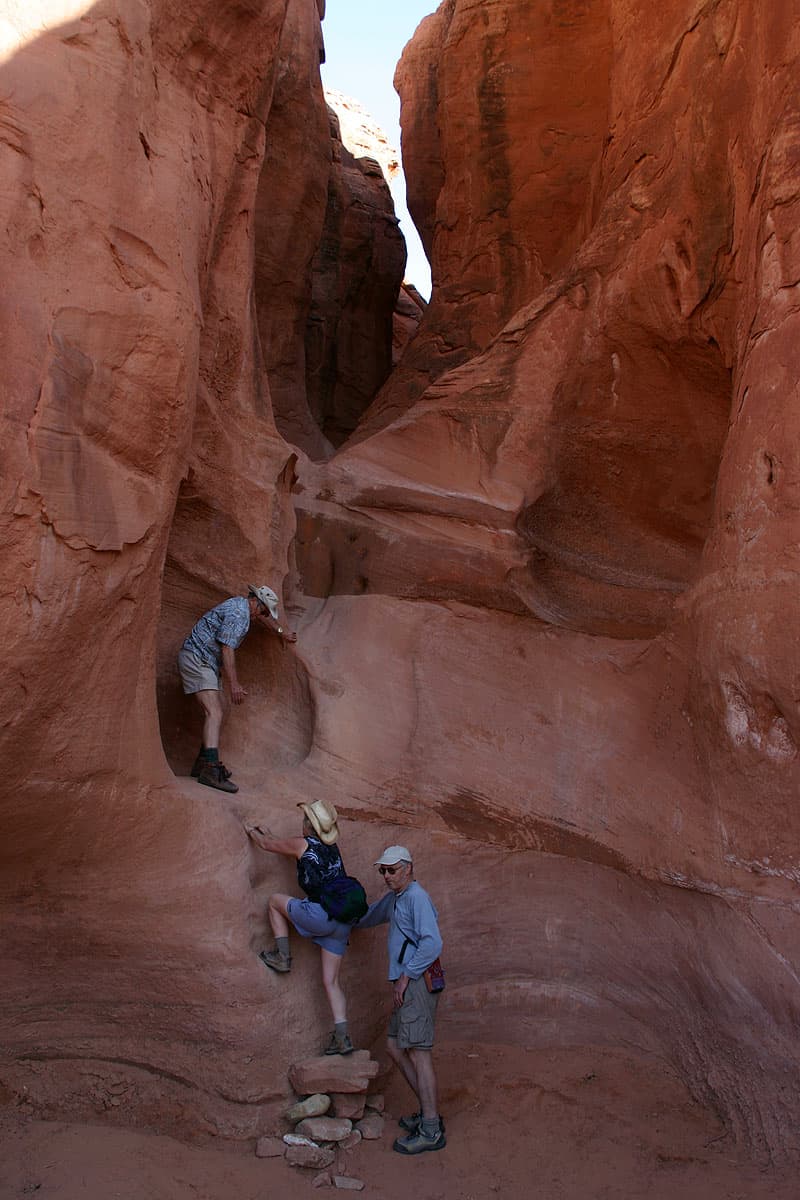 Above: Peek-a-boo slot canyon off Hole in the Rock Road
Above: Spooky slot canyon
The first is a stop at Devil's Garden for a short hike through the picturesque hoodoos.  Further down the road there are a number of slot canyons  – Peek-a-boo and Spooky are just off the road on a spur road to the northeast.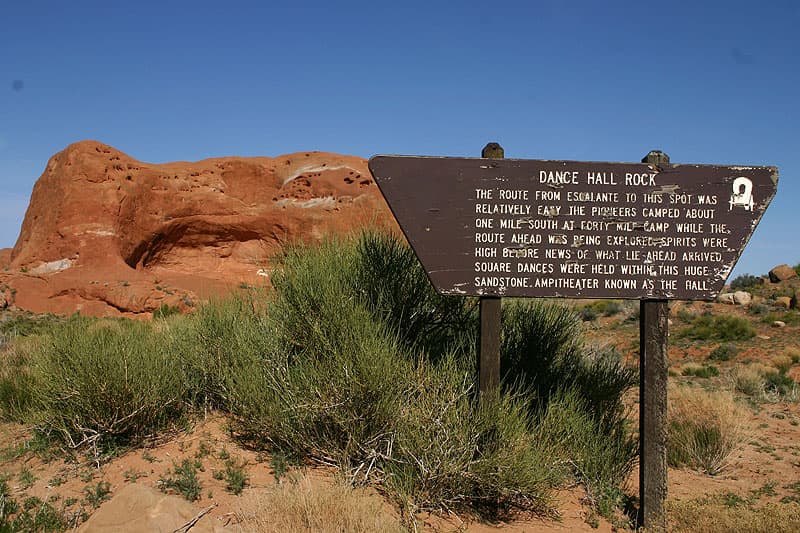 Further on is Dance Hall Rock which provides a couple of good campsites.  The Mormons stayed here awhile to fatten their cattle. They brought out their fiddles, and the music echoed off the walls.  In their journals they wrote wonderful passages about the camaraderie.  The rocks are fun to climb and explore.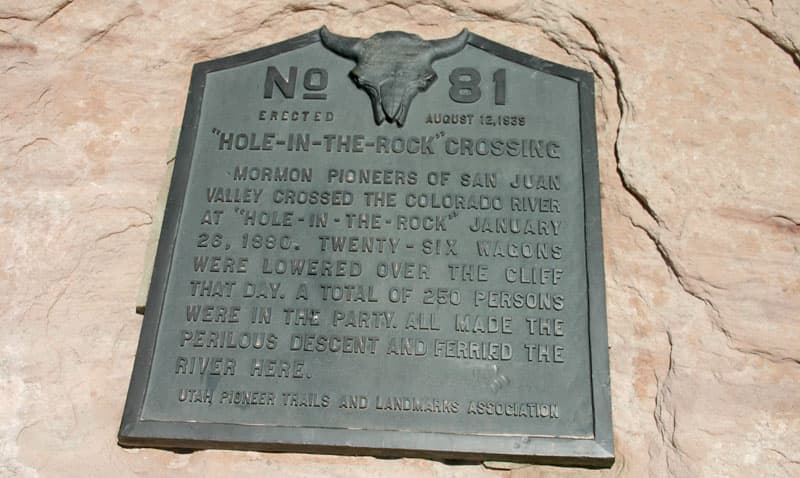 Above: Cottonwood Trail Marker for the Mormon Route to the Hole in the Rock Road in Escalante, Utah
At the end of the road is a very steep trail down the route the Mormon covered wagons took to cross the Colorado River.  It now ends at Lake Powell.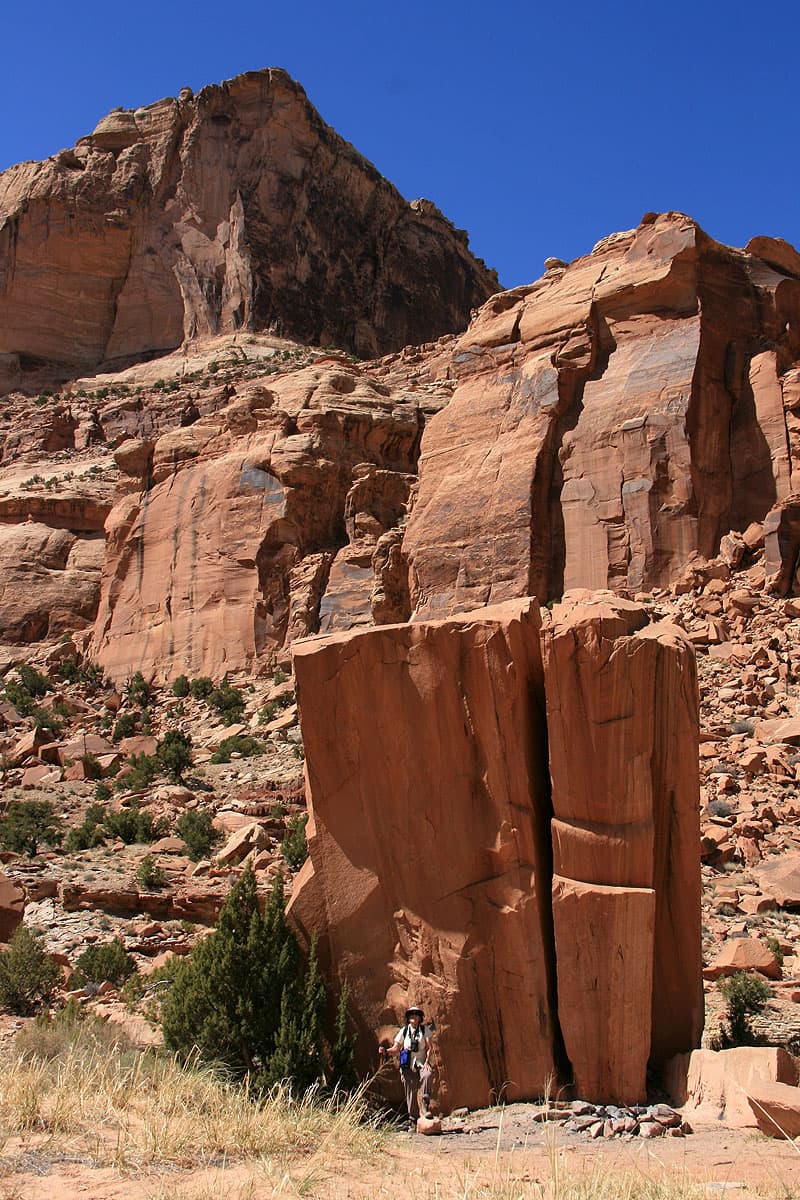 Above: Calf Canyon hike in between Escalante and Boulder, Utah
Between the towns of Escalante and Boulder is a camping area called Calf Creek Recreation Area.  It has become quite popular, but if you can't get a campsite there is plenty of BLM land with campsites nearby.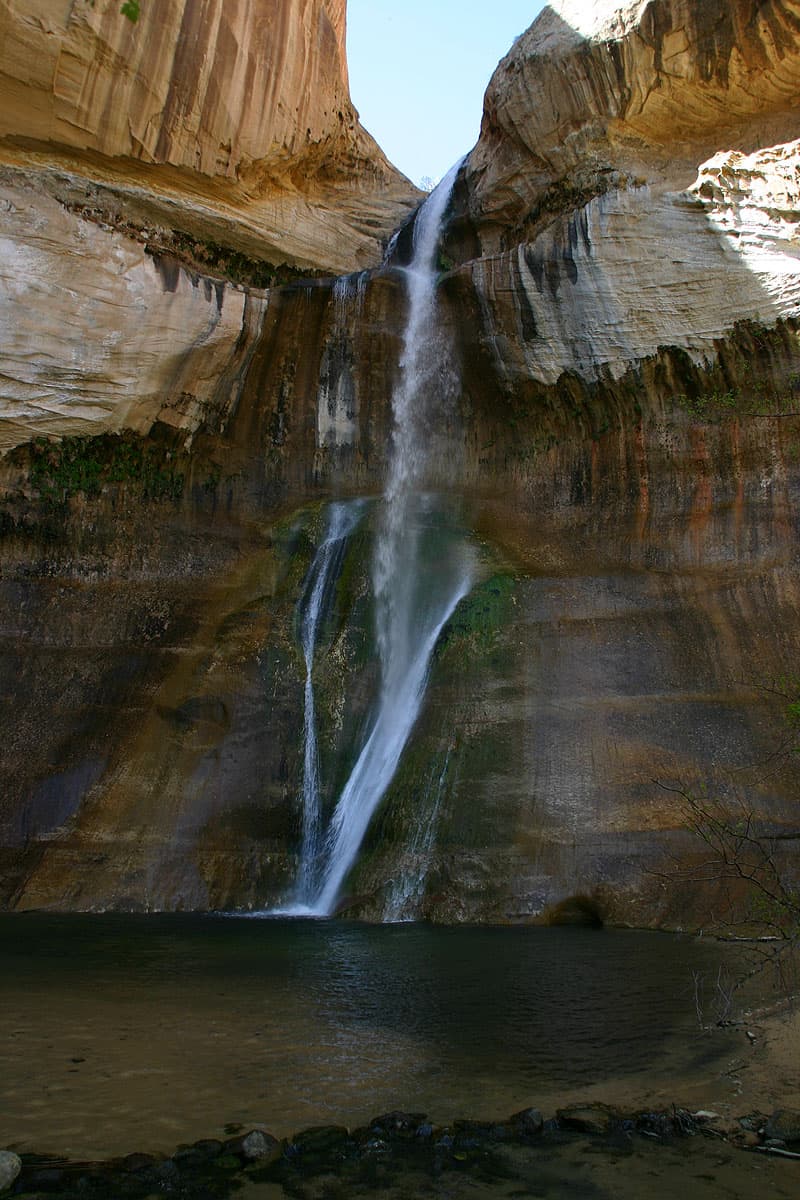 The hike into Calf Creek Falls is a must.   Venture off the trail to the north to find Anasazi granaries and rock art.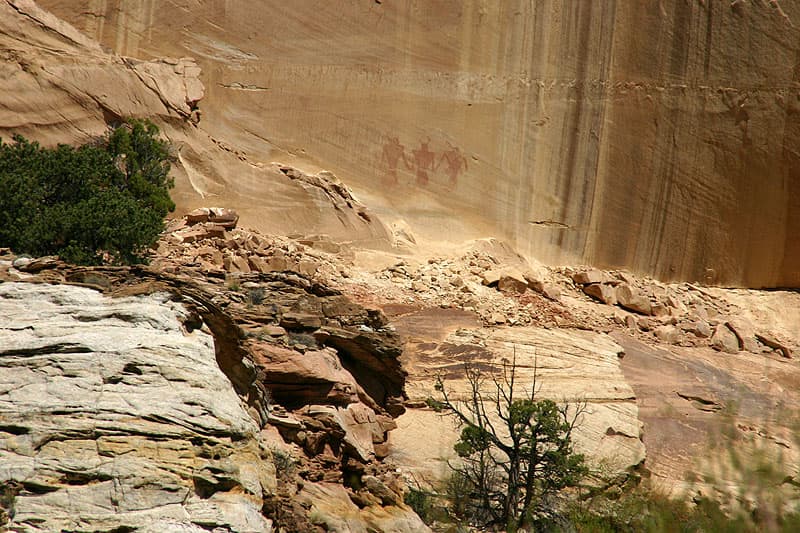 Above: 1000 plus year old Fremont pictographs in Calf Creek Canyon
Another great destination is the Burr Trail Scenic Backway which travels east from Boulder to the junction with the Notom Road.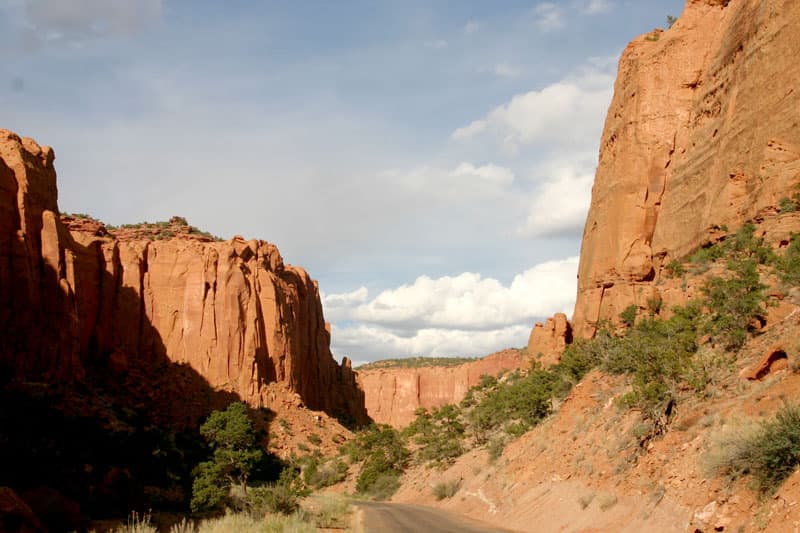 Above: Driving along the Burr Trail in Long Canyon
This road travels north to Capital Reef National Park.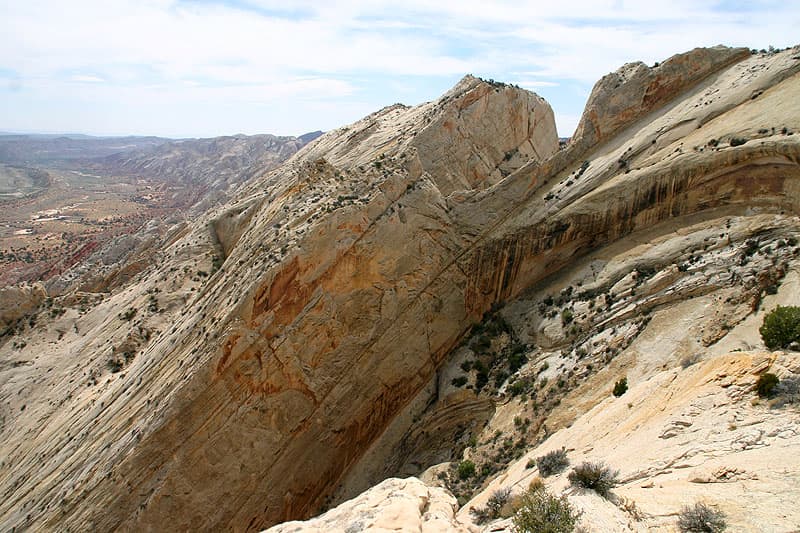 Above: Looking South at the Waterpocket Fold
The Burr Trail Road turns south following the Waterpocket Fold, an amazing geological formation.  It ends 5 miles north of Bullfrog on Highway 276.  The total distance is about 63 miles – 17 miles are unpaved.  Check at the Ranger Station in Boulder for information and road conditions.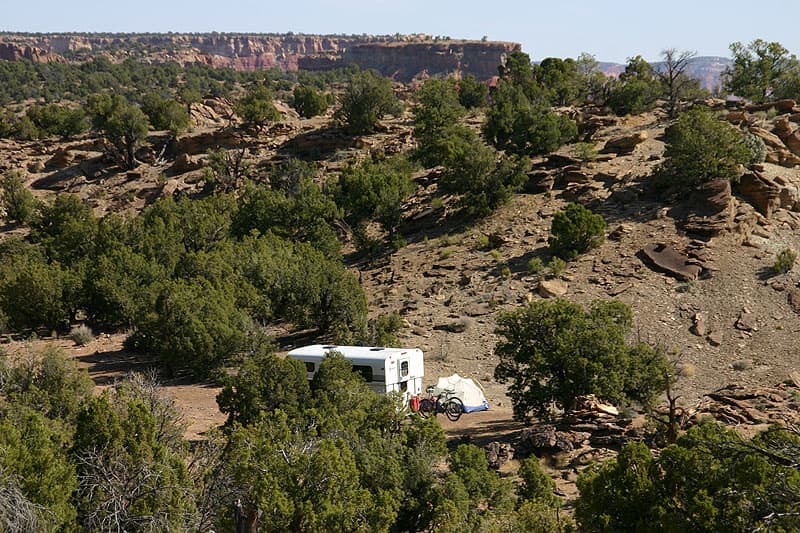 Above: Campsite North of Long Canyon on the Burr Trail
The beginning of this of this drive goes through the vertical walls of beautiful Long Canyon.  It's BLM land so there are lots of places that you can pull off and camp. One of our favorite spots it just west of the Long Canyon Overlook just off the highway on a dirt road.
Two and a half miles before you reach the junction of with Notom Road is a turnoff into Upper Muley Twist Canyon.  It's 2.7 miles one way, but the drive through a narrow wash takes about 45 minutes.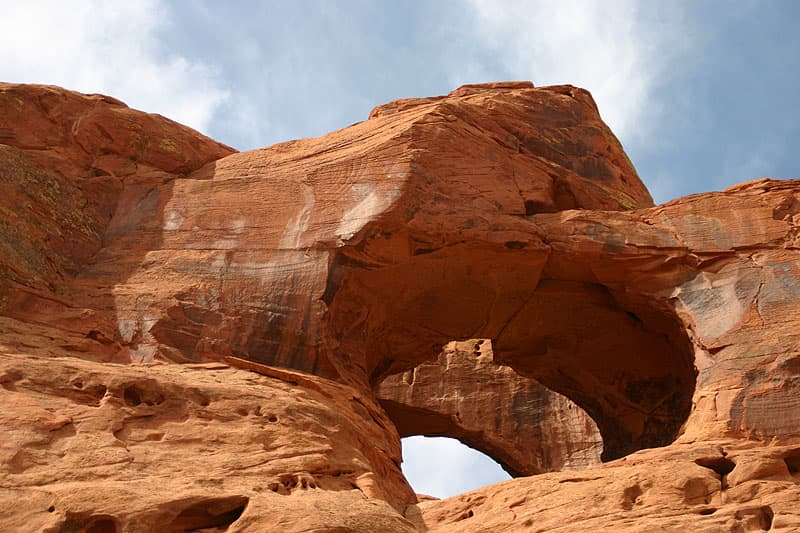 Above: Double Arch on the Way to Upper Muley Twist Canyon
The road passes Double and Triple Arch.  There's a trailhead for a short hike to Strikes Valley Overlook which offers fantastic views of the Waterpocket Fold.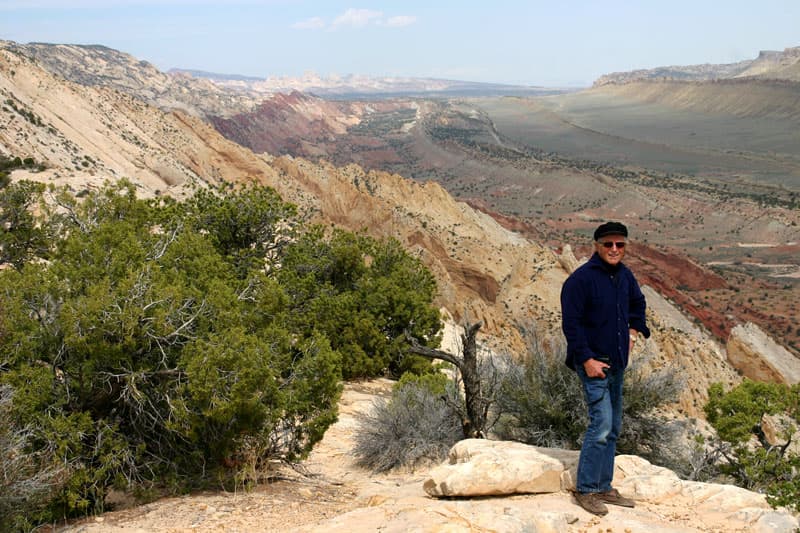 Above: Don on Strike Valley Overlook Trail in Waterpocket Fold
East of Jacob's Lake on Highway 89 you enter a magic area known at the Vermillion Cliffs.  Halfway between Page and Kanab is a Scenic Bypass called Cottonwood Canyon Road.
Above: Grosvenor Arch off Cottonwood Road in Escalante
This is an unpaved road that takes you north through stunning scenery along the Cockscomb to Bryce Canyon National Park by way of Grosvenor Arch and Kodachrome State Park – a great drive with lots of places to camp.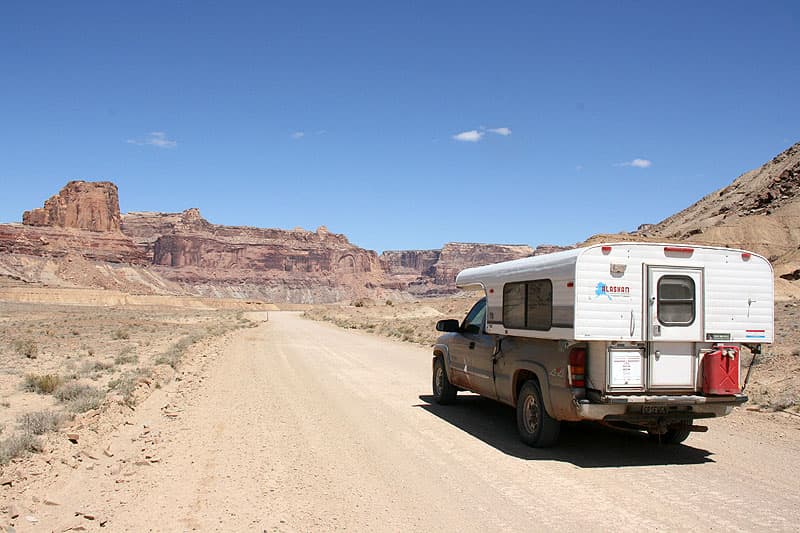 Above: Cottonwood Road in Escalante, Utah
West on Highway 89 from the Cottonwood Canyon Road is another unpaved road named Horse Rock Valley which leads south.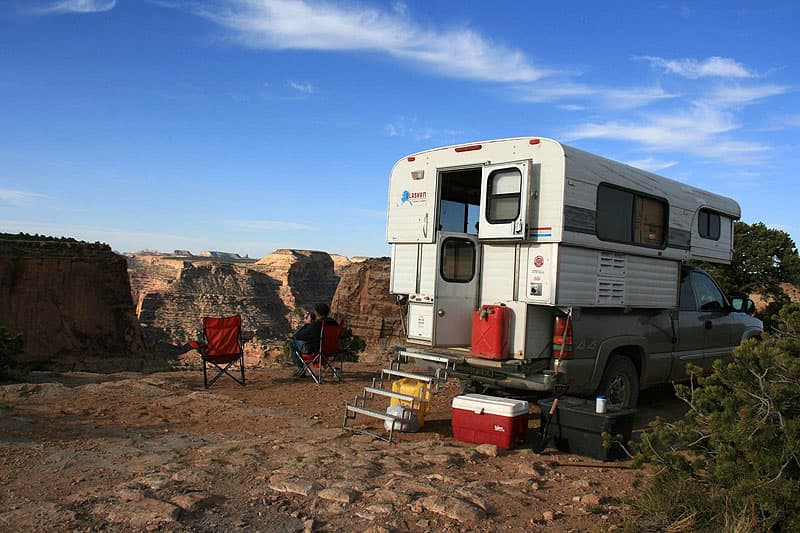 Above: Camping at the Wedge in Utah
Just before the Arizona border is an incredible  hike through a slot canyon known as Buckskin Gulch.  There are campsites at White Pass Recreation Site, but there are lots of more desirable ones along the road to the south.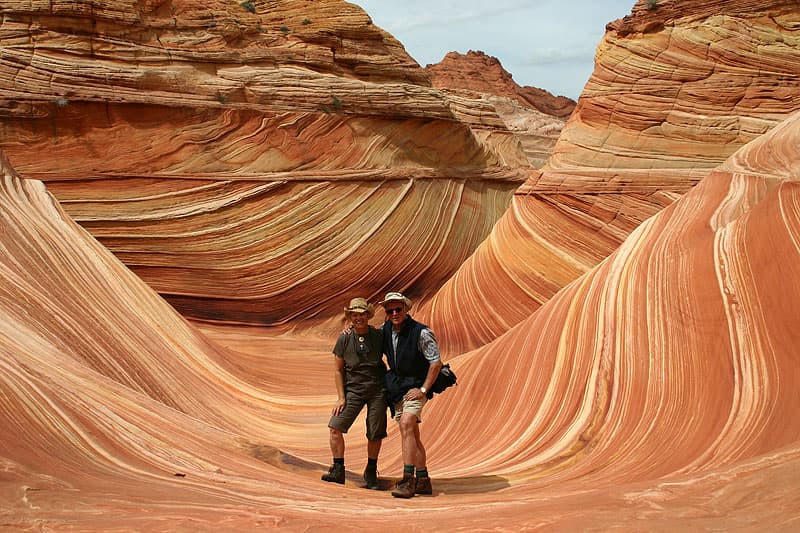 From here you can also visit an unbelievable multicolored rock formation called The Wave in the Coyote Buttes.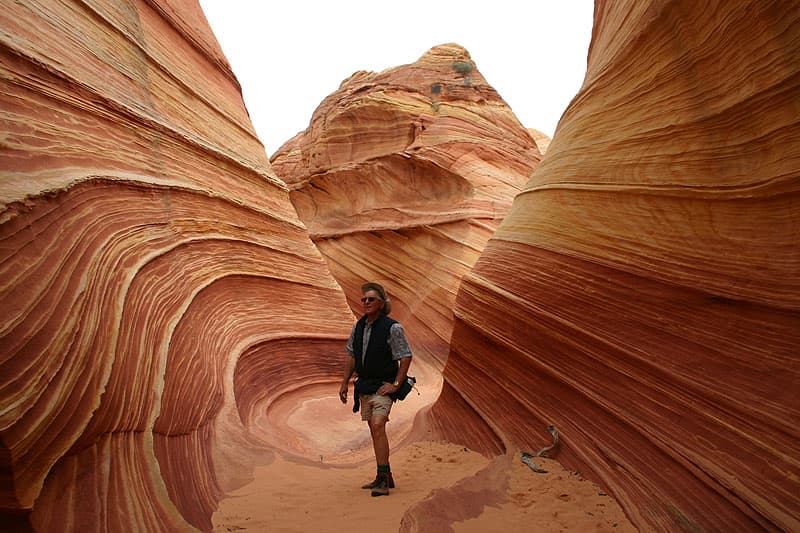 You have to enter a lottery in Kanab the day before you want to do this.  We've entered it four times and have only won once, but it is not to be missed.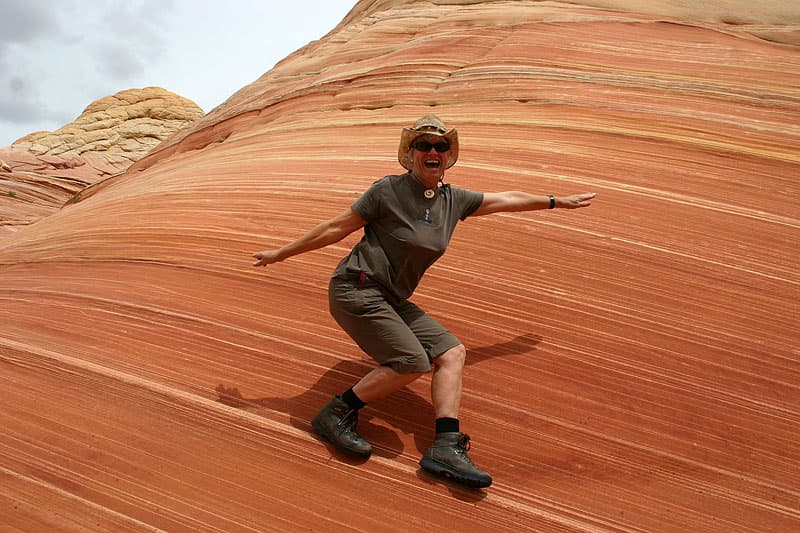 Back on Highway 89 going west is a turnoff for the Paria River Valley Road, another Backroad Scenic Byway.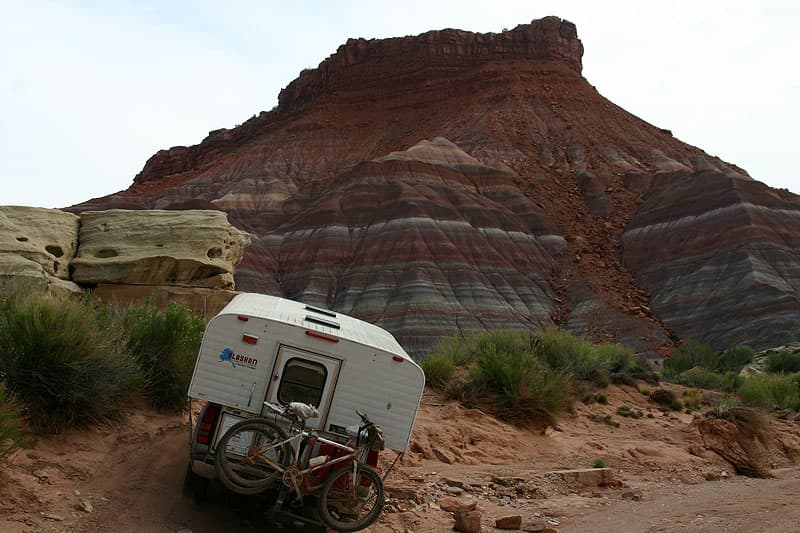 Above: Paria, Utah in the Gypsy Wagon
Here you can visit an old cowboy movie set and the ghost town of Paria (originally Pahreah).  We've seen bighorn sheep here!
You could spend at least two weeks just exploring the areas in Escalante and the Vermillion Cliffs.  A lot of times people say, "It's a dirt road, so I'm not going down it".  Just try it.  You can turn around.  There are so many incredible things to see, so just go.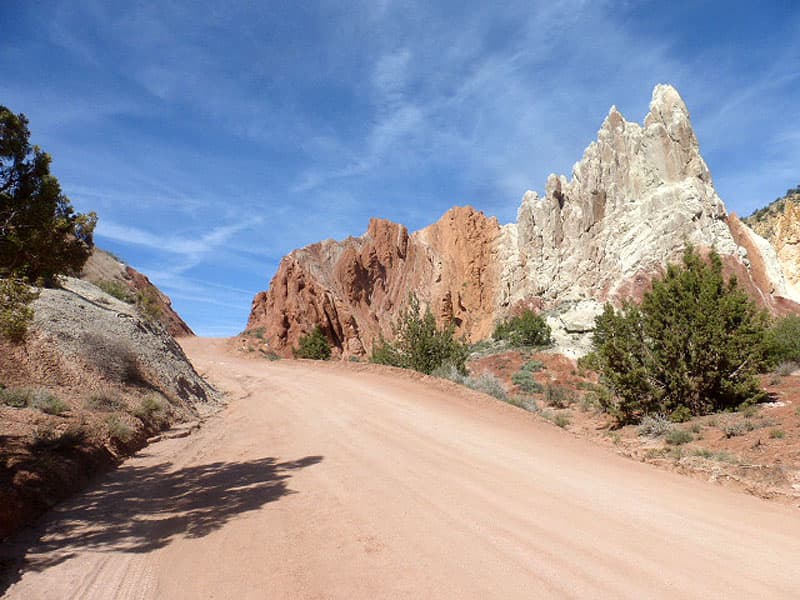 Above: Cottonwood Road to Grosvenor Arch
When we are going down a rough road, I am constantly looking for places where we can turn around, and make a notation on my map.  If we run into a problem further up the road, we know how far back we would need to go for a turn-around spot.  Be really aware of your surroundings and the weather so that you don't get stuck.
If you don't want to go on the dirt roads in this area, Highway 12 and 89 are paved and provide a beautiful, scenic route.