Fellow truck campers, Bill and Kira Jones, visit the National Museum of the United States Air Force (NMUSAF) in Dayton, Ohio.  In their report, they share tips for when to go, where to park your rig, and what to see.  Get ready to add an incredible museum to your truck camping bucket list.

This past September, we talked to Bill and Kira Jones at the Gettysburg Northeast Truck Camping Jamboree about their upcoming visit to the NMUSAF in their truck camper.  Afterwards, they sent us information about the museum.  We enjoyed their perspective and helpful hints about the facility.
It seems like nothing is truly free anymore, so finding out that the NMUSAF is fun, interesting and costs absolutely nothing is pretty amazing.  If you find yourself driving on Interstate 70 through Ohio, it's definitely worth a stop.
National Museum of the United States Air Force
by Bill Jones
The National Museum of the United States Air Force is located on the Wright-Patterson Air Force Base about 6-miles north of Dayton, Ohio.
First opened to the public in 1954, the NMUSAF is both the oldest and largest military air museum in the world with extensive exhibits for every major conflict the Air Force has been involved.
Considering its considerable size and breathtaking scope, we strongly suggest taking at least two days to explore it.  We also suggest visiting during the less busy times of the year, preferably early in the week.
We went in September on a Monday and a Tuesday.  As one of the most popular attractions in Ohio (it gets over one million visitors per year) there are big crowds at the museum during the peak summer vacation season.
Parking The Rig
Let's start with the parking lot.  No matter the visitor load (the parking area was fairly open during our visit), the museum staff directs you to park at the very end of the lot.  The distance from that area to the museum entrance is about 0.4 miles.
We did not mind walking the distance, but security for your RV is not provided.  That is plainly stated by the signage about leaving nothing visible in your vehicle.
There is no overnight parking at the museum.  We stayed overnight at the Tuttle Road Walmart east of Dayton in Springfield, Ohio.  That worked well, but it would have been fantastic to stay overnight at the museum since you really need two days to see it.
With the remote location of the parking area, extra care should also be taken for your pets.  Our dogs were fairly comfortable with the open windows and a running Fantastic Vent creating a constant breeze, but a gust of wind closed one of our windows unexpectedly.  That was yet another lesson in our second year of camper ownership.
If you take your camera for photography, take a strobe or a strong flash.  The museum lighting is dim in many areas.   Maybe it's dark for preservation reasons.
Exploring the Museum

Above: Kira at the National Museum of the United States Air Force
There are two reasons we recommend two days at the museum.  First, it's a huge multi-exhibit experience that can't possibly be seen in a single day without fast walking and missing more than you see.
Second, with over 360 aircraft and missiles on display, it's easy to reach military aircraft saturation.  Taking an overnight break and returning for more ensures you get the most out of this incredible museum.
I also recommend good shoes.  You'll be covering a lot of ground on concrete in the four humongous aircraft hangers.  After a long day of standing and walking on concrete we were extremely ready to sit and relax in our truck camper.
I always make an effort to find the obscure and unusual items in museums of this type.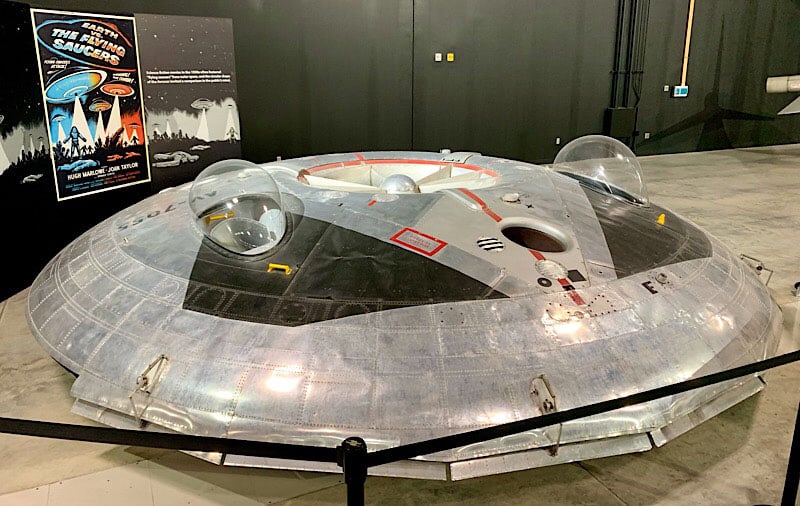 This museum is full of them.  This one is an experimental flying saucer.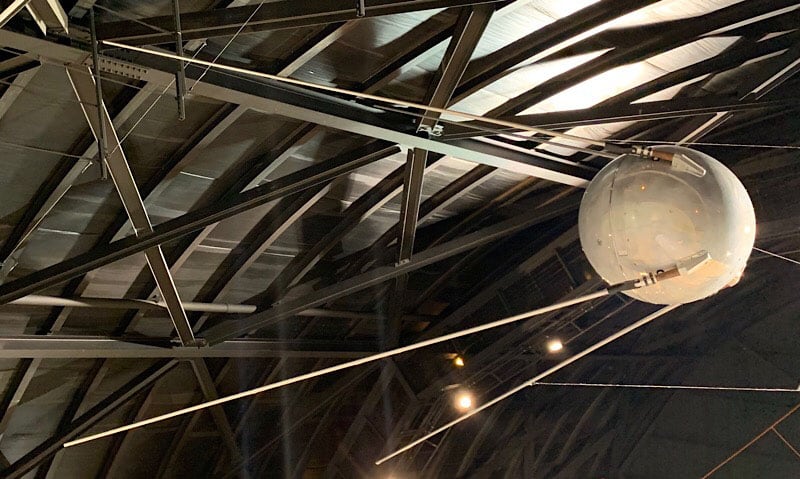 Many are hanging from the ceiling – like this Sputnik-like satellite.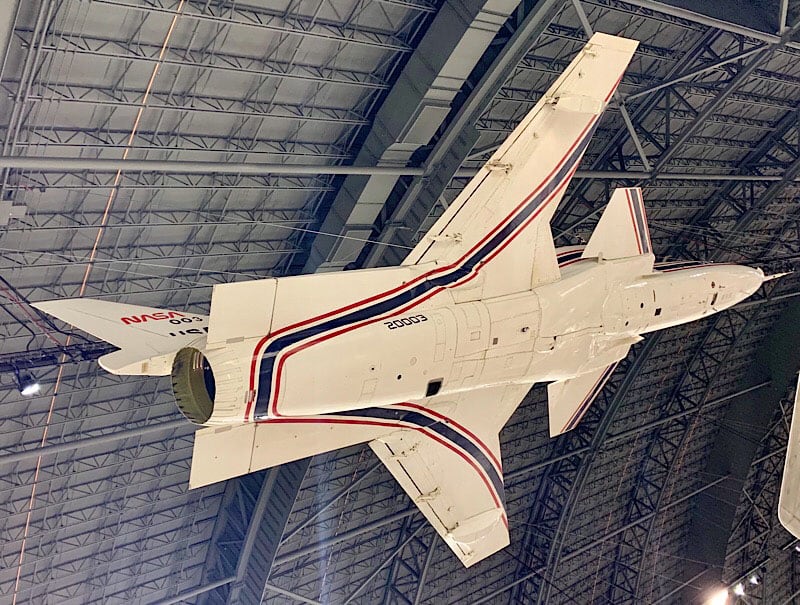 It is still amazing to me that anybody would get into some of these contraptions and attempt to fly them.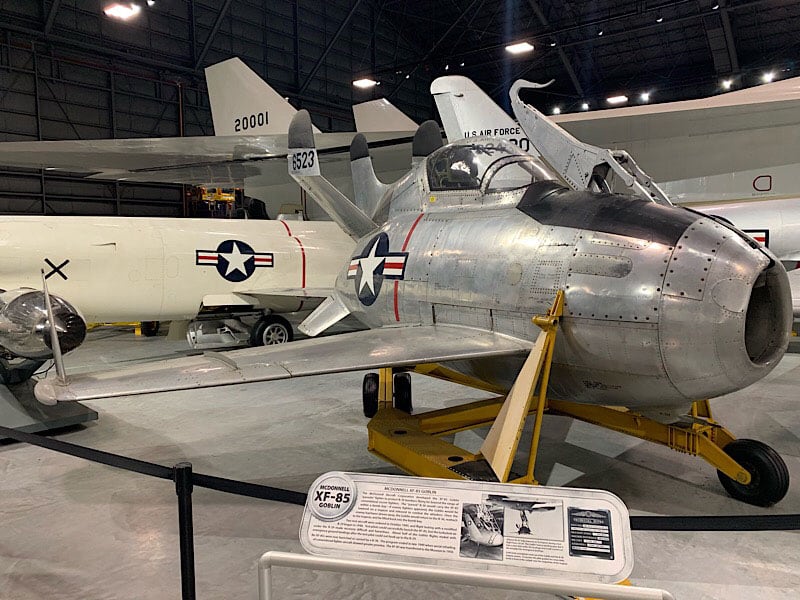 Above: A McDonnell XF-85 Goblin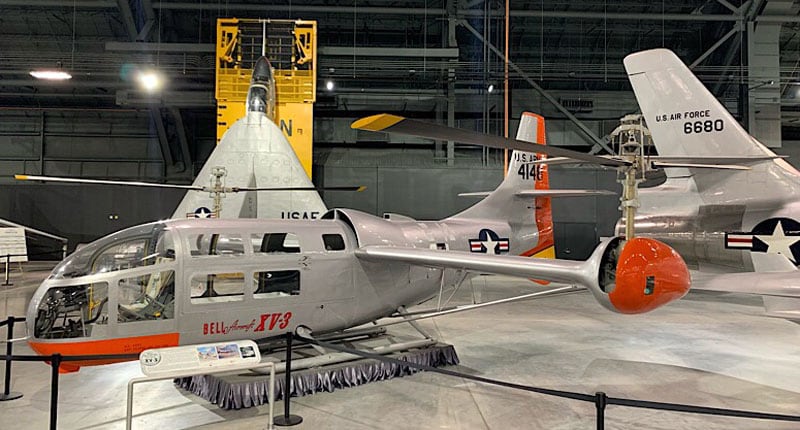 Above: A Bell XV-3 – predecessor to the V-22 Osprey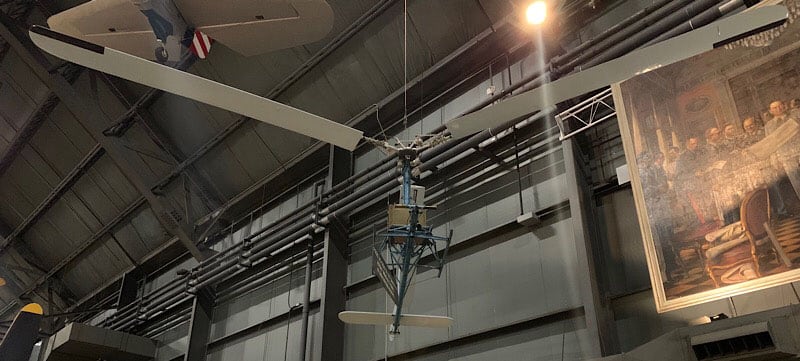 Above: A rotary kite towed behind submarines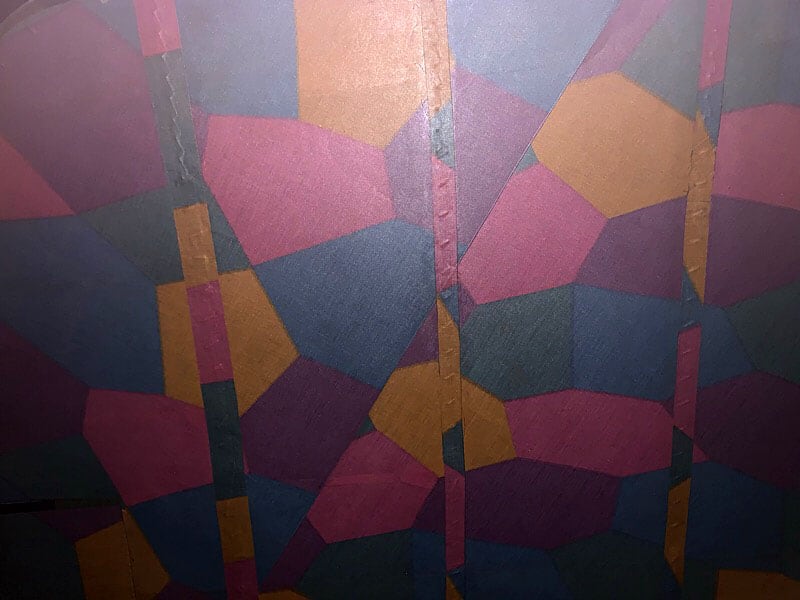 Above: What is the name of this WWI camouflage pattern for aircraft?  Lozenge!
Kira also found herself seeking out the funky and absurd.  Here's what caught her eye.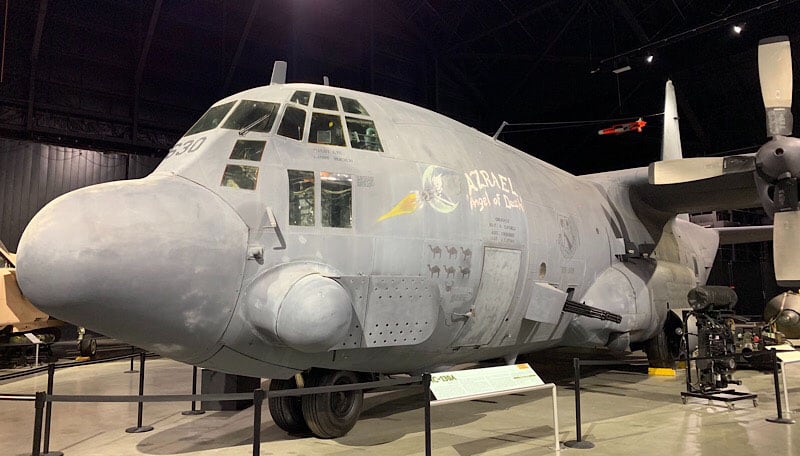 Above: Lockheed AC-130A Spectre – And a rather strange aircraft nose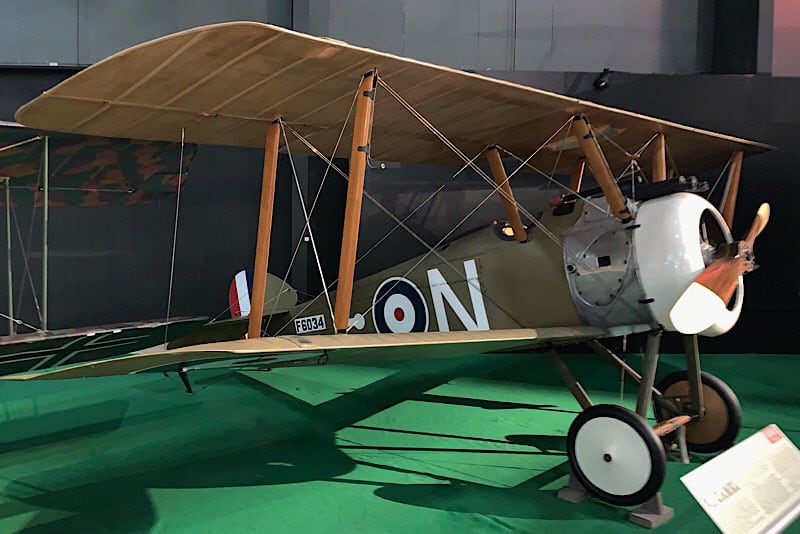 Above: Early plane names – Peashooter and Sopwith Camel.  Who is the cartoon dog that flies in this plane?

Modern drone names read like horror movie titles or Sci-Fi: Global Hawk! Predator! Reaper!
Time To Land: NMUSAF is a Bargain
In the Spring of 2017, we went to the Evergreen Aviation and Space Museum in McMinnville, Oregon.  It contains the Spruce Goose, the largest wooden airplane ever built.  The museum was $27 per person.
In our opinion, the National Museum of the United States Air Force has a much better collection overall, and the admission being is free is very surprising.
For fun, I recommend riding in one of the inverting flight simulators.  The experience was $16 total for both of us, a relative bargain.  Just do it.