When I finally exited the mouth of Woody Canyon, I stopped and checked out all my new paint scratches.
Above: The road to Placerites
I had enough time left today to take the back trails to "The Placerites", a big gold Placer mining area.  I make camp here in the late afternoon.  Miles today, 216.
Saturday morning.  I do some target shooting after breakfast.  There's no one around, just a small herd of cattle far off to the west.  After shooting a while, I see the cattle coming towards me at a quick pace.  I'm guessing the rancher calls them for food with his gun.  I decide to leave before I'm surrounded by a hungry herd.  I could see myself saying, "It's all right, I'm a vegetarian."
Above: Tunnel Camp, an old mining camp 25 miles NW of Lovelock, Nevada
There are two more places I want to check out on my last day and they're close together.  First stop is Tunnel Camp.  If you ever want to go to an old mining camp, this is a good one.  It's about twenty-five miles northwest of Lovelock.  The road is okay, and the last twelve miles are paved.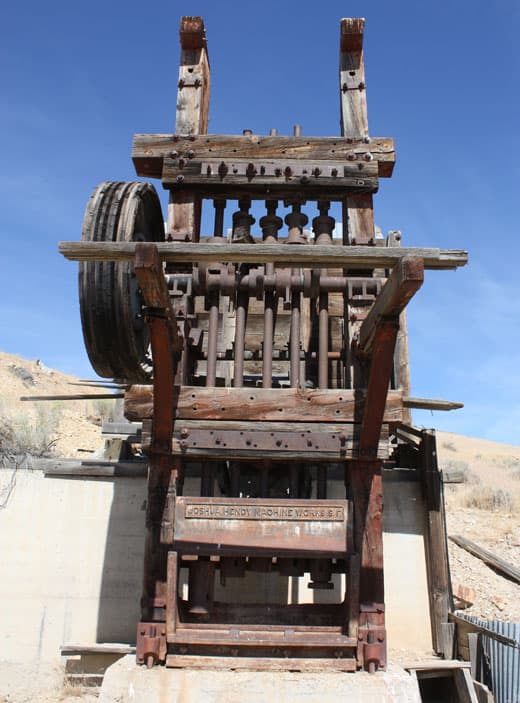 Above: The big stamping mill made in San Francisco
Tunnel Camp is packed with lodes of old mining equipment and buildings.  I really liked the big stamping mill made in San Francisco.
After Tunnel Camp, I moved on to Mazuma at the mouth of Seven Troughs Canyon. Remember at the beginning of the trip I said I would end it here with part of Sybil's story?
It's July 19th, 1912.  Sybil and her infant son Morgan are leaving the house to go to the store.  They head down the hill when Sybil realizes she had left the windows shut and returns to open them.  There has been a lot of thunder up the in the mountains.  Then Sybil hears rumbling coming down the canyon.  It's a twenty foot wall of water and debris.  A flash flood has wiped out the town and mines in the canyon.
Sybil and her son would have been killed had they not turned back.  Eleven people were killed.  The force of the water carried this safe down to the mouth of the canyon.  There is a good article with pictures in the June 1958 Desert Magazine on this flood and story.
After Mazuma, it was time for me to go 100 years into the future.  I leave for Moss Beach at 1:15 pm and arrive home at 8:00 pm.  Miles today, 391.  Total miles, 1,885.  I used 195 gallons of gas costing $630.
This is my favorite way to vacation.  You get to see a lot of country side.  But you must like driving your rig, like I love driving mine.  Happy Expeditions.