Sunday 8:30am.  I head fifty miles east to Winnemucca.  The road is smooth now thanks to the big mine that maintains it.  After getting gas, I have to get on the freeway east for sixteen miles.  What a drag.

Above: Willow Creek Reservoir
I turn northeast on highway 789.  For eleven miles it's paved, then seventy-five miles of dirt.  The dirt road is in great shape for thirty miles thanks to another big mine around Midas.  I make a stop for lunch at Willow Creek Reservoir.  No crowds here and very pretty.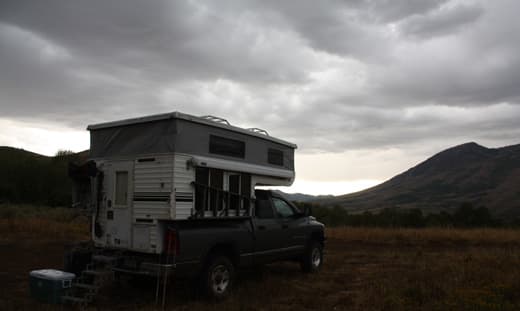 Above: Maggie Summit
About twenty-five miles later, I hook up with Highway 226 and head north.  Soon I'm in the dirt again headed into the Toiyabe National Forest.  The scenery has changed from desert to forest.  It's beautiful country and there are ranches mingled in with the national forest land.  It's late afternoon and there is rain and thunder when I reach Maggie Summit.  I pull off the road and set up camp during a thunder storm.  It's nice having a cozy camper with an electric top when the rain and wind pick up.  Mileage today; 185.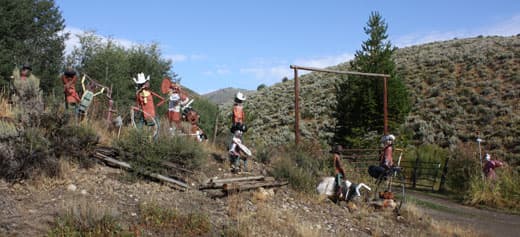 Above: Cool metal sculptures
Monday, after sausage, eggs and hash browns, I head northeast towards Highway 225.  Along the way I come to a ranch gate with these cool metal sculptures.  Check out the one on the far right.
I reach the highway and head north to the town of Owyhee in the Duck Valley Indian Reservation.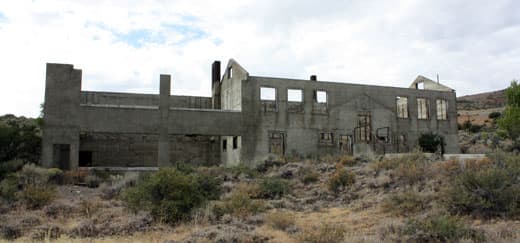 Above: Rio Tinto was a short side trip I went to after I got gas and water in Owyhee
After topping off the fuel and water tanks, I back track south to a road that loops north, then east, then south, ending up in the town of Jarbridge.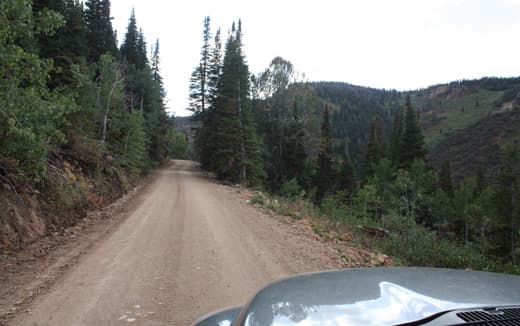 Above: Traveling down Jarbridge Road
After an hour or so into the national forest, I come to a sign saying the road is washed out and closed ahead.  I don't want to turn back; it would be a major detour.  I decided to go check it out.  A flood tore up about a hundred yards of the road.  It was rough, but you could drive a mini-van across it.  This loop of road had many gorgeous views and any truck camper could handle it.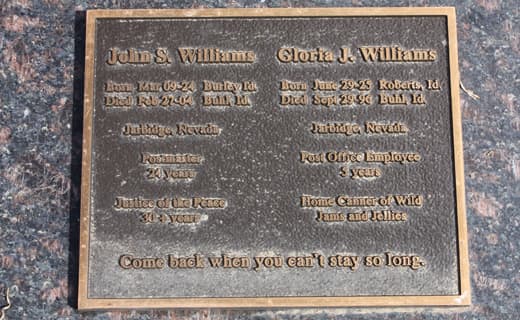 Above: A tombstone in Jarbridge cemetery
Just north of Jarbridge I stop at the cemetery.  This headstone got my attention – always good to have a sense of humor.