Inspired by a 1957 issue of Desert Magazine, Frank Ross takes his Hallmark Milner past the pavement and into the ghost towns and Nevada mining towns, 100 years back in time…

A Journey Back In Time
by: Frank Ross
September, 2011.  Moss Beach, California.  I'm going over last minute details before I continue my assault on the state of Nevada in the morning.  I'm using check lists I've compiled over the years.  I have one for my 2006 Dodge Power Wagon, one for my 2005 Hallmark Milner LX camper, one for food, and one for gear.  I've used the web, maps, and old issues of Desert Magazine to get ideas on places to go and things to see.  With gas prices what they are, I figured the far northeast corner of Nevada might be a good place to cross off the list, sooner rather than later.
Saturday, 7:00am.  It's a good time to leave the San Francisco Bay Area, no traffic to fight.  Five hours later I'm in Fernley, Nevada getting gas.  From here it's goodbye to freeways.  It's like going back in time.
I head north on two lane Highway 447 towards Gerlach.  Just south of town I turn right and head east on a rough dirt road.  I stop and air down my tires and let most of the air out of my rear bags.  This will help smooth out the bumps.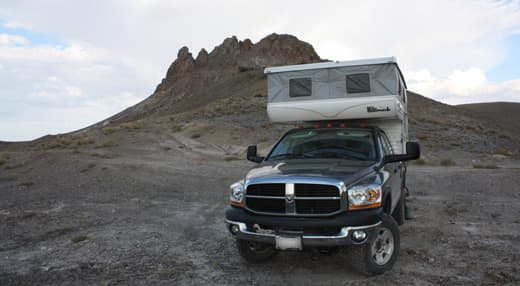 Above: My 2005 Hallmark Milner LX camper at Saw Tooth Knob
It's fifty miles out into the desert to a small mountain called Saw Tooth Knob.  Why here?  I read an article in Desert Magazine's January 1957 issue.  All Desert Magazines are available for free online at www.scribd.com.  Published monthly from 1937 to the 80s, Desert Magazine is a great source for stories, travel ideas, and research.
The article was about John and Sybil Huntington, married fifty-five years and living out here fifty miles from the nearest post office.  In 1957, he was eighty-three and she was eighty-six.  They had already lived here twenty years.  The Huntingtons came to own this home, a ten room mining bunk house, in 1936.  A mining company couldn't pay John for some surveying work he had done.  In a court settlement, they got the bunk house and some placer gold claims.
Sybil is a renowned artist and their story was interesting enough to make me come out here and see if their old house still existed.  It might be private property, or a pile of debris, or I might not find it at all.
Shortly after passing a huge sulfur mine, I turn south on a two track trail.  Now I'm really back in time.  I could be driving a covered wagon instead of a Power Wagon.  Then I see Saw Tooth Knob.  It's hard to miss.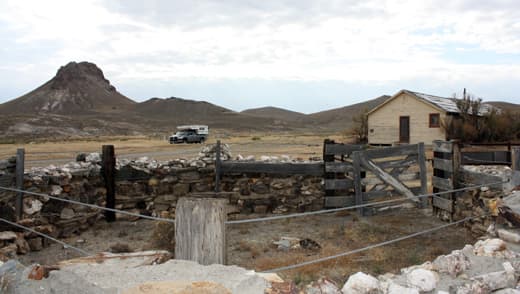 After a couple of miles, I see a building.  Could this be it?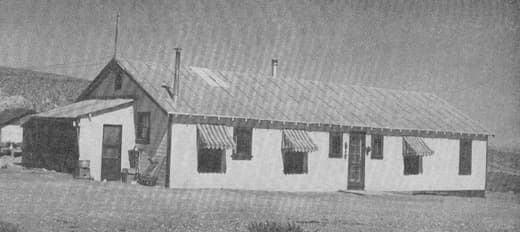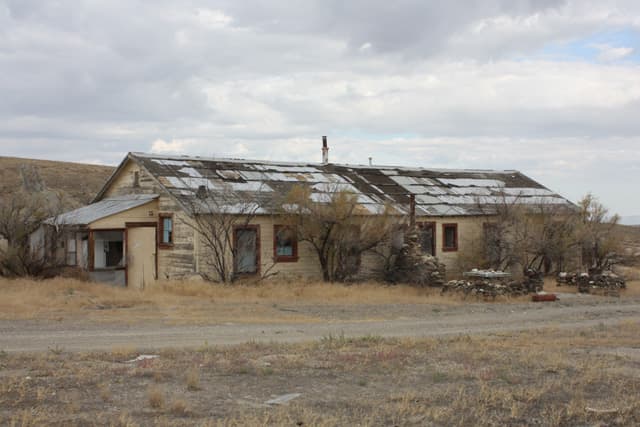 I park and compare the picture of their house I printed from the article with what was before me. Yes, this is it!  The house is run down but it's still here after some seventy-five years.
I make camp up on a bluff below Saw Tooth.  Miles traveled today; 404.
Above: Inside John and Sybil Huntington's house
It's different walking through an old desert dwelling, of which there are many, when you now the history.  That's it for their story for now, but I will end my trip in the ghost town of Mazuma in Seven Troughs Canyon.  In the year 1912 Sybil and her infant son were almost killed in a terrible accident.  Interested?  Good.  Go read the article.