Fellow truck campers recommend their 31 top experiences, destinations, and campgrounds on Vancouver Island.  From ferry rides to spectacular gardens to the Ewok Village in Tofino, Vancouver Island belongs on your must-see bucket list.

We cannot be the only people on Earth who have been confused by the three Vancouvers.  For the record, there's Vancouver the Canadian island, Vancouver the city in British Columbia, and Vancouver the city in Washington State.  For those who are not from the northwest, the nearly identical names are a triple Vancouver confuser.
All of these Vancouvers celebrate Captain George Vancouver, a British officer of the Royal Navy who charted the Pacific Coast in the late 1700s.  History reveals that Horatio – as George was evidently better known – somehow missed the Fraser, Columbia, and Skeena Rivers.  In all fairness, he didn't have GPS to aid him, and I probably couldn't chart my way across Key West – much less the entire northwest coast – without GPS.
For the record, this article is specifically about Vancouver Island, a 12,079 square mile (21,285 square kilometer) land mass in the Pacific Ocean off the coast of southwestern Canada.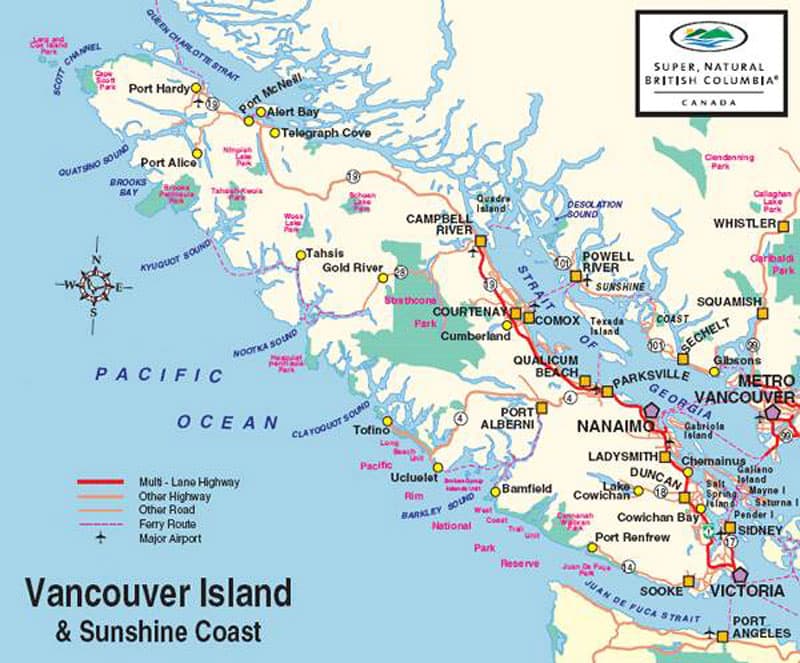 Vancouver Island is actually the 43rd largest island in the world and had population of 775,347 in 2016 (thank you Wikipedia).  In other words, Vancouver Island is actually quite large and handily beats out Sicily (9,830 square miles), Jamaica (4,244), and Puerto Rico (3,435) in square miles/kilometers.
Due to technical challenges and cost, there are no bridges to Vancouver Island from the mainland.  The main way to get there is a network of three ferry systems; BC Ferries, Washington State Ferries, and Black Ball Transport, Inc.  These ferry rides take approximately 1.5 to 3 hours per crossing, and often require advanced booking.  According to our research, you don't want to just show up.
We have never been to Vancouver Island, but we really want to go.  What better way to discover where to go, what to see, and the best places to camp with a truck camper than to ask fellow truck campers?  Thank you to everyone who contributed to this inspiring destination article.  Vancouver Island is now officially on our must-see truck camping list.
Bruce Grant: 2012 Ford F350, 2003 Lance 1071
1. Telegraph Cove For Whale Watching
The one thing I recommend is Telegraph Cove. The location is stunning and the whale watching is the best I have seen in the world.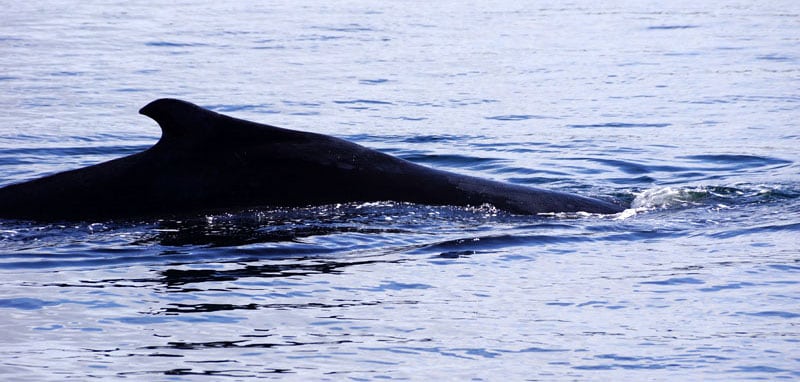 All of the marine wildlife around the Cousteau institute is incredible. The water is crystal clear down to fifty feet in many places.
Vic Smith: 2015 Ford F350, Adventurer 89RB
2. Take The Circle Tours from BC Ferries
I have camped on Vancouver Island for decades. The best trips are the Circle Tours from the British Columbia Ferries. You pay one fare to sail in a circle from Vancouver to Nanaimo. Then drive to Comox sail over to the Powell River, drive down to Gibson, and sail back to Vancouver. You can go in either direction, but I prefer this route.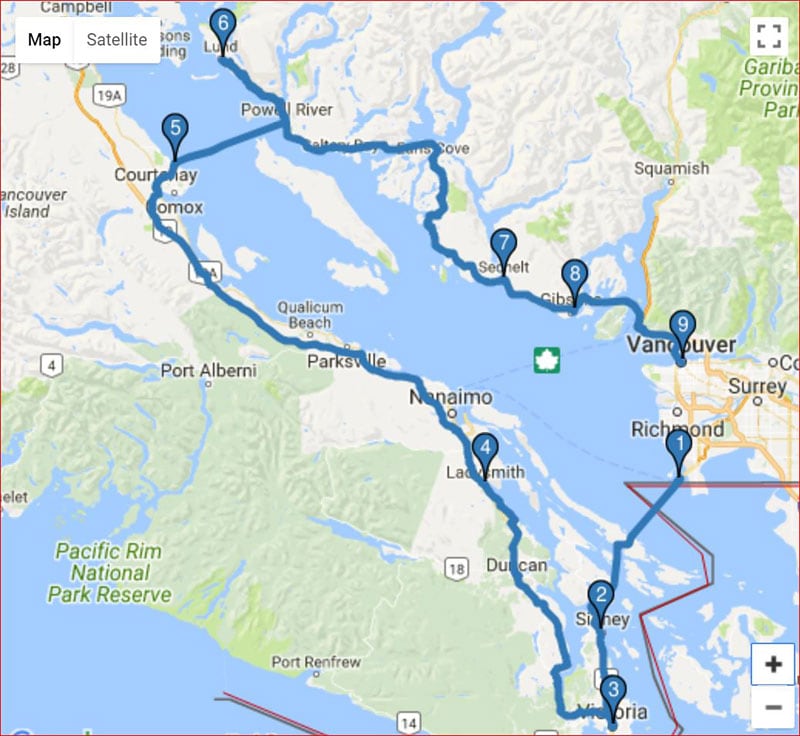 There are many private, provincial and city RV sites along the routes. There is no need to be in a hurry. The BC Ferry ticket is at your leisure. Perhaps you should book online for campsites.
It's best to travel during the week days because weekends are very busy during the summer. Though you buy the ticket, it is first-come, first-serve. I enjoyed arriving at the terminals around 10:30am at all the ports and enjoyed a good breakfast. Usually there were not many vehicles waiting.