The wind had shifted and we could see the haze and smell the fire.  Apparently, fire had jumped and paralleled Trans-Canadian highway 389, our only northerly route access.

A foot note here; the fire wasn't really that close.  They said that it was about fifteen miles from the general store.  This little general store started to load up with tractor trailers who also didn't get the word about the road closure.  Soon there were more than fifty of these tractor trailers parked at the store and on highway.
Now some people might panic with all of the activity going on; the staging area for the firefighters, the tractor trailer drivers, and some locals mine workers headed up to Fermont (French for Iron Mountain).  I, on the other hand, figured it was a good time to strike up conversation with all of these people.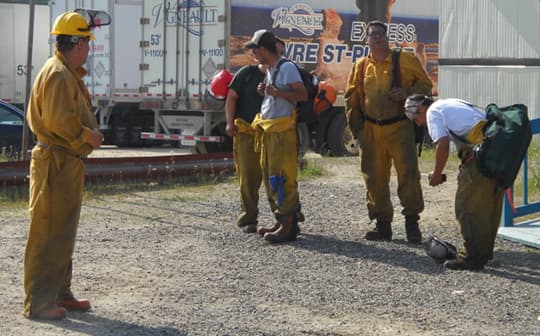 The first group I saw were the smoke jumpers who had just gotten off the fire line and float plane.  They were from Ontario and they were tired, dirty, and ready for a break from the fire.  Another float plane was to take them back to Manic 5 to a motel.  I didn't want to bother them as they were exhausted.  The truck drivers were next.
How often can one get to talk to fifty or so truck drivers in this remote part of the world?  This could have been a major language problem.  They all spoke French!  Well, my wife and I speak enough French to converse with them adequately.  We both got a good insight into their daily life up here in the bush.  It is not an easy life, but they all seem to enjoy working these boondocking road trips.
One of the refrigerated trucks was carrying a full load of meat.  He had enough fuel on board to keep the refrigerator going a couple of days.  Some trucks were carrying steel for the iron ore mine up in Fermont.  It wasn't long before all of those drivers had depleted the general store restaurant of its supplies of food and beer.  We, on the other hand, had our cozy truck camper loaded with food and even cold beer.
Twenty-four hours later, we finally were able to get on the store's WiFi and discovered that there were two more forest fires on our remote journey.  A decision was made to reverse direction and head two hundred miles back to the Saint Lawrence Seaway.  We would reverse direction and do most of our planned trip.
A ferry carried us across the Saint Lawrence to a port town of Matana on the Gaspe Peninsula.  The Gaspe Peninsula was not on our original plan, but the truck camper had a mind of its own.  Don't fight it, just go with the flow!
We followed the coast line and were pleasantly surprised by small charming coastal towns.  We stopped, took pictures and checked out the artisan shops.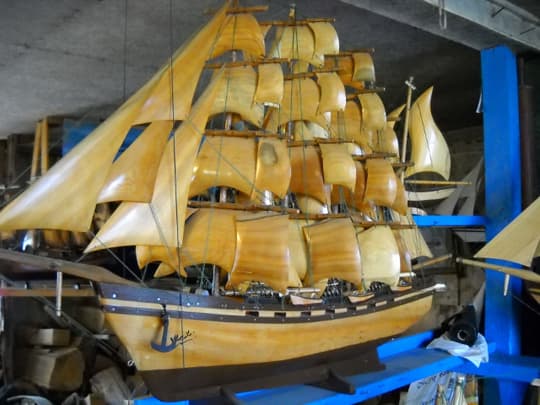 A small shop along the roadway had several wooden model sailing ships in front which caught my eye.  The shop was nothing more than a little old shack with a tin roof.  I stopped a little further down the road to park and we walked back up.  Entering the shop, to the right, was a multitude of sailing ships at different stages of completion.  A man, his wife, and mother were in the shop next to a wood stove.  I asked questions about how he crafted the wooden sails.  He said that it takes a couple of seasons to finish a vessel.  The wood has to dry into the shape of the sails after a good soaking and steam bending.  We talked a considerable length of time; again it was just a cherished moment on our trail of seeing, "What's on the other side of the hill".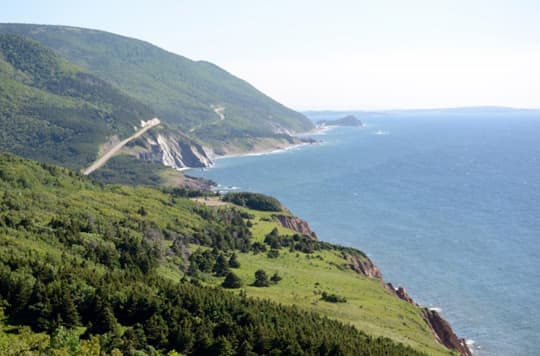 Above: Cabot Trail in Cape Breton, Nova Scotia
Our trip went as planned traveling through Nova Scotia, especially the scenic Cabot Trail in the Cape Breton Highlands.  This is a coastal drive along the ocean with the road winding up and around high mountains.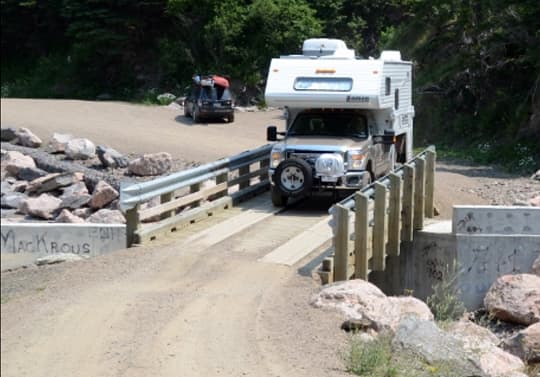 Above: A bridge near Meat Cove, Nova Scotia
We stayed a night at Macintosh Campground.  The community room had a wood stove, free WiFi, tables, and even electricity.  What more could travelers want?  We enjoyed our fellow campers' company and had another restful night in our cozy truck camper.  The next morning, a little exercise up a half-mile trail to a waterfall was a good way start the days' adventure.
A mention must be made for a little out of the way place called Meat Cove.   Meat Cove featured a few houses, campground, rocky beach, and spectacular cliffs!  We didn't stay at the campground because it was too early in the day and we wanted to make it to North Sydney to catch the ferry to Newfoundland.