Lucien Langlois explores Labrador, Newfoundland, and Nova Scotia in his Lance truck camper.  It all started with a 1979 copy of Mechanics Illustrated, a DIY camper plan, and a shop class.

Truck Camping in Eastern Canada
by Lucien Langlois
Some people enjoy parking themselves for their entire vacation in one spot, whether at the beach, mountains, or backyard.  That is their choice and fine with me.  I, on the other hand, always want to see what's on the other side of the hill.  Even back in high school, my buddy and I would skip school once in a while on Fridays and take off exploring some part of New England.
In the mid-eighties, I was a vocational shop teacher.  I taught several trades to kids that had a hard time in the regular vocational programs.  I taught everything from carpentry, electrical, welding, automotive maintenance, and even food service.  In this time frame, I also joined the Army National Guard and also had the opportunity to travel to Alaska with the Air Guard ten years in a row.  Back then, my travels in Alaska were always in a rental car.  The one thing that I noticed was how truck campers (the bulk of them were homemade contraptions) were abundant in this remote expansive land.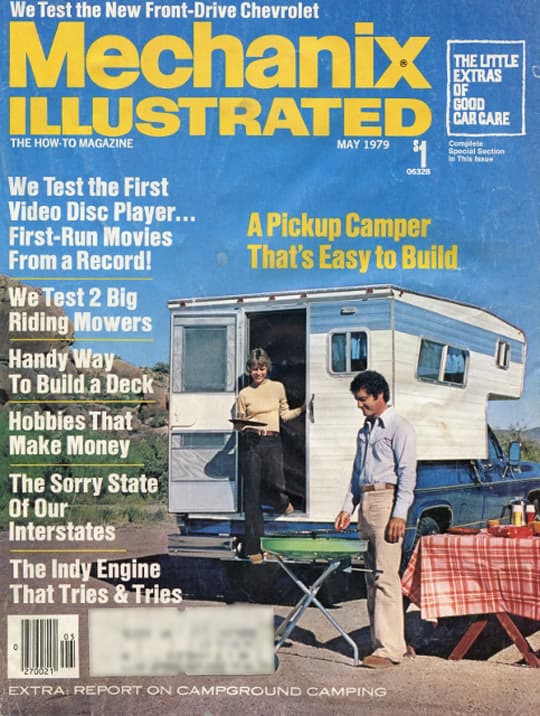 In May of 1979, Mechanics Illustrated had a cover story on how to build a slide-in truck camper and a light bulb came on.  This would be a great project to do with my shop students!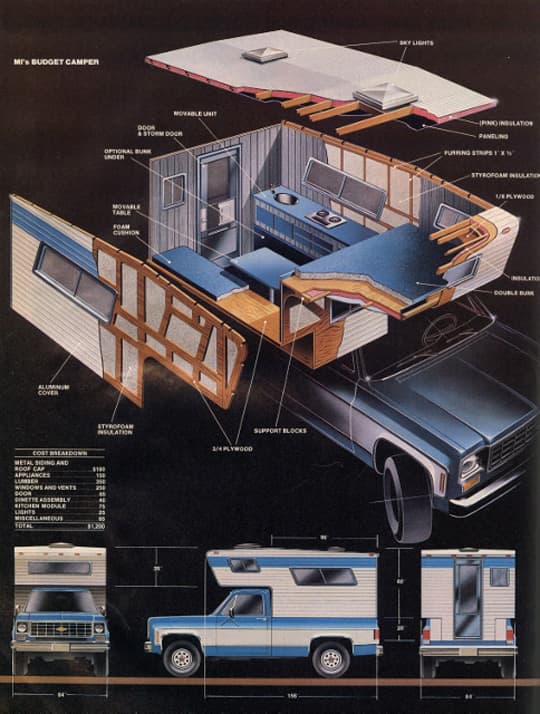 It wasn't long before I was ordering the aluminum exterior skin, factory windows, skylights, and dining table support post and hardware.  The camper came out very nicely and the students loved the experience of building something completely different.  The camper didn't look homemade but, by today's standards, it was primitive.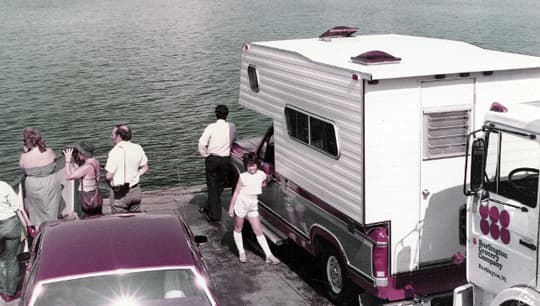 My wife, two young daughters, and I took that camper on several trips in the New England area.  The truck camper was definitely better than tenting.  Maneuvering and parking the truck camper was also easier than our tag along trailer had been.  Parking the tag along at campgrounds was often like docking the Queen Mary.
Life moves on and we raised our family and sent our daughters off to college.  I had changed careers and was a General Contractor for the next twenty five years.  Our travel adventures now consisted of tour trips to Europe, Australia, and New Zealand.  One day my wife, Helen, said, "You know we traveled all over the world and haven't even really checked out this great country of ours".  That's when the light bulb came on again!
Truck camping would be a marvelous way to see this land from sea to shining sea.  I was of retirement age, in good health, and specially gifted with a wife who likes to travel and put up with my adventurist desires.  It was time to upgrade my truck, which I did, and then find a truck camper.
After some research, we found a second hand unit that was in good condition.  Being a DIY type of guy, I went through that camper from head to toe checking and learning about every component.  The truck and camper rig needed an identity, hence I came up with, "Boomers on the Move".  After all, we are of the "Baby Boomer" generation.
We are in a perfect time in life to travel.  We're retired, so time is no problem.  The children have left the nest.  Well, nearly.  The grandchildren are still a very important part of our lives.  Every major thing has been paid for.  If health stays with us, the open road is also with us.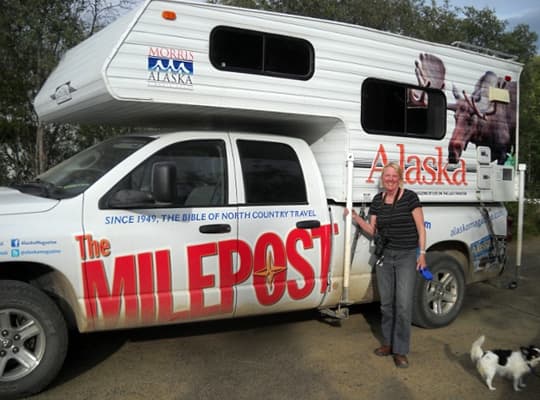 Above: Meeting the Milepost Editor while in Alaska
Our first trip was to Alaska.  It was everything we expected and more.  We were most surprised by everything we discovered between New Hampshire and Alaska.  The Lewis and Clark Trail, which we followed for some distance, made us think of how the explorers must have felt seeing the same landscapes that were rolling by our eyes.  Crossing the Columbia River, the giant trees of the Northwest, and finally reaching the Pacific Ocean are just some of our favorite experiences during our cross-country travel.
We logged in 15,000 miles on the trip to Alaska, our first real truck camper adventure.  It was a very enjoyable shakedown cruise.  We spent part of that winter in Key West, Florida, again with the truck camper.  In the beginning of this article, I mentioned that I was retired from National Guard and with my regular Army time I was able to get full retirement benefits.  Hence we were able to stay in Key West at a Coast Guard RV campground (Trumbo Point) at a considerable savings.
Labrador, Newfoundland, and Nova Scotia