Peggy Bronsberg and Bernie Langreck take the Alaska Marine Highway north, the Alaska-Canada (ALCAN) Highway south, and share some incredible photography, and important tips.
In general, we get better at truck camping with experience.  We learn what we need to pack, and what to leave home.  Loading and unloading still requires our full-attention, but it no longer scares us, or takes a half-hour.  We might leave the occasional window open and drive down the highway (we just did), but our our rookie mistakes are over and done.
Experience also makes us better travelers.  We learn where we like to go and where we will never visit again.  Planning becomes intuitive as new places recall prior adventures and inform our decisions.  It's all cumulative, leading us to the possibility of better and better truck camping trips.
All of this is multiplied by sharing our truck camping experience and stories with each other.  We could not possibly count the number of places we discovered from recommendations by fellow truck campers.  In turn, we have done our best to return the favor by sharing our experiences, and the experiences of hundreds of other truck campers, in Truck Camper Magazine.
Probably the best example of shared truck camping experiences benefiting current and future truck camper travelers is Alaska Week.  For years we have published the reports of truck camper enthusiasts who have traveled to The Last Frontier, and offered valuable information to share with fellow truck campers.  If you're Alaska bound, or just Alaska curious, we highly recommend reading our Alaska section.
For Alaska Week 2016, we are focusing on the experience of getting to Alaska.  The first report is from Peggy Bronsberg and Bernie Langreck, two newbie truck campers who cut their teeth on a remarkable six-month 14,000 mile trip to Alaska last year.  They returned seasoned truck camping veterans ready to share what they learned from their amazing trip.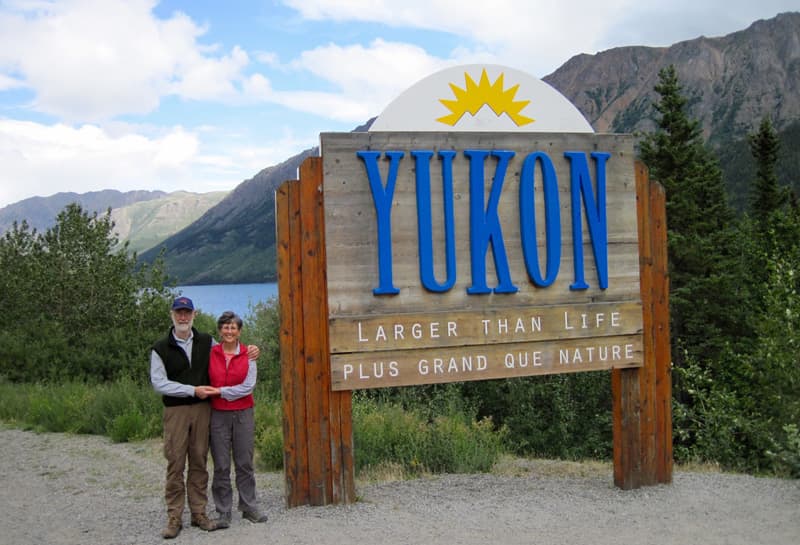 Above: Peggy and Bernie first entered Yukon on a day trip north from Skagway, Alaska, along the Kondike Highway.   Just the sound of the place, "Yukon Territory", filled them with excitement.
Getting Into Truck Camping
Bernie: Prior to this trip, we were always backcountry tent campers, camping out of kayaks, canoes, and backpacks.  Then, eight years ago, while tent camping on Vancouver Island, we got repeatedly soaked with rain.  We just never seemed to be able to dry out and be comfortable.
While walking in a campground in the rain, we passed a truck camper with the interior lights on.  The people inside were sipping from wine glasses and did not appear to be suffering like we were.  We said to ourselves right then, "Someday that will be us!"
We later went to that very campground and stayed in that very site, this time in our own truck camper.  We had achieved our dream!
Peggy: Alaska has been on our bucket list forever.  Several of our family members have visited there and gave glowing reports.  Bernie's sister and husband went to Alaska in a truck camper fifteen years ago, and both of my sisters as well, in tents, one of whom made the trip three different times.
Bernie and I had been planning to retire for the last several years and, on April 1, 2015, we did it.  A year before that, my sister announced that she and her husband were going to Alaska in 2015, and invited us to join them for part of it.   We said, "sure" and the next thing we knew we were planning a six month trip to Alaska, right out of retirement.  We didn't really know if we would be ready, but thought, "Why not?"
At that point we didn't even own a truck camper and decided to take care of that first.  Instead of waiting until we retired, we bought one a year before we left for Alaska with this trip in mind.  We had never owned a camper of any kind and wanted to practice on multiple short trips, get accustomed to luxuries like warm showers and the furnace, and to get the camper outfitted right for us.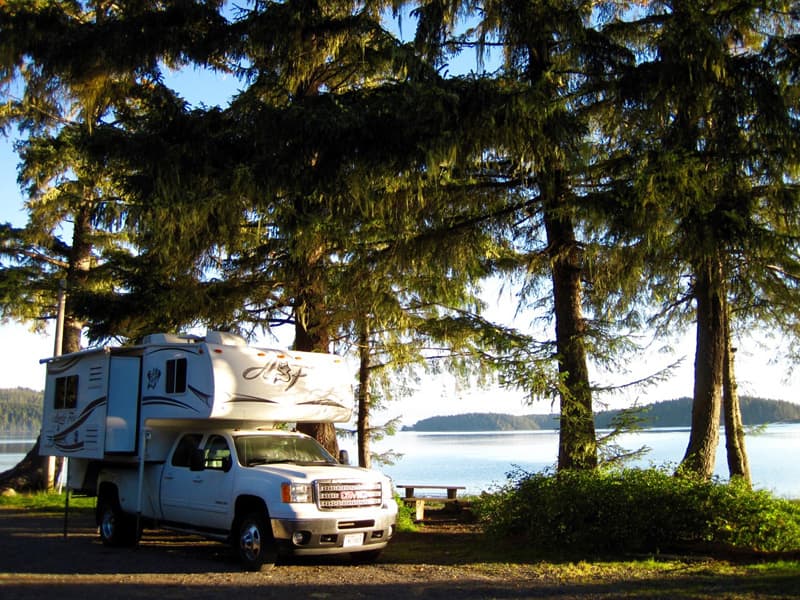 Above: Camping on the oceanside on the northern part of Vancouver Island
Bernie: Thanks to Truck Camper Magazine, we were able to go through the truck camper brands and learn about them.  Then we actually got inside an Arctic Fox 990, with its full-wall slide-out, and fell in love with the kitchen.
There's a table in the closet that you can clip to the side of the sink, greatly increasing the counter space.  We both love to cook, so to have a kitchen where I can be chopping and Peggy can be stir frying was a good fit for us.  The Arctic Fox is a high quality camper in all respects, but we really based our decision of which camper to buy on the kitchen.
After acquiring our brand new camper we went to Indiana and bought a year old one-ton dually truck.
Preparing For The Alaska Marine Highway
Bernie: We wanted to avoid reservations as much as possible in order to keep our trip flexible, but you really need to make reservations ahead of time for the Alaska Marine Highway.  We made our ferry reservations in January for a June departure.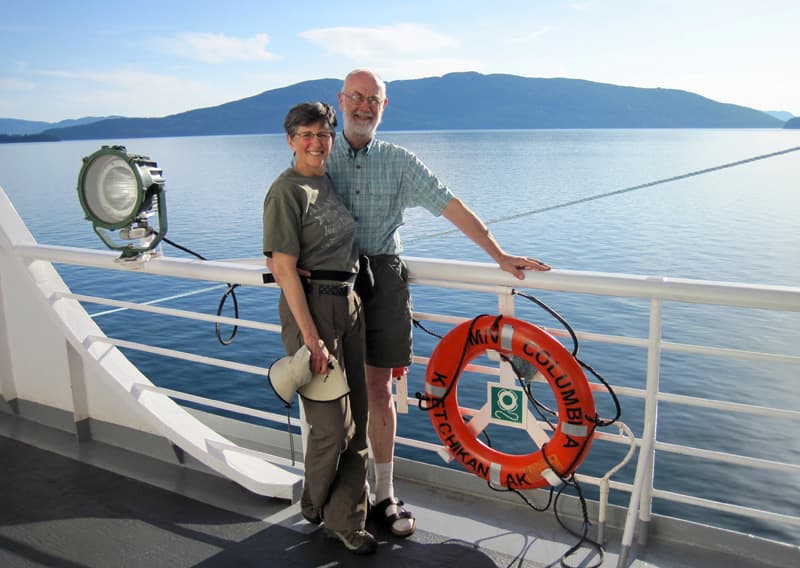 Peggy: Prior to making our ferry reservations, we selected the places we wanted to visit in what is called southeast Alaska.  We picked out seven locations, and wanted to stay about a week at each.  It's important to know that the ferry doesn't go to every port every day and they often leave at inconvenient times, like 1:00 a.m.  The schedule is available online so you can plan this for yourself.
Bernie: We also made a phone call to a genuinely wonderful staff person at the Alaska Marine Highway office who was patient and helped us plan our schedule.  It took about an hour on the phone.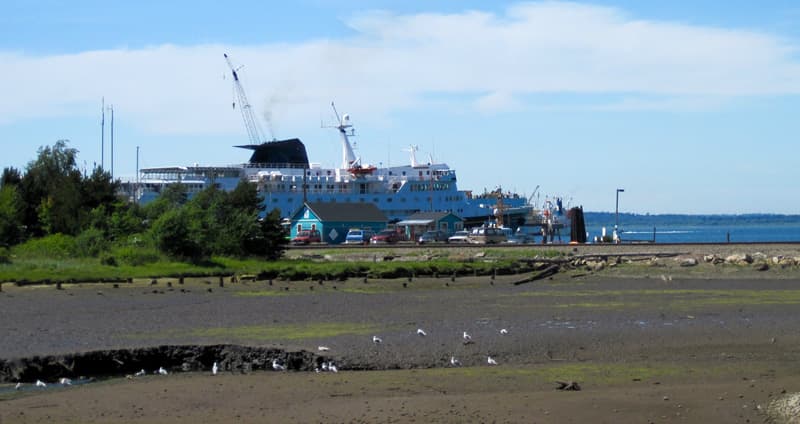 Above: The Bellingham, Washington to Ketchikan, Alaska ferry
The Bellingham, Washington to Ketchikan, Alaska ferry leaves on Fridays, so we decided to leave on Friday, June 9th.  We told the staff person about our plan for a week long visit to the seven different ports and that we wanted, if possible, to leave in the daylight.  He took our information and requests, and came up with a good ferry schedule for us.
Peggy: We had to pay for the ferry in full once it was confirmed.  It cost $3,000 for all seven of our stops in southeast Alaska.  They do have a full refund policy if you cancel at least two weeks in advance.
Bernie: We were on the ferry for thirty-seven hours straight from Washington to Ketchikan.  You can't stay in your camper on the ferry, so we reserved a small stateroom with a bed, sink, and toilet.  We cooked on a hot plate in our room to save on food costs.
Another consideration is how to keep your truck camper refrigerator running and any food inside from spoiling while on the ferry.  The ferry system requires you to turn off your propane.  When we left Wisconsin, our refrigerator and freezer were full.  We ate from it while traveling across the country but, when we arrived in Bellingham, we still had a lot in the freezer.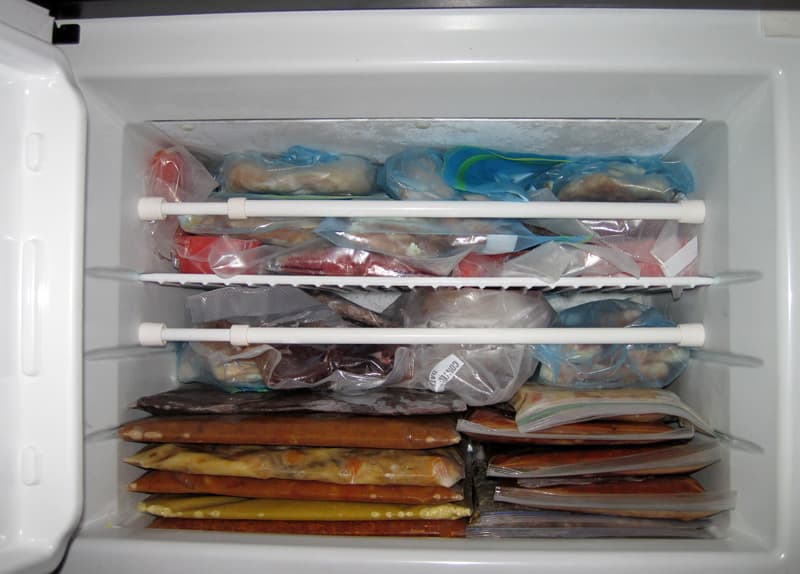 Above: Their truck camper's freezer packed with food
We were concerned that the food might not last the thirty-seven hour trip.  We left the food items in the freezer, packed it full, and then ran the refrigerator on 12-volt power.
The car deck on the ferry has ceiling lights and, with our camper's solar panel parked under them, the battery would charge a little.  When the batteries ran down, we shut off the refrigerator until the lights would recharge the batteries via the solar panel.  Then we would run the refrigerator again for awhile.  Following this regimen, all our food remained frozen solid and nothing spoiled.
We did disconnect the truck from the camper so that our truck battery would not be drained.  The only time we put our refrigerator on DC power was when we were on ferries, and we were glad to have the option.
Peggy: We also kept the refrigerator door shut the whole time.  Every six hours ferry passengers are allowed to go to the car deck.   While other people would go down to check on their dogs, we'd check on our refrigerator.
Bella Coola to Port Hardy Ferry Warning
Peggy: We had a good experience traveling the Alaska Marine Highway and wanted, later in our trip, to take a British Columbia ferry from Bella Coola on the mainland to Port Hardy on the northernmost tip of Vancouver Island.
We knew we'd be there sometime in September, but we were uncertain about the timing.  We also didn't know how we'd feel at that point of the trip and how our money would hold out.  For those reasons, we didn't make a reservation ahead of time.  We also thought September would be less popular time of year for the ferries, and reservations wouldn't be necessary.
But when the time came, about a week before we hoped to sail, we called to make a reservation.  They told us the first availability was the end of October.  As it turns out, September is late in the tourist season, so they take one of their ferry boats out of service for scheduled maintenance.  This limits available space for those wishing to travel.
One has to be flexible on a long trip, and we came up with a new plan, but were sad to have to miss the Bella Coola to Port Hardy ferry run.  So, a word to the wise; if you want to take a ferry, you do need to make a reservation well in advance.
Above Left: Even though they didn't make the Port Hardy ferry, they still made it to Port Hardy.  They drove the length of Vancouver Island in one day, from the southern to the northern tip, some 285 miles.   The scenery was beautiful all along the way, encompassing 7,000 foot tall mountains, rain forest, seashores, and views of coastal islands.
Above Right: Peggy and Bernie stopped at Port Hardy on the northern tip with big plans to see everything they could in the two and a half weeks on the island, slowly making their way south to Victoria and the ferry boat that took them back to the United States.
Vancouver to Vancouver Island, British Columbia Ferry
Peggy: Reservations are not needed for ferries from Vancouver, British Columbia out to Vancouver Island.  There are numerous runs on numerous vessels, so you just show up and go.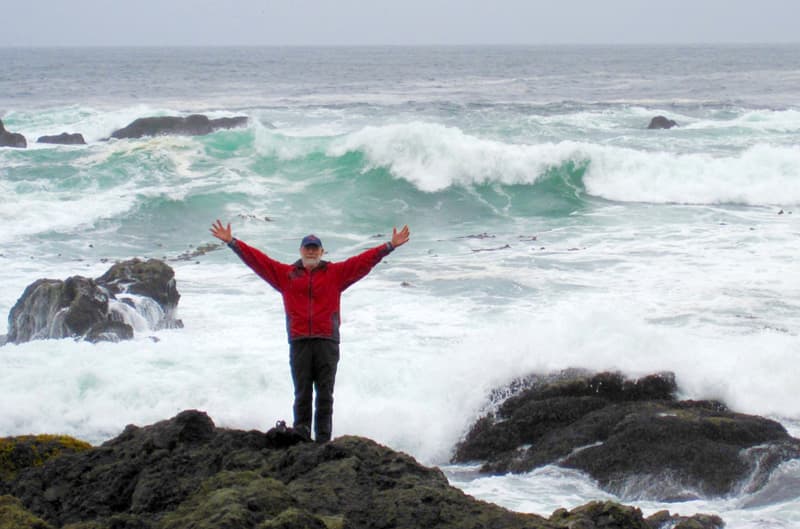 Above: They went west across Vancouver Island to the open Pacific coastline where hurricane Joaquin was whipping up enormous winds and surf
We traveled in our camper the length of Vancouver Island, from Victoria to Port Hardy and back again, enjoying many sights and towns along the way.  We also went to three of the myriad of coastal islands between Vancouver Island and the mainland of British Columbia, and this also required ferry travel.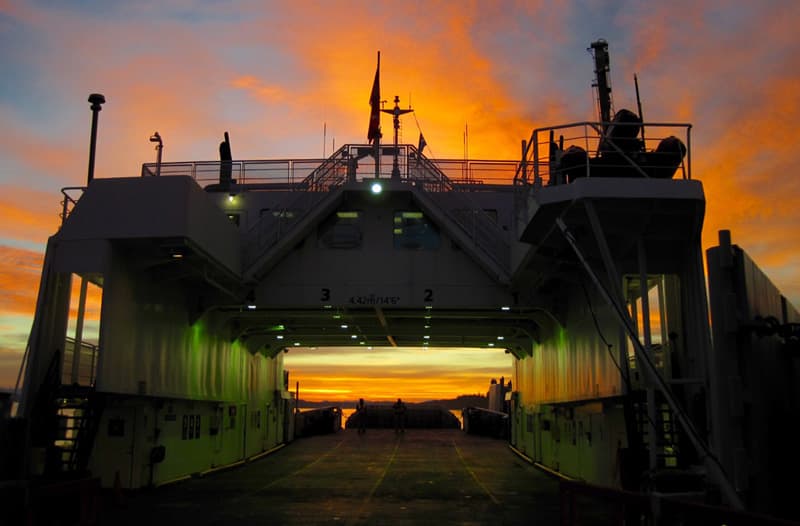 Above: Port McNeill and Campbell River ferry boats
We departed Port McNeill to go to both Malcolm and Cormorant Islands, and from Campbell River to go to Quadra Island.   Each of these trips were about forty-five minutes in length and cost $26 for the two of us and our camper.   We thought that was a reasonable cost to access new experiences on these fascinating islands, each with unique communities, campgrounds, and hiking trails.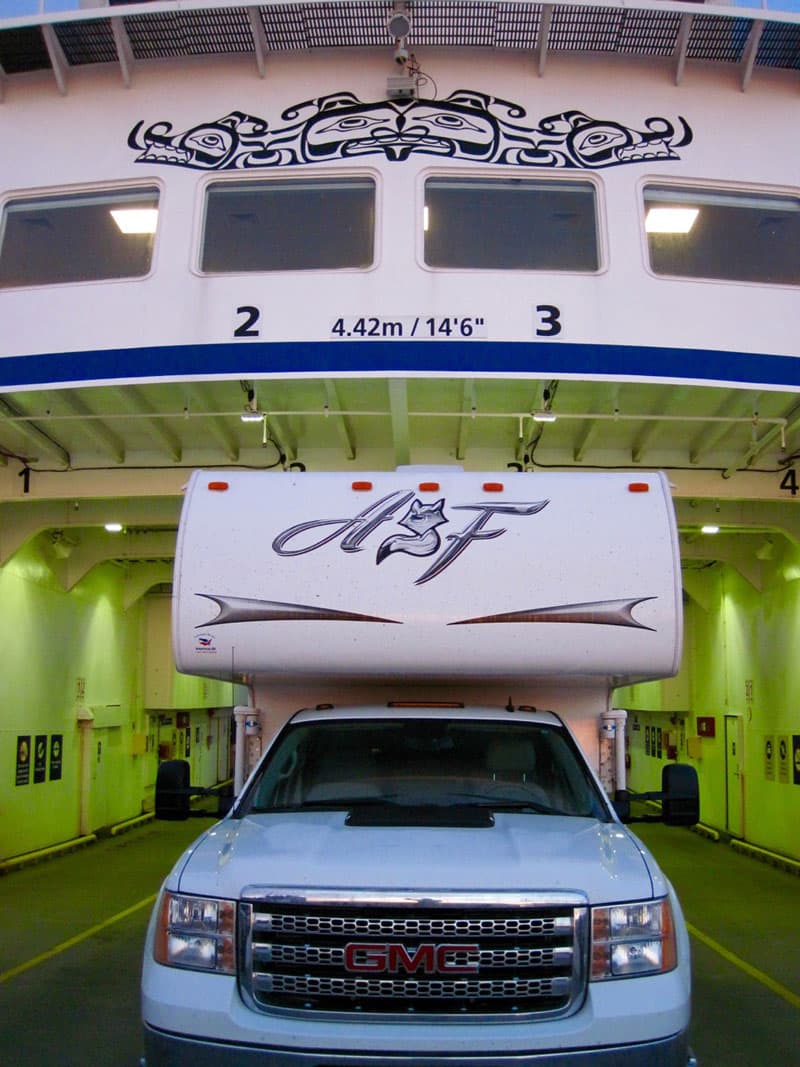 Above: Having a truck camper allowed Bernie and Peggy to ride the ferries for a very reasonable cost, and be able to camp and explore the islands in comfort.
We also ferried back to the United States from Vancouver Island after spending most of October there.  The ferry runs from Victoria on the southern end of the island to Port Angeles, Washington.  It is a high-speed ferry boat that requires just ninety minutes for the trip, so you don't need a berth.  That ferry was $116 for the two of us and our camper.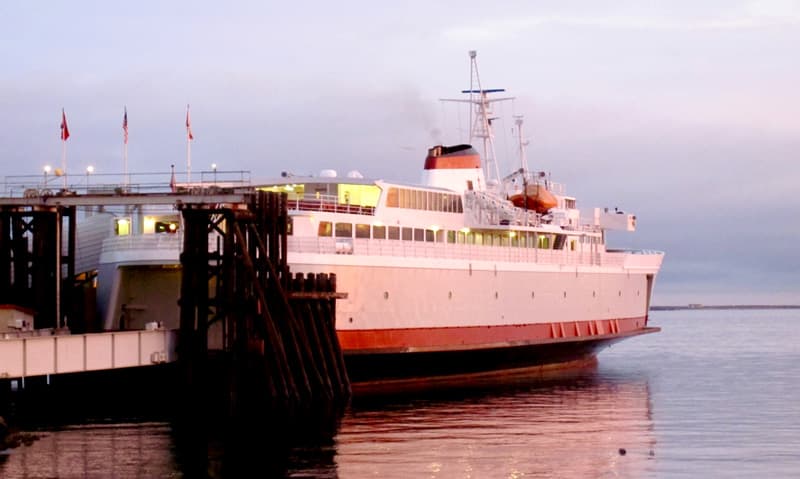 Above: There is a two hour ferry ride to Seattle from Vancouver Island
Bernie:  The cost to travel on all ferries, both American and Canadian, is determined by the length of your rig, measured by the foot.  There's a twenty foot the base charge.  They don't care about height as long as you are less than eight feet wide.  Our rig is twenty-four feet long.
Peggy: Just for comparison, my sister and her husband went to Ketchikan like we did.  We paid $3,000 and they paid $4,700 with their truck and fifth wheel trailer.  So with the ferries, length matters, and having a truck camper is a big advantage.
US/Canada Border Crossing and Food Restrictions
Above: Vancouver Island near Port Alberni is famous for its big trees—cedars and spruce.   Trees as large as this are over 500 years old, mere saplings at the time Shakespeare was writing sonnets in the 1500s.
Peggy: Passports are essential for entering Canada or re-entering the United States.  In our six months of travel there, we crossed into and out of Canada at least eight times.
Be aware there are restrictions about what you can bring into Canada from the United States, and vice versa.  At the border crossing from British Columbia into Washington, a sign informed us that we had to declare any fresh produce that we had on board.  We told the customs official we had "two apples, three potatoes, and a pear".   He said, "Pull over and park there.  We will need to search your camper".  In the end, they allowed us to search it for ourselves and surrender any produce that didn't say, "Grown in USA" on it.
Another time, crossing from the United States to Canada, the sign said, "No raw eggs or chicken".   We leapt out of the truck and threw away a dozen fresh eggs we'd just recently purchased.
To be on the safe side, you should read The Milepost.  It gives toll free numbers for United States and Canadian customs which tell you exactly what you can and cannot bring into each country.  Regulations do change, so you should be up to date and plan accordingly.  We were doing it on the fly, an inconvenient and wasteful strategy, to say the least.
Bernie: As a side note, on the Alaska Marine Highway ferry system from Bellingham, Washington to Alaska, there are no passports required for United States citizens because you stay in the United States or in international waters the entire time.

Cell Phones In Canada
Peggy: While Canada's cell phone system uses the same technology as the cell phone system in the United States, you will be charged heavy roaming fees if you use a U.S.- based cell phone in Canada.  While in foreign countries, many people turn their cellular data off (a function on most smart phones) to avoid potential roaming charges.
There are international cell phone plans available, but they need to be set up in advance with your carrier.  Also, if you have an unlocked phone, you may be able to get a local Canadian SIM card.
We had interesting situation where our first grandchild was to be born while we were on the trip.  In addition, Bernie has a brother in Wisconsin with a serious medical condition, and Bernie made a commitment to call him every Wednesday morning to touch base.
Our original plan was to buy a pay-as-you-go TracFone at a Canadian Walmart so we could keep up with our son and brother.  We use a TracPhone as our cell phone in the United States, and it works fine.
When we went to a Walmart in Canada to get a TracFone, they told us that they don't have such a thing for use with long distance calls.  We could buy a phone, but it would only work for local calls and long distance calls would be very expensive.
They suggested using pre-paid phone cards and pay phones for calling the United States.  We had no problems finding pay phones in Yukon and northern British Columbia.  In Victoria and Vancouver, however, there were hardly any pay phones to be found.  We had quite the challenge making our weekly calls and hearing the happy news of our grandson's arrival.
Bernie: For internet, we used a Verizon mobile hot spot in Alaska, and public WIFI at libraries and restaurants in Canada with no problem at all.
City Parking With A Truck Camper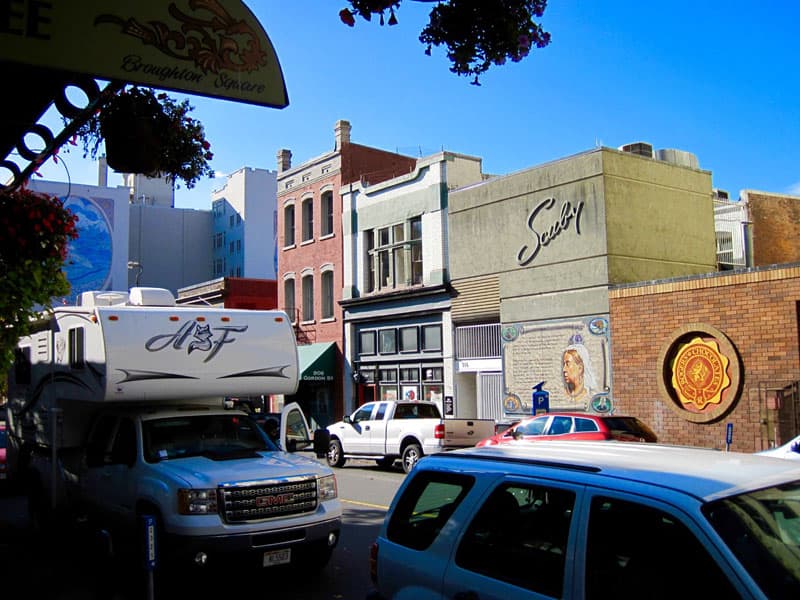 Peggy: We are glad to have purchased a truck camper rather than a trailer.   My husband's skillful driving got us right in the middle of big cities to enjoy the things big cities have to offer.
Above: Exploring the Museum of Anthropology and Vancouver Aquarium in Vancouver, British Columbia
We found we could park downtown on the streets for free on Saturdays and Sundays, and spent hours exploring museums and other attractions.  We could return to our camper to fix ourselves lunch if we wanted to, and that was nice.  Going into cities on weekends cut down on the traffic considerably.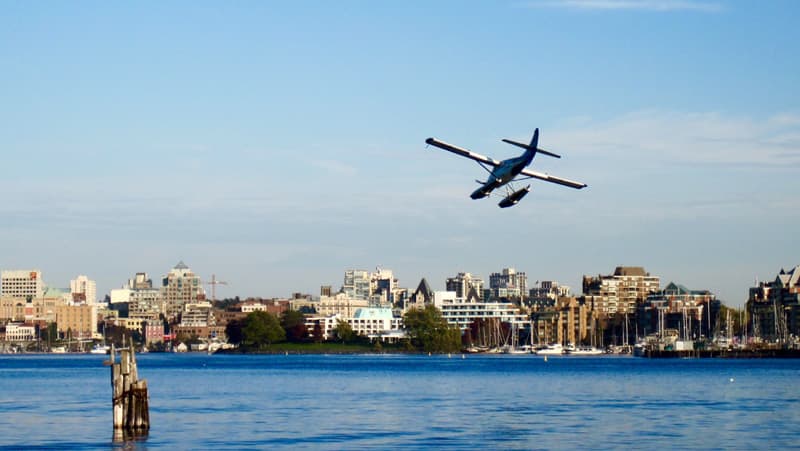 Above: They spent three nights at the West Bay Marina campground.   This is in a remarkable location which affords campsite views of the Strait of Juan de Fuca, city skylines, and the comings and goings of ferries, fishing boats, kayakers, and float planes.
Bernie: In Victoria, British Columbia, we camped at West Bay Marina.  It's a beautiful, full service RV park, where we got a basic site with electricity for about $30 a day.  They also had a pay phone and laundry area.  It was worth it to us to pay a camping fee here and be so close to this beautiful and historic city.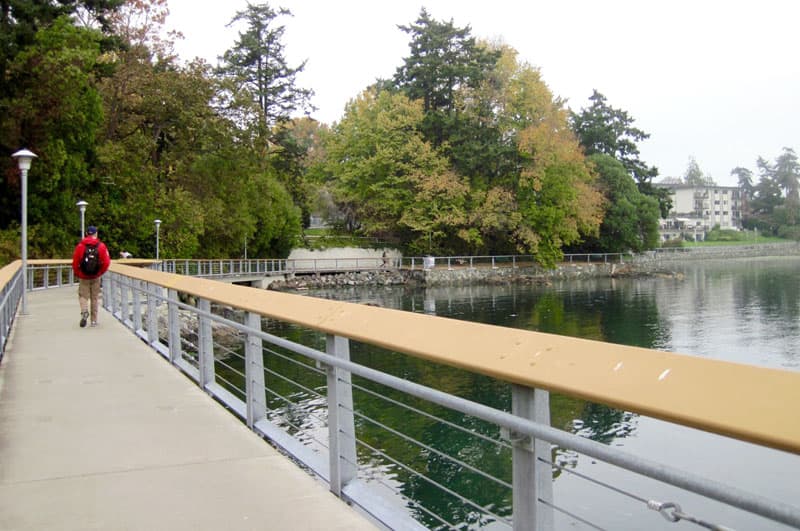 Above: The bicycle/walking path hugs the coastal shoreline and takes one from the campground right to heart of the Victoria.  Buses and water taxis are also readily available.   It was a very convenient place from which to visit the city day and night.
The West Bay Marina campground is just 2.5 miles from the city and is accessible by bus, by walking along a lovely paved bicycle trail, or by taking a quaint water taxi over the bay.  It was a wonderful location for our base of operations in Victoria.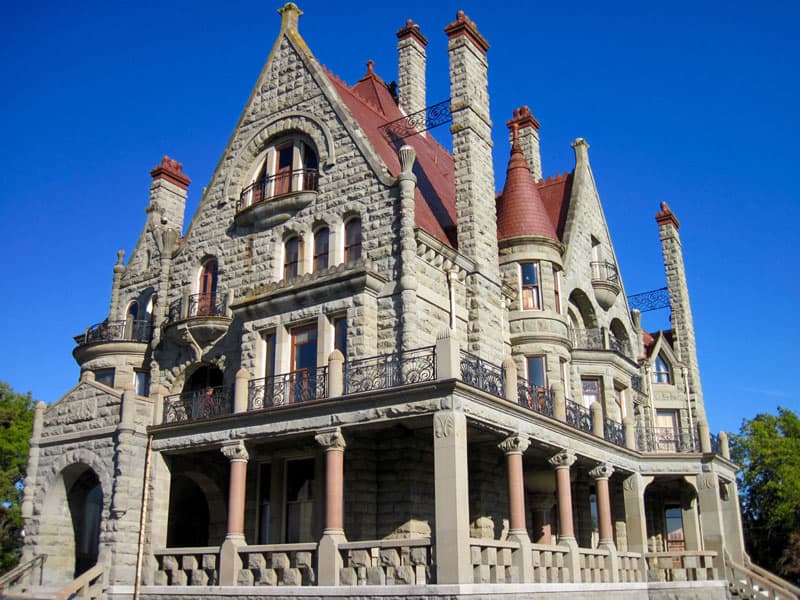 Above: They also toured Craigdarroch Castle, built for Vancouver Island's coal baron, Robert Dunsmuir in 1890.   Fun stuff for lovers of historic buildings.
Above Left: The Parliament building in Victoria.  Above Right: The British Royal Museum here has world class natural history, paleontology, anthropology, and history exhibits.  They spent the entire day at the museum and could easily have spent three days.
Camping in Canada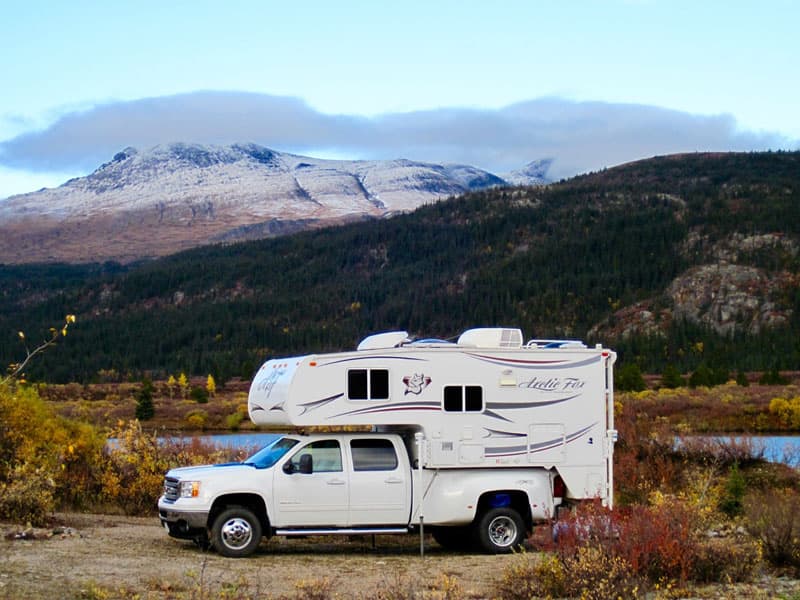 Above: Boondocking along the Cassiar Highway
Peggy: On average, we paid about $5 a night for camping on our six month long trip.   This was because of all the free boondocking that we enjoyed along the way.
Above: Peggy and Bernie camped virtually anywhere they felt like in the Yukon countryside.  They just pulled off the road in some beautiful place and enjoyed the night.
In the Yukon and Alaska, away from the cities, you can camp just about anywhere unless it's posted otherwise.  Along the scenic roads we just pulled off and camped when we were ready to stop.  The locations were beautiful and the solitude was priceless.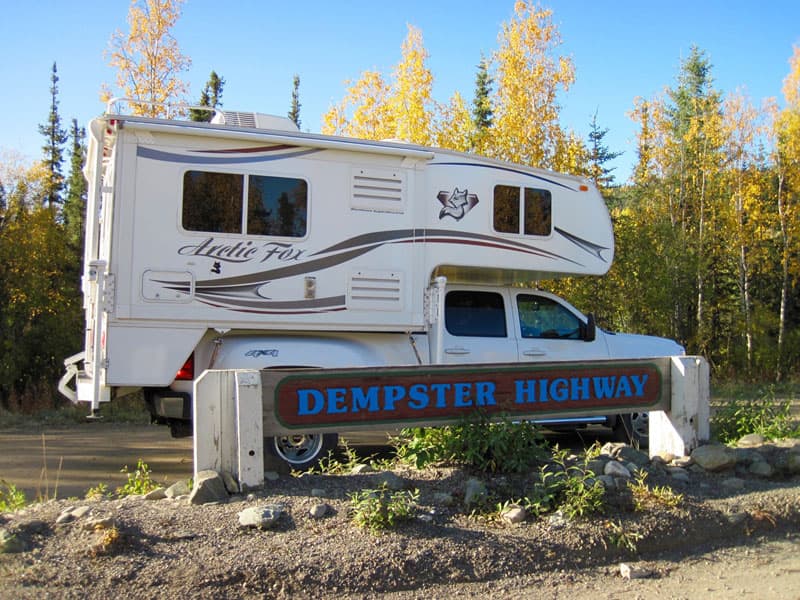 Above: The Dempster Highway, Yukon Highway 5 starts a bit east of Dawson City and goes 456 miles due north to the Northwest Territories and the Arctic Circle.   Because of heavy snowfall further along the route, they drove only about 100 miles of it, enough to give a wonderful taste of the grandeur to be seen that far north.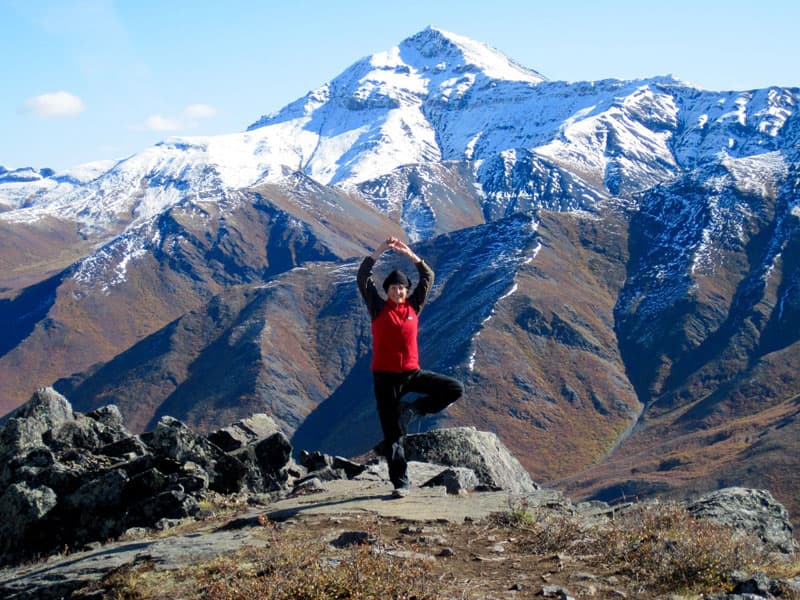 Above: The Dempster Highway has all the solitude and peace you could ever hope to find.
Above Left: The Demptster Highway is a gravel road, but in excellent condition.  Right: The beauty of the Tombstone Range along the Dempster Highway. Peggy and Bernie boondocked on a mountaintop near the continental divide on the Demptster Highway where waters flow either west to the Bering Sea or north to the Beaufort Sea on the Arctic Ocean.
In British Columbia, we didn't know for sure about boondocking, and didn't run across anyone boondocking at the pull-outs.  That was when we discovered the British Columbia Recreation Sites.  They have only a small number of campsites, which is exactly what we like.  They are primitive, with no dump or water.   The British Columbia Recreation Sites are not to be confused with their Provincial Parks, which do charge a camping fee.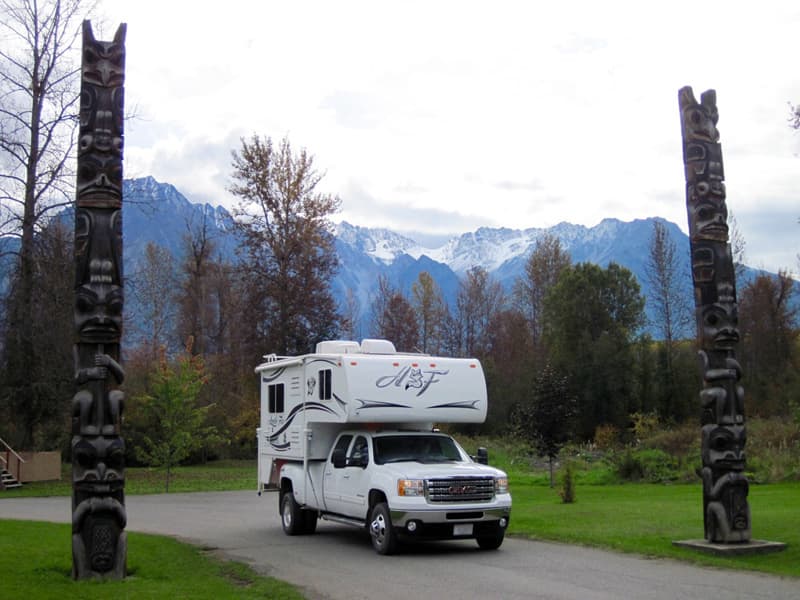 Above: Ksan Historical Village in British Columbia
Camping fees at the British Columbia Provincial Parks and at Canadian National Parks is only half price for seniors.  United States citizens can take advantage of this price break.  In the United States, United States citizens can get half price camping at the National Parks with the Golden Age Pass, but this price break is not available for Canadians.  We assumed the rules would be the same in Canada, but that was not the case.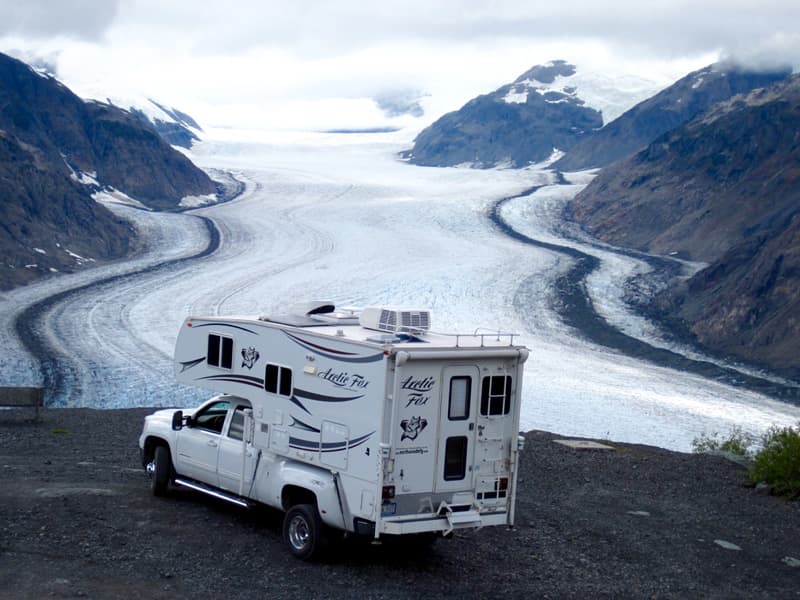 Above: Salmon Glacier, British Columbia
Bernie: There are municipal dump and fill stations in British Columbia.  Most of them are located in towns and free of charge.  We had no issues at any time on our trip finding potable water or dump stations.
Above: They booked a flight-seeing tour with air service called, Icefield Discovery.   They saw Mt. Logan, tallest mountain in Canada and only 800 feet shorter than Denali, as well as the Icefield from which the Kaskawulsh glacier flows.  Their pilot landed near the top of the Kaskawulsh Glacier on ice which is over a mile deep.
Weather, Bugs, and Bears
We can count the rainy days on two hands for our entire six month trip.  We really lucked out with the weather.
A lack of rain means a lack of insects.  Before our trip, it seemed every person we met was warning us about bugs.  We had no bugs for six months.  No black flies.  No mosquitoes.  In southeast Alaska we had a few no-see-ums to contend with, but that was it.
We prepared for bugs with the usual variety of supplies, including bug jackets and head nets.  We were concerned about squashing bugs on our new camper's beautiful interior.  Then we discovered bug zappers and bought two of them.  We keep them inside the camper, and "Zap!  Zap! Zap!" there were no big guts on the walls!
Bears were never an issue.  We did purchase bear spray while traveling through the American West, and carried it with us while hiking on our whole trip.  We were frequently briefed by rangers on how to manage bear encounters, but the best lesson was provided by a ranger in the Flathead National Forest in Montana.   She asked if we had actually practiced using the bear spray.  When we said we had not, she actually took us outside and taught us exactly how to do it.  That added a lot to our comfort level and we never missed a hike for fear of bears.
Credit Cards
Peggy: Make sure that your credit cards do not have foreign transactions fees as they can be quite hefty.  Capitol One has no foreign transaction fees.  We use a different card in the United States, but only Capitol One in Canada, and had no problems at all.
Bernie: Also make sure that you have a credit card with an embedded microchip.  Canada is ahead of the United States with the embedded microchip technology.   They were often frustrated when people were using cards with the old fashioned magnetic strips.
Backroad MapBooks
Peggy: We extensively used the British Columbia Backroad MapBooks.  These are available for each of seven different regions of British Columbia and were truly invaluable for locating hiking trails, fishing spots, waterfalls, and other points of interest; as well as provincial parks, and recreation sites.
Bernie: We strongly endorse the British Columbia Backroad MapBooks.  The maps they contain are of topo-grade quality and even give GPS coordinates for the various points of interest that Peggy mentioned.
Mission Accomplished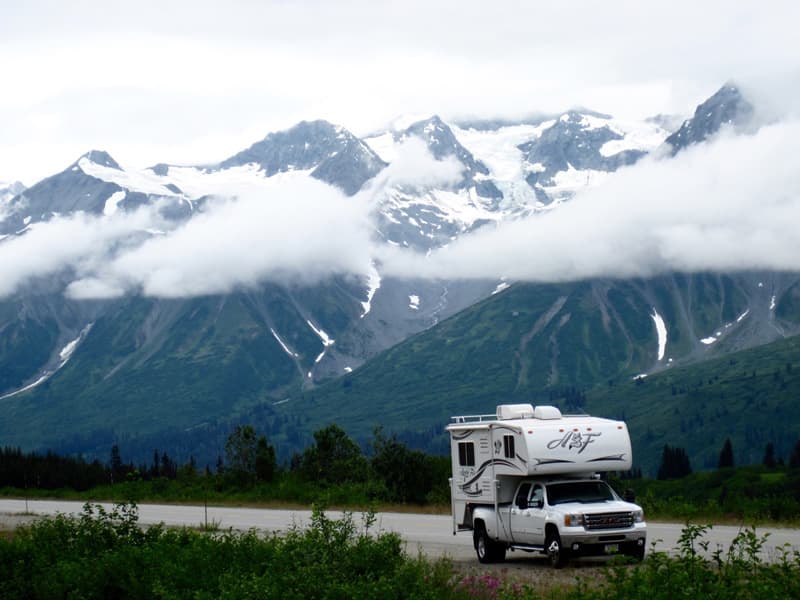 Above:  Peggy and Bernie traveled through the Yukon on the Haines Highway when they were headed for the interior of Alaska
We left for our trip on May 9th and returned November 8th, so we were six months on the road.   We made a nice transition to retirement and learned a lot about truck camping.  All told, we were in Canada for a couple weeks in July, and for all of September and October.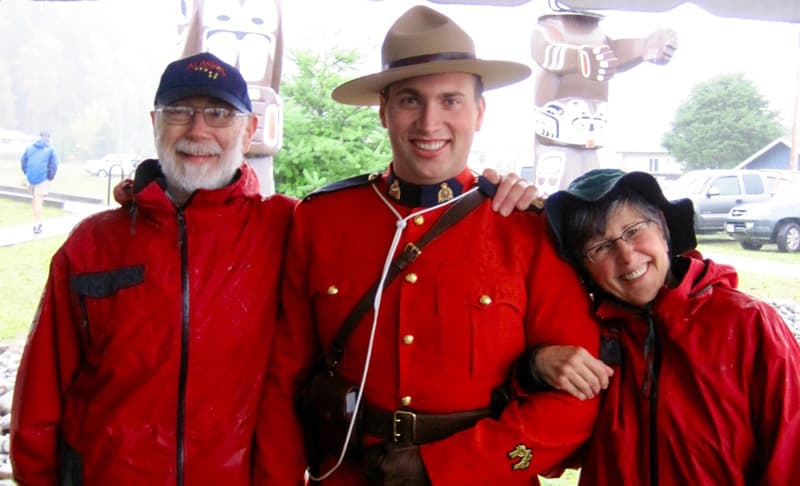 We made countless memories and new friends, and returned with a genuine love for our neighbors to the north, who were universally kind, welcoming, and generous in every way.   We drove 14,000 miles in total from Wisconsin to Alaska and back again, and documented the entire trip in our travel blog.  We send blessings for safety on the road and hope to see you out there.