Peggy Bronsberg and Bernie Langreck take the Alaska Marine Highway north, the Alaska-Canada (ALCAN) Highway south, and share some incredible photography, and important tips.

In general, we get better at truck camping with experience.  We learn what we need to pack, and what to leave home.  Loading and unloading still requires our full-attention, but it no longer scares us, or takes a half-hour.  We might leave the occasional window open and drive down the highway (we just did), but our our rookie mistakes are over and done.
Experience also makes us better travelers.  We learn where we like to go and where we will never visit again.  Planning becomes intuitive as new places recall prior adventures and inform our decisions.  It's all cumulative, leading us to the possibility of better and better truck camping trips.
All of this is multiplied by sharing our truck camping experience and stories with each other.  We could not possibly count the number of places we discovered from recommendations by fellow truck campers.  In turn, we have done our best to return the favor by sharing our experiences, and the experiences of hundreds of other truck campers, in Truck Camper Magazine.
Probably the best example of shared truck camping experiences benefiting current and future truck camper travelers is Alaska Week.  For years we have published the reports of truck camper enthusiasts who have traveled to The Last Frontier, and offered valuable information to share with fellow truck campers.  If you're Alaska bound, or just Alaska curious, we highly recommend reading our Alaska section.
For Alaska Week 2016, we are focusing on the experience of getting to Alaska.  The first report is from Peggy Bronsberg and Bernie Langreck, two newbie truck campers who cut their teeth on a remarkable six-month 14,000 mile trip to Alaska last year.  They returned seasoned truck camping veterans ready to share what they learned from their amazing trip.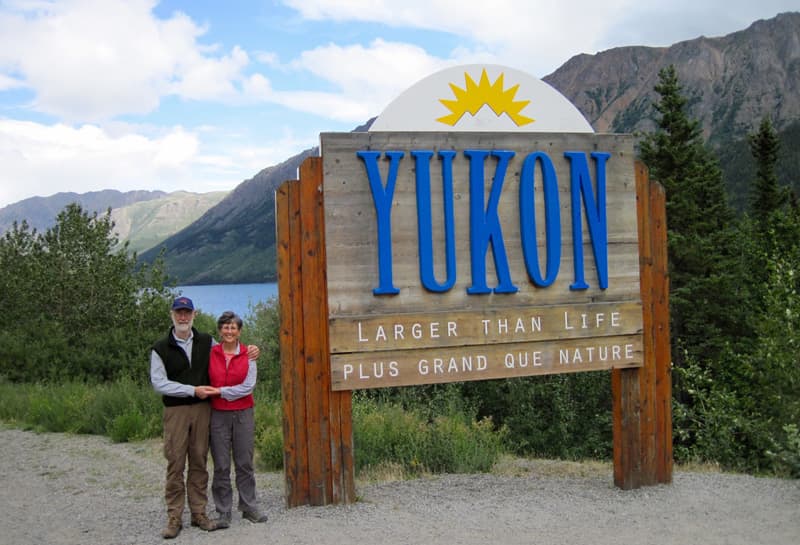 Above: Peggy and Bernie first entered Yukon on a day trip north from Skagway, Alaska, along the Kondike Highway.   Just the sound of the place, "Yukon Territory", filled them with excitement.
Getting Into Truck Camping
Bernie: Prior to this trip, we were always backcountry tent campers, camping out of kayaks, canoes, and backpacks.  Then, eight years ago, while tent camping on Vancouver Island, we got repeatedly soaked with rain.  We just never seemed to be able to dry out and be comfortable.
While walking in a campground in the rain, we passed a truck camper with the interior lights on.  The people inside were sipping from wine glasses and did not appear to be suffering like we were.  We said to ourselves right then, "Someday that will be us!"
We later went to that very campground and stayed in that very site, this time in our own truck camper.  We had achieved our dream!
Peggy: Alaska has been on our bucket list forever.  Several of our family members have visited there and gave glowing reports.  Bernie's sister and husband went to Alaska in a truck camper fifteen years ago, and both of my sisters as well, in tents, one of whom made the trip three different times.
Bernie and I had been planning to retire for the last several years and, on April 1, 2015, we did it.  A year before that, my sister announced that she and her husband were going to Alaska in 2015, and invited us to join them for part of it.   We said, "sure" and the next thing we knew we were planning a six month trip to Alaska, right out of retirement.  We didn't really know if we would be ready, but thought, "Why not?"
At that point we didn't even own a truck camper and decided to take care of that first.  Instead of waiting until we retired, we bought one a year before we left for Alaska with this trip in mind.  We had never owned a camper of any kind and wanted to practice on multiple short trips, get accustomed to luxuries like warm showers and the furnace, and to get the camper outfitted right for us.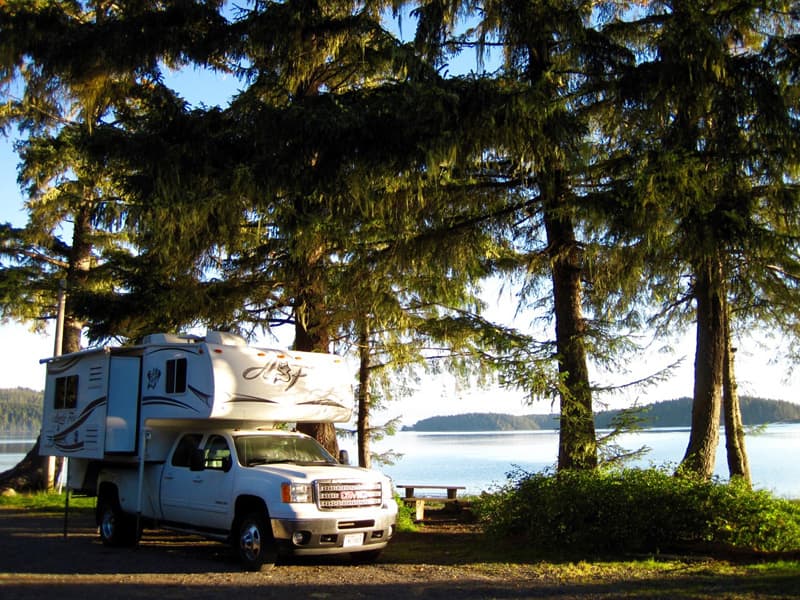 Above: Camping on the oceanside on the northern part of Vancouver Island
Bernie: Thanks to Truck Camper Magazine, we were able to go through the truck camper brands and learn about them.  Then we actually got inside an Arctic Fox 990, with its full-wall slide-out, and fell in love with the kitchen.
There's a table in the closet that you can clip to the side of the sink, greatly increasing the counter space.  We both love to cook, so to have a kitchen where I can be chopping and Peggy can be stir frying was a good fit for us.  The Arctic Fox is a high quality camper in all respects, but we really based our decision of which camper to buy on the kitchen.