Without a GPS or cell phone, the Webers set out in a 2013 Palomino Maverick M-6601 to explore Canada's Northwestern wilderness.  It was their very first truck camping adventure.

Our 10,000 trip to western Canada came about because we were looking for an alternate way of traveling to the west coast of Canada.  We wanted to travel the back roads, so a truck camper seemed like a sensible way to go.
Our goal was to fish in northern Ontario and the travel west on the northern-most roads through Manitoba, Saskatchewan, and Alberta to the start of the Alaska Highway in Dawson Creek, British Columbia.
Then we would turn north on the Dempster Highway eventually reaching Tuktoyuktuk in the Northwest Territories on the Arctic Ocean.  We would explore northern British Columbia, visit family in Calgary, and return home to southern Ontario on the Canadian backroads south of the TransCanada Highway.
Prior to the trip, I spent four months researching and creating our travel plan.  Research included safety around wildlife, understanding native and local cultures, reviewing Canada's Crown Lands Act, knowing fishing regulations, and looking into places to see and things to do.

Ontario
Five years ago, we flew to Lake Nipigon in Ontario on a fishing adventure.  We met fishermen there who pointed out many hidden lakes in the area.  It was exhilarating and the fishing was great.  We caught so many fish that we knew we were going back some day.
We left our home in southern Ontario at the beginning of June and headed to the Lake Nipigon area in north central Ontario.  We spent a week there boondocking and experiencing excellent fishing in pristine lakes and rivers.  We also had many wildlife encounters including seeing twenty moose and four bear.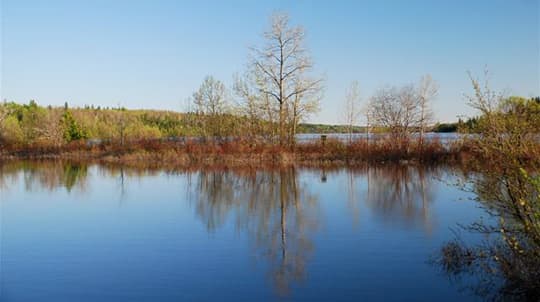 In the picture above we were two miles off Highway 11 in the Moonbeam area.  We were driving and tired and wanted to stop.  We fell asleep and woke up to the sound of spring peepers and frogs.  I found this spot by the lake in the Backroad Map book.
Northern Ontario is a unique outdoor experience.  Lots of trees and rocks and quietness.  The roads are few and far between and the distances between services can be long.
Can you believe we did this entire trip without a GPS or a cell phone?  We used paper maps and we talked to people.
Everyone said, "How can you do a trip like that without a GPS and a cell phone?"  Well, in 1980, we hiked and explored the Kluane National Park and Reserve in the Yukon.  Back then, no one had cell phones.  In those days we logged in at ranger stations or visitor centers and told them where we were backpacking or driving, with a phone number to call if we didn't come out.  We felt safe then, and we felt safe this time.
For our next adventure a GPS and other devices could be useful.  They also cut down on paper and backtracking if you lose your way.
LEFT: I took this picture on our journey home from the Yukon on Highway 17.  The location is at the north end of Lake Superior Provincial Park.  The nearest town is Wawa.  We did not camp here.
Reservations are required to camp in Ontario Provincial Park.  Most of parks are booked up for the season by July 1st.  Provincial parks are beautiful, but too expensive at $35 to $47 per night.  There are no nearby boondocking opportunities either.
We ended up camping at Twilight Resort at Montreal River Harbor for twenty-five dollars.  It's a nice quiet area off Highway 17, several miles South of Lake Superior Provincial Park.  We were still a two day, nine hours per day, drive away from home.
MIDDLE: We saw these bears on the bush roads north of Highway 11 on the way to Lake Nipigon.
RIGHT: A week before the black flies and mosquitos visited, we enjoyed the crystal clear lake and lots of fish.  It was heaven!  Here's a view of Lake of the Woods off Highway 17 near Kenora, Ontario.