Without a GPS or cell phone, the Webers set out in a 2013 Palomino Maverick M-6601 to explore Canada's Northwestern wilderness.  It was their very first truck camping adventure.

Our 10,000 trip to western Canada came about because we were looking for an alternate way of traveling to the west coast of Canada.  We wanted to travel the back roads, so a truck camper seemed like a sensible way to go.
Our goal was to fish in northern Ontario and the travel west on the northern-most roads through Manitoba, Saskatchewan, and Alberta to the start of the Alaska Highway in Dawson Creek, British Columbia.
Then we would turn north on the Dempster Highway eventually reaching Tuktoyuktuk in the Northwest Territories on the Arctic Ocean.  We would explore northern British Columbia, visit family in Calgary, and return home to southern Ontario on the Canadian backroads south of the TransCanada Highway.
Prior to the trip, I spent four months researching and creating our travel plan.  Research included safety around wildlife, understanding native and local cultures, reviewing Canada's Crown Lands Act, knowing fishing regulations, and looking into places to see and things to do.

Ontario
Five years ago, we flew to Lake Nipigon in Ontario on a fishing adventure.  We met fishermen there who pointed out many hidden lakes in the area.  It was exhilarating and the fishing was great.  We caught so many fish that we knew we were going back some day.
We left our home in southern Ontario at the beginning of June and headed to the Lake Nipigon area in north central Ontario.  We spent a week there boondocking and experiencing excellent fishing in pristine lakes and rivers.  We also had many wildlife encounters including seeing twenty moose and four bear.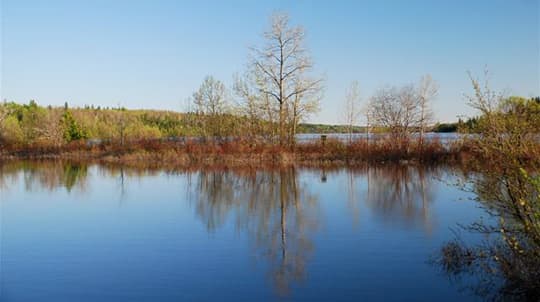 In the picture above we were two miles off Highway 11 in the Moonbeam area.  We were driving and tired and wanted to stop.  We fell asleep and woke up to the sound of spring peepers and frogs.  I found this spot by the lake in the Backroad Map book.
Northern Ontario is a unique outdoor experience.  Lots of trees and rocks and quietness.  The roads are few and far between and the distances between services can be long.
Can you believe we did this entire trip without a GPS or a cell phone?  We used paper maps and we talked to people.
Everyone said, "How can you do a trip like that without a GPS and a cell phone?"  Well, in 1980, we hiked and explored the Kluane National Park and Reserve in the Yukon.  Back then, no one had cell phones.  In those days we logged in at ranger stations or visitor centers and told them where we were backpacking or driving, with a phone number to call if we didn't come out.  We felt safe then, and we felt safe this time.
For our next adventure a GPS and other devices could be useful.  They also cut down on paper and backtracking if you lose your way.
LEFT: I took this picture on our journey home from the Yukon on Highway 17.  The location is at the north end of Lake Superior Provincial Park.  The nearest town is Wawa.  We did not camp here.
Reservations are required to camp in Ontario Provincial Park.  Most of parks are booked up for the season by July 1st.  Provincial parks are beautiful, but too expensive at $35 to $47 per night.  There are no nearby boondocking opportunities either.
We ended up camping at Twilight Resort at Montreal River Harbor for twenty-five dollars.  It's a nice quiet area off Highway 17, several miles South of Lake Superior Provincial Park.  We were still a two day, nine hours per day, drive away from home.
MIDDLE: We saw these bears on the bush roads north of Highway 11 on the way to Lake Nipigon.
RIGHT: A week before the black flies and mosquitos visited, we enjoyed the crystal clear lake and lots of fish.  It was heaven!  Here's a view of Lake of the Woods off Highway 17 near Kenora, Ontario.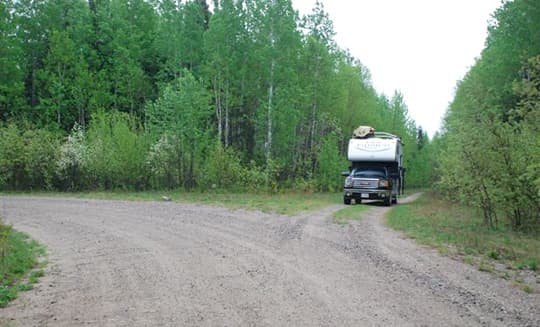 We took a thirty mile drive north of Highway 11 to smaller lakes near Lake Nipigon.  The bush roads are a maze.  We recommend talking to the locals to ensure the roads are open and safe for adventure.  Once we were north of Highway 11, we saw only four people over four days.  There are no services, so fill with water, food, and fuel before heading this way.
LEFT: We took a two mile trek through the woods to a hidden lake.  We loaded our gear into the canoe.
We have a canoe carrier.  It is a two-wheeled support you place under one end of the canoe.  One person can then pull the canoe along on the wheels.  The other person follows behind to keep the canoe stabilized.  I do not know the name of the lake and I'm not sure we will be able to find it again.
MIDDLE: Quetico Provincial Park is a canoeist's paradise.  Overnighting there is worth the high price of an Ontario Provincial Park.  We stayed for three nights during the week.  We were lucky the park had a few campsites available.
No motors are allowed on the waterways.  We canoed several hours per day, saw wildlife and, of course, enjoyed more good fishing.  We also hiked many kilometers.  I am an off-road bicyclist, so I did a good run of cycling.  We paid thirty-five dollars per night for an unserviced site.
RIGHT: Clarence offers the most tasty locally smoked fish.  He sells a fine selection of beer and wine.  We chatted for an hour.  You'll find the market on Highway 17 between Sudbury and Sault Ste Marie.
Manitoba
After fishing near Lake Nipigon, we headed west on the TransCanada Highway to Winnipeg, Manitoba.  We lost a day in Winnipeg getting our roof racks tightened and re-sealed, addressing an overheating refrigerator, and fixing a front camper bumper that had come loose.  Due to the lost day we were not able to take in as many Manitoba sights as we drove west.  We did see mosquitos the size of dragonflies and dragonflies the size of mini remote control helicopters.
We spoke with a teacher who was on a three day field trip with a group of fifteen year olds who caught fifty Pike (Jackfish) in an hour.  Manitoba is known for all things large.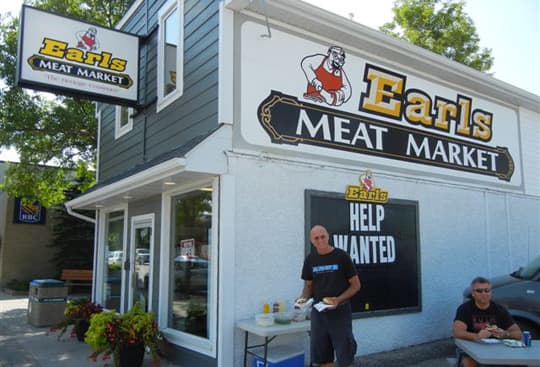 Just east of Winnipeg, in the town of Steinbach, is a real gem; the Mennonite Heritage Village.  We explored the village and then followed the locals' advice to go to Earls.  Earls had excellent burgers and sausages.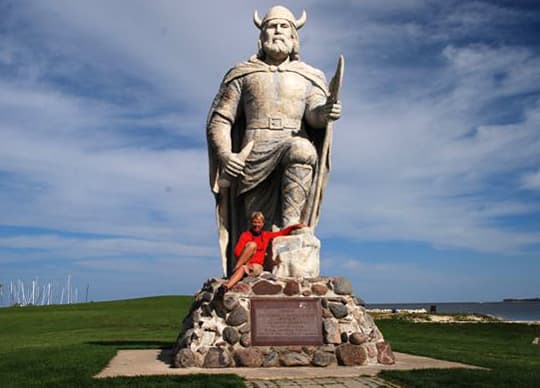 The town of Gimli, north of Winnipeg off Highway 8, is famous for Icelandic culture and history.  We found an economical campground in town called Autumnwood RV Resort.  It was twenty-eight dollars for a full service site.  While we were there, we walked and cycled to the museums and explored the old town.
Steep Rock boasts stunning limestone cliffs on the shores of Lake Manitoba.  From Gimli, head to Road 6 north, turn onto Road 239, and follow it to the end.  We found this place by chance.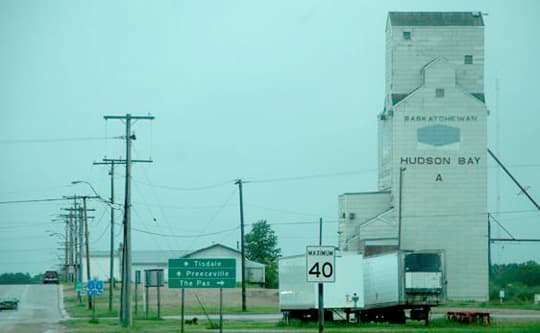 We experienced heavy rains as we drove north to The Pas, Manitoba.  The terrain changed from grassy to swampy, and the roadway flattened.  From The Pas, Manitoba, we headed west on Road 9, which becomes Road 55 in Saskatchewan to Prince Albert.  More rain fell, so we moved on.
Saskatchewan
LEFT: The northernmost through road to Prince Albert, Saskatchewan shows the expanse of Northern farming.  There are still lots of trees.  And, if you like duck and other fowl hunting, this is where you go.
MIDDLE: Maple Creek, Saskatchewan is about 320 miles south of Prince Albert.  On our return home we boondocked beside future dinners at a huge beef farm.  We were out in the open, experiencing an incredible starlit prairie sky.
RIGHT: This is the road to Cypress Hills, Saskatchewan.
Alberta
LEFT: After days of rain, we finally saw the Sun in Cold Lake, Alberta.  We stayed at Beaver Lake Campground near Lac La Biche.  It's a very nice, quiet campground, well suited for truck campers.
MIDDLE: Northern Alberta also enjoys beautiful lakes.  We camped at Moonshine Lake Provincial Park, which is another clean, quiet campground.
RIGHT: The Peace River Valley in Alberta shows spectacular vistas.  This area is grassy badlands.
LEFT: This is a picture from Alberta's cowboy country near the village of Wayne, population twenty-eight.
MIDDLE: We visited Longview, Alberta because many movies are filmed there.  Clint Eastwood's Unforgiven is an example.  Flavorful aromas filled the air inside and out of Longview Jerky Shop.
RIGHT: Horseshoe Canyon is part of Alberta's Badlands.  It's about 515 miles south of Peace River, Alberta.
British Columbia
One could spend a lifetime exploring northern British Columbia.  You can camp for free at most of the designated forestry campgrounds.  The parks are well maintained.  The hiking, cycling, canoeing, mountains, and people are fascinating.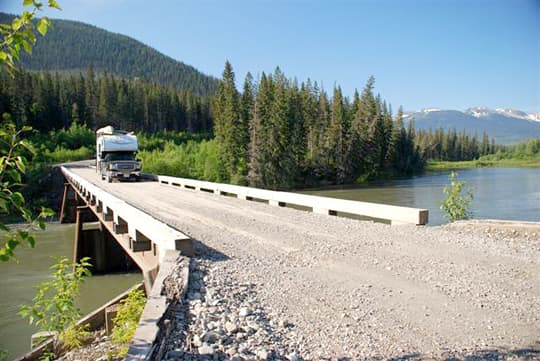 We recommend stopping at the tourist center in Dawson Creek located at mile zero of the Alaska Highway.  The best handout has the mile/kilometer location all of the open camgrounds and open fuel stops (apparently not available online) along the Alaska highway.  We took a few copies of this paper and handed out to stressed people we met at gas stations.
South of Dawson Creek, we visited Kinuseo Falls as a back road trip.  It's twenty-five miles driving at fifteen miles per hour.  The roadway became a mining road, and then a bush road.  The vista was spectacular.  We would recommend off-loading the truck camper before traveling on this road.
LEFT: The Fort Nelson Heritage Museum in Fort Nelson is all about transportation.  There are memorials dedicated to the people who built the Alaska Highway and details of the hardships they faced.  It's at mile 300 on the Alaska Highway.
MIDDLE: The Mineral Licks Trail is located in Muncho Lake Provincial Park, which is 175 miles northwest of Fort Nelson on the Alaska Highway.  The trail is easy and only a mile or so walk from the parking area.  The flora is also beautiful.
RIGHT: This is the Skeena River in Terrace, British Columbia.  The Ferry Island Campground was a good place to camp for the night.  There's great salmon fishing, excellent hiking and cycling trails, and lots of privacy.  Terrace is friendly and fun.
LEFT: These original totem poles are in the village of Kitwanga.  A local man gave us an explanation of the history and then sold us fresh smoked salmon strips.
MIDDLE: This is the best free forestry campground site, complete with cow patties.  There is awesome rainbow trout fishing.  We ate our fill of wild raspberries and relaxed.
To get there, go south of Burns Lake, take the free ferry, and drive through grassy plains for several miles.  Then take a left turn when the forestry sign appears.  Burns Lake area is well known for outdoor adventures.  It's best to visit through the week as it gets busy on the weekends.
RIGHT: This is Atlin.  We truck camped right here for $18 a night at the Norseman Adventures RV Park after being waved off the street by the owner of the property.  You can only access this town from the Yukon.  To get there, turn south at Jakes Corners on the Alaska Highway and drive forty-six miles on a rough, but paved road with beautiful scenery.  A great music festival is there in July.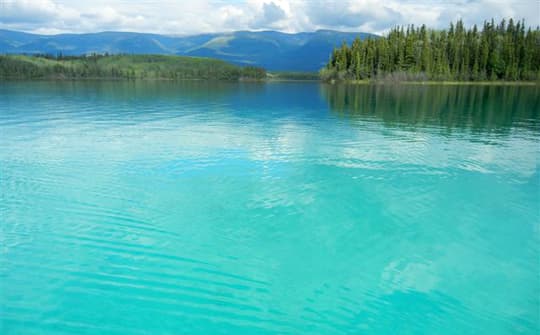 Boya Lake Provincial Park is stunning.  Go there!  Turn south off the Alaska Highway onto the Cassiar Highway.  It's only forty-six miles south of the Yukon and British Columbia border.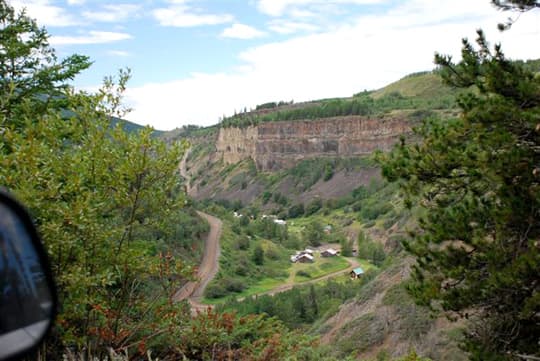 Telegraph Creek Road is not suitable to drive with your truck camper as several hill grades are at twenty percent.  This road narrowly winds for eighty-five miles.  Before you go there, unload your camper and check the road is open.
This was one of our most exhilarating side trips.  It was even better because we did not look at internet photos first.  To get there, drive the Cassiar Highway to Dease Lake.  Telegraph Creek Road is a side road to the west.
We left our camper at the Dease Lake RV Park.  It's twenty dollars per night with free showers, one dollar for the laundry wash, two dollars for the dryer, and great WiFi reception.
LEFT: We hiked to the base of Salmon Glacier, which was about two miles off the dirt road.
MIDDLE: Hiking is beautiful everywhere in British Columbia.  This hike is actually on a trail to the base of the Salmon Glacier.
RIGHT: A typical view of Northern British Columbia farmland near McBride just off Highway 16.
Yukon
Once we reached the Yukon, we opted for even less traveled roads.  There are lots of beautiful free camping areas.  Public campsites go for as little as $12 a night.
The best private campground is in the town of Faro; John Connolly Municipal Campground and RV Park.  It offers a full facility campground with secluded sites in the middle of town.  A hidden gem is the taxidermy display at the campground in Teslin.  The grizzly is life-size!
Dawson City is filled with the history of the Gold Rush.  Whitehorse is vibrant.  Every backroad boasts a view and the roads are never busy.
LEFT: Here's our truck camper beside T-Rex.  These folks come from Holland having shipped their vehicle to Nova Scotia where they began a cross-country excursion.  We met many Europeans on our adventure.  They love the blue sky, fresh air, open space, and wild country.
MIDDLE: A typical backroad in the Yukon.
RIGHT: The South Canol Road was a highlight.  The road had only been open for three weeks due to the late spring thaw.  It was scary at times with washouts, narrowness, and tight curves.  The scenery was spectacular and the boondocking opportunities were excellent.
The road begins at Johnson's Crossing, along the Alaska Highway.  There are no services for 150 miles and then nothing was open when we arrived in Ross River.  We hobbled to Faro another forty miles which has cardlock fuel.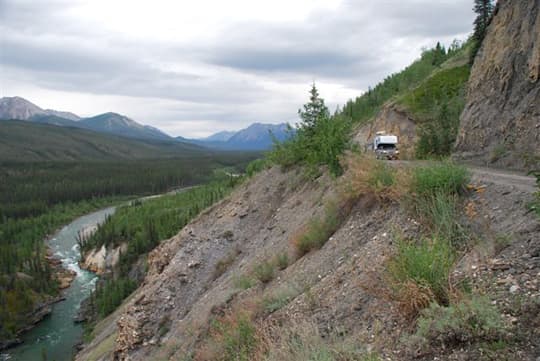 The picture above was taken near mile 70 on the South Canol Road.  That entire road was picturesque.  It didn't matter where we turned, there was beauty.  It took us forever to go anywhere because we kept stopping.  We had goosebumps it was so stunning.  It was one of the most beautiful drives in the Yukon that we did on that trip.  Throughout the road there was more spectacular scenery and excellent boondocking opportunities.
Before traveling the South Canol Road, we made sure we had spare tires and things we needed in an emergency situation.  The truck is equipped with OnStar.  There were some washouts, and we just went for it.
At some points the road was as wide as our truck.  It was two way road.  We only met three pickup trucks going the other way.  In those situations, somebody stops and backs up.  Every couple miles or so there were little turn-offs and places where the road was wider.  We drove slow with headlights on and four ways flashing at some points to alert others of our presence.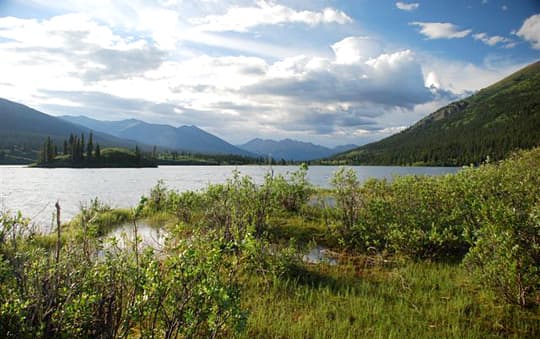 We took three or four days to get through the South Canol Road.  Since it was daylight twenty-four hours a day, we just stopped when we felt like it.
The photo above is looking out our camper's kitchen window at Lapie Lake.  Once again, there was excellent boondocking and outhouses that are maintained by the locals.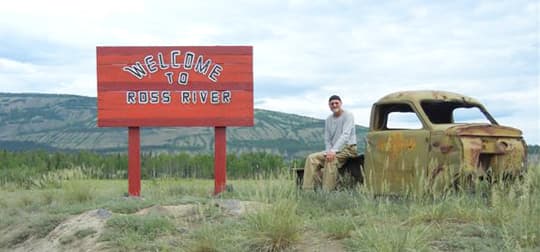 Here's Ross with the Ross River sign.
LEFT: This is the end of South Canol at Ross River.  You can see the footbridge which was built across the Pelly River in 1942.  At 1,046 feet long from anchorage to anchorage, it is one of the longest suspension footbridges in North America.  Unfortunately, the bridge is being dismantled this year.
MIDDLE: The best homemade pizza you will ever eat is here at the Keno City Snack Bar.  The local guests at the table are enlightening and eager to tell stories of the areas history.
Keno is a step back in time with mostly residential historic buildings and museums throughout the town.  The road to Keno begins at Stewart Crossing along the Alaska Highway.  The town of Mayo has a campground, fuel station, grocery store, and liquor store.
RIGHT: Lake LaBerge water is always very cold, and its weather is often harsh and suddenly variable.  Arrive by 2:00pm and you will enjoy this view from your truck camper window.  Writer Pierre Berton included the lake in his works.  Poet Robert William Service named the lake in his poem, "The Cremation of Sam McGee".
LEFT: The largest moose in North America inhabit the Yukon.  We saw this one on the Dempster Highway.
MIDDLE: We stopped at mile 36 along the Dempster Highway to hike the Grizzly Lake Trail.  It's a five mile round trip with an elevation of 2,100 feet.  This mountain Range is called Monolith.  This hike was recommended to us by folks from the town of Faro.  The native name is, "Ddhal Chel Cha Nan" which means "ragged mountain land".  The best website for this location is www.env.gov.yk.ca/camping-parks/tombstonepark.php
RIGHT: Here's a Caribou fence along the Dempster Highway.  You can check potential dates of migration online, but the Caribou don't seem to care.  The locals said we missed the migration by a week.
The photograph shows our camper at midnight in the Ogilvie Mountains on the Dempster Highway.  It's light twenty-four hours a day mid-June and all of July.  We used Beverly Hills light blinders over our eyes to sleep.  Buy some at a travel or drug store.
Northwest Territories
If you look on a map at the road north to the Yukon, you will see a small piece of the road heading into the Northwest Territories.  That's the way we went.
The Dempster Highway is a gravel road to the town of Inuvik.  The gravel road is comparable to the Alaskan Road from Fairbanks to Deadhorse.
We thought we would never reach the Arctic because we kept stopping to take in the overwhelming mountain vistas.  These eventually gave way to the tundra.  The far north is truly the land of the midnight sun.  And again, there are incredible boondocking opportunities to be had.
LEFT: Tsiigehtchic in the Northwest Territories is the village where the Mackenzie and the Peel Rivers meet.  Some of the gold rush Trekkers traveled this route.
MIDDLE: The community greenhouse in Inuvik is a converted hockey rink arena.
RIGHT: A picture of downtown Tuktoyaktuk in the NorthWest Territories, which is the town where we put our feet in the Arctic.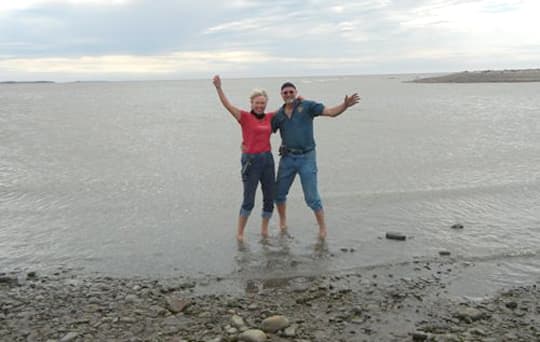 We made it!  We put our feet in the Arctic at Tuktoyaktuk.  Usually the temperature is around 50 degrees Fahrenheit in July, but a storm was coming in and it was only 40 .
Tips on Traveling Through Northwest Canada
1. I would strongly recommend buying the Backroads Mapbook/GPS download, www.backroadmapbooks.com.  It is strictly Canada information.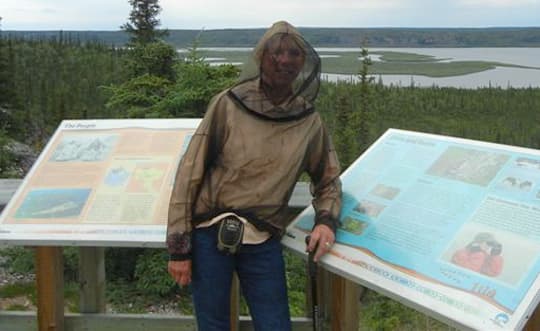 2. I also recommend bug jackets if you don't want to spray yourself with Deet all the time.  You can purchase bug pants too, which are helpful during the hot season.  Black flies can be a big problem in the north.  Mosquitos are always around.
3. Remember that distances between services can be long.
4. Check the weather reports and weather conditions for the best time to travel.
5. Pack for weather changes.  We experienced temperature ranges from 40F to 96F
6. Autumn is great in northern Canada.  The trees are colorful, the bugs are fewer.  Just keep in mind that things start closing for the season in mid-September.  Check to see if campgrounds and attractions that you want to see are open.  The further north you are, the earlier the season ends.
7. Take the time to stop at regional tourist information centers or speak with local residents.  They will provide you with the latest information on backroad conditions.  For example, we wanted to explore the Nahanni Range Road.  The Watson Lake Visitor Center advised us the main road to access this area was closed because of mining trucks and therefore was unsafe to travel with a truck camper.
8. We kept our own dairies.  We recorded fuel, campground, and nutritional expenses.
All of the expenses below are reported in Canadian funds.  For fuel we spent $5150.  The cheapest fuel was in Edmonton at $1.09 / liter or $4.13 / US gal.  The most expensive fuel in Inuvik at $1.79 / liter or $6.78 / US gal.  For campgrounds we spent $890.  Nutrition was $3200; we ate local produce, breads, meats and fish, drank local microbrewery beers, and enjoyed British Columbia wines.  We purchased bottled drinking/sparkling water and packaged goods at Walmarts.
9. Free WiFi is available at most restaurants, campgrounds, libraries, and tourist centers.
Getting The Canoe On the Roof
We get questions all the time about our canoe and how we get it on our roof.  Ross is an inventor kind of guy, so he solved the problem.
We have two hollow square cedar poles that we notched.  They are twelve feet long each.  We use these poles as a wedge against the truck camper.
We place the canoe against the poles and tie a rope around the canoe.  Ross goes up on the camper roof.  Then I push and Ross pulls the canoe up and stabilizes the canoe up onto the roof.  Once the canoe is on the roof, Ross braces it down for travel.  The poles are tied to the roof as well.
We also have Sirius/XM radio in the truck.  We brought my iPad, a portable DVD player with a built-in screen (no television), and two Nikon cameras.  We also took along our sixteen-foot Sportspal Canoe, and my off-road bicycle.  We have an extra propane tank and camper battery.
Truck: 2012 GMC Sierra 1500 Z71, extended cab, short bed, 4×4, gas
Camper: 2013 Palomino Maverick M6601
Tie-Downs and Turnbuckles: Better Kit Chains and Turnbuckles
Jacks: Rieco-Titan wireless remote controlled electric camper jacks
Suspension: Timbren Blocks added to enhance suspension
Accessories: LED lights, Torklift Glow Step, Custom Aluminum Roof Rack
Have you traveled in Canada with your truck camper?  Please share your story about your Canadian truck camping travels.