North of Montana and North Dakota, Canada's Saskatchewan Province offers a tantalizing array of truck camping, boating, and cultural experiences.  Seven fellow truck campers reveal where to go, where to camp, and what not to miss in Canada's Breadbasket.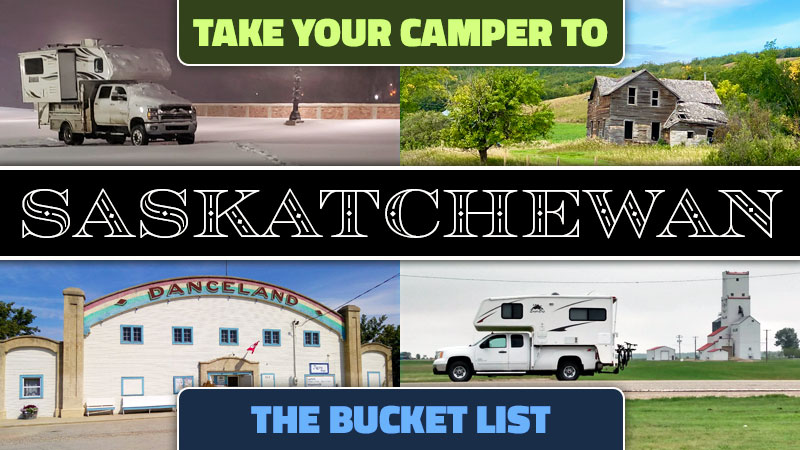 Saskatchewan is described as half prairie (grasslands) in the south and half boreal (subarctic) in the north.  With the majority of the residents in the southern half, there's an enormous amount of open space to explore.  In fact, fellow truck campers describe long stretches of roadway and seemingly endless vistas.
For some, that experience might sound very lonely; out there in the middle of nowhere far from the reaches of cell towers and civilization.  For others, it likely sounds like heaven.  As in click my Uggs twice and transport me there right now, heaven.  If that's you, still your Uggs, at least for the time being.  Unless you want to freeze your New Year off, we suggest waiting 'til late spring.
Bordering these vast reaches are a plethora of cultural and historically significant opportunities including the Remai Modern art museum, Royal Saskatchewan Museum, MacKenzie Art Gallery, and RCMP Heritage Centre, and more.  If you prefer your nature served in park form, Saskatchewan offers Grasslands National Park and Prince Albert National Park.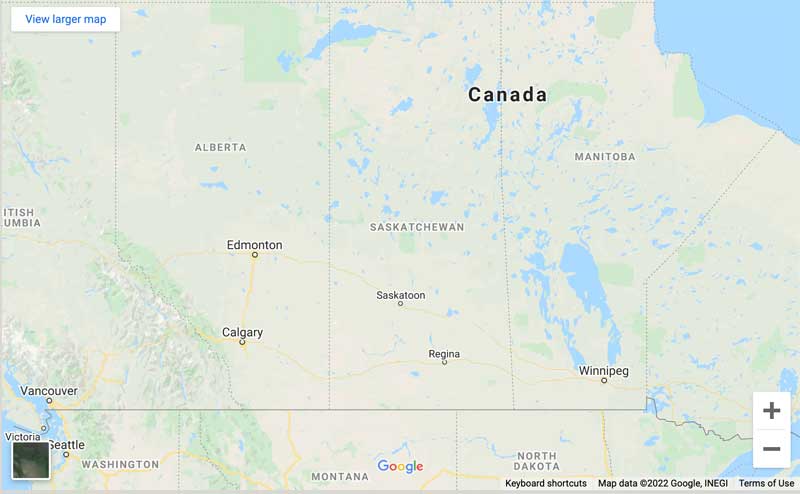 The real point of this article is to put Saskatchewan Province on your truck camping radar screens.  If you're like us, you may have overlooked this western province in favor of British Columbia and Alberta to the west, and/or Ontario and Quebec to the east.  We are hereby putting Saskatchewan on our bucket list.
Alex Popovic
2021 Chevrolet Silverado 3500HD
2021 Northern Lite 8-11EX
My favorite place in Saskatchewan is the Qu'appelle Valley.  Every time I return to Saskatchewan it is exciting to drive the prairies and come across the large valley that slices across it.
Above: Gravel Grid Road in the Qu'appelle Valley
Although many of the roads through the valley are gravel, they are straight and well maintained.  Many ranches exist and it is not uncommon to see cattle mixing with deer and other wildlife.  The coulees in September are spectacular with the poplars bright yellow against the dark blue skies.
Above: Abandoned homestead in the Qu'appelle Valley
From time to time, there will be abandoned farmhouses, barns, and other buildings; a sign of corporate farms displacing the farmers of the past.  It is wonderful to drive through and get a cordial wave from locals.  The Qu'appelle Valley is a super friendly place.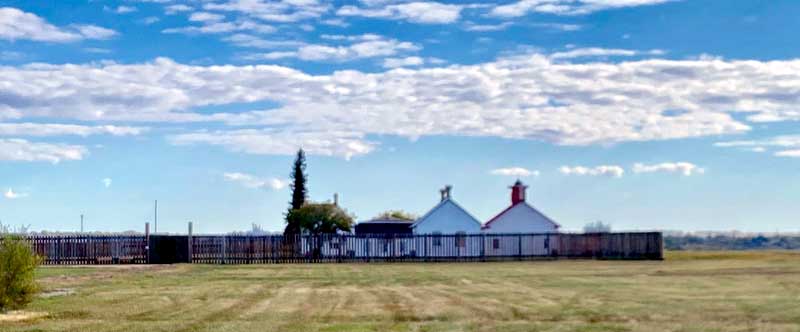 Above: Fort Battleford, Saskatchewan
The Battlefords are composed of two cities that straddle the Saskatchewan River at the confluence of the Battle River.  In my opinion, Battleford is smaller, but more historical.  There is the former North-West Mounted Police fort from 1873, the North-West Mounted Police cemetery, and several other beautiful museums.  This was one of the focal points of the North-West Rebellion.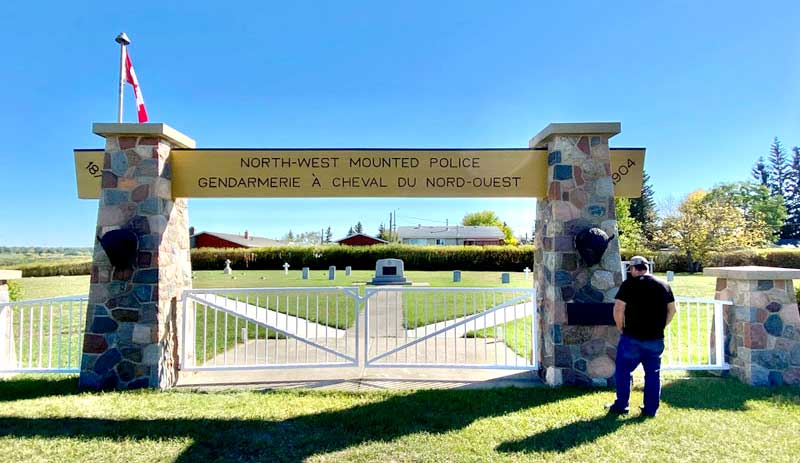 Above: North-West Mounted Police Cemetery, Battleford, Saskatchewan
The slightly rolling hills along the river valley are home to much wildlife including both whitetail and mule deer, the northern limit of pronghorn antelope, elk, moose, black bear, and the ever-present clouds of snow, blue and Canada geese, sandhill cranes, and many varieties of ducks and other waterfowl.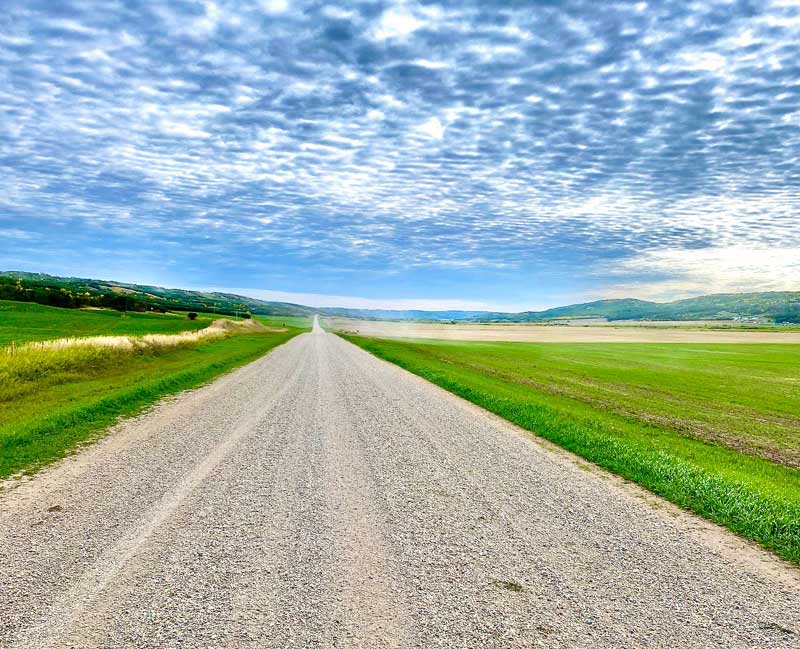 Location of Photo: Driving the Qu'Appelle Valley near Esterhazy, Saskatchewan
The best camping location was at my son's ranch in Battleford.  It is free, with a power hook-up, fresh water, and hot showers.
Karen Lewis
2009 GMC Sierra 3500
2008 Eagle Cap
If you venture off the Trans-Canada Highway and drop down to the southern route, Highway 13 (Red Coat Trail), you might be rewarded with an experience of Saskatchewan that is right out of the popular CBC series, Corner Gas.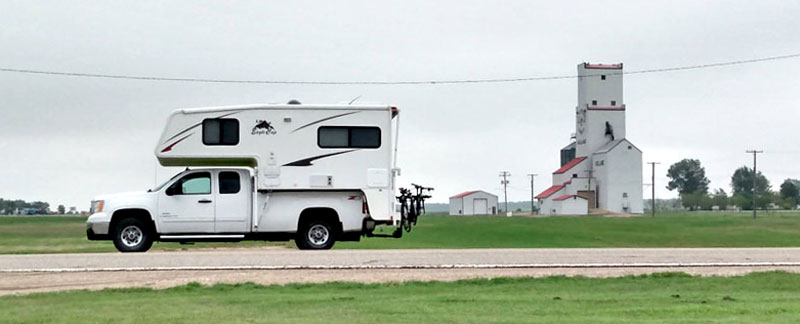 Above: The Saskatchewan-Manitoba border
It is a wonderful way to see the prairies with abandoned farmhouses, huge wooden grain elevators, and spiral church steeples you can see coming for miles.  We particularly enjoyed going through small and not-so-small communities with names such as Redvers, Arcola, Kisbey, Trossachs, Lafleche, and Kincaid.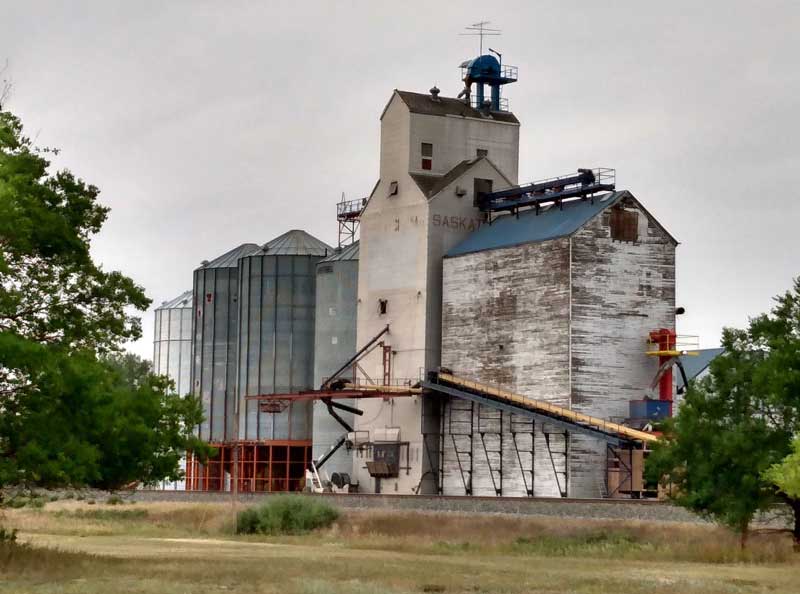 Above: Chapman, Saskatchewan
It was in the village of Pangman that we had our Corner Gas experience.  We were just about out of fuel and we pulled into the town Co-Op corner gas station looking for diesel.  It was closed because it was a national holiday and we popped into the Chinese restaurant next door.  We were greeted by friendly, very talkative, and helpful locals who were only too willing to lend us a hand.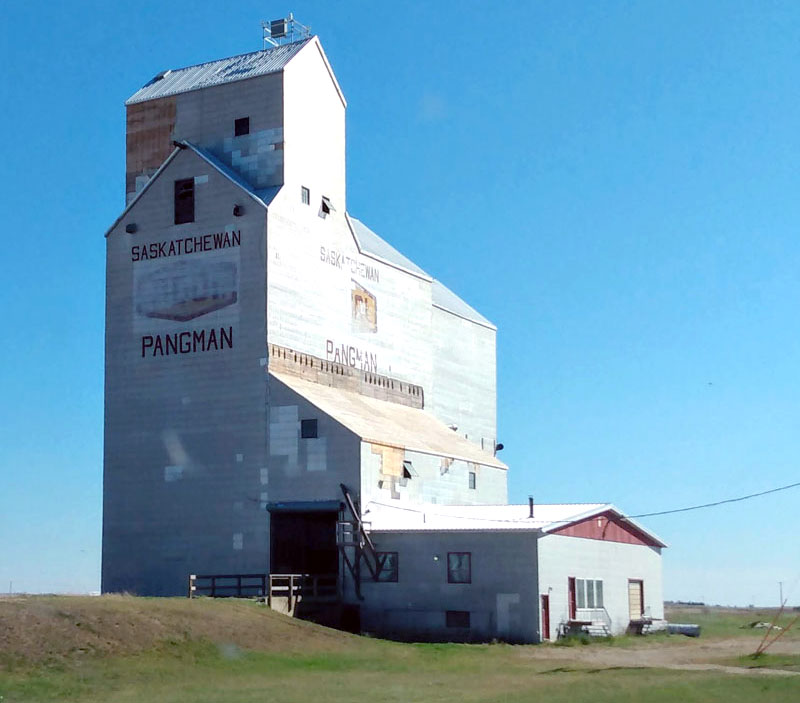 Location of Photo: Pangman, Saskatchewan
On the corner of Highway 13 and Highway 6 was a little Oasis Roadhouse which had fuel stored in an above-ground tank and marked colored and clear diesel.  We learned quickly to stop for fuel when we could because, although we could see the towns off in the distance, it was a fair drive between each and we couldn't always find diesel.  We recommend that you use the GasBuddy app.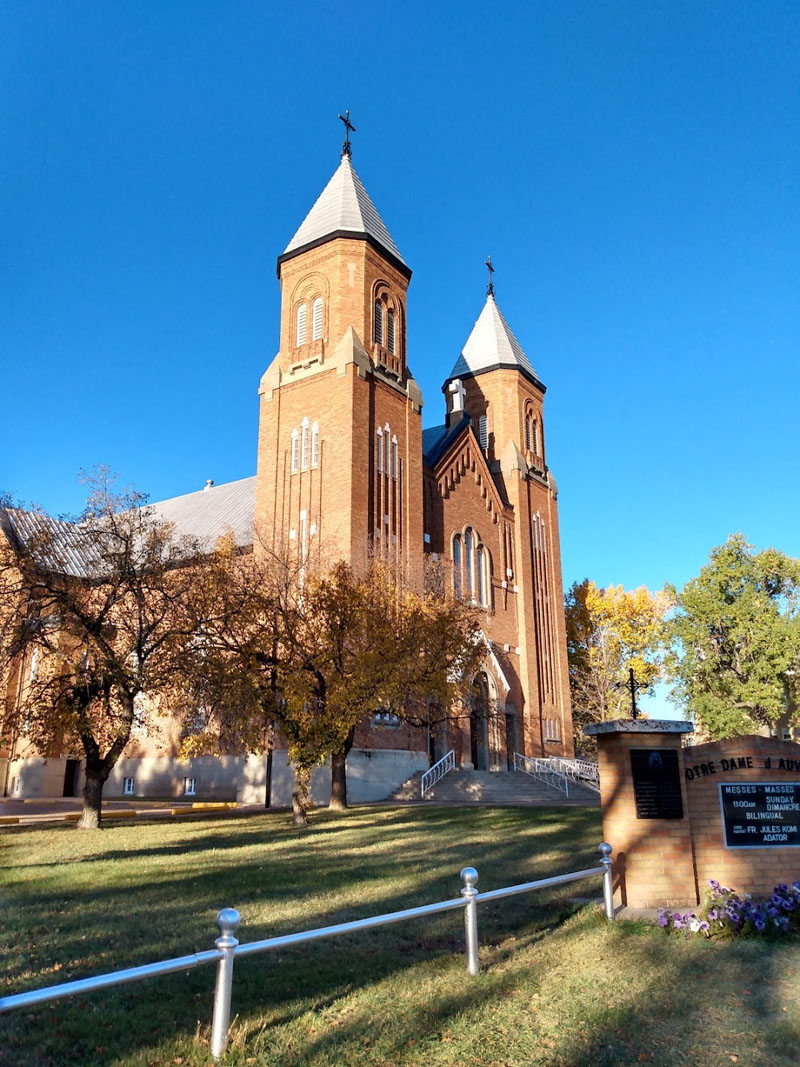 As we traveled further west, we came to the town of Pontiex with its massive and historic Notre Dame d'Auvergne cathedral.  From there we headed north up to Gull Lake, another great municipal campground.  We rejoined the Trans-Canada and said goodbye to the bucolic Saskatchewan landscape with its endless harvested carpet of wheat fields in the mid-October sun.
Each town has a municipal or town campsite and they were easy to locate.  You can use either the RV Parky or iOverlander apps to locate them.  The campgrounds were relatively inexpensive, well maintained, and easy for a truck and camper to back into.  Most had full hook-ups (even late in the season), an honor box, and/or washrooms that were open.
The campground in the town of Assiniboia, for example, cost $36 a night but was in the back of town by the arena.  It was a nice park and very quiet which isn't always the case if you are close to the highway or near train tracks.
Bruce Ludlum
2015 Ram 5500
2015 Eagle Cap 1165
Location of Photo: Catch and release at Last Mountain Lake
We went to Saskatchewan to go fishing.  Last Mountain Lake was really nice.  We also drove up to Besnard Lake Lodge where we camped and fished for a couple of weeks.  The campground has water and power, and the cost was reasonable.

It is way up there.  I think my camper is still packing dirt from the road.
Laundromats were some of the most adventurous stops.  There are some wild laundry mats in Canada.  The big park campgrounds are putting in nice laundry facilities.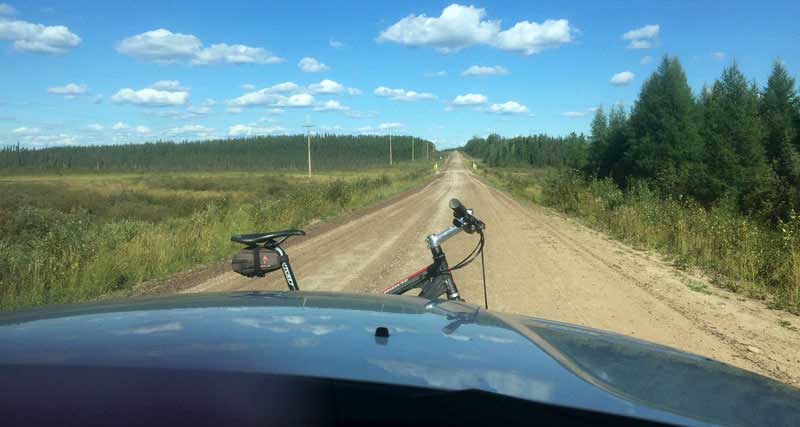 Some of the native villages are pretty rough.  We had a bike stolen off the truck bumper in Nipawin and lawn chairs stolen at Last Mountain.  That all amazed me.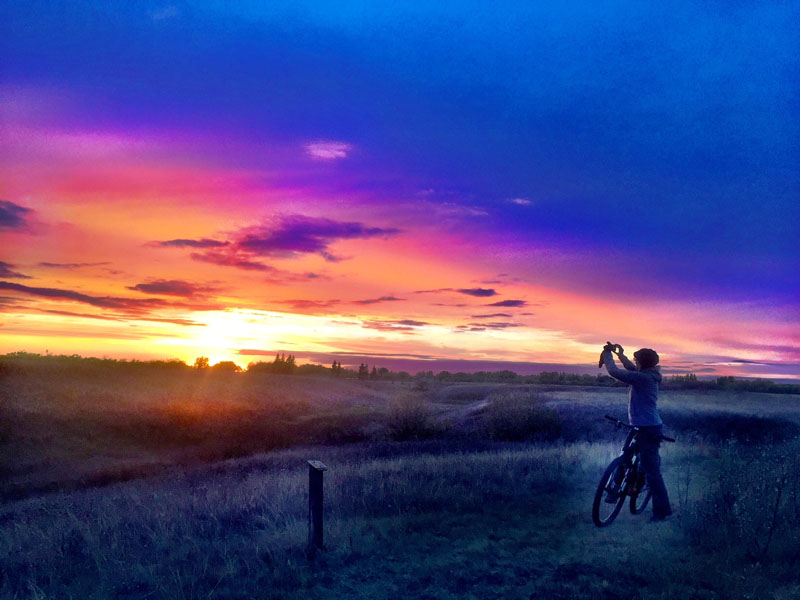 I'm reading a book about early history up there that I really like.  It's called, Disappointment River by Brian Castner.  We are talking about doing the trip again next year.
Eckhart Franz
2021 Chevrolet 3500HD
2021 Northern Lite 10-2EX LE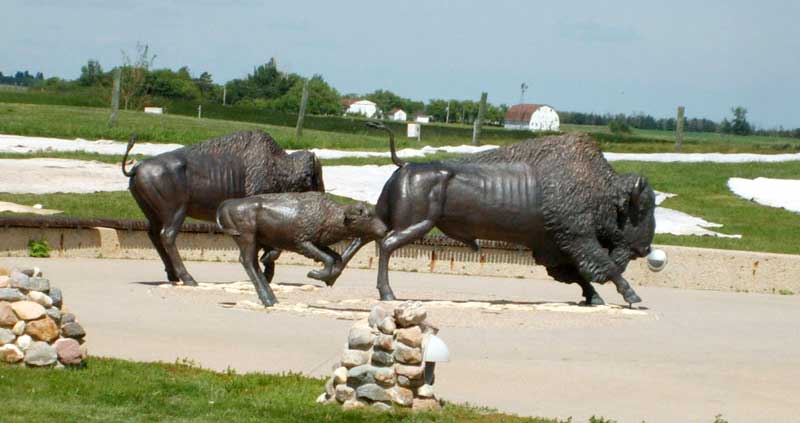 Location of Photo: Head-Smashed-In Buffalo Jump
We visited the Head-Smashed-In Buffalo Jump World Heritage site.  This is an interesting attraction outlining how the Blackfoot nation harvested buffalo.
Moose Jaw has the Tunnels of Moose Jaw tour where you learn about Al Capone and bootlegging and the connection between Moose Jaw and Chicago.  Check-in with the visitor information.  When we visited, parking was free on city streets for out-of-province visitors.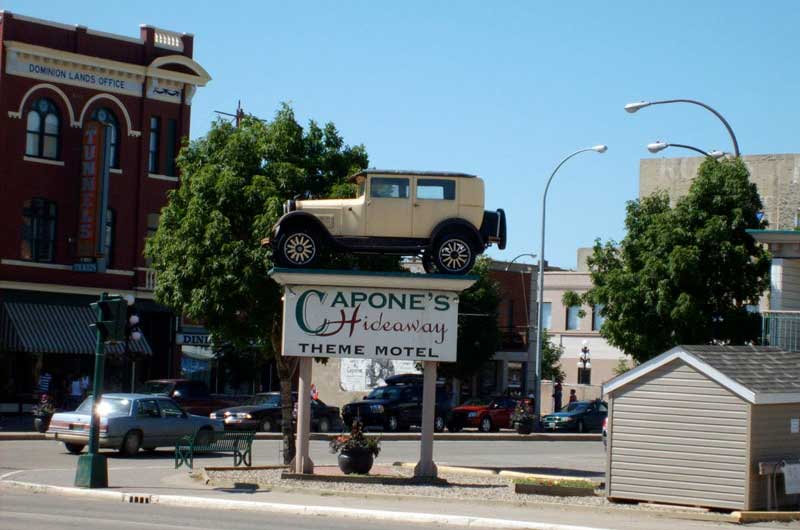 For people who watched the comedy, "Corner Gas" a visit to Rouleau is fun.  We walked around the town and saw one of the episodes of the series being filmed.  The set of Corner Gas and The Ruby has been torn down, but the rest of the town is still there.

Regina has a nice path to walk along and there is a park on the west side that hosted an international foods festival when we were there.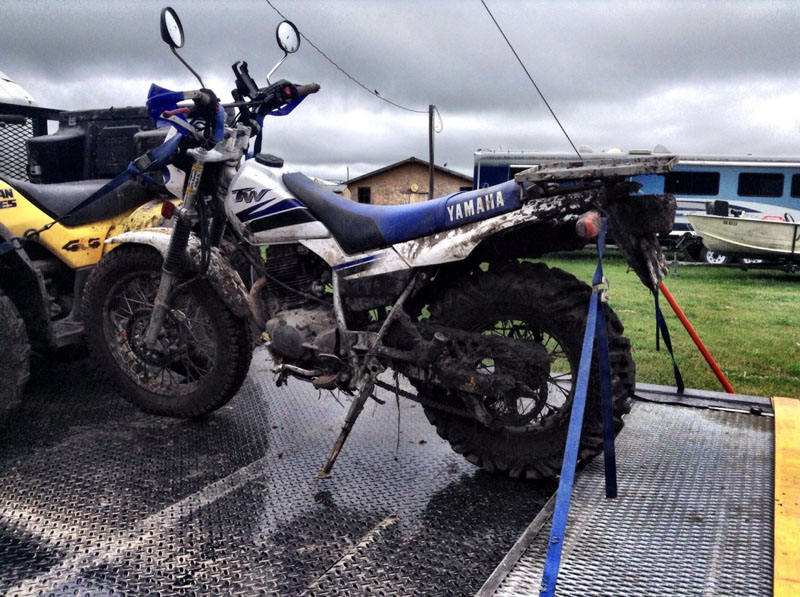 Around Prince Albert, there are many ATV trails, but they can be very muddy and slick.  We camped out on our friend's property in Pike Lake.
Laila and Ron Morse
2017 Ford F250
2017 Northern Lite 9-6
Above and Below: Danceland, Manitou Beach Village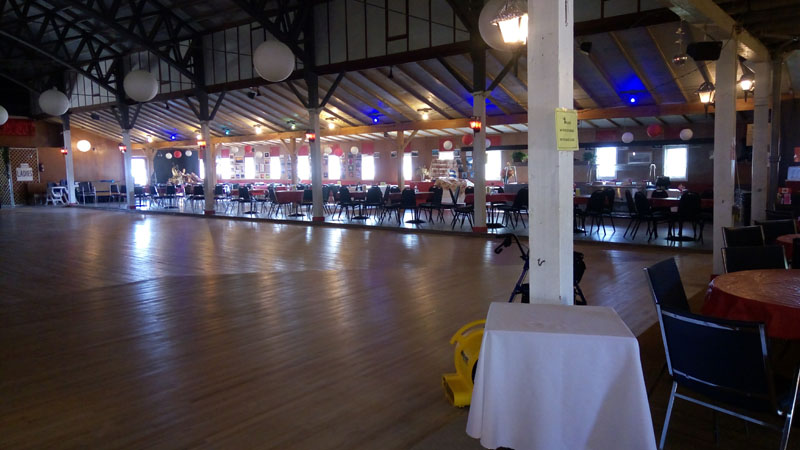 Our favorite place in Saskatchewan is Manitou Beach Village.  The village is on the shores of Lake Manitou, which is also known as Canada's Dead Sea because of its high mineral content.  It has about half the salt content but still allows anyone to float.  It has a history of being a popular resort to visit because of the healing properties of the waters.
Because of the area's popularity, a dance hall was built in 1928 that is still operational and can be toured.  The Manitou Beach and District Campground is within walking distance of the lake.  It can accommodate all sizes of RVs and is a very friendly place to visit.

We camped at Manitou and District Regional Park which is located on Highway 365.  They have over 200 campsites ranging from unserviced to fully serviced for under $40 CAD per day (around $31 USD).  It is easily accessible.
Edward Marchand
2016 GMC Sierra 3500
2017 Adventurer 89FB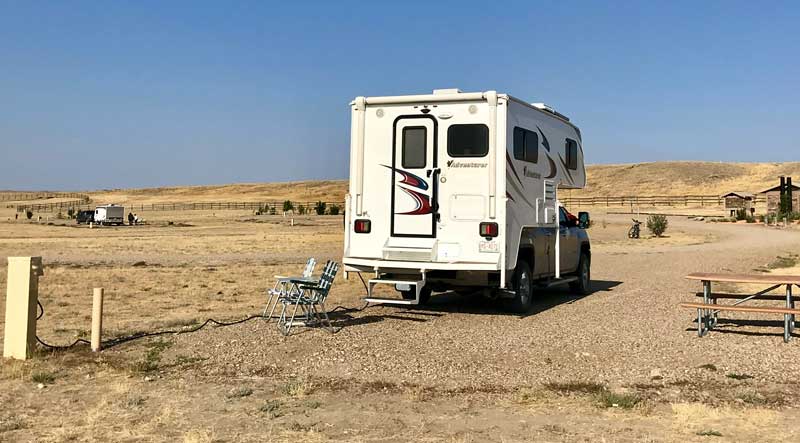 Location of Photo: Grasslands National Park
Grasslands National Park hugs the US border and is isolated, expansive, and quiet with dark night skies and sunny days.  Prairie dogs and buffalo are all around you.  It feels like a sanctuary from our busy world.
Danceland at Manitou Beach in Watrous has a huge dance floor laid on a horsehair cushion, operating since 1928.  The hall sits beside a salt lake.
I stayed at Gordon Howe Campground in Saskatoon.
Ken Vogel
2021 Chevy 4500
2015 Lance 995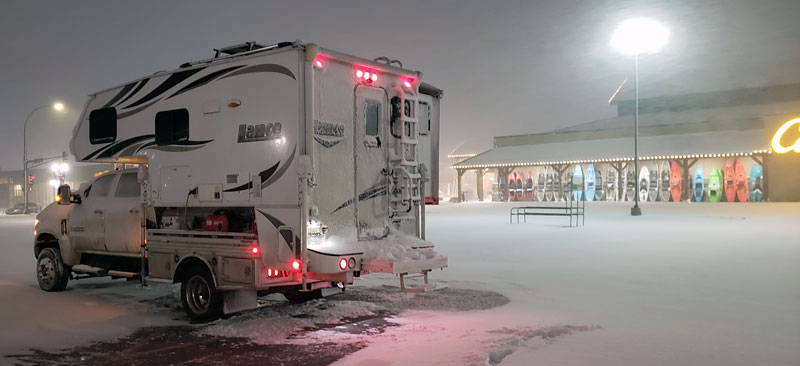 I was invited to go whitetail hunting in the Meadow Lake area of Saskatchewan.  Without a current passport, driving was my best option.  My Michigan driver's license has the enhanced feature which allows driving and boating into Canada without a passport.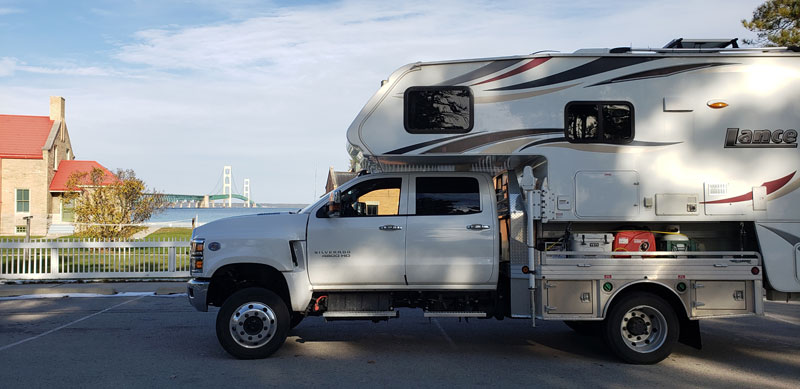 I came across through the Upper Peninsula of Michigan.  The drive from Saskatoon to Meadow Lake has a breathtaking landscape with small towns and snow-covered hills and valleys.
The main part of the trip was hunting, which I had not done in 20-plus years.  My second thought was to use it as a pre-trip to Alaska at some time in the future.  I was halfway there.  I also enjoyed some winter camping.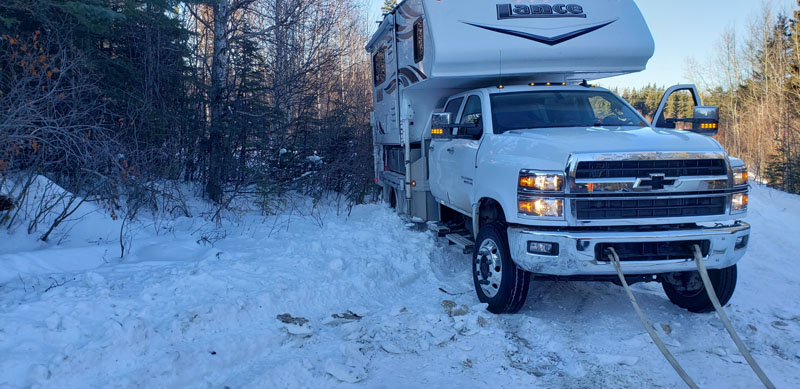 Location of Photo: SK-4 Brite sands Saskatchewan heading south out of the bush
I boondocked alongside SK4 on Forest Road near Meadow Lake.  You should have tire chains because I needed a little tug.
Thank you to the TCM readers who shared their experience in this Canadian Province.   Click for more articles about exploring Canada.